Popular aircraft seating manufacturer Collins Aerospace has just revealed its newest business class product, designed specifically for narrow body aircraft. This is a big focus in the aircraft seating industry, given that we're increasingly seeing longer range narrow body jets, like the Airbus A321XLR.
Collins Aerospace's new business class seat
Collins Aerospace has just revealed Aurora, its first lie flat business class seat designed exclusively for narrow body aircraft. For context, Collins Aerospace is also the company that manufactures the Super Diamond and Diamond business class seats, which you'll find on many airlines.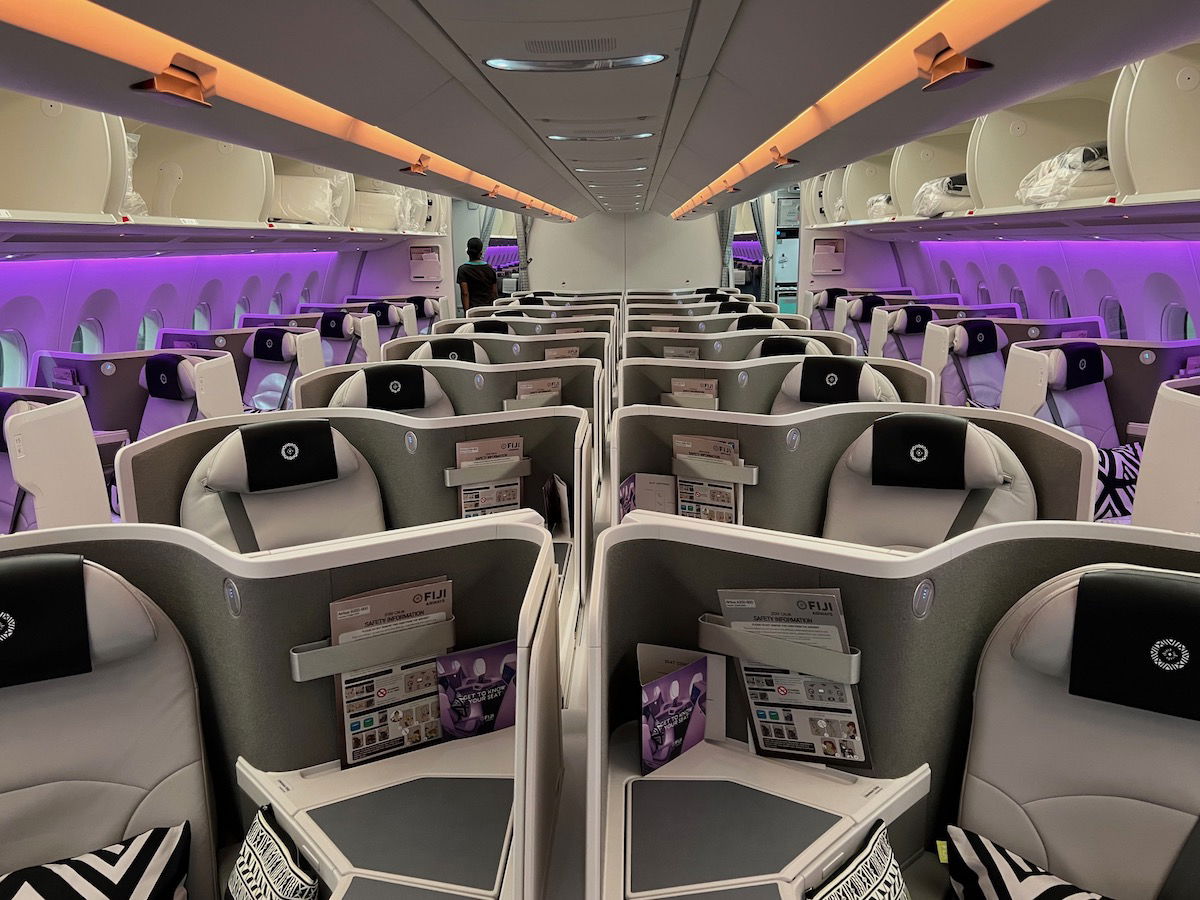 The new Collins Aerospace Aurora product is in a herringbone 1-1 configuration, with all seats facing the aisle. Here are some of the key features of this product:
The seat width is maximized to give passengers more room than existing solutions
Passengers are seated deeper into the seat back and next to the window, intended to increase privacy and allow for a 78″ bed length
The configuration is designed to be efficient for airlines, with the cabin incorporated directly into front and aft structures; this means that the first row of the cabin won't have some "business class plus" product with extra space, but rather there will be additional galley space there
Airline customers have the choice of introducing this product with or without a door at each seat
The suite shell can be modified to include a privacy divider if traveling with a companion; it's not entirely clear what this would look like, but the idea is that the partition between seats could be lowered somewhat if traveling with someone
The seat has a storage compartment in the back corner, and also has a personal device holder on the tray table
Collins Aerospace has already received orders for the new Aurora seat, and it should debut in 2024 (though the first customers haven't been named).
Below you can see some pictures of the Collins Aerospace Aurora product.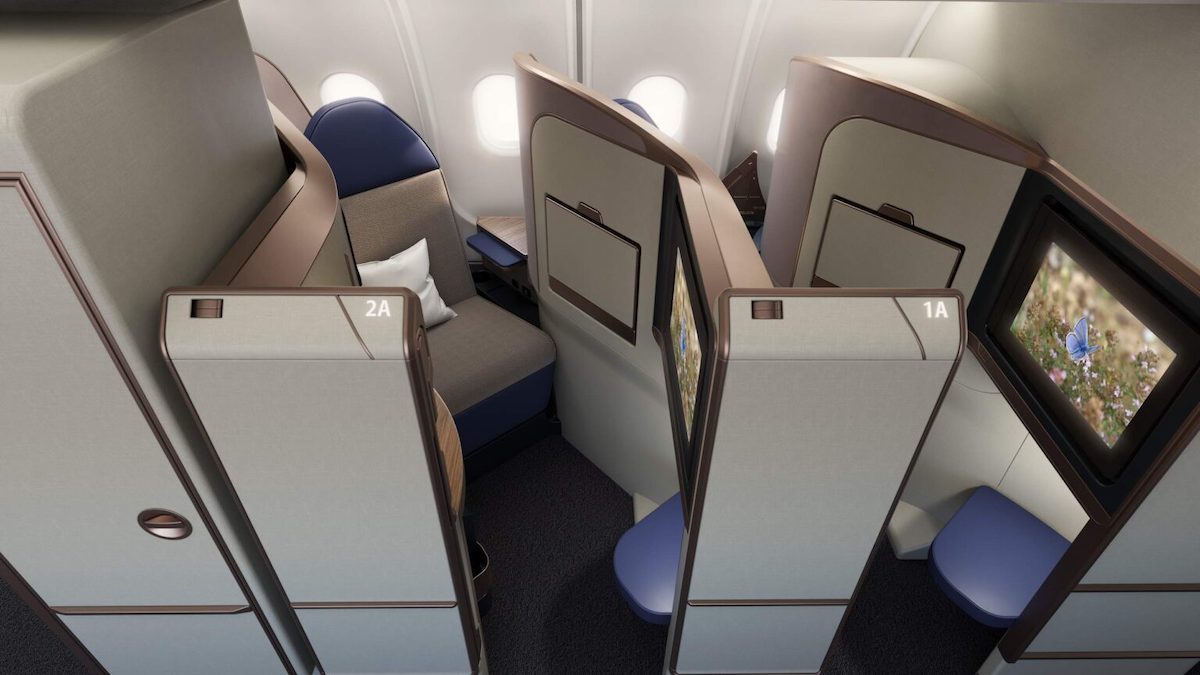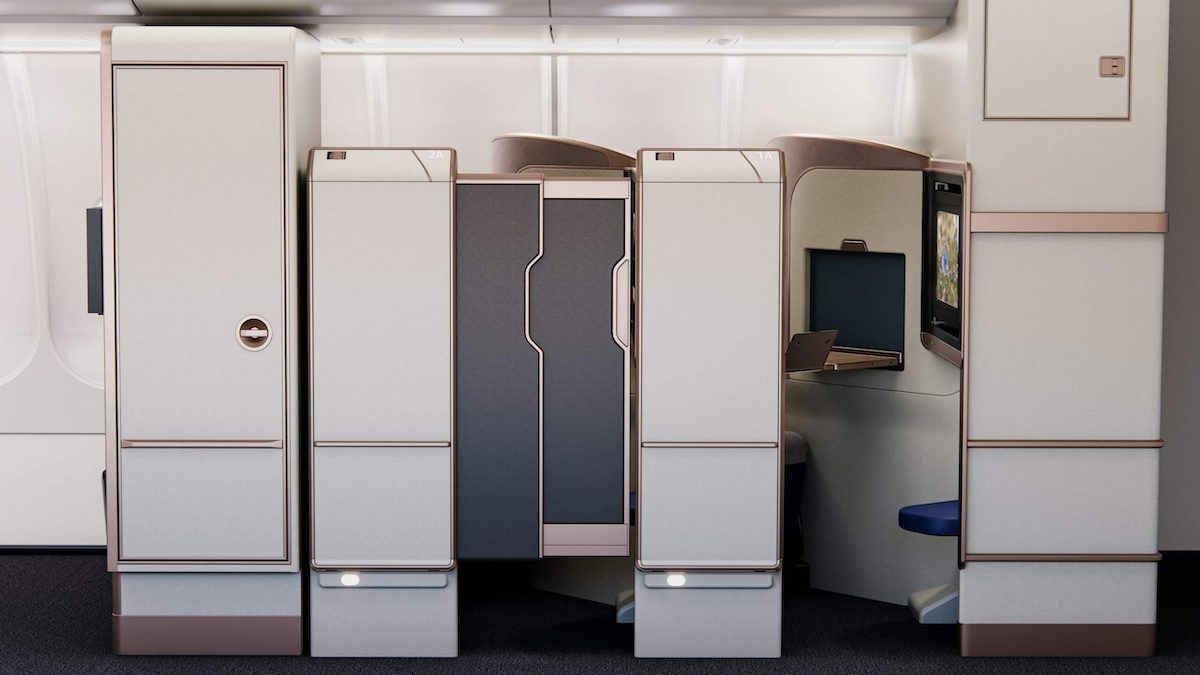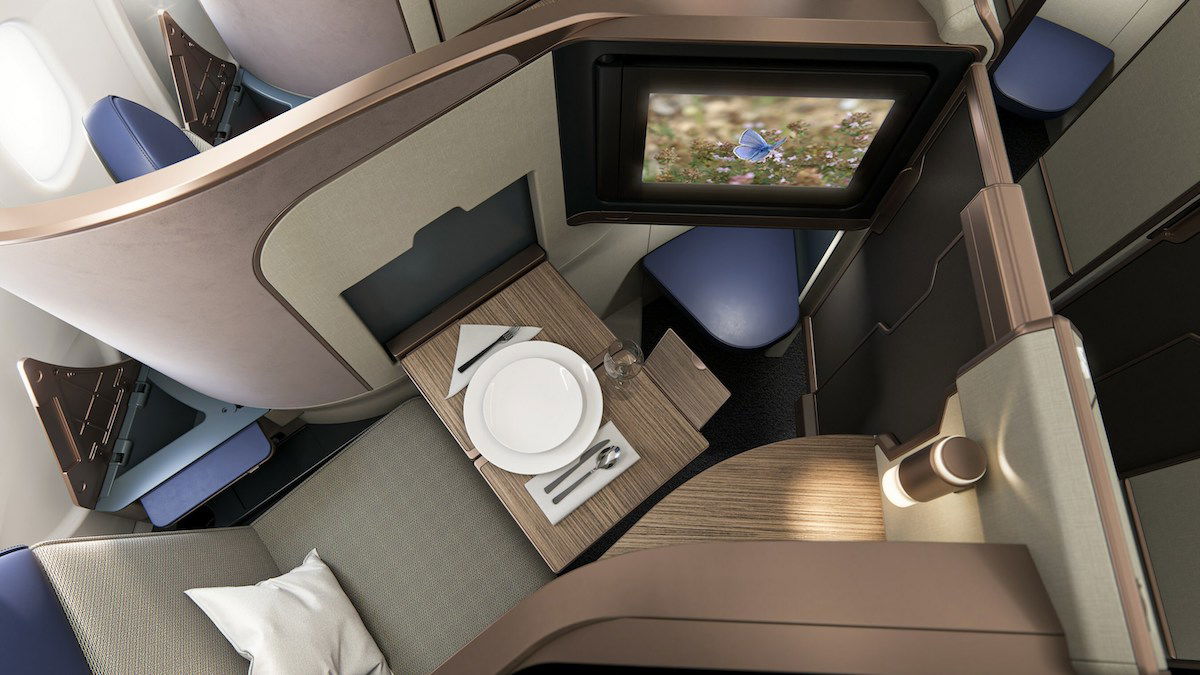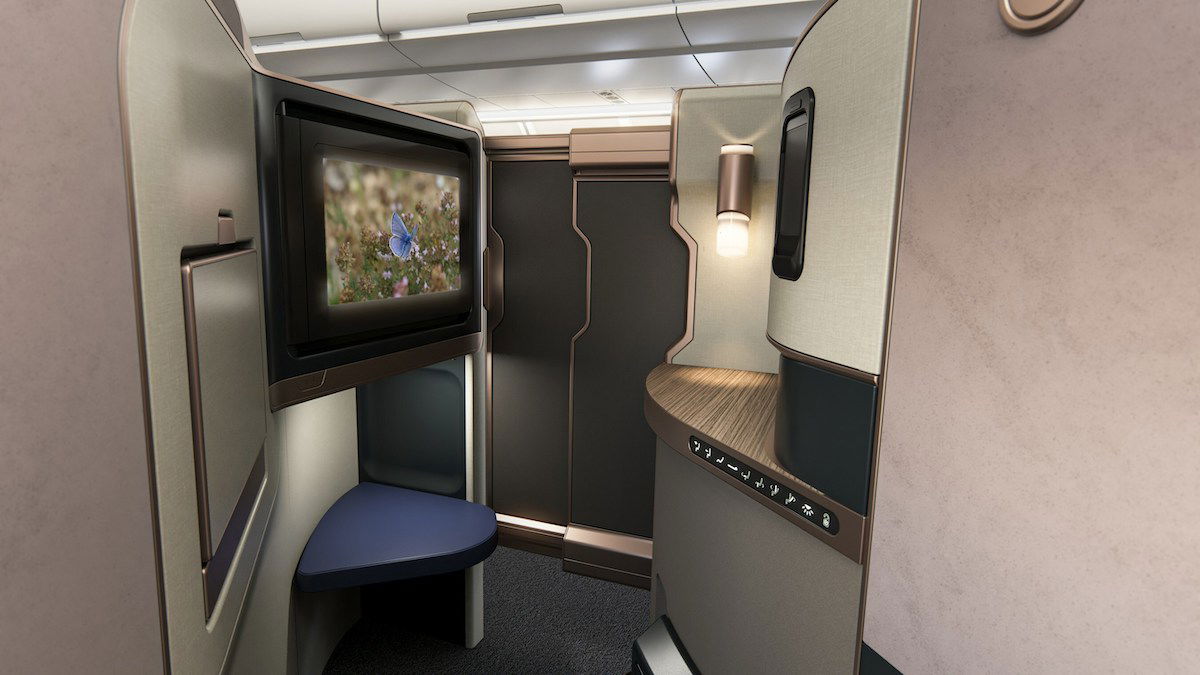 My take on the Collins Aerospace Aurora seat
Collins Aerospace is a great seating manufacturer, though I think it's safe to say that there's nothing earth shattering here.
For one, this looks similar to Thompson Aero's VantageSOLO product, which is what the new JetBlue Mint seat is. That's also a herringbone seat facing the aisle with a door. There are a few minor differences with this new Collins Aerospace product, like a larger storage compartment, the ability to have a privacy divider, and the lack of a business class "plus" product in the first row.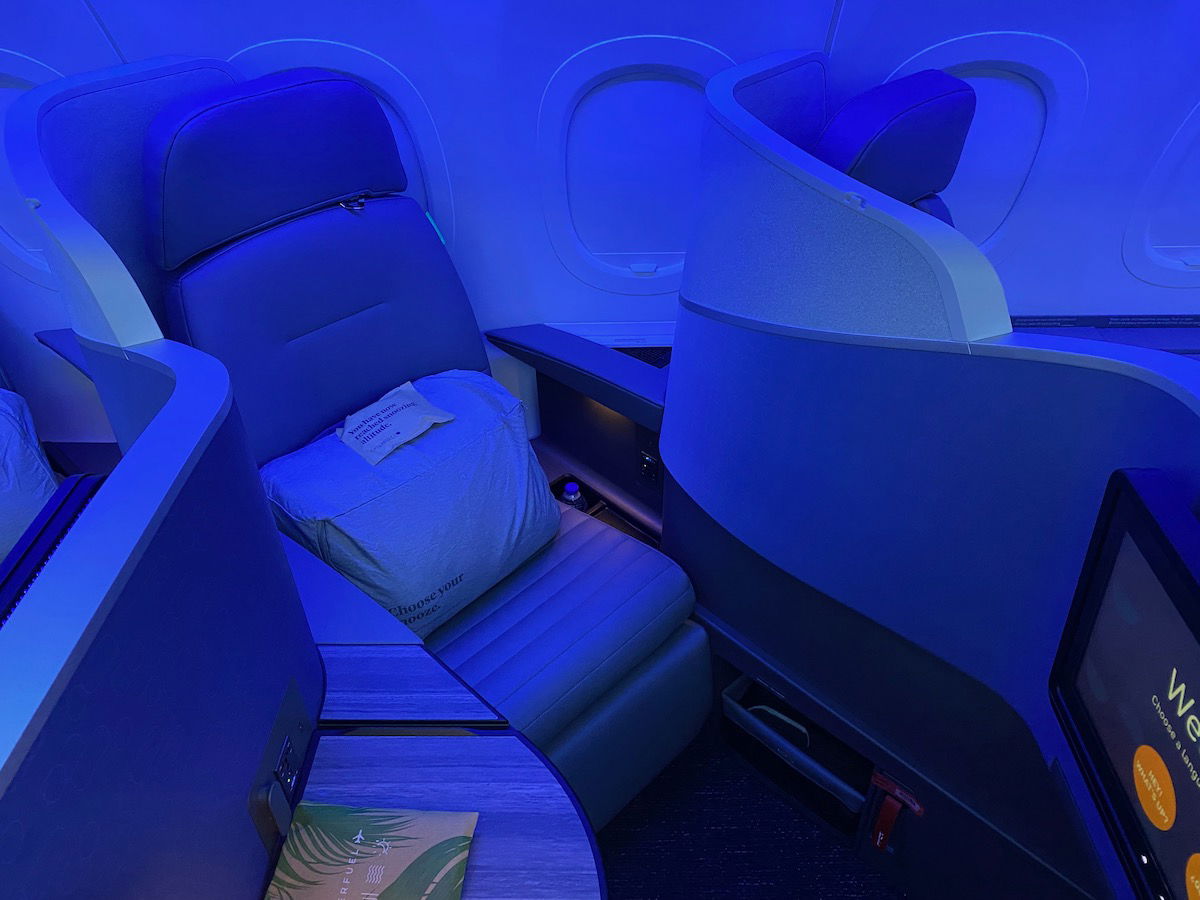 However, if you ask me, this doesn't look as good as STELIA Aerospace's OPERA product, which is a reverse herringbone product intended specifically for narrow body jets. I of course understand the unique space constraints that single aisle jets face, but reverse herringbone is the evolution of herringbone seating, so it's nice to see seats that don't essentially take us back one generation.
Similarly, the Safran VUE product also features reverse herringbone seats, and FlyDubai will be the launch customer for this on its upcoming Boeing 737 MAX deliveries.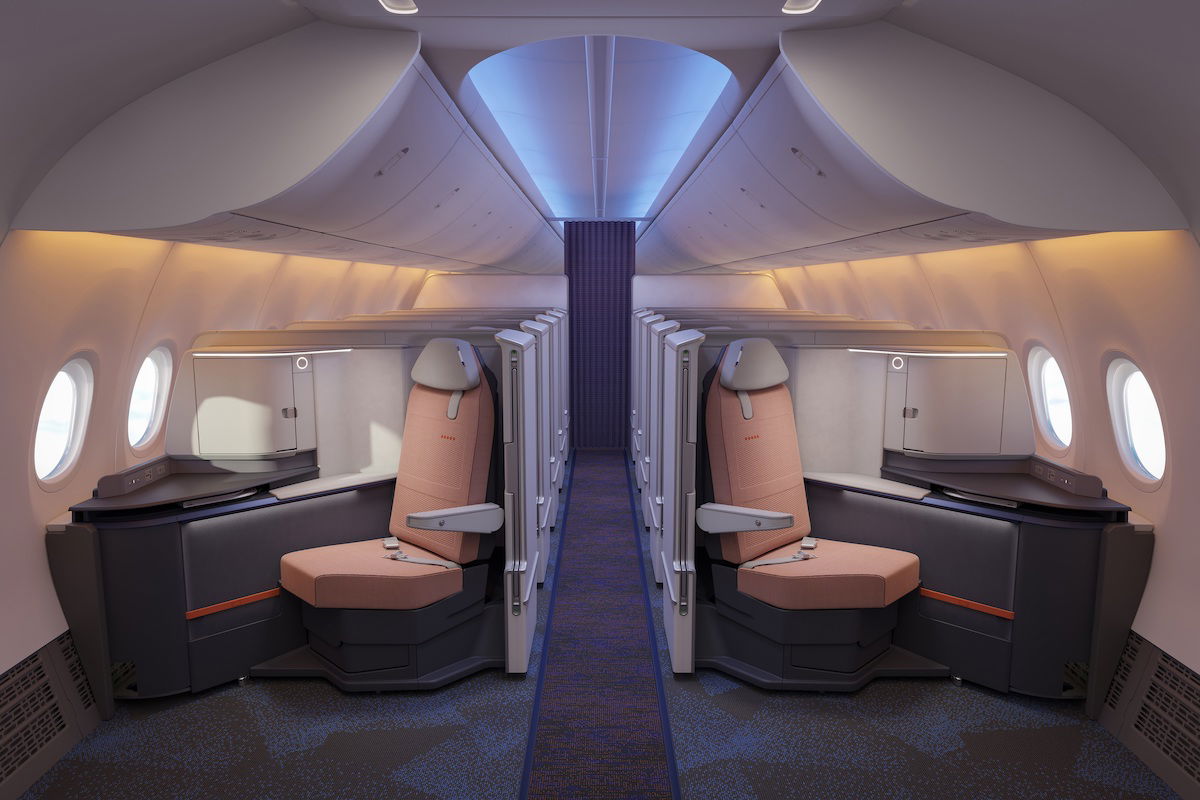 So I'd say the new product from Collins Aerospace looks perfectly fine. It's a solid product that strikes the balance between passenger comfort and maximizing space. However, I doubt it's going to be the best narrow body business class seat out there.
Bottom line
Collins Aerospace has debuted Aurora, its new single aisle business class product. While Collins Aerospace is best known for its reverse herringbone seat, this is a herringbone product, meaning all seats face the aisle. The product is quite customizable, and is designed to maximize comfort and efficiency.
You can expect to see this seat onboard flights as of 2024, as the seating manufacturer already has a couple of unnamed customers.
What do you make of the new Collins Aerospace Aurora seat?