Update: American AAdvantage miles can now be redeemed for JetBlue flights directly on aa.com (a few weeks ago availability became bookable by phone, but not yet via the website). This can be a good value in economy, but in Mint it's not nearly as good of a value. Below you can find my original post from October 13, 2021. (Tip of the hat to View from the Wing)
In early 2021, American and JetBlue launched a strategic alliance in the Northeast. The concept behind this partnership is that JetBlue has amazing connectivity in the Northeast, and American wants to grow its long haul presence out of New York, but needs connecting traffic. Personally I think the partnership is good for consumers, though the DOJ disagrees, and is trying to challenge the alliance.
There's some fantastic news when it comes to the partnership — American and JetBlue are rolling out reciprocal elite benefits as of today, and we can expect reciprocal award redemptions between the two airlines starting in November.
American & JetBlue reciprocal elite benefits
American and JetBlue introduced codeshare flights early this year, then as of May 2021 reciprocal points earning opportunities were rolled out, and now reciprocal elite benefits are being rolled out.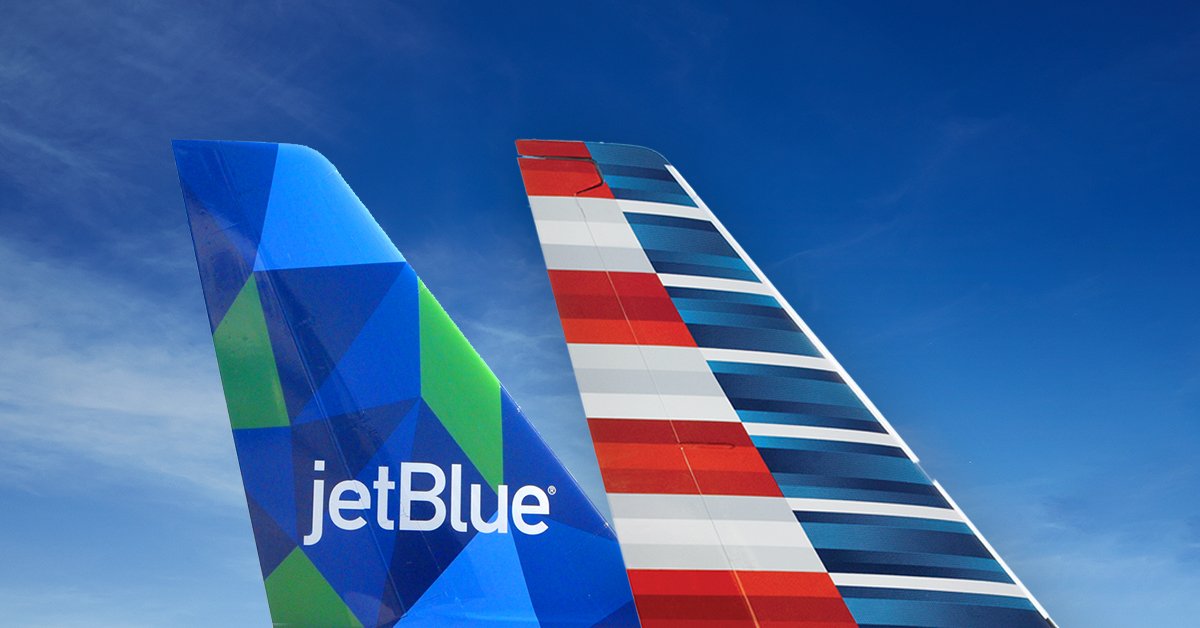 This is pretty straightforward for now — American AAdvantage elite members, as well as JetBlue TrueBlue Mosaic elite members, now receive select elite perks when flying with the other airline. This includes:
Priority check-in
Up to two free checked bags, weighing up to 50 pounds each (AAdvantage Gold members get one free checked bag on JetBlue, while all other elite tiers with both airlines receive two free checked bags)
Priority baggage handling
Priority security
Priority boarding (with Mosaic passengers on JetBlue, and with Group 4 on American)
Free same day flight changes (only for Mosaic members on American)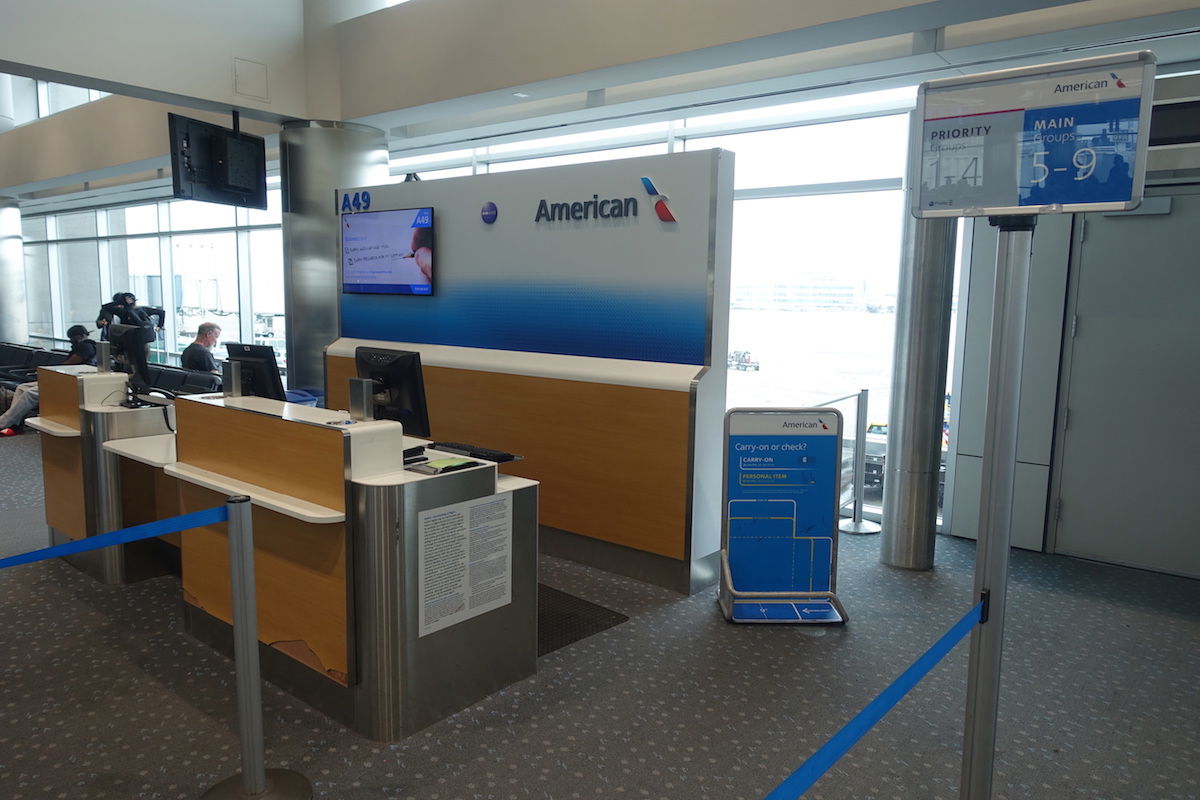 This is a great start, though as you can tell, this still doesn't offer full reciprocity. The good news is that we should see even more reciprocal elite benefits for AAdvantage and TrueBlue members in the future. There's no timeline and no details, so what should we expect?
I think we could see reciprocal extra legroom economy seating (Main Cabin Extra on American and Even More Space on JetBlue); presumably policies would vary based on your exact status
JetBlue Mosaic members and American Executive Platinum members receive a free alcoholic drink in economy, so perhaps that could be reciprocal on the other airline as well
While I suppose anything is possible, I highly doubt we'll see reciprocal first class or Mint upgrades; JetBlue doesn't offer Mosaic members Mint upgrades as an elite perk, and I can't imagine American would offer first class upgrades without reciprocity
The one potential upgrade perk I could see would be some systemwide upgrades for Mosaic members; I think this would be offered in a limited capacity, and would be intended to encourage JetBlue Mosaic members to fly American long haul, though there's not much that JetBlue could offer reciprocally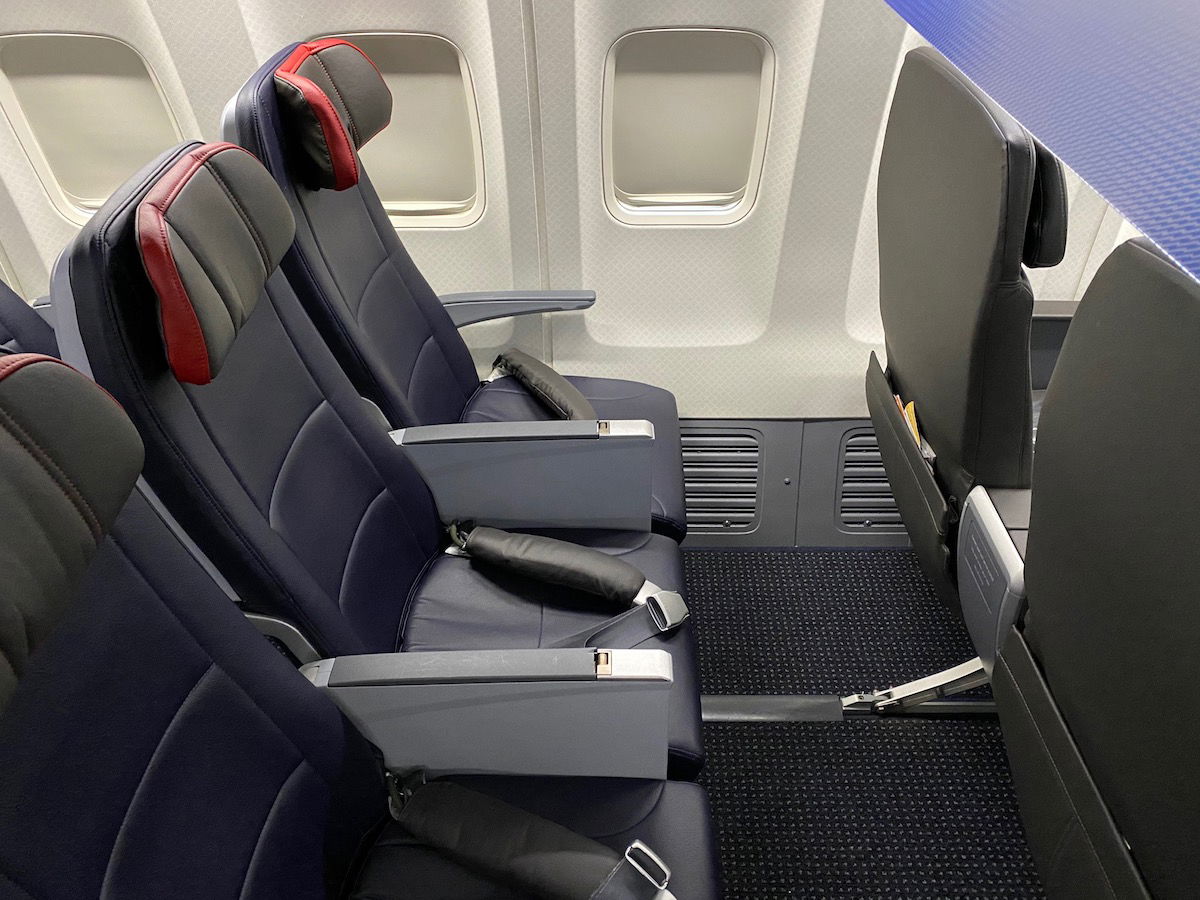 American & JetBlue reciprocal award redemptions
Starting at some point in November, American and JetBlue intend to roll out reciprocal award redemptions. The execution of this is a bit tricky, given that:
JetBlue TrueBlue is a revenue based award program, where the cost of a ticket when redeeming points directly reflects the cash cost
American AAdvantage publishes an award chart but then has different award levels, so award pricing doesn't directly reflect the cost of a ticket when paying cash
So, what should we expect? If you want to redeem American AAdvantage miles on JetBlue, award pricing will follow American's typical partner award chart (with a major catch), which looks as follows: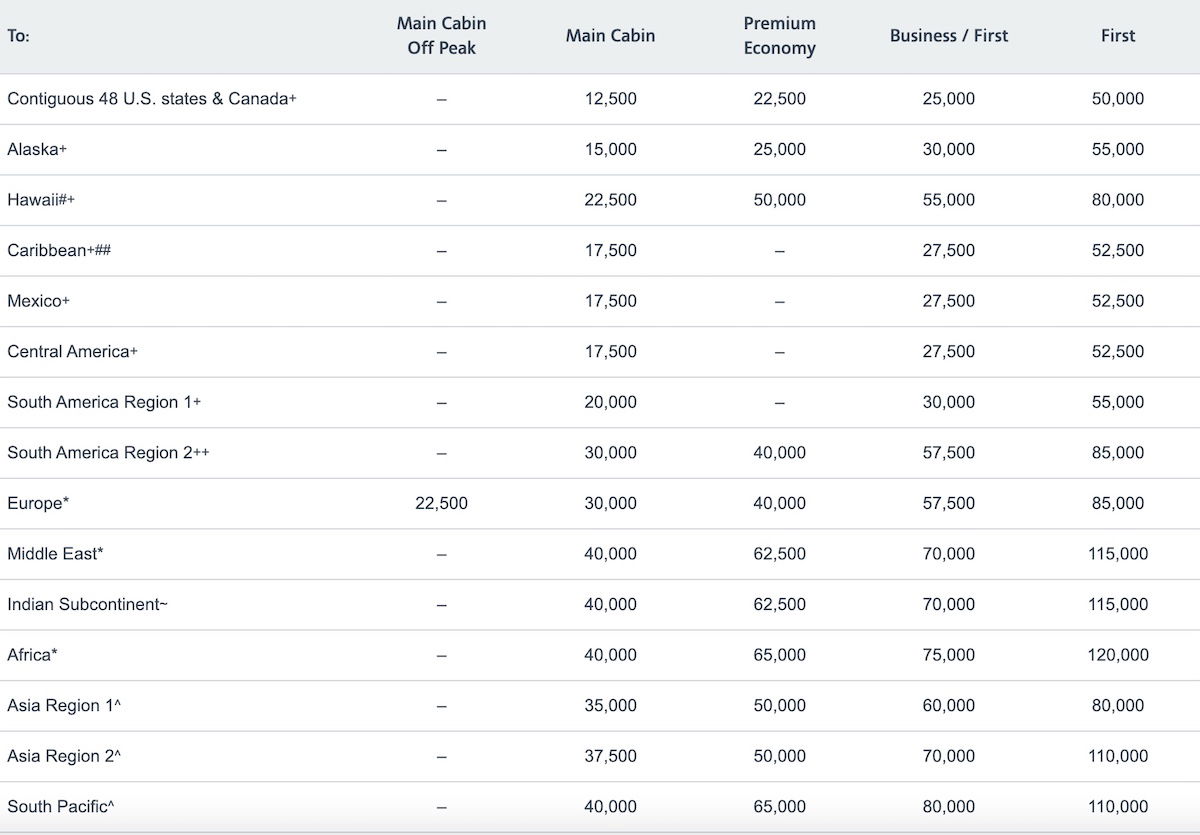 In other words:
A JetBlue economy ticket will price at 12,500 AAdvantage miles one-way within the United States, which is awesome
A JetBlue Mint ticket will price based on the "First" column, rather than the "Business / First" column, meaning that a Mint ticket will cost a minimum of 50,000 AAdvantage miles one-way
Not only that, but you'll have to pay an additional 15,000 AAdvantage miles for one-way for many Mint routes, including segments from Boston, New York, Miami, Fort Lauderdale, or Palm Beach, to Los Angeles and San Francisco
JetBlue's transatlantic flights are excluded from this alliance, so it won't be possible to redeem AAdvantage miles for them
As far as award availability goes, economy awards on JetBlue will book into the "P" fare class, while business class awards will book into the "I" fare class
So yeah, 65,000 AAdvantage miles for a one-way Mint ticket isn't exactly a great deal. Ultimately I'm happy to see reciprocal mileage redemptions coming, and in this case I think there's a lot more value in economy than in Mint.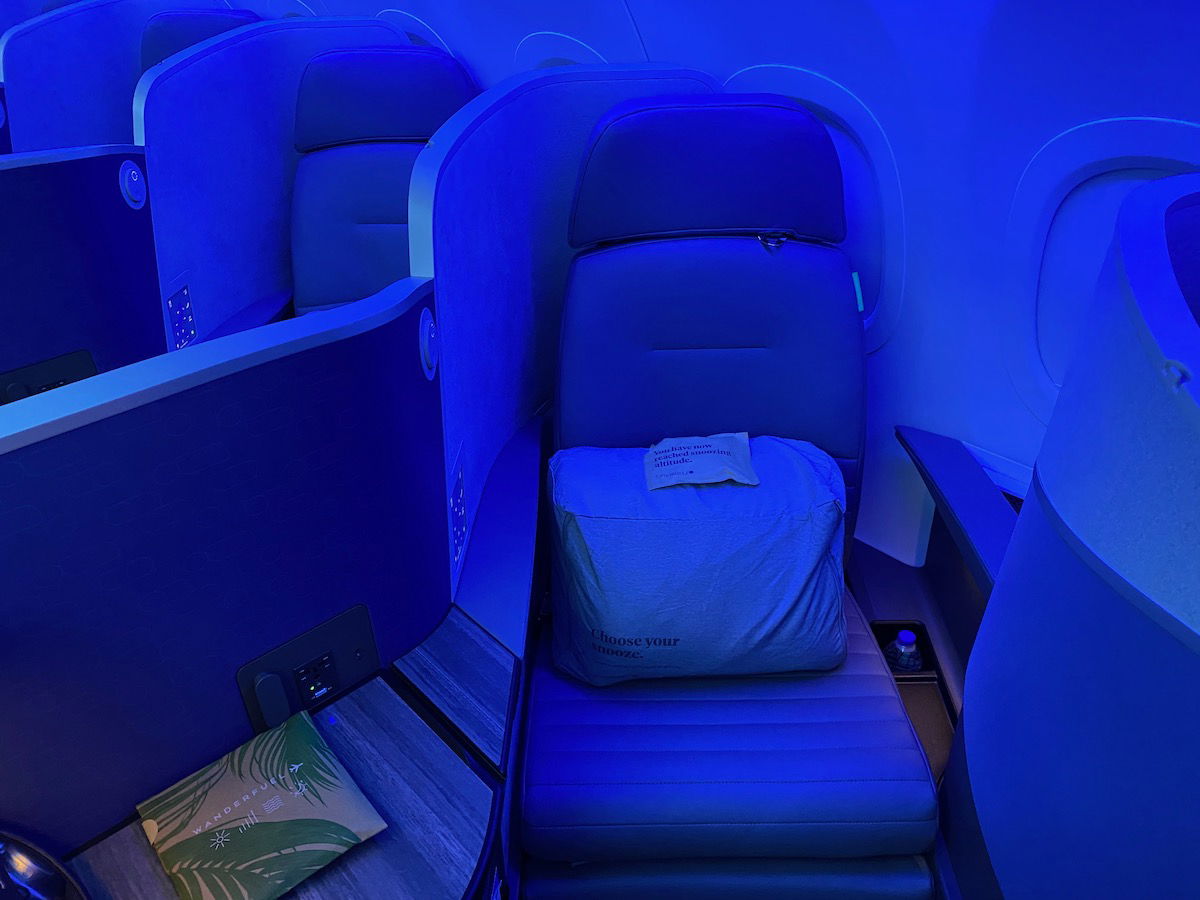 As far as redeeming JetBlue TrueBlue points on American goes, no details have yet been revealed about what that will look like, but we should learn more soon.
Bottom line
American AAdvantage and JetBlue TrueBlue have just rolled out reciprocal elite perks. For now we're seeing reciprocity when it comes to check-in, checked bags, security, and boarding. This is a great start, though hopefully we see some more reciprocal benefits rolled out in the future.
We should also expect reciprocal award redemption opportunities starting in November. I'm happy to finally see this, though the Mint redemption rates aren't quite as good as I had (probably too optimistically) hoped.
What do you make of the reciprocal elite perks and award redemptions between American and JetBlue?