For years, US Airways Dividend Miles would offer a 100% bonus on purchased miles more often than not. While they often mixed it up (sometimes there were thresholds required to maximize the bonus, sometimes they had targeted bonuses, etc.), you could always count on purchasing US Airways miles for ~1.88 cents each.
However, in September View from the Wing claimed that US Airways was selling miles at the current rate for the last time. Apparently they were going to change the way they sold miles, though that's all we knew at the time.
That could have meant:
Raising the "base" cost of purchased miles, and then still offering a 100% bonus
Limiting the number of miles you can purchase per calendar year
Offering less than a 100% bonus
Or I'm sure there are a million other revenue "maximizing" ideas they could come up with.
Well, US Airways has just announced their latest Buy Miles promotion, and I guess this gives us an idea of what we should expect as the "new normal."
Through November 12, 2014, US Airways Dividend Miles is offering tiered bonuses on the purchase of miles, as follows:
10,000-14,000 miles = 4,000 bonus miles
15,000-29,000 miles = 8,000 bonus miles
30,000-49,000 miles = 19,000 bonus miles
50,000-79,000 miles = 33,500 bonus miles
80,000 miles = 50,000 bonus miles

In other words, if you max out the promotion you can purchase 130,000 miles for $3,010, which is ~2.32 cents per mile. That's a bonus of ~62%.
That's considerably more expensive than the previous cost of ~1.88 cents per mile. So you still get 50,000 bonus miles as before, except you have to purchase an additional 30,000 miles at the "normal" price of 3.5 cents per mile in order to get them.
~2.32 cents per mile isn't a rate at which I'd speculatively purchase miles. But with a specific use in mind, it certainly could be worthwhile. For example, 130,000 miles is more than enough for Cathay Pacific first class roundtrip between the US and Hong Kong, so for ~$3,000 out of pocket that's still a heck of a deal.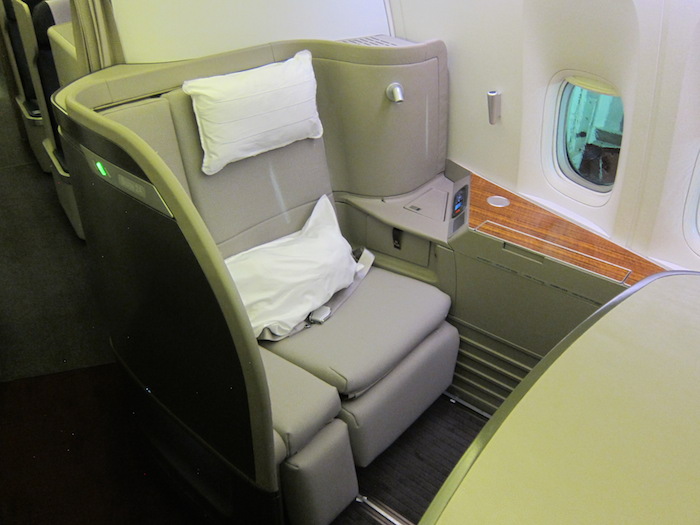 Cathay Pacific 777-300ER first class
As a reminder, US Airways mileage purchases are processed by points.com, so don't qualify as airfare for the purposes of your credit card.
I am curious to see what response US Airways gets with their new cost of selling miles, and if this is actually the new normal, or if they're just testing the waters.
Do you think demand will drop considerably? If you previously purchased miles for ~1.88 cents each, would you purchase them for ~2.32 cents each?