A couple of weeks ago we saw the biggest terminal swap in LAX's history, as dozens of airlines changed the terminals out of which they operate. This was all prompted by Delta's desire to locate to Terminals 2 & 3, though hopefully in the very long term it has a positive effect for all airlines. As Nick noted, Delta's operations at LAX are a mess right now, and it'll be 2023 before the renovations are complete.

What Delta's operations will look like in 2023
This terminal change is arguably good for American flyers. Previously American had all of Terminal 4, a few gates at Terminal 6, and a remote terminal. They're keeping their Terminal 4 and remote terminal presence, and are also getting some Terminal 5 gates in place of Terminal 6 gates, which should make connections easier. The other great news is that American is getting a massive new Admirals Club.
As I explained a couple of months ago, American will be taking over the Delta SkyClub in Terminal 5, which is a big space. This means that American will have three Admirals Clubs at LAX — one in Terminal 4, one in Terminal 5, and one in their remote terminal.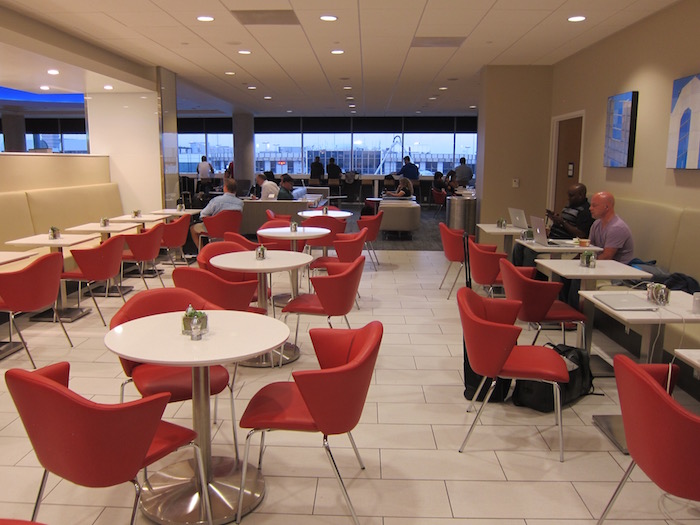 The former Delta SkyClub Terminal 5, which will soon be an Admirals Club
Anyway, I've been curious about when this new lounge will open. The always reliable JonNYC notes that American's new LAX Terminal 5 Admirals Club will be opening at the end of July, and that American will in fact be taking over the entire SkyClub.
Furthermore, apparently the renovations in the LAX Terminal 4 lounge will be complete by October, where we should see American introduce their new Flagship Lounge, as well as Flagship First Dining facility. This should be similar to the Flagship Lounge and Flagship First Dining facility that were introduced at JFK last week.

American's new Flagship First Dining facility JFK
The lounge experience has been pretty lousy for American out of LAX recently. A couple of weeks ago I visited the LAX Admirals Club at around 5AM, and there was loud jackhammering, to the point that I thought sitting in the gate area was more pleasant. I realize it has to be done, though it sure sucks as a guest.

American's makeshift Flagship Lounge LAX
So on the plus side, at least American flyers at LAX can look forward to an improved experience and much less crowded lounges by late July, when the Terminal 5 lounge opens, and an even better experience by October, when renovations on the Terminal 4 lounge are complete (including the Flagship Lounge and Flagship First Dining).