This year I'd like to spend a bit more time on the blog covering the basics of earning and redeeming miles. I realize that might not be the most exciting thing for long time readers, but even after blogging for nearly seven years my readership more than doubles every year, and I realize that leaves some people lost.
Reader Charlotte asked the following question on the Ask Lucky page of the blog, which I wanted to address:
At what time (EST) does SQ release their award space to their own members each day on their website? Every day that I check, the latest saver space on the calendar is already waitlisted and snatched up before I get there.
It's worth pointing out that the second part of the question is a common misconception. If you book the day an airline opens award space and there's not any availability, that doesn't mean someone else beat you to it. Many times airlines don't open any saver level award space on a flight when the booking window opens, or for that matter sometimes they don't open any award space on a flight at all.

It's very rare for award space to be snatched up the day that availability opens, let alone in the first few hours that availability opens. The only time I find that to be fairly common is for premium cabin award space on Qantas between the US and Australia, given how tough that space is to come by.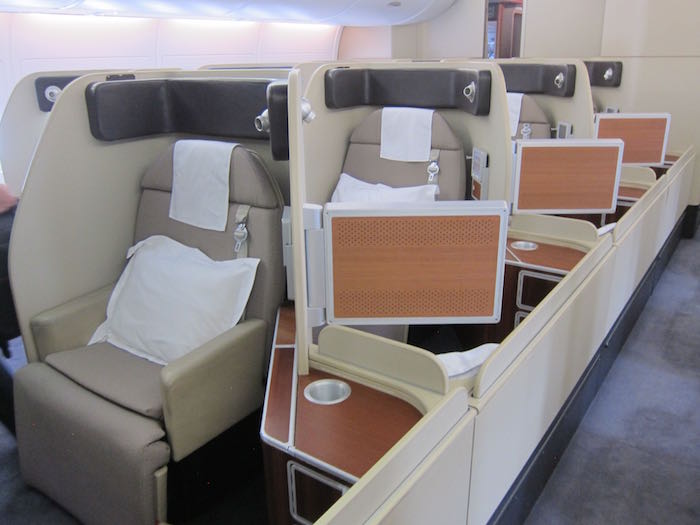 Qantas A380 first class is notoriously difficult to book
That being said, what can you do to maximize your chances of finding award space in advance on a given flight?
Know when airlines open award space
Keep in mind that the date you can book an award is limited by when the frequent flyer program you're redeeming miles with opens their calendar, and not necessarily when the airline you want to fly with opens their calendar. For more info on that, check out my post on when airlines open their booking windows for award tickets. For example:
American AAdvantage opens their calendar 331 days out, while Cathay Pacific Asia Miles opens their calendar 360 days out, so if you want to redeem American miles on Cathay Pacific, you can only do so 331 days out
Conversely, Delta SkyMiles opens their calendar 331 days out, while Air France FlyingBlue opens their calendar 305 days out, so you can actually redeem Delta SkyMiles for travel on Air France before Air France FlyingBlue members can
Know airline award trends
Before your booking window even opens, take a look at the trend for the airline releasing award space on the route you're eying. Some airlines consistently release award space when the window opens, while others don't. Conversely, some airlines consistently open award space close to departure, while others don't.
While it's no guarantee that there will be award space on a flight when the window opens if the previous week had availability as well, at least you have a good indication.
If your dates are set, have flexible points currencies
If you do have to travel over certain peak dates with limited flexibility and plan on booking as soon as the window opens, try to have miles/points that span the alliances. That can mean having a sizable balance with American AAdvantage and Delta SkyMiles, for example, or it can mean having a lot of a transferable points currency, which you can convert to several major programs across the alliances.
The best cards for accruing flexible points currencies include the following:
If you have a flexible points currency that doesn't typically transfer instantly, though (like SPG points, which can take a while to transfer), then you might have to hedge your bets and make a transfer before the booking window even opens.
Bottom line
For better or worse, airlines don't always open award space when the schedule opens. It's quite common, actually. At least you know that in a vast majority of cases someone didn't beat you to securing them.