Even though I've flown hundreds of segments in international first class, I still get giddy every time. Fortunately not giddy to the point that I can't sleep the night before (which is a good thing), but still genuinely very excited.
Obviously the quality of first class products globally varies significantly, based on the airline, time of day you fly, the specific crew you get, etc. However, there's one characteristic that has made flights special without exception — when you're the only passenger in first class.
In my life I'd say I've probably had about a dozen flights where I was the only passenger in first class, and it's always such a treat. However, I just took my third first class flight in a row where I was the only passenger in the cabin:
What makes a private first class cabin so special?
The most precious commodity on a plane is space. Of course space is less of an issue in first class than economy, though having a private cabin takes that to the next level. You don't have to worry whether your meal choice runs out, you control the lighting in the cabin, the bathroom is always (hopefully) clean, etc.
It's like flying a private jet across the ocean, only it's significantly more spacious (unless you're the Qatari royal family — they also have a 747-8).
At a minimum you have one crew member looking after you, and often even two. I'll admit that it can almost sort of be awkward, as there's no subtle way for the crew to check on you. When there are others in the cabin they can just walk by, while when you're the only one you see them peeking through the curtain to see if you want anything, and you certainly feel watched.
I'd say that's a small price to pay for hundreds of square feet just to yourself while crossing an ocean.
Personally I don't think there's that big of a difference between a private cabin and one with just one or two other passengers. However, I imagine my Air China experience would have been slightly different if there had been 11 other passengers, for example.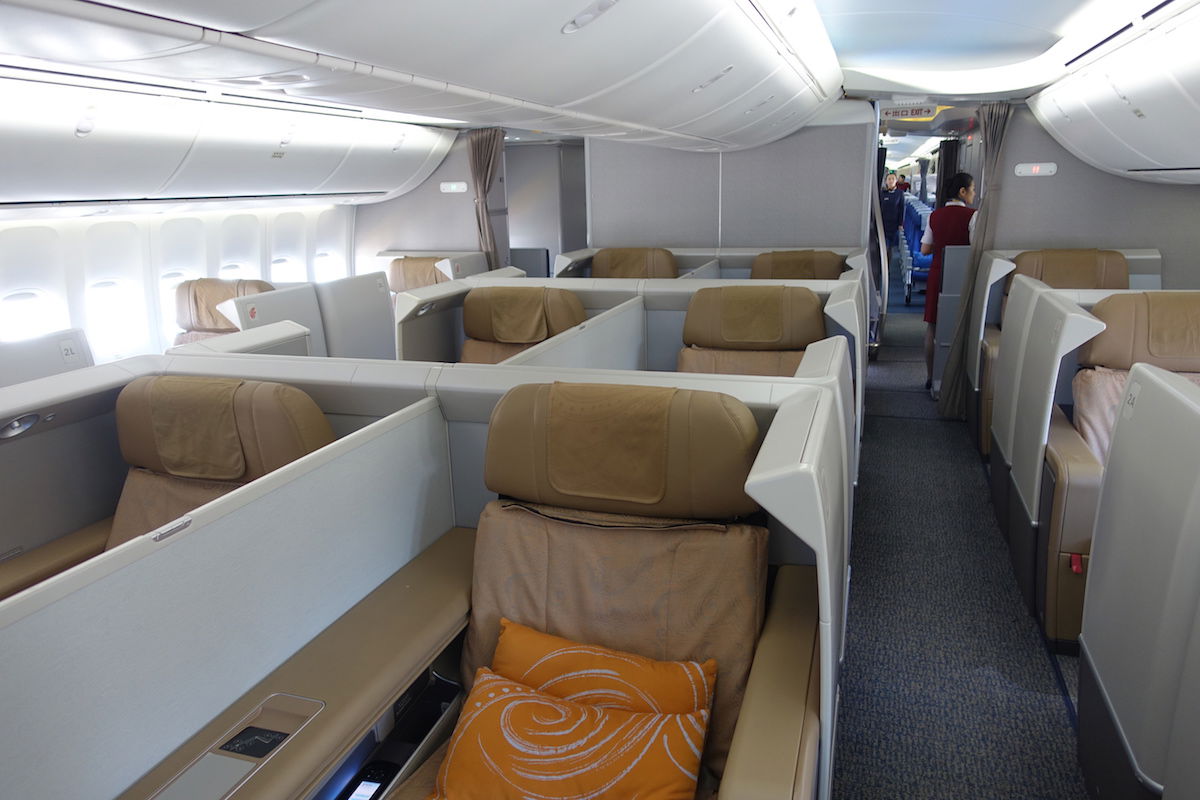 My private Air China first class cabin
Are my private cabins a coincidence?
Yes and no. It's partly luck, partly not. Sometimes I just need to go where I need to go, and I book whatever is most direct. Fortunately my job affords me a lot of flexibility in terms of where and when I travel, so at times the occupancy of a cabin does impact which flights I book.
For example, a few weeks ago I booked my Jet Airways first class flight, and noticed no one else was booked in first class. The cabin has eight seats, and after I held my seat it was still "F7," meaning there were seven first class seats for sale. So I knew no one else was booked in first class at the time.
In the case of my Air France first class flight, booking a private cabin was quite intentional. I booked the day before departure, and saw that the Paris to Houston flight was "F4" before I booked, meaning that all four first class seats were for sale. If I was going to redeem as many miles as it cost, I figured I might as well get a private cabin out of it.
In the case of my Air China flight, that was a complete coincidence. I booked the flight simply because it was operated by a 747-8 (and Air China has the last 747-8 I want to fly, since I've flown those operated by Lufthansa and Korean Air). I did notice after booking that no other seats were assigned on the seatmap, but that's not always an accurate indicator.
The other thing to keep in mind is that stuff can always change last minute. So when I book a flight where I'm the only first class passenger, I never expect it will remain that way. People often book last minute first class tickets (whether paid or award), there are often last minute paid upgrades, operational upgrades also often happen when economy or business are oversold, and in the case of some airlines, employees (typically captains and management) might get seats in first class on a space available basis.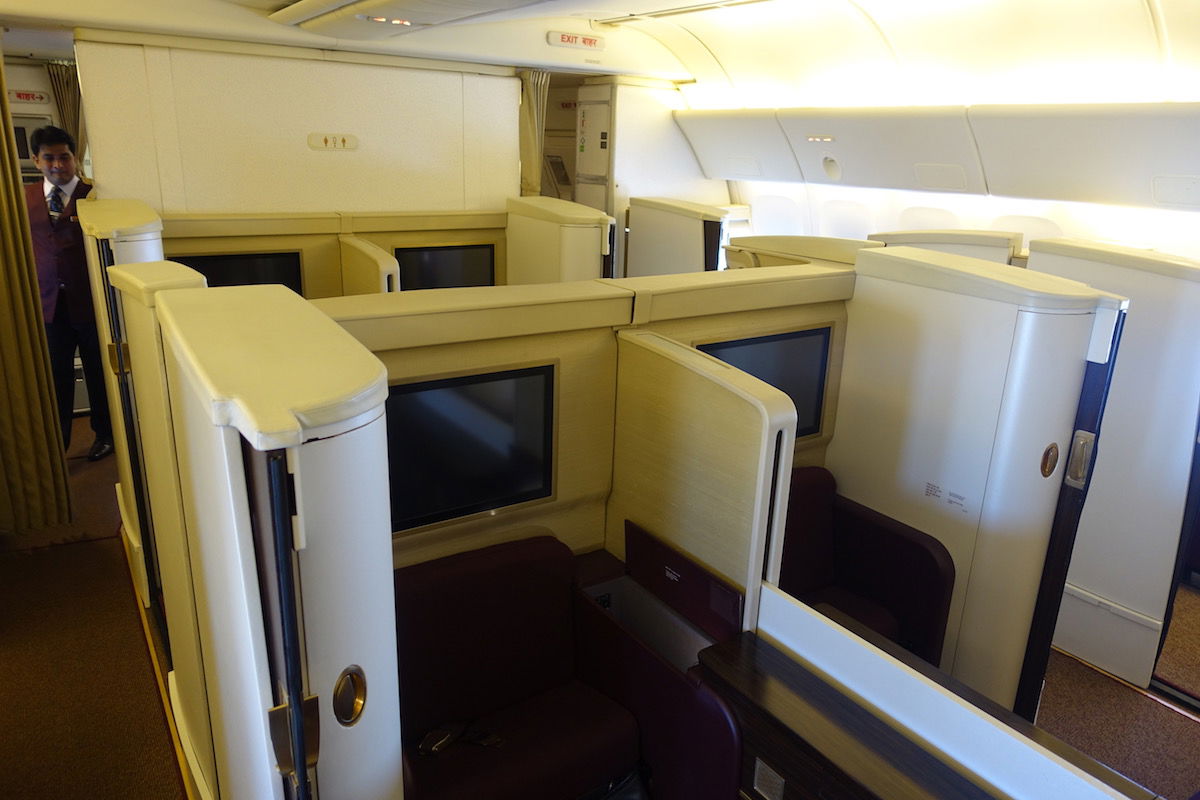 My private Jet Airways first class cabin
How can you maximize your odds of an empty first class cabin?
I'm not necessarily suggesting going out of your way to do this, since it can lead to disappointment. Like I said, you can never count on an empty first class cabin, even if it shows as empty a few hours out. I also realize most don't have the flexibility to book this way. However, if you want to maximize your odds:
Book last minute

Take a look at both the seat map and the number of seats for sale when you book
Travel mid-week, which is typically when the fewest business travelers are taking longhaul flights
Always check how full business class is; if business class is sold out and first class wide open, it's fairly likely that there may be operational upgrades the day of the flight
Book slightly less premium routes, which are less likely to have first class demand (for example, Paris to Los Angeles is typically full in first class, while Paris to Houston seems to have the first class cabin go out empty with some frequency)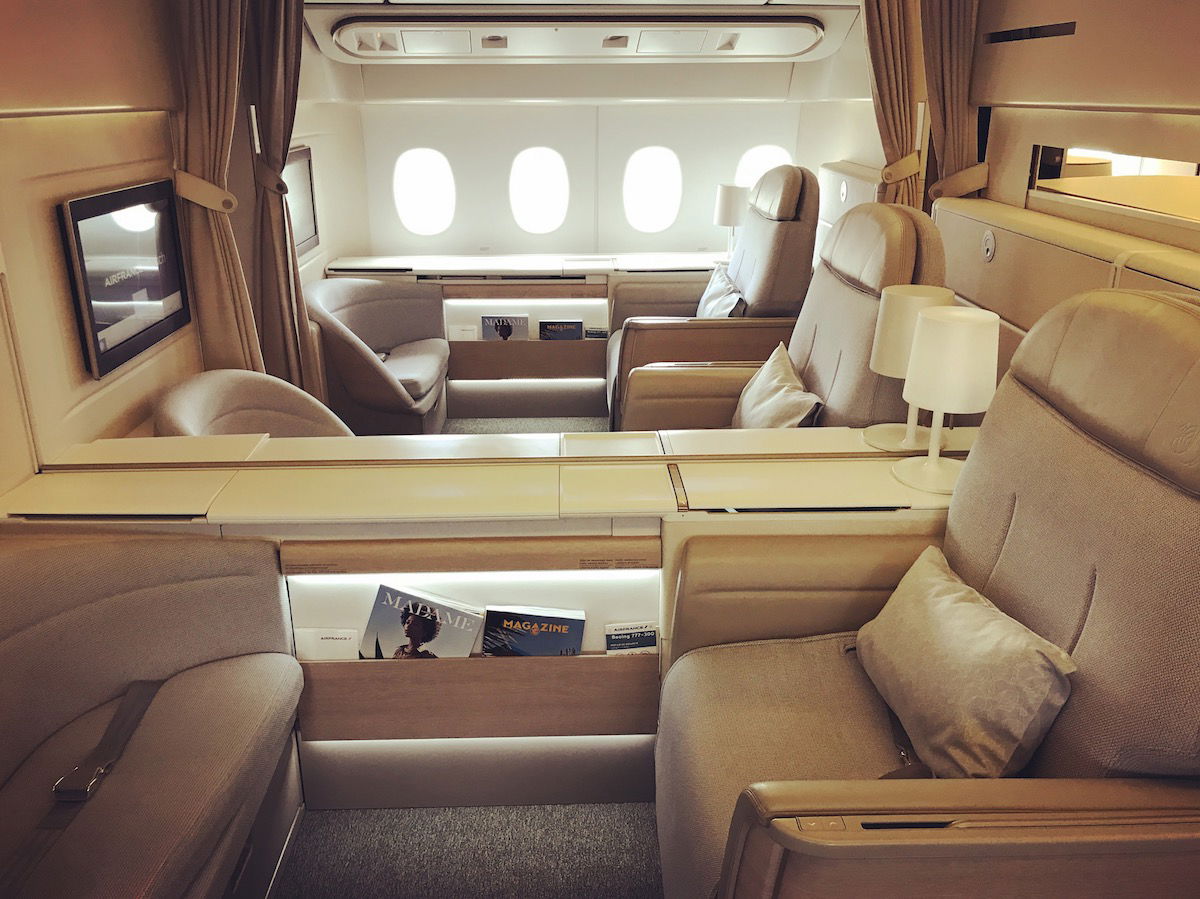 My private Air France first class cabin
Bottom line
I've been incredibly spoiled with my past three international first class flights, as I was the only first class passenger on each of them. Having a private cabin is a very special experience, though I don't think it's necessarily worth planning your travel around that, as it often leads to disappointment.
If you do decide to go for it, hopefully the above helps.
Have you ever been the only person in first class, and if so, what was your experience like?