The information and associated card details on this page for the Hilton Honors American Express Surpass® Card has been collected independently by OMAAT and has not been reviewed or provided by the card issuer.
Over the weekend I wrote a post asking how you Hilton Diamond members approach suite upgrades. I'm not the most loyal Hilton guest, but have tried out Diamond status thanks to credit card spend on the Hilton Honors American Express Surpass® Card, and while the rules on suite upgrades are clearly published with Hyatt and Starwood (the two chains I'm primarily loyal too), Hilton isn't quite as straightforward. Their policy is simply that suite upgrades "may be offered" to Diamond members by the hotel. Based on the comments on that post it seems like for the most part Diamond members don't proactively get upgraded to suites, but with a bit of begging they'll sometimes get suite upgrades.
I'm staying at the Hilton Budapest Castle District right now, and booked one night on points and one night with cash, so I had two separate reservations. I actually only locked in the reservation a day before my arrival, and didn't inform the hotel I had two reservations, so figured I'd have some explaining to do at check-in to have the reservations linked.
Fast forward to yesterday, when I arrived at the hotel at around 7PM.
I decided to head straight up to the club lounge for check-in, and the agent there couldn't have been nicer. She pointed out that they noticed I had two reservations and took the liberty of linking them and blocking off the same room for me both nights. She also said that they noticed I was a new Hilton Diamond member, and thanked me for my "loyalty" (hah hah), and said they had upgraded me to a top floor suite with great views of the Danube. She then explained internet was free, the club lounge hours, and that I could choose to have breakfast in either the restaurant or club lounge.
She further proactively offered recommendations for what to see in Budapest, and said I could come back to see her any time if I wanted more suggestions.
Then waiting for me in my room was a small arrival amenity, consisting of some chocolate and fruit.
I was simply shocked. I don't think I've ever had such a proactive and friendly check-in experience in my life. Ever.
As far as the room goes, it was huge and the views were amazing. This is an older hotel in the castle district and I realized it wasn't renovated going in, so it was furnished as I had expected. If a cruise ship and 1986 had a baby, this hotel would be it, down to the towel art.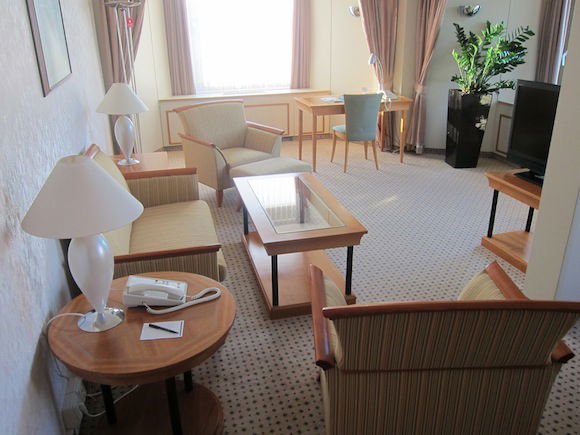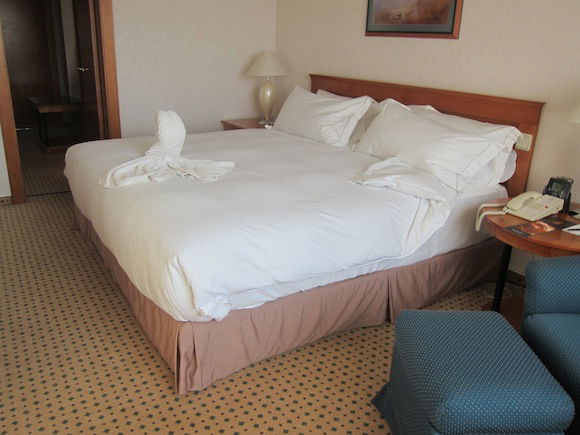 But the views…. the views… have you ever seen anything like that? Definitely ranks in the top five views I've ever had from a hotel room.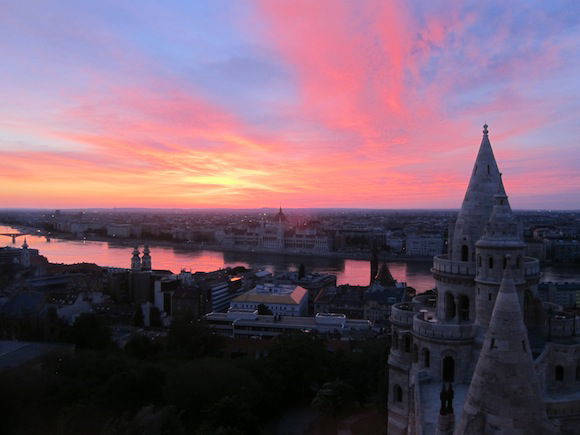 If all my Hilton stays were like this I'd probably just be loyal to them, given how many properties they have.
But I'm guessing this can just be chalked up to beginner's luck, and it'll be the last suite upgrade I see from them…
Now if you guys will excuse me, it's almost dinner time and I'm hungary. Not that you guys have a stake in this, but any food tips? Whatever you think, just don't give me too much of a ribbing, please.