I just ticketed ANA first class awards for Ford and me to Japan for next year, and this is easily my best award redemption in quite a while, as I paid just 92,500 Amex points per person, plus taxes and fees. I wanted to share my experience with the booking process.
Virgin Atlantic's award chart sweet spot on ANA
I don't value Virgin Atlantic Flying Club miles that much purely in terms of the value they offer for redemptions on Virgin Atlantic. However, they have some incredible partner redemption opportunities, the best of which is for travel on ANA.
You can redeem just 95,000 miles for roundtrip business class or 120,000 miles for roundtrip first class between the US East Coast and Japan, which is an outstanding value (from the West Coast it's even cheaper — just 90,000 miles and 110,000 miles, respectively). One-way awards are now possible as well, and half the cost of the roundtrip price.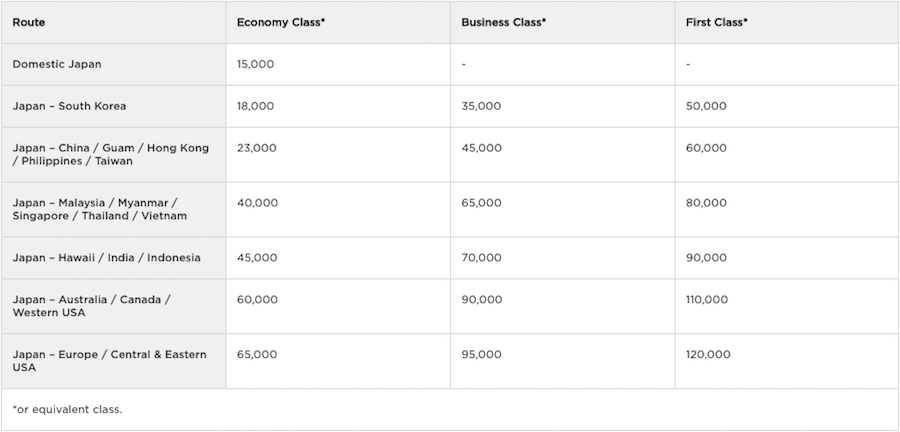 Amex & Citi transfer bonuses to Virgin Atlantic
It gets even better than that. Most of us have access to Virgin Atlantic miles by transferring points from Amex Membership Rewards, Chase Ultimate Rewards, or Citi ThankYou.
At the moment, both Amex Membership Rewards and Citi ThankYou are offering 30% bonuses when you transfer points to Virgin Atlantic Flying Club. The Amex bonus is valid through September 12, while the Citi bonus is valid through October 13.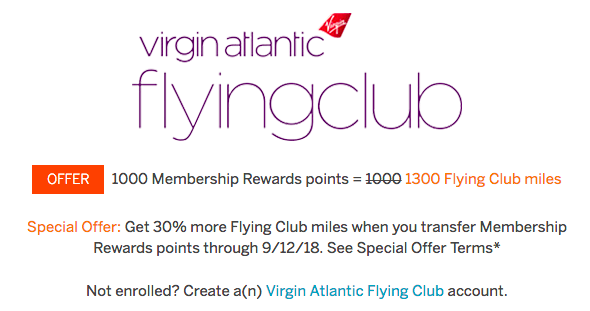 Transfer points to Flying Club with these cards:
It was time to act… finally!
This is the worst possible month for me to plan travel since I have so much going on at the moment, so I really didn't want to book anything further right now. However, ever since I met Ford he has been wanting to go to Japan, and for whatever reason we always push it off.
Years later, he still hasn't been, so it's time to go. I have tons of Amex points (a lot more than Citi points), and with the transfer bonus ending in two days, I thought this was the time to book.
This is such an astonishingly good value that I'm not convinced the award won't be devalued before I'd have a chance to book in the future.
Fortunately the booking process was so easy, and I wanted to share my experience.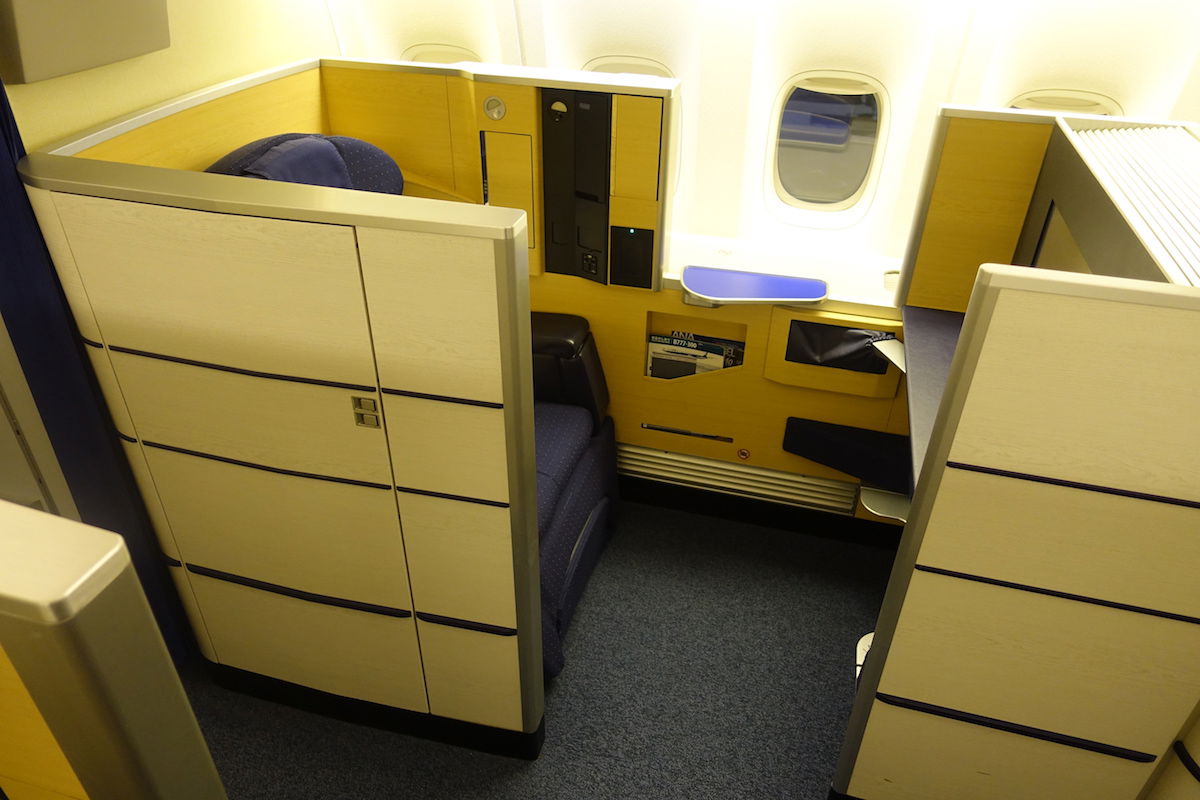 ANA first class seat
Redeeming Virgin Atlantic miles for ANA first class
I figured I'd share my experience actually booking this tickets, since I was pleasantly surprised by how easy it was.
Step 1: Find award availability
Ford and I didn't care out of which US gateway we'd depart, so I looked at award availability for next spring out of Chicago, Houston, Los Angeles, New York, San Francisco, and Washington.
The easiest way to search this is through united.com, and I was surprised there was still a fair bit of space, since a) ANA doesn't have that much first class award availability in general and b) I figured everyone else had snagged all the space at this point, given the transfer bonuses.
I had no trouble finding space, and we decided on Chicago as a gateway, so I just jotted down the flight numbers and dates.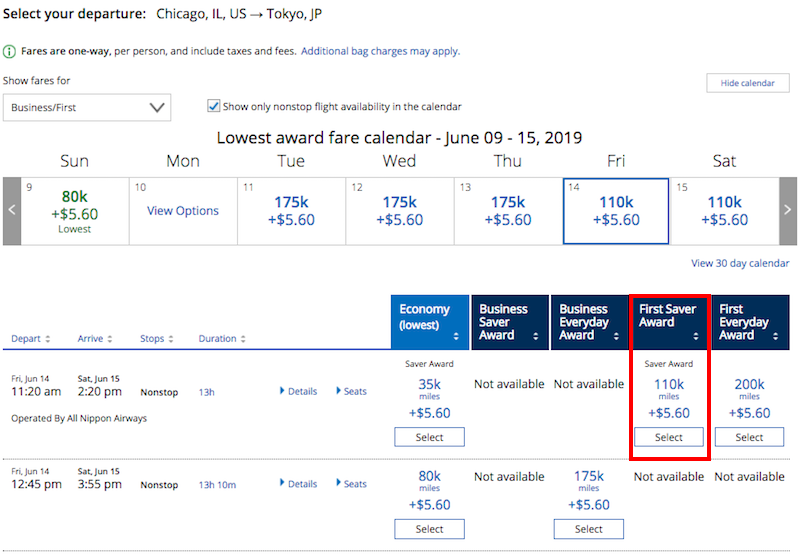 Step 2: Calling Virgin Atlantic
Virgin Atlantic doesn't let you book ANA awards online, though Virgin Atlantic Flying Club is the most pleasant frequent flyer program phone line in the world. The difference between calling Virgin Atlantic Flying Club and British Airways Executive Club is night and day.
Virgin Atlantic Flying Club's call center is open 24 hours per day (in the US it can be reached at 800.365.9500), I didn't even have to wait for a minute on hold, the agents are so polite and friendly, and they're competent.
The entire process of calling — including phone prompts — took 3min30sec. Yes, that's how long it took to get through to an agent and put the exact flights I wanted on hold. WOW!
She quoted me a cost of 120,000 Flying Club miles plus $342 per person in taxes and carrier imposed surcharges (while these recently went up, I still consider this to be a great deal).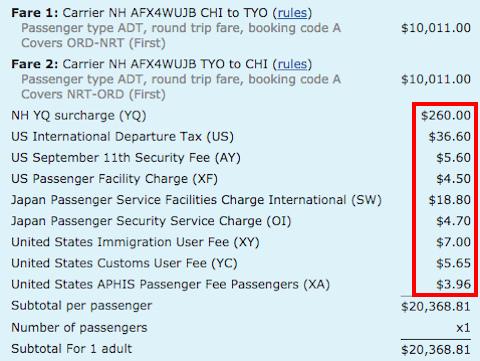 Step 3: Transferring points to Virgin Atlantic
Virgin Atlantic allows 24 hour award holds, so after putting the ticket on hold I transferred over points from Amex. For two tickets I needed just 185,000 points. What a deal.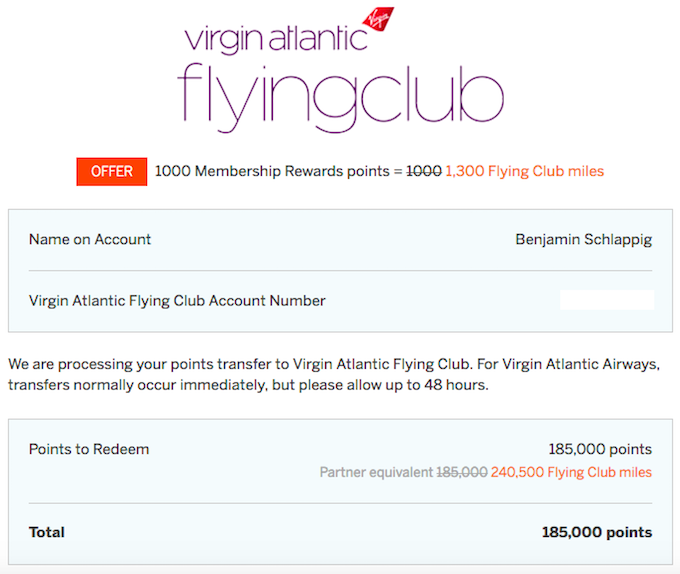 The points showed up instantly in my Virgin Atlantic account.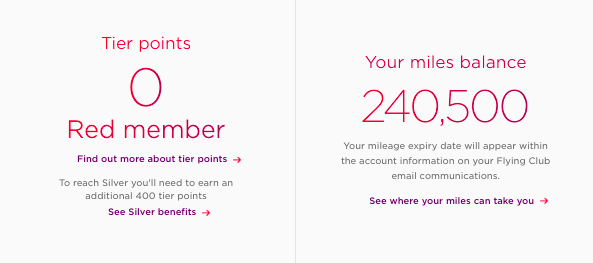 Step 4: Call back to ticket reservations
The first agent offered to wait on hold while I transfer points, though I wanted to sleep things over. So this morning I called back and ticketed the reservation. The entire call, including going through the phone prompt, took less than three minutes.
So collectively I spent under five minutes searching for award space, under seven minutes on the phone, and a couple of minutes transferring points. The prize? Tickets that would have cost $20,368.81 per person if paying cash. Gosh do I love miles and points…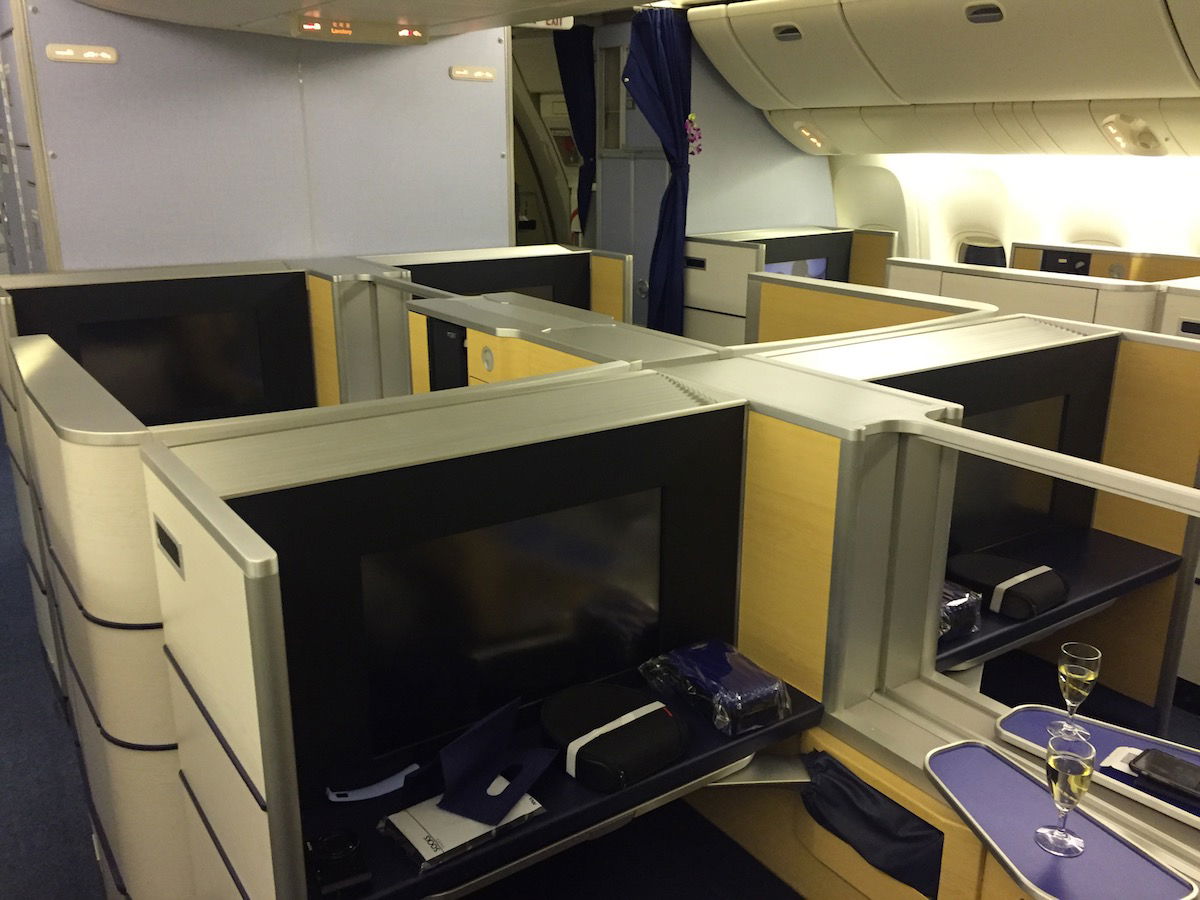 ANA first class seat
Bottom line
I've been in a bit of a rut lately when it actually comes to booking future travel, so I'm thrilled to have ticketed this. If you haven't yet taken advantage of these amazing Virgin Atlantic redemption rates for ANA first and business class, combined with the 30% transfer bonus, I can't recommend doing so enough.
This is a phenomenal deal, and I can't imagine it will last for long. While this trip is many months from now, it's one we're both already looking forward to.
I was also so impressed by how easy the booking process was, as Flying Club is a joy to deal with by phone.
It has also been over five years since I've reviewed ANA first class, so I look forward to experiencing it once again.
Anyone else taking advantage of the opportunity to redeem Virgin Atlantic miles on ANA at the moment?