Earlier this week, Ben wrote about how to save money by booking mixed-class itineraries where you book business (or first class) one way, and economy the other way. He used USA to Europe as a routing example. As soon as I saw the headline, I immediately thought of the 'trick' many Australians have been using to get to Europe for years. This is slightly different but potentially an even better deal.
Let me explain.
Australia is expensive
Australia seems to be expensive for just about everything, and premium airfares to Europe are no exception. Have a look at return business class fares from Sydney to Paris, booked three months in advance, vs. the same dates in the other direction (Paris to Sydney) (all amounts in AUD$):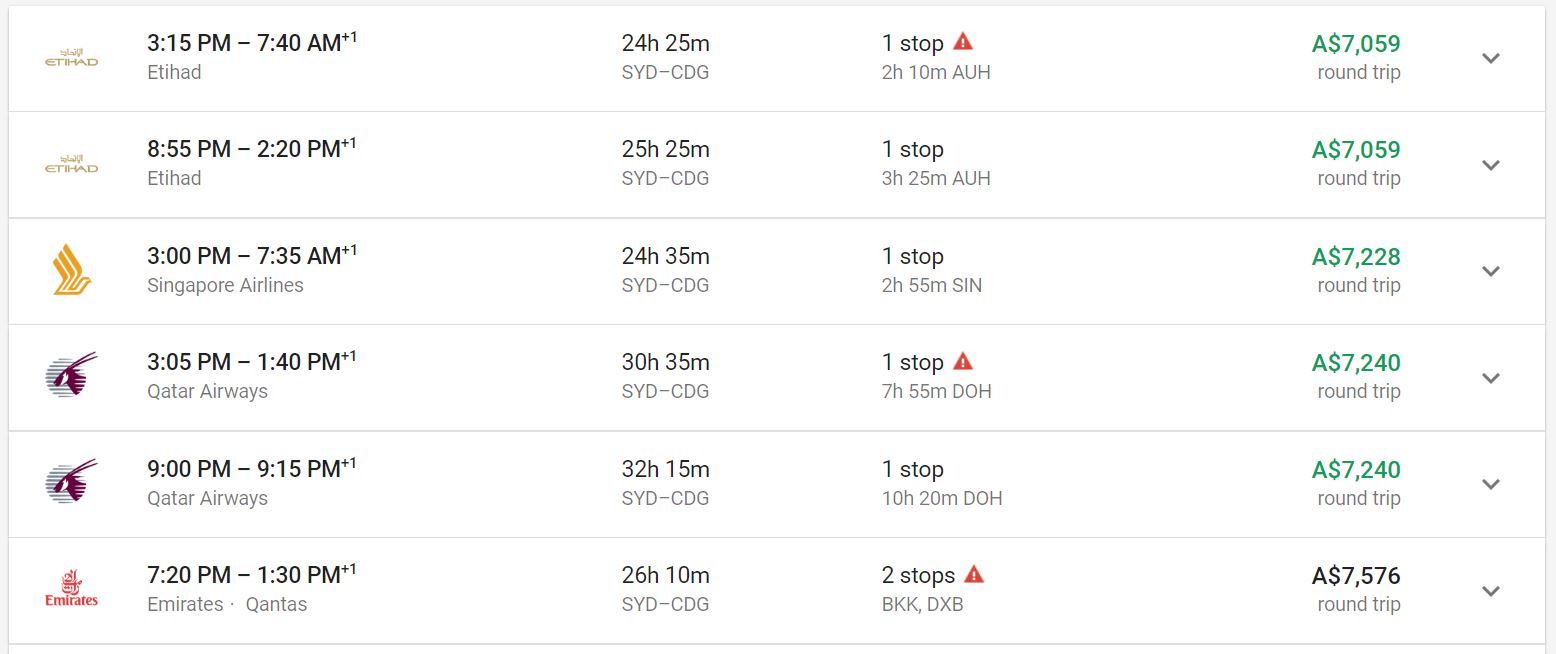 vs:

The trick
You'll notice that all of these listed airlines with the best prices (in either direction) operate via Asia. Asia has for a long time been a popular transit point for Australians headed to Europe, though the Middle East has quickly become very popular too.
Depending on where you are connecting, most flights from Australia to Southeast Asia are only about seven to eight hours in length, followed by a much longer flight from Asia to Europe. Though some of the bigger airlines like Singapore and Cathay Pacific offer flights from Australia to Asia and then to Europe at all different times of the day, perhaps the most common schedule is to take an afternoon flight to Asia and then an overnight flight to Europe, arriving in Europe in the morning.
The trick is if you can 'handle' an economy flight from Australia to Asia (return), it is usually MUCH cheaper to then fly business class onto Europe.
Using the Sydney to Paris example with the same dates as above (AUD$):
Combined this with a (separate) economy flight to get you to and from Asia (I've removed LCC options, but they would be even cheaper):

Combined, you are looking at as low as AUD$3,000 return for the mixed-class itinerary vs. more than AUD$5,000 for the fare all in business class. So you can save about 40% by sitting in economy for the shorter legs.
Ben's examples earlier this week also gave savings of about 40%, however as his were business one-way, economy the other (so 50/50 time in each cabin), mine are economy Australia to Asia return, and then Asia to Europe for the longer legs in business return, so you get much more 'time' in business class than you have to endure in economy (so 60/40 time in each cabin or up to 70/30), especially if choosing Singapore or Kuala Lumpur.
If you are originating from Perth it can be as little as 4 – 5 hours to Southeast Asia, which is easily doable in economy.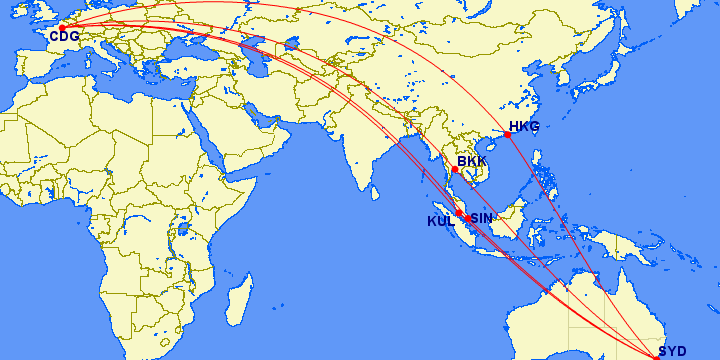 Now some caveats
You've probably noticed that the itineraries above are hardly ideal. I admit that! If you want a comfortable, one-stop option all in business class, on a premium carrier then by all means book Qatar, Cathay Pacific, etc. But be aware you will be paying dearly for it.
You may have noticed/realised from my mixed-cabin examples above that:
The Asia to Europe options are not nonstop, meaning at least two stops from Australia to Europe, maybe more. That's because any airline operating a non-stop service between two cities is going to charge a premium over competitors operating an indirect one-stop flight
While the economy options I've listed are good quality, household airline names you may hold status with (which will make the economy legs far more pleasant), some of the Asia to Europe carriers are not carriers you would think to fly, and don't belong to an alliance, so mileage earning opportunities may be limited
You are booking two separate itineraries, so will need to build in a buffer (but equally, hello stopover!) as you won't be protected if a delay in itinerary one causes you to miss itinerary two
Many flights from Asia back to Australia are overnight, which is not going to be pleasant in economy, although carriers like Singapore and Cathay Pacific always have 'day flights' to Australia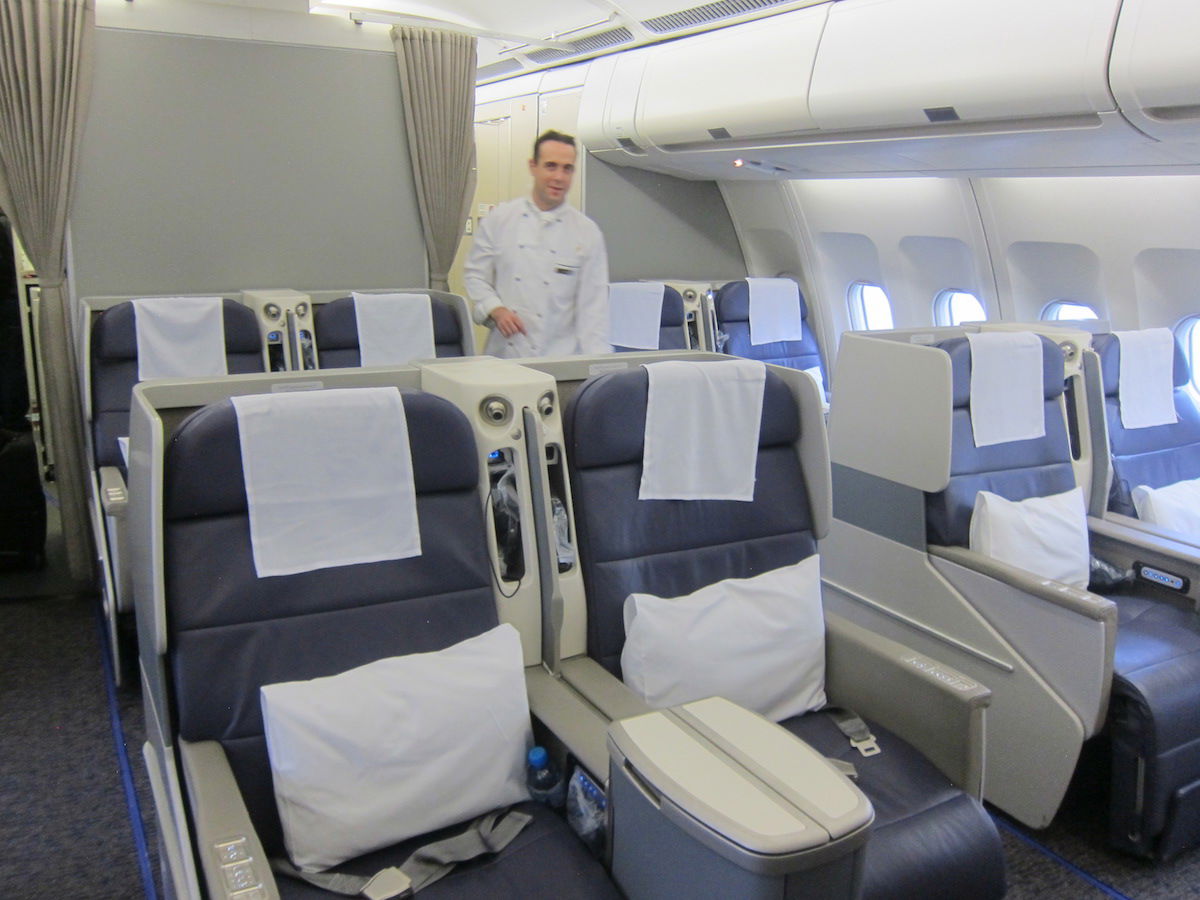 Bottom line
I would never book this option for my parents, because it is too complicated for them and they would probably prefer a one-stop premium economy itinerary on a reliable airline all the way, which would run about AUD$4,000 per person. It's definitely a bit of stuffing around, but if you have a sense of adventure and want a proper lie-flat bed for the longer overnight flights for a cheaper price than premium economy the whole way, think about this option.
I've flown economy from Melbourne to Paris with Singapore Airlines before, and while the shorter afternoon flight up to Singapore was quick, pleasant, and dare I say enjoyable, the 12+ hour overnight flight to Paris was hell, and I was wishing I had a lie-flat seat for that journey.
Have you booked a mixed itinerary flight to Europe?