I recently wrote about my adventures with Thai Airways, when I booked award travel for my parents. Ultimately they had a wonderful trip, but I learned a lot from the experience, and would keep these things in mind in future. Specifically, I've realized the differences in how to approach planning travel for loved ones vs. planning my own travel.
Here's what I learned, in no particular order:
Set Reasonable Expectations
When my friends and family see or hear about my travel adventures they naturally wonder if they can do it for themselves. Often their experience with loyalty programs has been 'the reward I want is never available,' and they end up making poor-value redemptions for gifts cards or white goods.
When I began the discussions with my parents about booking premium award travel for them, it was around 12 months before their trip. I ensured they understood the following before we came to any agreement:
They would be limited to the partner airlines of the miles I would be using to book (in this case Star Alliance airlines using Avianca LifeMiles)
Not all dates, flights and carriers within that partner list would be available
I would do everything in my power to book them the best product available
I would ensure they were traveling together, or we would not proceed
Each airline and its product and experience can be very different
I thought the experience would be well worth the hassle of these caveats
One of the most difficult things about booking for my parents was that they live in Adelaide, Australia, which is not served by that many carriers. While Singapore Airlines has been dominating the market for decades, Etihad doesn't fly there at all and Emirates only began flying there a few years ago (which was considered huge news at the time).
In fact the only Star Alliance airlines to fly from Adelaide were (and still are) Singapore Airlines and Air New Zealand, with Air New Zealand only flying an all-economy A320 east towards Auckland at the time, while I was trying to get them west, to Europe, in a premium class.
Fortunately my parents are used to having to connect in Melbourne or Sydney to get anywhere, so could understand it was unlikely to be a one-stop flight to Europe.
Minimise connections, even if it means a slightly inferior product
This was the biggest lesson I learned from booking my parents' travel.
I go out of my way to fly the absolute best products and carriers I can possibly find. Sometimes I drag friends along for the ride, but mostly I do this by myself and absolutely love it. I started regaling my parents with stories of direct aisle access, dine-on-demand meals and spa treatments in lounges.
But this would have involved traveling the way I do and I did not realise that since they had never travelled longhaul in a premium cabin, they didn't even know what would be a good or a poor carrier to choose.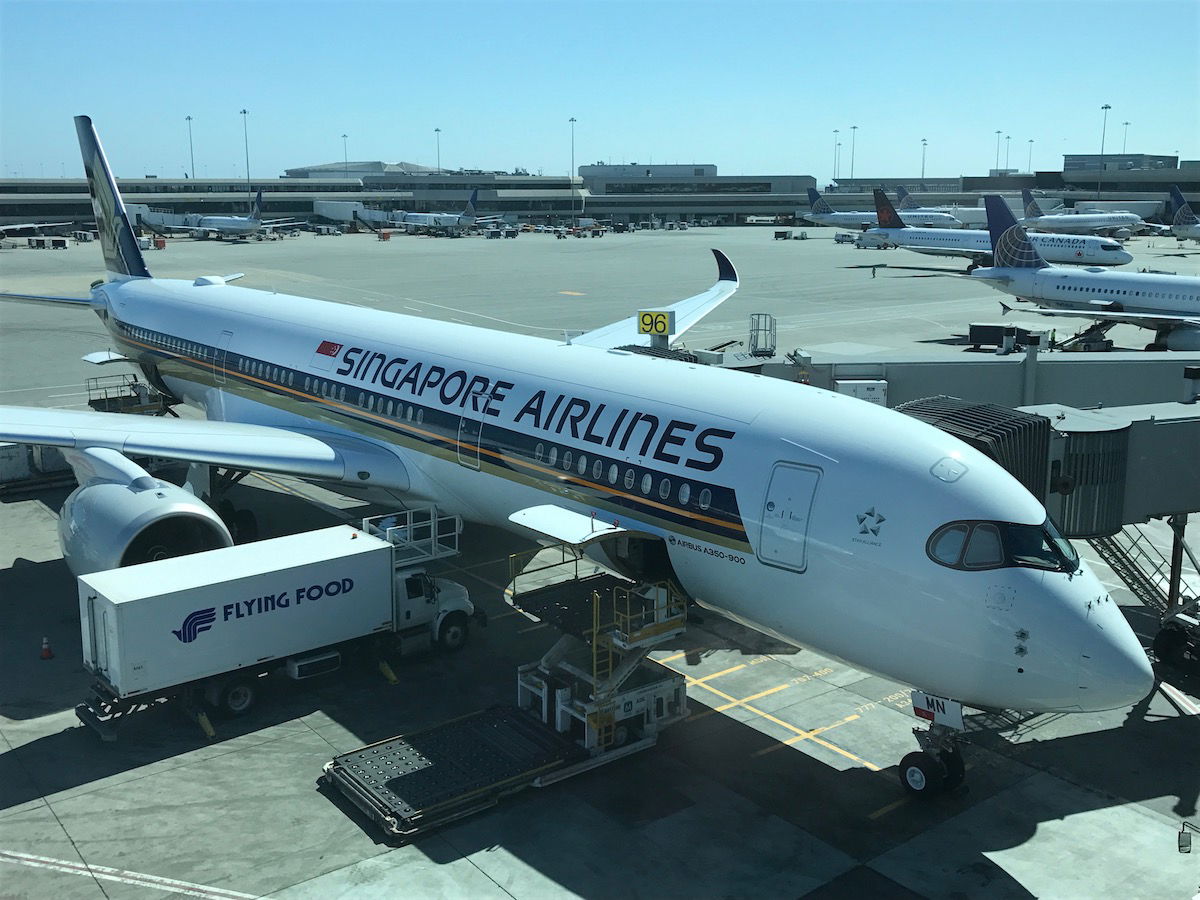 My parents are both in their 60s and are seasoned travellers, heading on a big overseas trip about once a year. But what I didn't appreciate is that they are starting to slow down a bit and would be happy with a comfy ride with minimal connections. They don't want to position to some random airport just because that was the only city with availability for a certain product.
I managed to book them a fairly easy connection from Adelaide to Paris with Singapore Airlines from Adelaide to Bangkok (via Singapore), and onto Paris with Thai Airways. Singapore Airline only has one flight a day from Adelaide, which then gave them about 8 hours to get from Singapore to Bangkok. I ensured there was a comfortable 2-3 hour transfer in both Singapore and Bangkok so they were not rushed.
I knew the longest leg would be on the Thai A380, which offered an excellent product.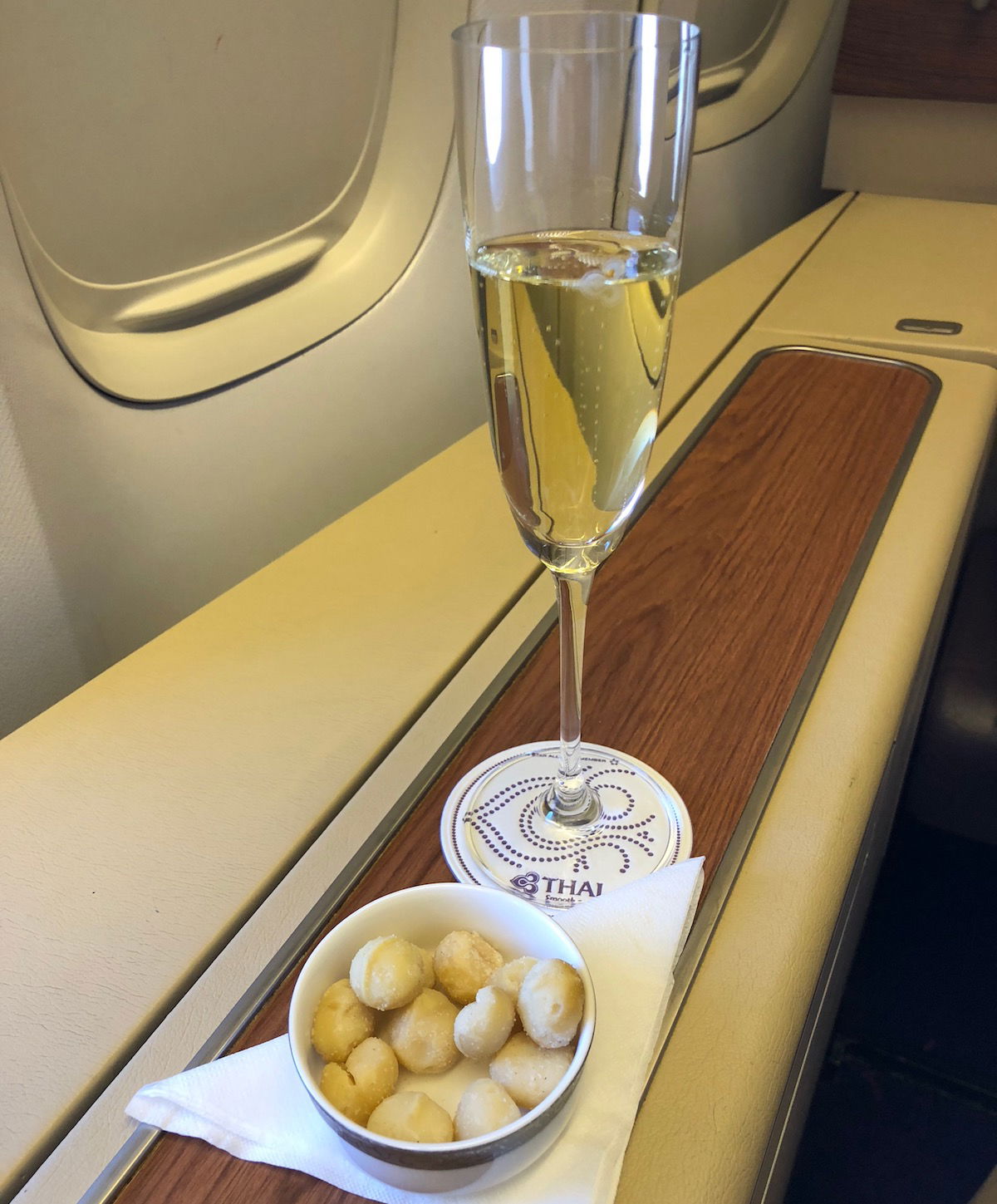 Pick civilised times
People have different body-clocks at different stages of their lives. That's why kids wake up early, teenagers can sleep until noon and the elderly might go to bed at 7pm.
My parents are early risers, as many older people seem to be. Personally I cannot stand 6am flights because it ruins my entire day. But for them, getting up early for a flight isn't a problem, so a 9:30 am departure was perfect.
What is a problem is the other end of the day — late night flights. They don't like staying up late, so a flight departing at midnight is really undesirable for them.
There's a Singapore Airlines flight that leaves Melbourne for Singapore at 1am, that I've taken a few times and actually love — a full day's work and then a normal night at home (dinner/gym/TV etc.) then at 11pm instead of going to bed you go to the airport and then wake up in another country. I think it's really cool.
Each time I've been in the Melbourne SilverKris lounge for this flight, it's half full of people my age having a drink and a chat, and half full of older people who all nod off before midnight and sometimes need to be woken by the lounge attendant to board the flight.
Think about when your loved ones are likely to want to sleep and try and schedule their flights around that.

Consider transfer difficulties
The return legs were more difficult. I secretly booked them in Thai first class from Frankfurt to Sydney. But they were finishing the trip in Edinburgh and there was only one direct flight per day from Edinburgh to Frankfurt, on Lufthansa. While luckily there was award availability in business class, LifeMiles refused to ticket a mixed-class booking to connect them. Understandably, the revenue price for the only direct flight of the day was not cheap.
There were various connection options, but by far the cheapest was on Iberia, via Madrid. They had one flight a day from Edinburgh with two connections to Frankfurt, but neither were ideal. One had a tight 45 minute connection in Madrid, the other more than 6 hours.
They would then overnight in Frankfurt and take the Thai Airways flight at lunchtime the next day (very civilised!)
I was in quite a quandry. A connection that was too short or a connection that was too long?
In the end I went for the short connection because I knew if they missed it they could take the later flight from Madrid to Frankfurt.
What I had not anticipated was that they had never been to Madrid airport, couldn't zip through an airport like I could, and of course were checking in luggage.
The drama started when they got to Edinburgh airport.
Messages started coming in thick and fast from my Mother:
'There's only 2 check-in desks and the line is huge'

'The flight is about to close but there's still lots of people to check-in'

'We are boarding late because the check-in staff are still checking people in'

'They have announced there are several of us connecting to Frankfurt so they will let us off first'
Ultimately my parents raced through Madrid airport and made their connection (just) but their luggage didn't. While I knew it was highly likely to arrive on the next flight later that day, and there was even a flight early the next morning if it didn't, this became a huge drama for my parents as they were worried their bags were lost forever.
I tried to calm their concerns, but it was difficult to. Sure enough their bags arrived later that day, but if I had my time again I would have just paid extra for the direct Lufthansa flight.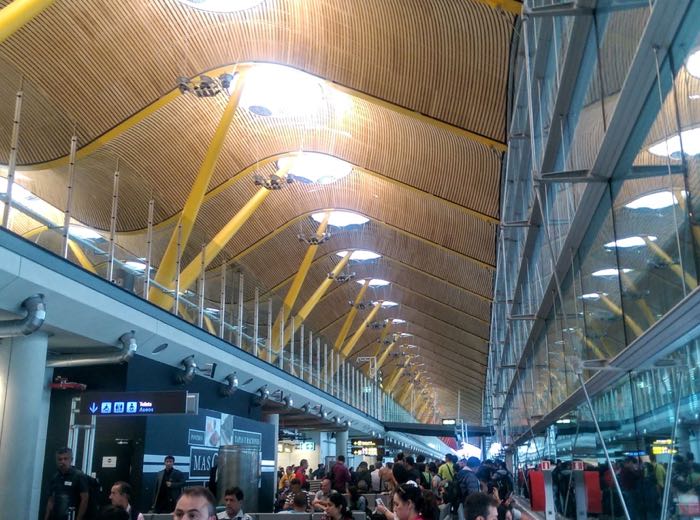 Don't overwhelm them with things they don't need to know
My parents know I both earn and purchase miles and use them to book all sorts of unusual trips. They do think it seems 'too good to be true,' but I assure them it's not a scam. All I told them about this trip was that I would manage it for them and if there were any problems I could resolve them. I did not go into a detailed account about how my credit card had been blocked for repeatedly trying to make online purchases for a Colombian airline, or that their call centre was an absolute nightmare to deal with. They didn't need to know this. It would have just worried them, and they would have thought they were doing something wrong.
They don't need to know about 140% bonuses, devaluations or married segments. It would just confuse them, and I would have risked them giving up on the whole process and saying 'this is too complicated.'
Be available to assist with any problems
This one is pretty obvious, but if there is a convoluted process for dealing with the booking, make sure you can do this for them. If they'd missed a flight or a connection I wouldn't dream of telling them to call either LifeMiles or the operating airline to sort this out — I would have immediately stepped up and sorted this out for them.
If your loved ones are concerned in any way that using miles seems 'dodgy,' assure them if there are any issues with their reservation you are available 24/7 to assist.
I even stayed up late (in London) the night they departed Adelaide, to ensure they could check in okay and obtain their boarding passes.
Keep your instructions simple
There were plenty of Star Alliance lounges in both Bangkok and Frankfurt that my parents could have visited. I knew from both my own experience and reading dozens of reviews that some were better than others. However I also realised both airports were enormous, and my parents were unlikely to want to spend hours trying to find a particular lounge just because it had a slightly better wine selection.
So I simply suggested 'find any lounge with a Star Alliance sign near your gate.'
Don't expect they will follow everything you say
Despite my instructions that business class meant they wouldn't have to queue long for anything they, being parents, arrived at little Adelaide Airport more than three hours before departure, were the first to check-in for the flight, and had to wait for security to open before they could even go to the lounge.
Mum did advise me that this allowed plenty of time for a celebratory champagne or three in the SilverKris lounge in Adelaide.
For their final flight, I had carefully selected seats 1A and 1K on the Thai Airways 747, as the feeling of sitting in the nose of a 747 with no-one in front of you is awesome. But when they arrived at the Thai first class lounge in Bangkok on the way back to Sydney, the lounge agent looked at their boarding passes and said 'these seats aren't together. I'll move you to seats that are together'
So she moved them to the only pair of middle-seats on the Thai 747 new first class.
I had told my parents several times I had already selected their seats and had put them in those specific seats, but they followed the suggestion of the lounge agent instead.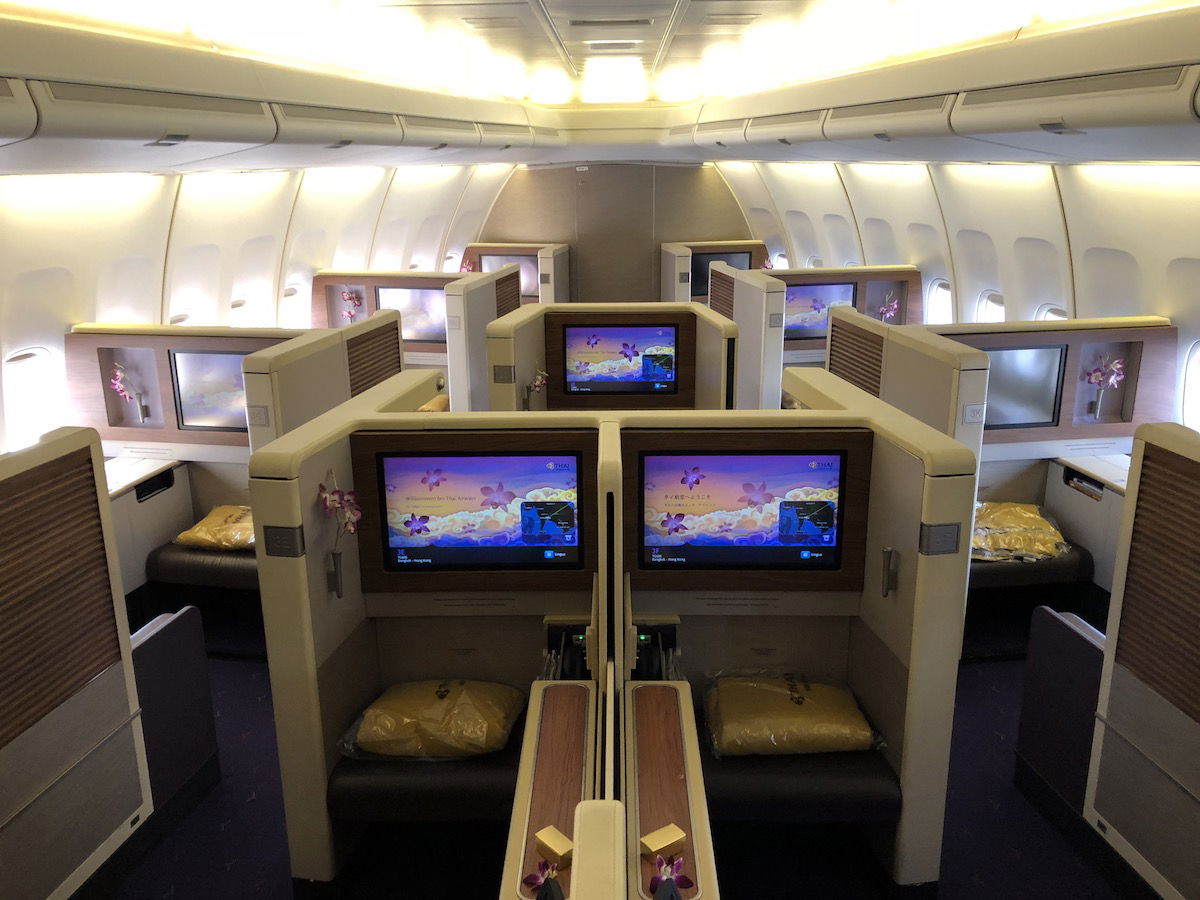 Bottom line
I love being able to help my friends and family with 'my little hobby,' and the most rewarding part is after their flight when they gush about how amazing it was and how 'now they see what all the fuss is about.'
My parents are now hooked with premium travel and have finally taken my advice to enjoy their retirement to the fullest and spend my inheritance. They've booked a round-the-world business class trip on a combination of Air New Zealand, Icelandair and Malaysia Airlines for later this year, and I can't wait to hear about the experience!
Have you booked award travel for loved ones? What did you learn in the process?