On my round the world trip with dad, we flew Qatar Airways' Airbus A380 first class from Doha to Perth. We had a bit of an issue during our check-in process at Doha Airport, and I'm curious if any OMAAT readers have insights into what might have caused this issue…
My dad's incorrect passport number on application
Qatar Airways has a gorgeous first class check-in area at Doha Airport, so we had a seat while the friendly agent processed our check-in. Australia requires an electronic travel authority (ETA) for visitors, which I had completed for both of us through the Australia ETA app prior to travel.
Usually check-in can be completed within a couple of minutes, but in this case it took the agent some time. She then called over a colleague. And another colleague. And another colleague. Soon enough, there were five people standing behind the check-in desk. That's never a good sign.
At that point she broke the news to us:
"Sir, it seems that your travel authority doesn't have the correct passport number on it. It has an extra '8' on the passport number, and the system isn't accepting it."
I pulled up the email containing a PDF copy of our ETA, and sure enough, my dad's passport number showed as ending in "W8," rather than in "W." There was indeed an extra "8." I was angry at myself for a moment, for not being more careful while filling out an application like this, which is usually something I pride myself in.

And of course at that point my mind started racing. While these applications can often be approved quickly, I wondered if this might jeopardize the rest of our trip.
I then opened the Australia ETA app, which is the only place where you can complete the application, and prepared to submit another one. But I first pulled up the application I had already submitted for my dad, and I actually hadn't made a mistake. As you can see below, his passport number showed as ending in "W" (as it should have), and there was no extra "8." I hadn't modified it either — there's a "lock" symbol, so that's exactly how it was submitted.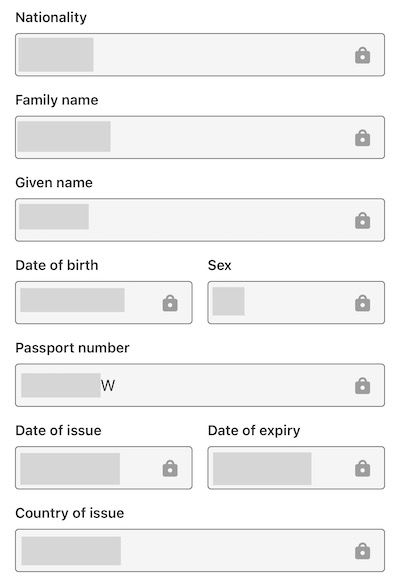 I showed this to the five agents huddled around the desk, and they were as confused as I was. They did some more typing, they made some phone calls, they talked among one another… and soon enough they sent us on our way and said "it's fine, don't worry, we'll figure it out." I'm not sure what was actually done in the background, but we boarded our flight without issue, and didn't have problems entering Australia.
How could something like this happen?
Obviously this isn't a huge deal, it's just… weird. The Australia ETA process is automated, I entered the correct passport number, and then the approval came with a passport number that had an en extra "8" on the end.
Was the system just glitching and randomly entering an extra number? Is adding a number to the application just standard in Australia for some kinds of passports, and the check-in staff weren't familiar with it?
All's well that ends well, and this wasn't a big deal at all, but it has left me curious.
Bottom line
With the number of people completing ETA and visa applications, travelers are going to make mistakes once in a while, and that can cause issues. I'd take full accountability here, but oddly Australia just decided to change my dad's passport number on the application, in a way that it wasn't entered on the application.
Fortunately the Qatar Airways staff were gracious with minimizing the impact on us, though I'm still confused.
Anyone want to take a guess as to how this happened?