Just over a week ago Marriott merged their three loyalty programs. This was a big undertaking, though from a member's perspective I'd say the execution left a lot to be desired.
I was finally able to combine my Marriott Rewards and Starwood Preferred Guest accounts last night, after having issues doing so for many days. When I did this, I came across a very pleasant surprise as it pertains to lifetime status, and I'm now plotting an epic mattress run, assuming I'm reading all of this correctly.
Marriott's new lifetime status requirements
Obviously Marriott is trying to harmonize a lot of different elite tiers here, and going forward lifetime elite status can be earned as follows:
Here's how existing Starwood Preferred Guest lifetime status converts over:
Here's how existing Marriott Rewards lifetime status converts over:
What's interesting is that in 2018 they're making a one-time exception for members to earn lifetime Platinum Premier status, which won't be possible in the future. Specifically, members who have reached 750 nights and ten years of Platinum status by the end of this year will qualify for lifetime Platinum Premier.
There's some benefit to having this lifetime status, given that it won't be issued again in the future, so over time this will become a pretty exclusive lifetime status.
My lifetime status situation
I had earned legacy lifetime SPG Gold status a long time ago, and the one thing standing in the way of me earning lifetime Platinum status is the requirement to have been a Platinum member for 10 years. You need to have been Platinum with SPG for 10 years to earn lifetime Platinum (or Platinum Premier, on a one time basis), but I've only been Platinum for eight years. So I figured I was out of luck.
When Marriott and Starwood merged programs I was under the impression that years of "matched" status wouldn't qualify towards lifetime status. In other words, I've been Marriott Platinum for three years due to linking accounts, and I assumed that wouldn't count towards the 10 year requirement.
However, after I combined accounts yesterday I was thrilled to see that they did, and that I am now a lifetime Marriott Platinum member. Yay!
Then I couldn't help but wonder how far off I was from earning lifetime Platinum Premier status before the end of the year, so I looked at my account activity.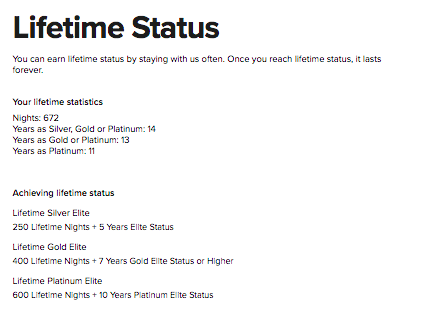 You need 10 years Platinum plus 750 nights between the two programs to earn lifetime Platinum Premier. I have 672 nights, meaning that I need another 78 nights to earn Platinum Premier. There are over 120 nights left in the year, so that's not impossible.
I'm still pretty young, and I'd probably naturally spend another 40 nights at SPG and Marriott hotels this year.
So is it worth mattress running for almost 40 nights to be able to earn lifetime Platinum Premier? I tend to think so. Yes, it will require an investment of a few thousand dollars, but earning top tier lifetime status for several decades to come (hopefully) seems like a worthwhile investment.
Is this a mistake/am I dumb for writing about this?
Some are probably saying "why would you write about this, now Marriott will fix this." I'm not sure I have the same take. First of all, on status.marriott.com, Marriott claims that lifetime status should be reflected correctly in accounts at this point:
When will my Lifetime status be reflected in my account?
Lifetime status should now be reflected correctly in your account. The only exception is for members who achieve Lifetime status by legacy requirements between August 18 and December 31, 2018. As previously stated, these members will receive notice of their updated Lifetime status in January 2019. For more information on this and other Elite Tiers & Benefits topics, please visit: http://members.marriott.com/faq/
Beyond that:
I'm sure I'm not the only one in this position, who is considering a mattress run to earn a status, and I'd rather discuss this now, before anyone wastes their time and money booking hotel stays they don't need
I tend to think if Marriott wasn't intending this, they were going to find out sooner or later, and I think it's better if they fix it sooner rather than later, so people can manage their expectations
Marriott has actually been quite deliberate in not revealing exactly what qualifies as years towards this metric, leading me to believe that this is actually correct; I feel like if they were being very strict, they would have made that clear
Again, Marriott claims all of the lifetime status info is correct, so it would be low of them to retroactively change it
Bottom line
I'm thrilled to see that I already have lifetime Platinum status with Marriott thanks to the merger. It's one of the few good things to come out of this, I guess. Now I'm also in a position where I think it makes sense to mattress run in order to earn Platinum Premier status for life.
It will require me staying about 40 or so nights more than I'd otherwise need to this year. I'm confident I can complete mattress runs for well under $100 per night, so let's say it requires an investment of a few thousand dollars. Yes, that's a lot of money, but at the same time if it gets me Platinum Premier for life, that's something I'll potentially benefit from for decades to come, so it seems worthwhile, and like it will save me money in the long run.
How has the program merger impacted your lifetime status? Is anyone else mattress running?