Yesterday I wrote about the interesting situation I was in regarding Marriott lifetime Platinum Premier status. I finally managed to combine my Marriott and Starwood accounts, and to my surprise I was already showing as being a lifetime Platinum member, and was also showing 672 lifetime nights and 11 years of Platinum status.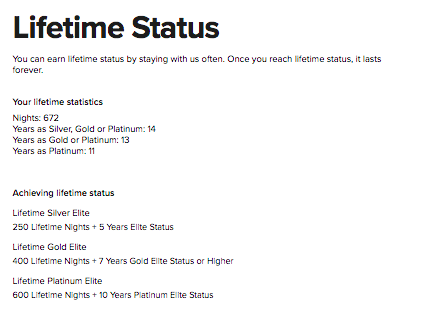 This was exciting since it meant there was a chance I could earn lifetime Platinum Premier status, which won't be issued going forward. This raised a lot of questions among readers, so I wanted to address a few of those in this post, especially since I followed up with Marriott for clarification.
Yes, you can earn lifetime Platinum Premier based on combined activity
Going forward, Marriott will only let you earn the following lifetime elite tiers:
Lifetime Silver Elite: 250 Qualifying Nights + 5 Years as Silver Elite, Gold Elite or Platinum Elite
Lifetime Gold Elite: 400 Qualifying Nights + 7 Years as Gold Elite or Platinum Elite
Lifetime Platinum Elite: 600 Qualifying Nights + 10 Years as Platinum Elite
However, through December 31, 2018, it's possible to earn lifetime Platinum Premier Elite based on the following requirements:
Lifetime Platinum Premier Elite*: 750 Qualifying Nights + 10 Years as Platinum Elite
There was some confusion regarding whether you could only earn lifetime Platinum Premier based on activity in one program, or if you could earn it based on combined activity in both. I have confirmed with Marriott (and they've also published this officially) that the latter is true.
In other words, if by the end of 2018 you have 400 lifetime nights and five years of Platinum with Starwood, and 350 lifetime nights and five years of Platinum with Marriott, you'd earn lifetime Platinum Premier.
Lifetime Platinum Premier will post in January 2019
Some people had mentioned that they completed the criteria for lifetime Platinum Premier, but their accounts don't yet reflect the status. That's because if you earned the status through the new combined criteria, it will only post in January 2019.
So don't worry, if you have 750 nights and 10 years of Platinum, you should be good.
Is lifetime Platinum Premier even worth it?
If Platinum Premier is within range, is it even worth going for the status? Maybe. The differences between Platinum Premier and Platinum are as follows:
Platinum Premiers get a 75% points bonus, while Platinums get a 50% points bonus
Platinum Premiers get space available suite upgrades at Ritz-Carltons, while Platinums don't
Platinum Premiers get United MileagePlus Silver status
While not published, in general I expect Platinum Premiers will be prioritized for upgrades ahead of Platinums, so it could make a difference in terms of the upgrades you get
So is the difference massive? Probably not. But at the same time over the years the value could really add up, especially if the investment isn't that huge.
Is Marriott accurately displaying lifetime status right now?
A Marriott spokesperson tells me that Marriott lifetime account statistics should be accurate, and that's supported by the status.marriott.com website:
When will my Lifetime status be reflected in my account?
Lifetime status should now be reflected correctly in your account. The only exception is for members who achieve Lifetime status by legacy requirements between August 18 and December 31, 2018. As previously stated, these members will receive notice of their updated Lifetime status in January 2019. For more information on this and other Elite Tiers & Benefits topics, please visit: http://members.marriott.com/faq/
At the same time, many people have reported changes being made to their status totals. At the same time, others have reported that they've stayed constant, even if they've had their accounts combined for over a week. So…
Where this leaves me
Like I said, I was pleasantly surprised by the number of lifetime nights that my account showed, since it seems like matched Marriott Platinum years counted towards my lifetime total. Marriott hasn't explicitly stated one way or another if those years should qualify.
If my account statistics are accurate, I will absolutely go for lifetime Platinum Premier, which will require 78 nights before the end of the year. I'd probably naturally stay 40 nights, so that's a "mattress run" for nearly another 40 nights. I should be able to do that for under $100 per night, so it will cost me a few thousand dollars.
That's a lot of money, but seems worth it for (hopefully) decades of Platinum Premier status.
The one thing I need to decide on is at what point I can trust that my account info is accurate:
Do I just go for it now and trust what I'm being told is correct? I have my account summary, and Marriott's website says the info is supposed to be accurate, so…
Or do I wait in case they adjust my lifetime numbers? If so, how long do I wait?
So assuming nothing changes I'm definitely going for lifetime Platinum Premier. The question is how long I should wait — do I start the journey now, wait a few days, wait a few weeks, or what?
Anyone else in a similar situation?