Lufthansa has been refreshing their longhaul fleet over the past several years in an effort to become more competitive and improve their profitability. This included installing a new (mediocre) business class product, new first class product, and adding premium economy. Last year Lufthansa finished their first & business class overhaul, though they're still installing premium economy on some planes.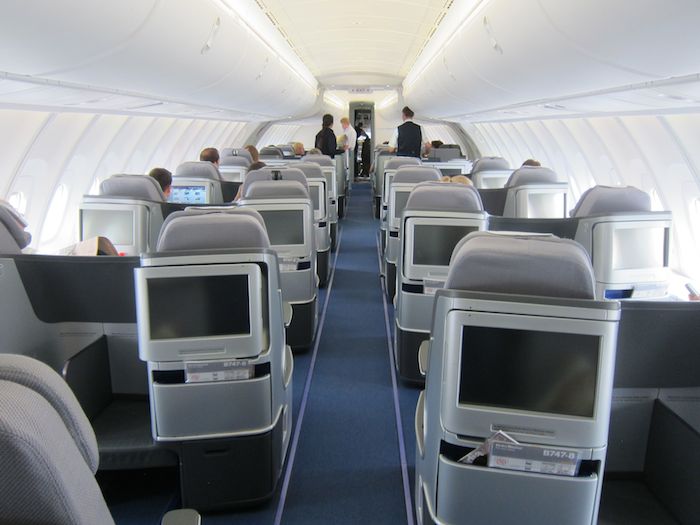 Lufthansa's new business class
On top of that, for the past several years Lufthansa has been cutting their first class capacity. This started in 2013, when Lufthansa announced that they wanted to remove first class from ~20% of their longhaul fleet. Those cuts were supposed to come from their A340-300 and 747-400 aircraft. All A340-300s would be reconfigured without first class, while select 747-400s would have their first class cabins removed when the new business class product was installed.
Unfortunately that was just the beginning. In 2014 it was announced that Lufthansa would eliminate first class from all of their 747-400 aircraft, which was quite sad, since the plane had a unique first class product, with a separate seat and bed.
Unfortunately the trend has continued. Lufthansa is also in the process of removing first class from all their A330 aircraft based at Munich Airport, and their newly delivered A350s (which will be based in Munich) won't feature a first class cabin either.
The next major longhaul aircraft that Lufthansa will take delivery of is the 777X, which will be the largest twin engine plane in the world. Lufthansa is actually the launch customer for the plane. Lufthansa has 34 of these planes on order, and they should take delivery of them between 2020 and 2025.

From a passenger standpoint, the exciting thing about these planes is that they'll finally feature a new business class product, as I first reported a bit over a year ago. However, unfortunately that's where the good news ends as far as premium cabins go. As reported by @e_russell from Flightglobal, Lufthansa's 777X planes won't feature a first class cabin.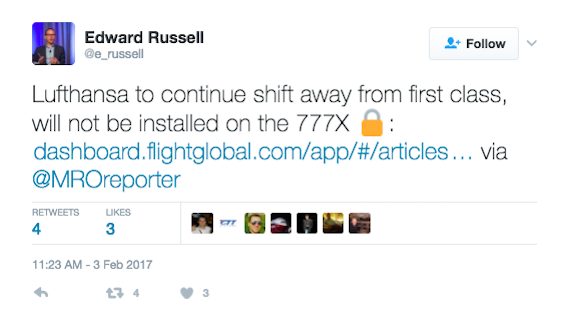 On one hand this is surprising, given what a big plane this will be. At the same time, I guess it isn't. Long term the 777X will be a replacement for the 747-400, and Lufthansa eliminated first class from those planes. So I guess it's no surprise that they're taking a similar approach to configuring the replacement plane.
Bottom line
While I don't think Lufthansa will completely eliminate first class, it's clear that they're being very selective with the planes that will have the cabin. As it stands, only the A380s, 747-8s, select A330s, and select A340s still feature a first class cabin.
I figured there was a 50/50 shot of Lufthansa installing first class on the 777X, so I guess I'm not too surprised by their decision.
Now we just have to wait and see what Lufthansa's new business class product is like, as the product introduced on the 777X will eventually be available on Austrian and Swiss as well.
Are you surprised to see Lufthansa not install first class on the 777X?