Update: Lufthansa will be introducing yet another new premium economy seat on the 777-9.
Lufthansa announced today that they will launch a premium economy cabin, and will be introducing the new product on select Boeing 747-8 aircraft as early as November 2014. The remainder of the longhaul Lufthansa fleet is set to have premium economy class installed by the summer of 2015.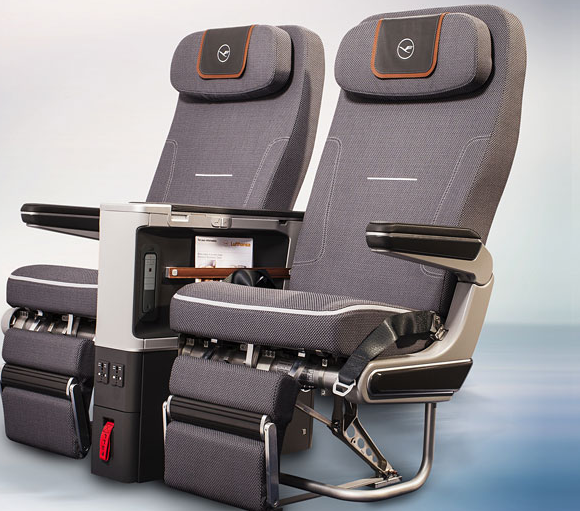 The new product will offer more pitch, a wider seat, and enhanced ground and air services.
Services in new premium economy class
Double free baggage allowance: two bags per person, each weighing up to 23 kg
A welcome drink, a water bottle at every seat and a high-quality amenity kit with many useful accessories providing additional refreshment
The high quality meals are presented in menus and are served on china tableware
An 11- or 12-inch touch screen monitor, a handset to control the in-flight entertainment and a generous range of magazines provide for even more entertainment
More storage space for personal belongings
Central console between the seats with sturdy table and power outlet at every seat – well suited for work on board
All seats in Premium Economy Class are not more than one seat away from the aisle
Access to Lufthansa Business Lounges available (for a fee of EUR 25)
Lufthansa's economy cabin on the 747-8 currently has 262 or 298 seats in a 3-4-3 configuration. The new premium economy will offer between 21 and 52 seats in a 2-3-2 configuration, so that's a significant difference.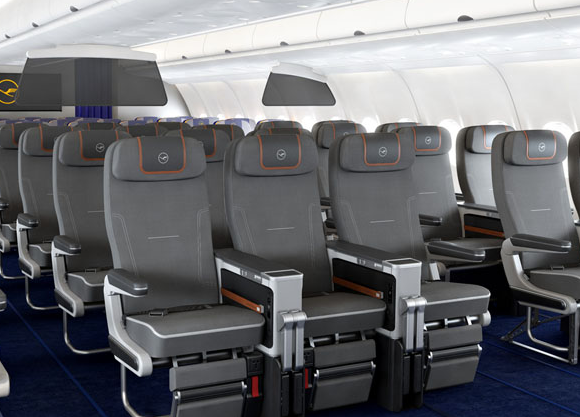 While I'm not personally a huge fan of premium economy (mainly because it usually comes at the expense of first and business class seats, which I like to redeem miles for), it is a compelling option for many business and leisure travelers, particularly in the European market. Nearly two dozen other airlines are currently offering premium economy on routes to Europe, so it's definitely an area where Lufthansa hasn't been competitive.
From the Lufthansa Group press release:
The new product will enable Lufthansa to meet the requirements of many business and private passengers who travel with other airlines in a similar travel class or who fly Economy Class due to travel specifications. Following the introduction of its new full-flat Business Class, Lufthansa created a much wider gap between Economy and Business Class. As a result, there is now room for its new Premium Economy Class, which offers considerably more space and comfort as well as many additional product features, but is closer to Economy Class than Business Class in terms of its average prices. The move also means that Lufthansa is introducing a completely new travel class for the first time in 35 years.
"The design and features of the new seat in particular are based on extensive passenger surveys and workshops with sales partners – a process that has been successfully used at Lufthansa. Following the upgrade of our First and Business Class, the installation of 3,600 seats on all 106 of our long-haul aircraft in just one year will mean another step towards becoming a five-star airline," continued Bischof. "We expect to see more than 1.5 million passengers per year in our new Premium Economy Class."
Here's a side by side comparison chart of the seat differences between business class, premium economy, and economy class: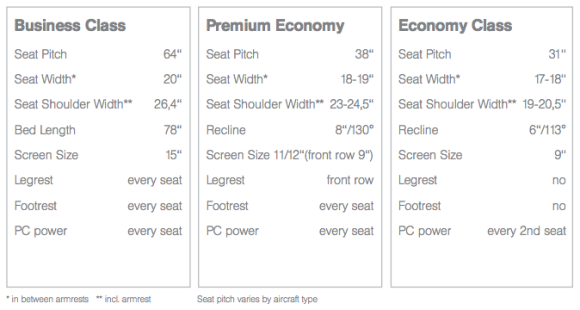 Redeeming miles for Lufthansa Premium Economy
The new cabin is slated to be bookable in May for travel beginning in November, though Miles & More hasn't announced an updated award chart as of yet. My guess is that Premium Economy will eventually be available as a mileage redemption or upgrade award to those participating in the Miles & More program.
Neither Aeroplan nor United allow their miles to be redeemed for Premium Economy on the Star Alliance carriers that currently offer the product, so I wouldn't expect that to change.
The one potential downside of this is that often upgrades are only valid for one class of service. For example, United Global Premier Upgrades can be used to confirm a one cabin upgrade on Lufthansa. This could very well mean that you can only upgrade from economy to premium economy, or that you have to book a premium economy ticket in order to upgrade to business class. Only time will tell.