Austrian low cost carrier Niki has had an interesting four months. In mid-December it was announced from one day to the next that Niki would cease operations.
Niki was a wholly owned subsidiary of airberlin, and airberlin ceased operations last October, after Etihad withdrew their financial support. Despite that, Niki had continued to operate as usual. That's because they received funding from Lufthansa, as Lufthansa was planning on taking them over in order to expand their Eurowings division.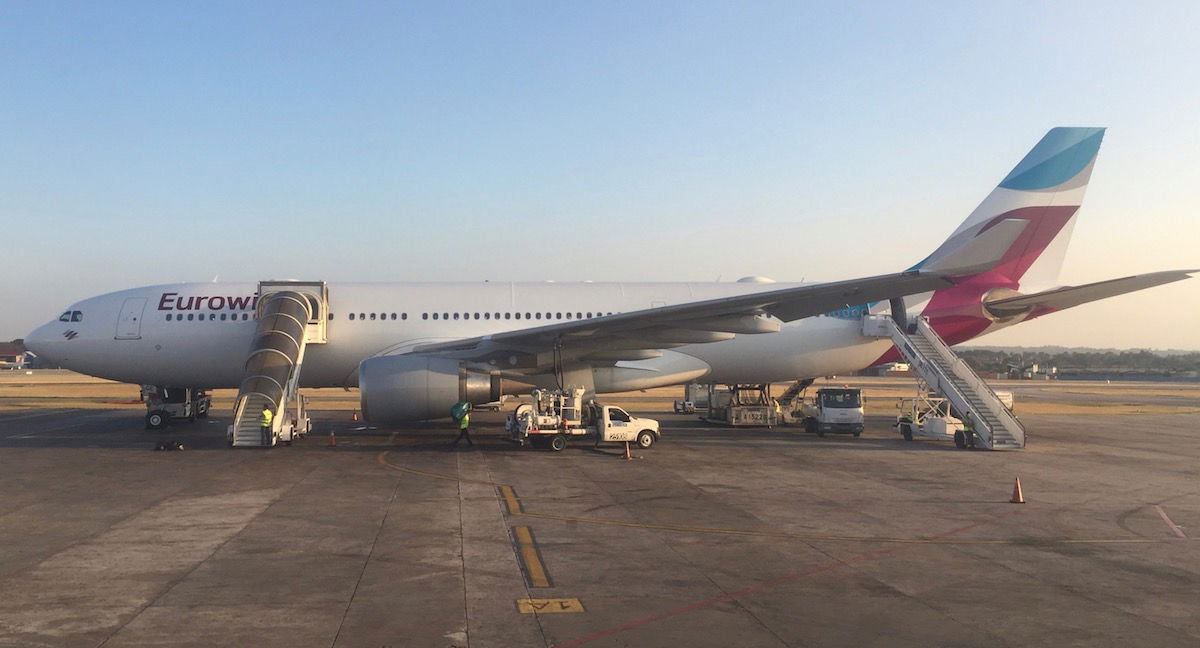 That plan collapsed, as the European Commission said that they wouldn't approve Lufthansa's takeover of Niki over concerns of lack of competition. As a result, Lufthansa withdrew their bid for Niki, and stopped funding them, so they were forced to cease operations.
Then last December we learned that IAG, the parent company of British Airways, Iberia, Aer Lingus, Vueling, and LEVEL, was planning on taking over Niki and making them part of their Vueling division. They were the only remaining bidder for Niki's assets, and they finalized a deal under which IAG would acquire Niki for a total of €36.5m.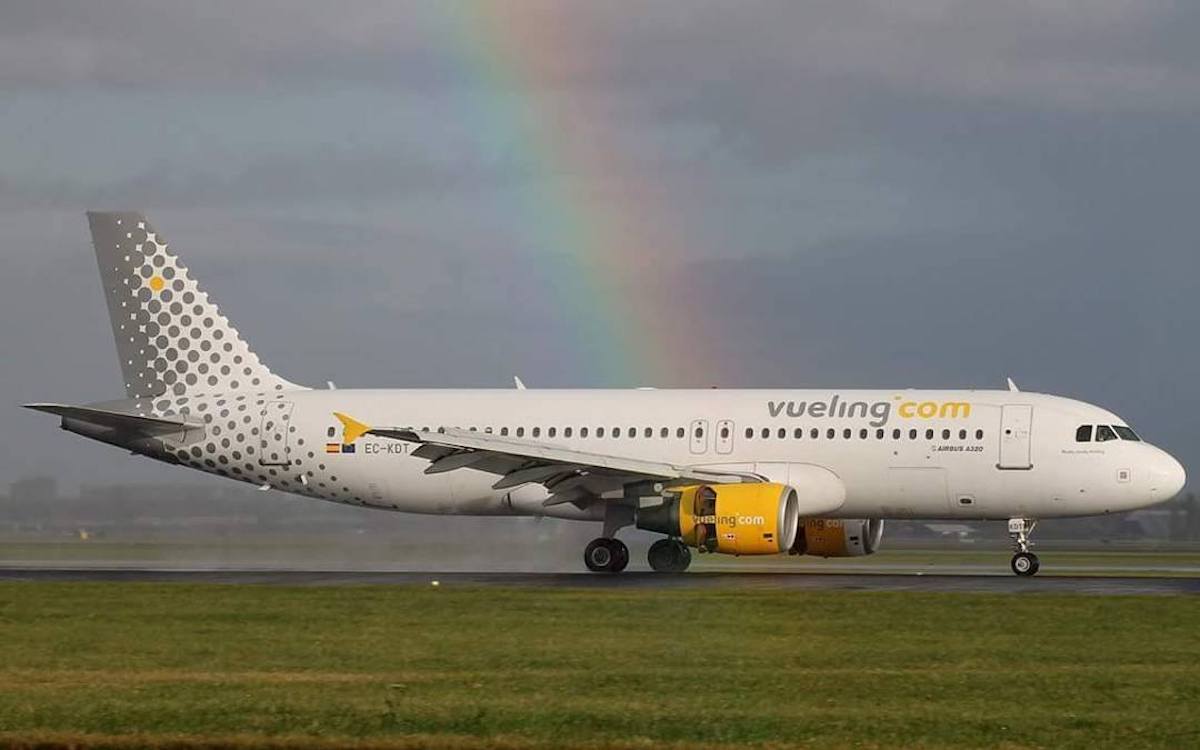 Then there was another plot twist, and it was announced that IAG wouldn't be taking over Niki. Even though the deal was finalized, two courts ruled that the insolvency proceedings had to be moved from Germany to Austria, meaning the process would start over again.
When that happened, Niki Lauda, the former Formula One champion who the airline is named after, won a bid to take back his airline. He founded the airline in 2003, sold it to airberlin in 2011, and will now be taking it over once again.
It looks like this airline is now really, truly happening. Niki is being rebranded as Laudamotion, and tickets are now on sale, starting at 59.99EUR one-way.
The airline will initially have a fleet of 14 Airbus aircraft, including A319s, A320s, and A321s. It's interesting that the airline will be maintaining the airberlin livery on the tail.

The route network focuses primarily on flights from Austria and Germany to Spain and Greece, so it's clearly a leisure airline.
The first Laudamotion flight will take off from Dusseldorf on March 25, 2018, and flights from Austria are scheduled to start in June.
Over the first few months the company is focused on building partnerships and on cooperation in marketing. Laudamotion is already working with Condor in a significant way. Per the press release:
"Laudamotion has signed a contract of carriage with Condor. The German vacation airline will not only market Laudamotion flights, but also handle selected operational functions, such as acting as the control center and crew planning, for Laudamotion as a service provider," says Niki Lauda, Managing Director of Laudamotion. Ralf Teckentrup, Managing Director of Condor and CCO of Thomas Cook Group Airlines, adds: "We are marketing the Laudamotion range to fill a gap in the European vacation flight market. Our customers will benefit from this by having a larger selection and low-priced starter offerings."
If you're curious, here's their summer timetable: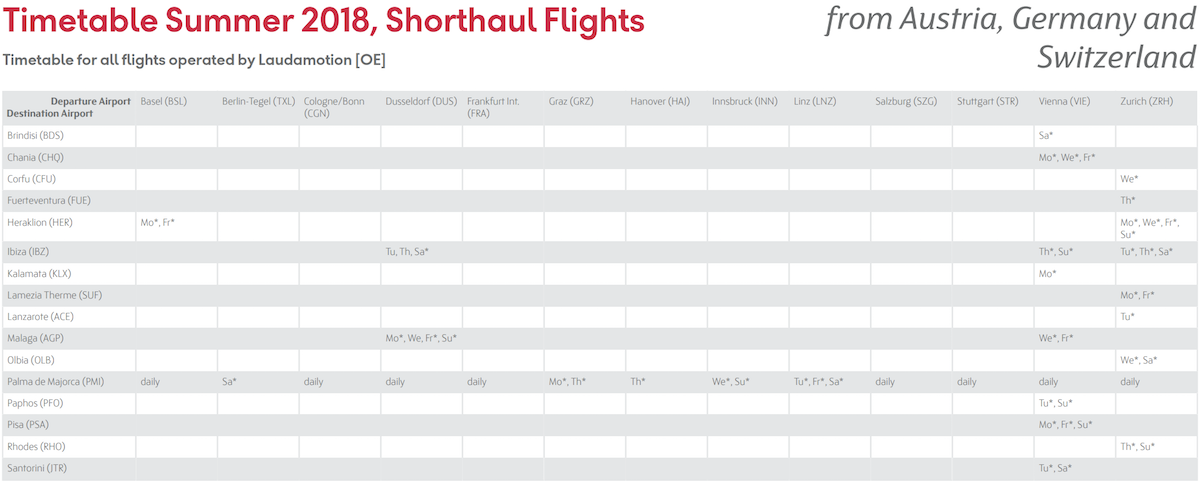 As far as Laudamotion's onboard product goes, they will offer a pretty typical intra-Europe experience. There will be a premium cabin, which will just be economy with a blocked middle seat and free food and drinks.

Meanwhile in economy you'll have to pay for seat assignments, food, and drinks.

I'm happy to see the airline come back to life, mainly so that the people who worked for the airline will largely maintain jobs. Laudamotion probably won't be that interesting to most of us, given that the airline doesn't belong to any alliance, and will largely just be operating Condor-marketed flights.
(Tip of the hat to YHBU)