In general the best time to redeem miles for maximum value is either way in advance (when the schedule first opens) or close to departure (when airlines have unsold seats that they'll be unable to sell, so they make them available as awards). At least that's how it used to work.
Over time things have changed at some airlines, and I wanted to address that trend in this post.
Some Airlines Have Stopped Releasing Last Minute Awards
It's not true across the board, but there are definitely more airlines that aren't making saver level first & business class award seats available last minute than in the past.
If you're going to look at a loyalty program as a rewards program, then logically you'd think that airlines would love people who book award seats last minute:
The incremental cost of an additional passenger is very little when that seat otherwise wouldn't be sold last minute
It gets the liability of miles off the book, and the member is happy for having gotten value from the loyalty program
This is much lower cost than someone who is redeeming a ticket in advance, and potentially displacing a paying customer
It just makes sense. With a rewards program, the company should love people redeeming rewards when it costs them the least.
Nonetheless we've seen some airlines and loyalty programs no longer release saver seats close to departure, even when cabins are wide open. Looking at US airlines, that's most definitely true of American AAdvantage and Delta SkyMiles, though isn't true of United MileagePlus.
To give a couple of examples, let's look at Christmas Day flights from New York to Los Angeles on American. Several flights have at least seven of ten first class seats for sale, and the first flight of the day actually has zero people booked in first class.
Despite that, the next date with a single saver seat is over two weeks from now.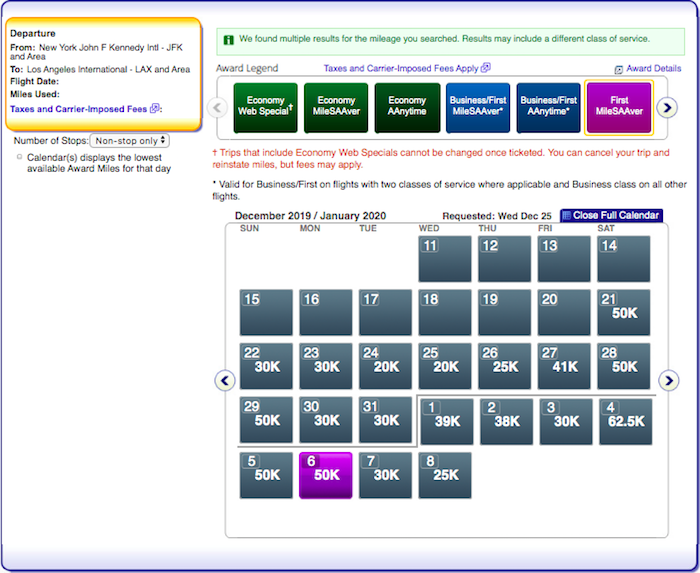 Those mostly empty first class cabins on Christmas Day? American wants 115,000-130,000 miles one-way, compared to the saver award cost of 50,000 miles.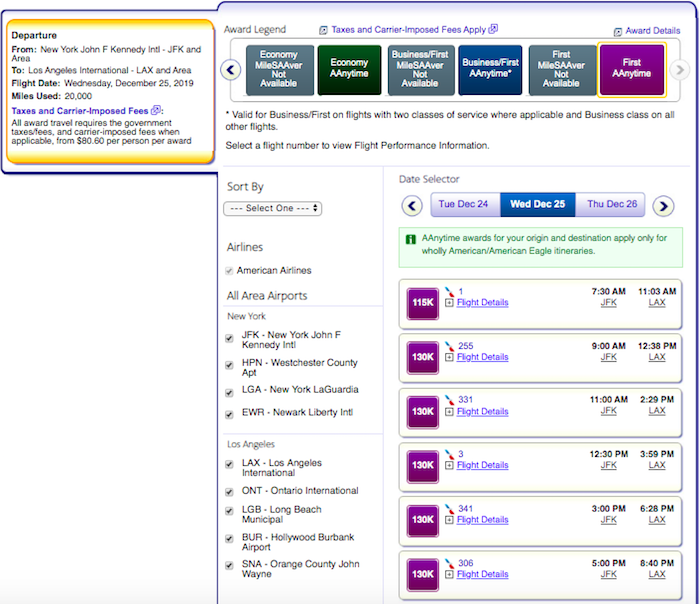 Delta SkyMiles is no different. They used to have plenty of saver award availability last minute, but nowadays you can expect to pay among their highest award pricing last minute. For example, the New York to Frankfurt flight on December 25 is pretty wide open in business class, but they still want 320,000 miles one-way.

In both of these cases the cabins will likely be filled with employees non-revving, rather than people redeeming miles.
Then there's Cathay Pacific, for example. Historically they've released a ton of last minute first class award space, but nowadays they no longer make those seats available to members of partner frequent flyer programs, but rather only make the seats available to members of their own Asia Miles program.
While some airlines are still making award seats available last minute, what's leading to the general trend of some airlines no longer releasing last minute seats? It comes down to two factors:
A New Philosophy On Loyalty Programs
We've seen a fundamental shift in the way that many loyalty programs have been run, and this is no doubt something that has been spearheaded by Delta and their SkyMiles program.
For many airlines, loyalty programs are viewed as a revenue management function rather than a marketing function. We've seen Delta SkyMiles increasingly move towards a model where miles are a currency that can be redeemed at a nearly fixed value (around one cent per mile) towards just about anything, from tickets, to upgrades, to SkyClub access.
This no doubt makes SkyMiles easier to use for the average consumer, though it also limits the upside of the program, and how aspirational it can get.
If you're going to start pegging miles to a certain dollar value when it comes to redemptions, then I suppose it's also logical that the cost of a ticket with miles would follow a similar model to the cost of a ticket with cash.
If an international business class ticket would cost a lot of cash last minute, using that logic it would also make sense for the ticket to cost a lot of miles last minute.
Why do international business class tickets cost a lot last minute, even when the cabin is wide open? Because airlines assume people booking last minute have less elastic demand, so they can charge more. They'd rather sell one seat at $10,000 than four seats at $2,000, for example.
Predictability Leads To Revenue Loss
There's no doubt an element of truth to this, and I think this is the part that airlines across the board have the hardest time managing.
Airlines obviously develop some sort of patterns with how they release award availability. The algorithms may be incredibly complex, but for the most part we can start to make sense of them, whether we're talking about Lufthansa starting to make first class award seats available to partners about two weeks out, or Cathay Pacific historically making first class award seats available last minute.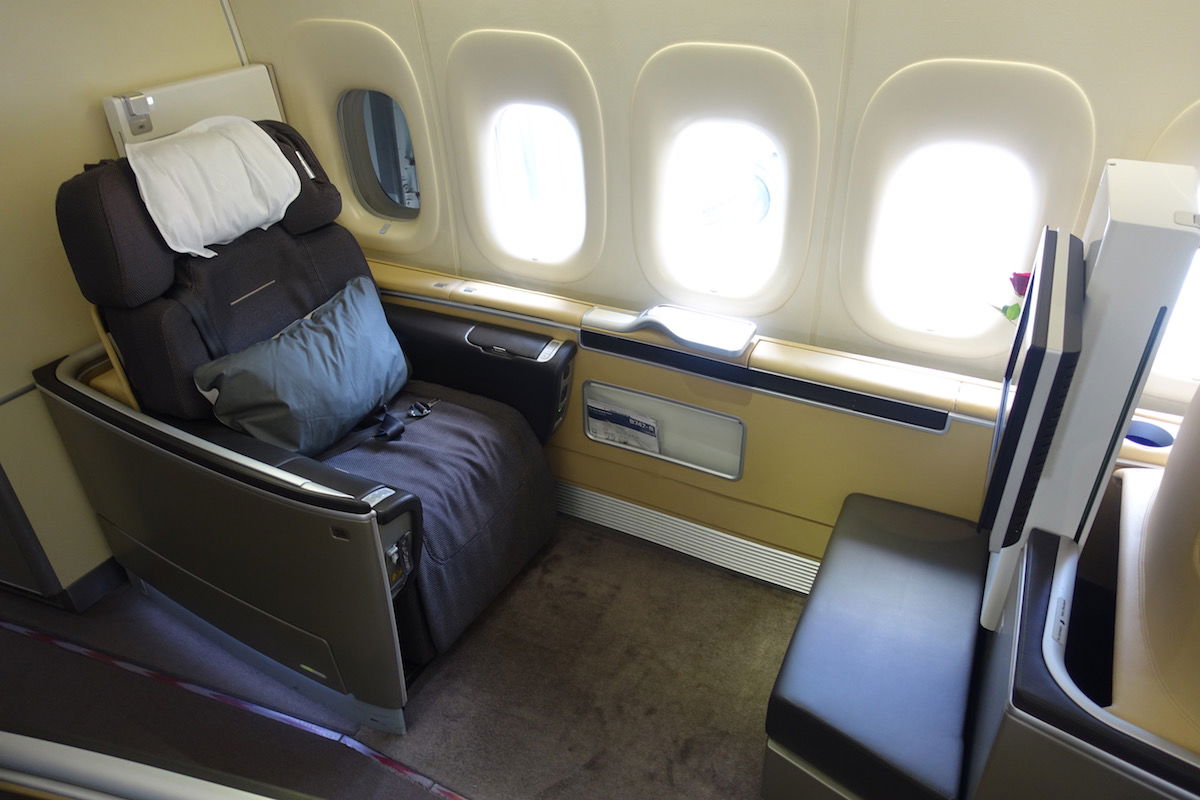 Lufthansa makes plenty of first class award seats available within two weeks
Over time some airlines have become increasingly concerned that the predictability of award seats has caused revenue loss. On the most "legitimate" level, there are people who own small businesses, as well as leisure travelers who may be willing to otherwise pay for first and business class, who know that last minute they can usually snag award seats. This is totally legitimate, though I can also see how it could lead to revenue loss.
The much bigger issue involves mileage brokers/ticket consolidators taking advantage of these trends.
For example, I've heard stories of some mileage consolidators and ticket brokers who would book refundable tickets in advance to basically "sell out" the first class cabin on a flight, and then they'd cancel shortly before departure. Then those seats would open up as awards, and they could book their clients in them with miles. Obviously this is wrong on many levels.
I'm not sure the current status of this, but apparently back in the day there was one United route in particular where the airline completely changed up their algorithm for releasing award space, due to mileage brokers booking refundable seats, and then canceling last minute to book their clients awards.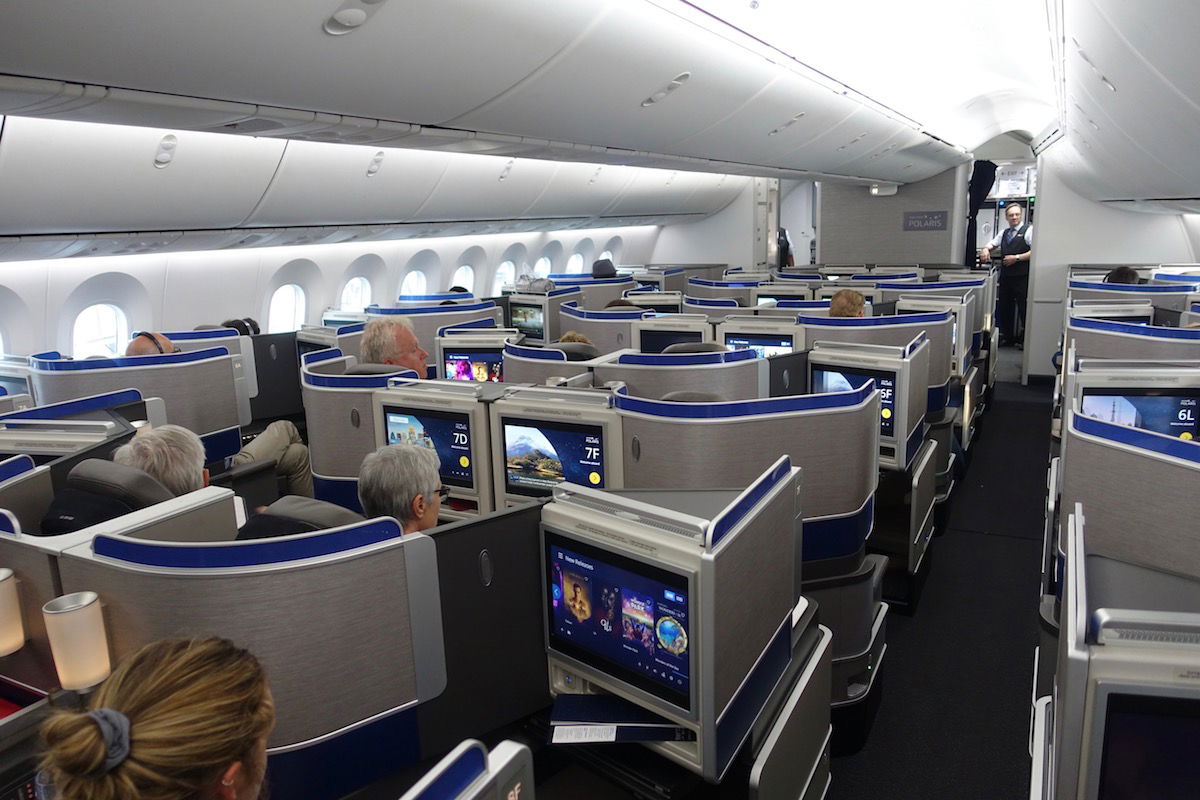 United apparently had big issues with this on one route in particular
Bottom Line
There are still plenty of airlines that release first & business class award seats last minute, though in general I expect we'll see a trend where we see less of this.
This is due to airlines loyalty programs moving towards more of a revenue based model, where loyalty program redemptions become more of a revenue management function.
This is also due to some of the perceived revenue loss airlines have experienced related to the predictability with which award seats have been made available. In some cases this has been totally legitimate, like people just catching on to patterns, while in other cases it has led to brokers booking refundable seats and then canceling them last minute, only to book their clients award seats and profit big.