Whew, that was a handful. For those of you not caught up on the "saga," here are my previous posts about this airline and my fascination with them:
I'll have a full trip report soon, but figured I'd share my initial thoughts.
As I explained yesterday, I flew from Paris to Newark on La Compagnie, the new French all business class airline operating exclusively in that market.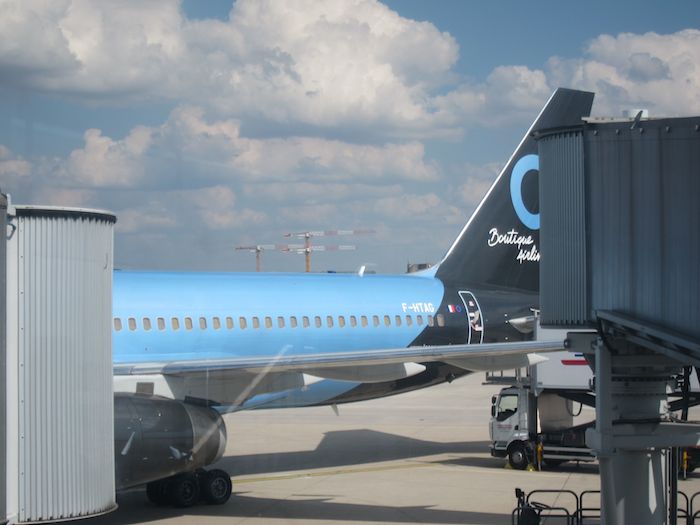 La Compagnie 757 at Paris Charles de Gaulle
I don't even know where to start.
The first challenge was finding their check-in. I took the TGV train from Brussels, and upon arrival at Charles de Gaulle tried to figure out which terminal La Compagnie departs from. I went to the information desk:
"Excuse me, from which terminal does La Compagnie fly?"
"Sir, which compagnie?"
"La Compagnie, they are the new airline flying to Newark."
"Which compagnie are you flying to New York?"
"La Compagnie, that's the name of the airline. La Compagnie. They're brand new. They only fly Paris to Newark."
"Yes, but which compagnie do you fly with?"
F*&$!
Eventually I figured out La Compagnie flies out of Charles de Gaulle Terminal 1, though once there couldn't find out in which part of the terminal the La Compagnie check-in desks were, since they hadn't yet set up for the day's flight (which made me wonder whether they were actually operating or not).
After about 15 minutes the La Compagnie monitors lit up and a queue formed. I was second in line, and waited and waited and waited. The person in front of me took at least 30 minutes. There was a guy in a suit – actually several people in suits – working for the airline standing around. So I figured I'd ask him what's going on:
"Excuse me, what's taking so long? I don't have any checked bags, is there another way I can get my boarding pass?"
"Oh, check-in just opened two minutes ago."
"Really? There are so many of us waiting in line and the check-in agents have been there all along, but you couldn't tell us that check-in isn't even open yet?"
"Well I thought you would know check-in opens 2hr20min before departure."
"How would I know that?"
"Is it not on our website?"
"No, actually you have very little information on your website."
"Well the reason we open check in so late is since we have business travelers and they can check in up until 20 minutes before departure."
"So you're saying I can show up at Charles de Gaulle 20 minutes before departure and make the flight? Maybe it's time to reconsider that so your passengers don't show up more than 2hr20min before departure, since there are already a lot of people here waiting."
I wasn't trying to be a d*&$, but rather was kind of amazed at how unapologetic he was at my frustration for the lack of communication. Would it have killed him to go around to people, smile, thank them for flying La Compagnie, and explain when check-in would open?
What I really wanted to point out to him was that I was just about the only person in line not wearing Juicy Couture, so he should probably rethink the whole "business travelers want _____" approach.
Anyway, I'll cover the other pre-flight fun with the actual trip report, including the 75 minute delay which wasn't communicated or explained, but lets talk about the flight briefly:
La Compagnie Business Class Seat 757
La Compagnie's 757 is in a single cabin configuration with 74 business class seats. They're in a 2-2 configuration, and interestingly there are no bulkheads between cabins, so there's one long cabin. It looks kind of cool.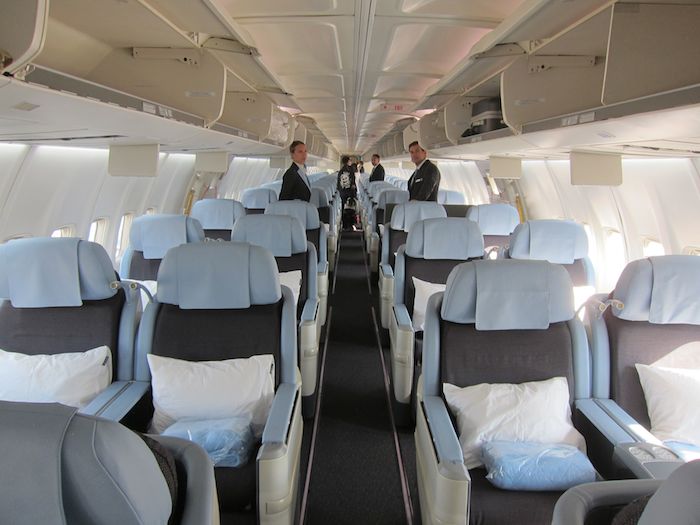 La Compagnie business class cabin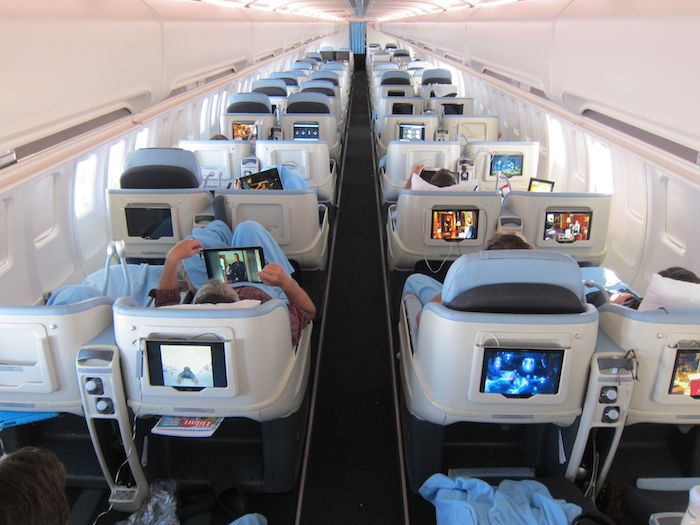 La Compagnie business class cabin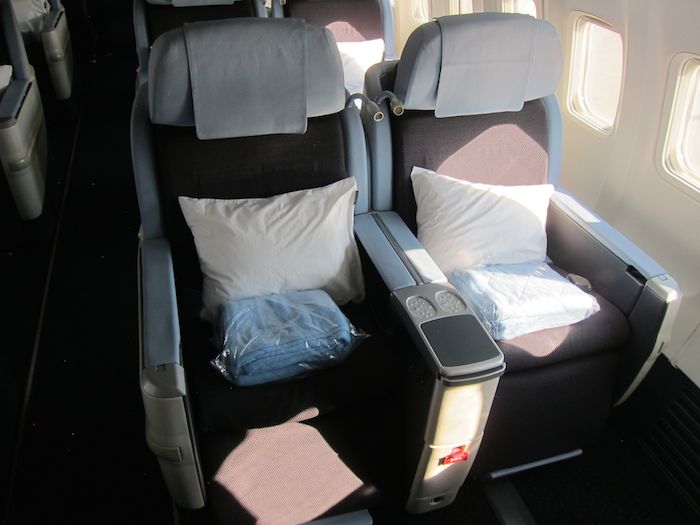 La Compagnie business class seat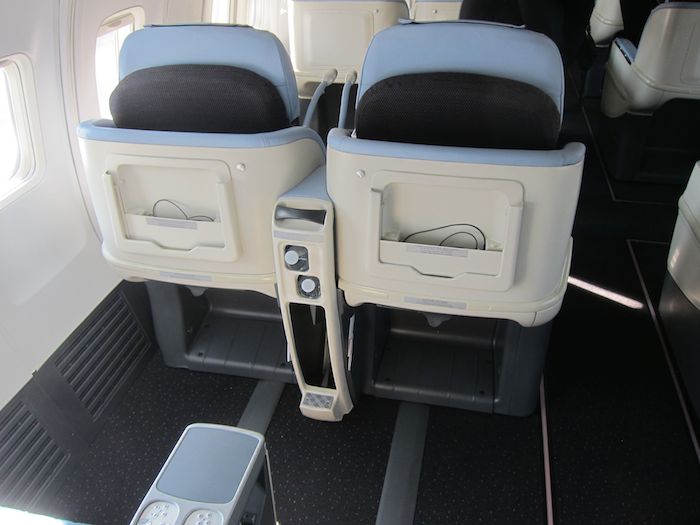 La Compagnie business class seat
The seats themselves look "fresh" and have nice colors, though are angled. And let me clarify what I mean when I say angled – they're not angled flat, but rather are angled in three directions, meaning the footrest, area your butt is on, and back support, all angle in different directions.
When I posted a picture on Instagram of the seat last night, someone responded (among other things) "well it's not that bad if you sleep in the fetus position." Which I think kind of sums it up…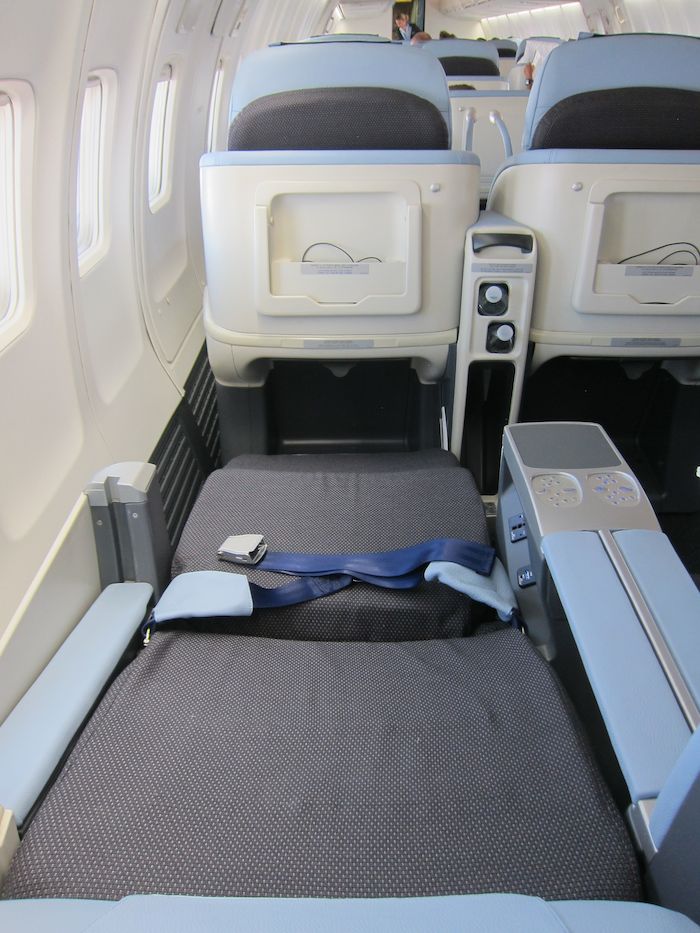 La Compagnie business class angled seat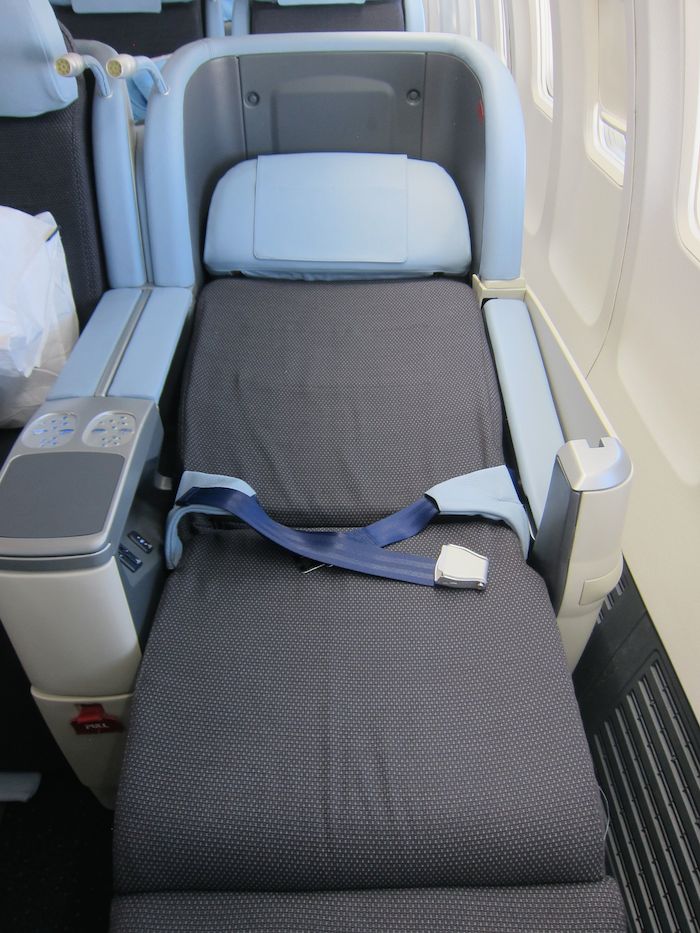 La Compagnie business class angled seat
How a brand new all business class airline could think it makes sense to not install fully flat, or even angled flat seats, is beyond me.
But that's not even the worst part.
The worst part is that there's no privacy partition between seats. So if you happen to be sitting next to a stranger, expect to have absolutely zero privacy when sleeping.
La Compagnie Business Class Food
To be honest the food was marginally better than economy class food.
There were no menus.
The first service – dinner – was described over the PA as "high dinner." At first I was confused, but then it made sense – the only way you could enjoy it is if high (I kid, I kid)…
The starter consisted of a small salmon dish, though cheese and the dessert were served with it as well.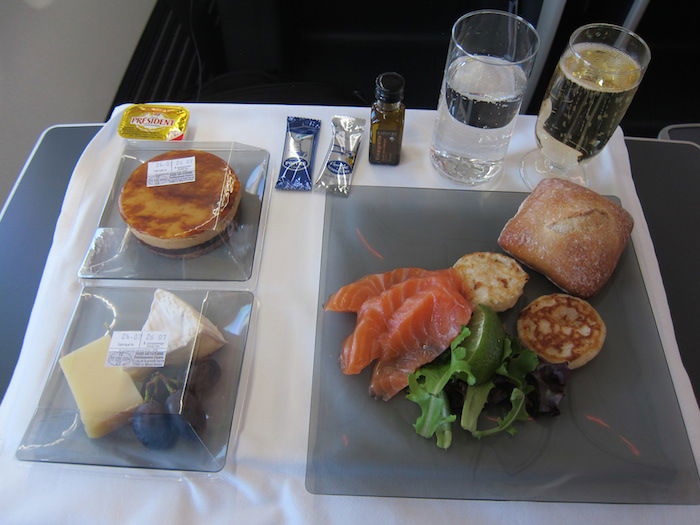 La Compagnie business class food
Then the main course was served separately, which was a choice between shrimp and beef. The shrimp dish was described as "Creole and spicy."
It was more bland than a palate cleansing sorbet.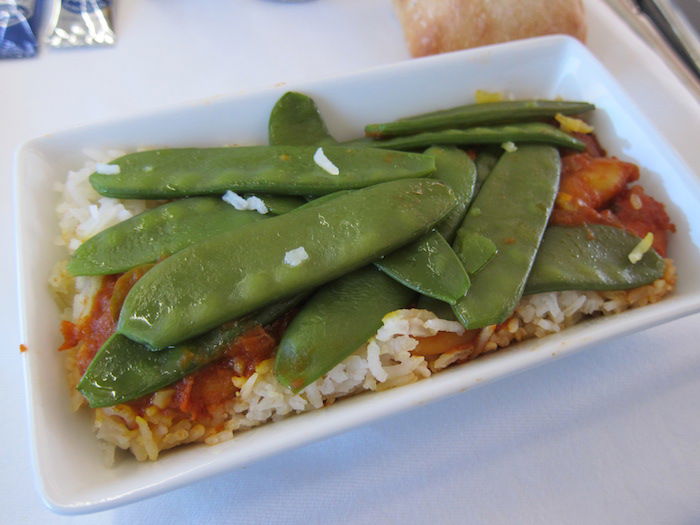 La Compagnie business class food
Pre-arrival there was a plate with some soggy cold cuts and dessert.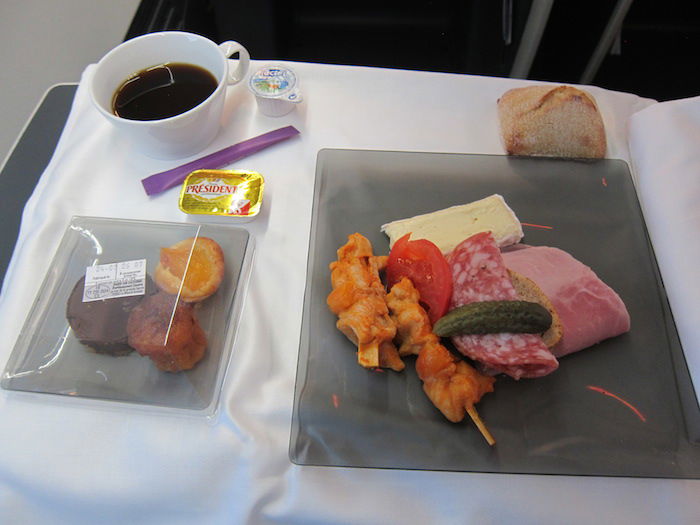 Don't get me wrong, it was edible, but certainly not competitive business class food, in my opinion.
La Compagnie Business Class Service
The thing that was initially more ridiculous about La Compagnie than anything else (and trust me, there's a lot of competition for that title!) is that they at first advertised that they'd have three flight attendants. There's no way you can serve 74 business class passengers with just three flight attendants.
It seems they rethought that, and instead had six flight attendants. Coincidentally, I think the entire airline has a total of six flight attendants, which might explain the once weekly service we've seen so far (they also worked the inaugural last week).
The four women were pretty and smiled, but that's about all I can say.
A couple of amusing (at least to me) anecdotes:
After takeoff the seatbelt sign was turned off, so I got up to retrieve something from the overhead bin.
"Sir, you must be seated for your safety."
"But the seatbelt sign is off."
"The seatbelt sign is for us."
"Okay… so how am I supposed to know when I can get up?"
"We will tell you."
Go figure she returned a minute later apologizing and inviting me to get up.
Shortly thereafter I asked the purser if my coat could please be hung (it wasn't offered before departure, which I found odd). He really didn't speak much English at all, and looked at me confused.
"Is there anywhere I can hang my coat?"
"I don't understand, you want a coat?"
"No, I have a coat and want to hang it, please, so it doesn't get wrinkles."
"I don't understand."
"I have a jacket and would like it to be hung in a closet, please."
"We don't have that."
"You don't have a closet where I can hang a coat?"
"Of course not."
Of course not? Hell, I get my jacket hung on domestic US flights, and you'd think that's an absolute given in business class, no?
Something else that was interesting is that while glassware was used during the meal service, between meals all drinks were served in plastic cups. Seriously?!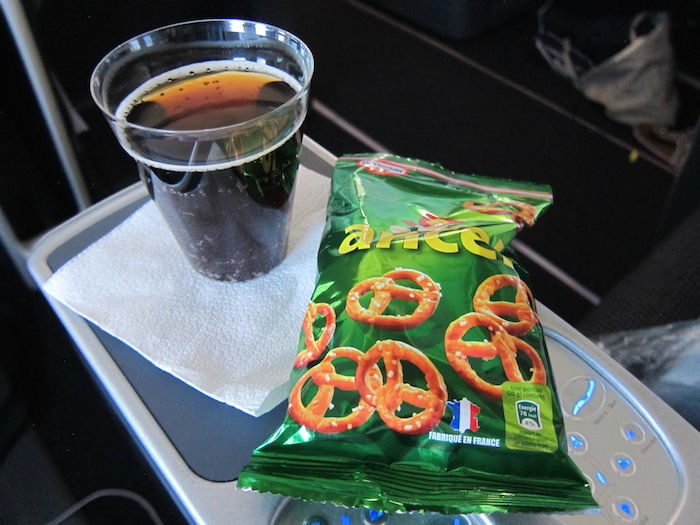 La Compagnie Business Class Amenities
I mean, you get a portable Samsung Galaxy Tablet since the plane doesn't have built in entertainment.
It has all of one TV show on it (Person Of Interest), a handful of movies, and not any music anyone would actually want to listen to (ie Justin Bieber before he started getting all thug on us, One Direction, Taylor Swift, etc.).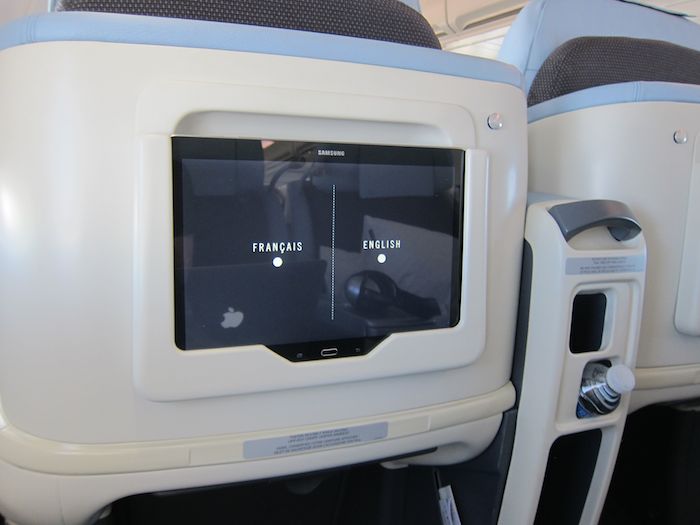 La Compagnie business class entertainment
While it doesn't look pretty, it is fairly well designed. The tablet "slides" into the back of the seat in front of you, and then there are cords for keeping it powered up.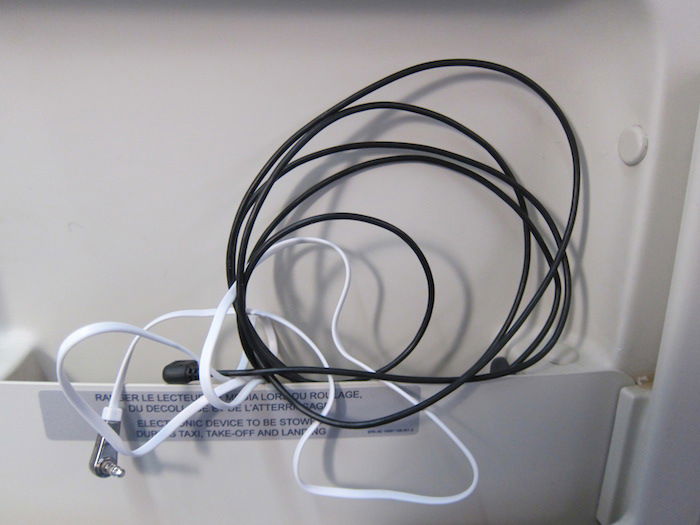 La Compagnie business class entertainment
There were also amenity kits, which I'm pretty sure were made out of the same material as trash bags.
No, really.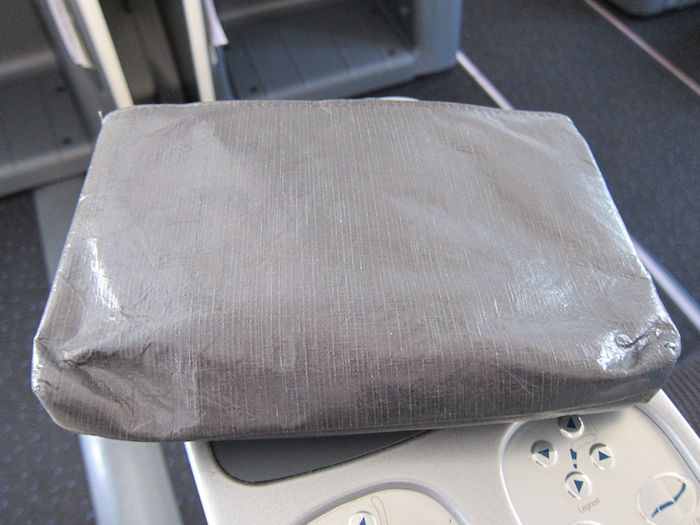 La Compagnie business class amenity kit
LA COMPAGNIE IS AN AMAZING VALUE
I'm putting this in all caps for a reason — because I guarantee I'll get a bunch of angry comments saying "Lucky, you paid 500EUR how dare you complain!"
And that would be absolutely right. What an incredible bargain – it's possibly the best value I've ever gotten on a paid, non-mistake fare ticket. If you think of it as paying economy prices for a sub-par business class product, you'll be thrilled.
Right now they're selling two business class roundtrip tickets out of the US for $2,012.
The "real" taxes and fees for a roundtrip ticket between Newark and Paris are $189, so that's literally a cost of $817 per person roundtrip, or $408.50 one-way.
Assuming every seat is sold on that plane, that's ~$30,000 of revenue. You could charter a Gulfstream for two hours for that amount… maybe.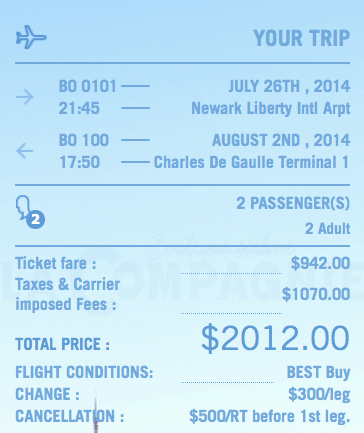 And that's why I'm trying to be objective and review this as a business class product, rather than economy with a "free" upgrade to business class.
The only way La Compagnie can make the airline work is if they can actually sell tickets at competitive business class prices.
And the thought of them ever charging business class prices for this product is borderline laughable. For example, I'd say it's closer to being on par with OpenSkies' PremPlus than it is with their Biz Bed product. And that's already hands down one of the best values for transatlantic travel.
La Compagnie Business Class Bottom Line
Anyway, happy to have flown them, because who knows when they'll fly next? With their delayed inaugural and "we'll fly when we want" mentality (this was only their second ever flight), I'm kind of surprised they're not a Qatar Airways subsidiary.
I just hope the people that came to work for them didn't quit their day jobs…
The most surprising part was that the flight was two thirds full. And I guess not surprising is that I was the only person traveling alone — everyone else seemed to be a couple, which somewhat makes sense given the deals they have for two passengers traveling together.
I still have no clue how people could even book the flight, given that they publish their schedule roughly six hours before departure. Or maybe they were mostly employees, and this was simply a company outing…
So if you're looking to travel transatlantic from New York, I'd absolutely recommend booking La Compagnie at the current prices… but not too far in advance, since I have my doubts of them being around beyond the end of the year.
La Compagnie is an amazing value at current prices, though there's no way in hell they'll ever get away with charging "real" business class prices.
Fair enough?
Update: Check out my full review of the La Compagnie Business Class 757 Paris To Newark service, along with my interview with Peter Luethi, La Compagnie's Co-Founder and Deputy CEO.