As most of you probably know, last week I flew La Compagnie from Paris to Newark. They're the new airline in the market, offering an all business class 757-200 with 74 seats.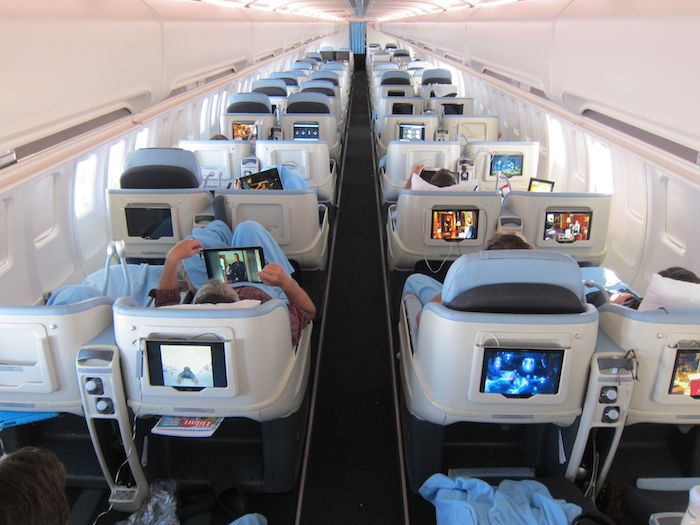 I've been following them with great interest since their plans were first announced. For those of you that haven't been following along, here are the previous "installments," in chronological order:
On Tuesday I received an email from La Compagnie's PR company, asking if I was interested in speaking with Peter Luethi, La Compagnie's Co-Founder and Deputy CEO.
I was thrilled they reached out, because there's nothing I'd love more than to get a better understanding of their business model.
While I have a lot of questions about the other founder, Frantz Yvelin (who also started L'Avion), I have a ton of respect for Peter Luethi, who isn't just some serial entrepreneur, but actually an airline industry veteran. He's the former COO of Jet Airways and EVP of External Communications at Swissair, so this guy has been around the industry.
Let me first report what I learned, and then I'll share my thoughts at the end.
Peter has a good sense of humor and is a nice guy
I try to inject humor into this blog as much as possible, though it can get slightly awkward when you actually talk to the person that runs the company you were talking about.
I mean, among other things I've said:
"Their business model is as flawed as the 787's battery was for the first year, but that's part of the fun"
"I just hope the people that came to work for them didn't quit their day jobs…"
He started by confirming that they did indeed all quit their day jobs to come work for La Compagnie. I loved the fact that he had a sense of humor about it, and hopefully he understands no offense was meant on my end either. 😉
Service failures on my flight addressed

Before I started asking questions, he took the opportunity to address some of the issues I had on my flight.
The crew was apparently spoken to regarding a couple of the issues:
The plane apparently does have a coat closet, so he wasn't sure why I would be told otherwise
The crew has also apparently been spoken to about the seatbelt sign situation (which wasn't a big deal — I mentioned it in the trip report because I thought it was funny, and not because I thought it was a real issue)
Perhaps the most interesting conversation was about the plastic cups.
I mentioned in the trip report that drinks were served in plastic cups between meal services. He explained that "many airlines do this," and it's by design because otherwise there's a lot of drinks that get spilled between meals, as people try to sleep.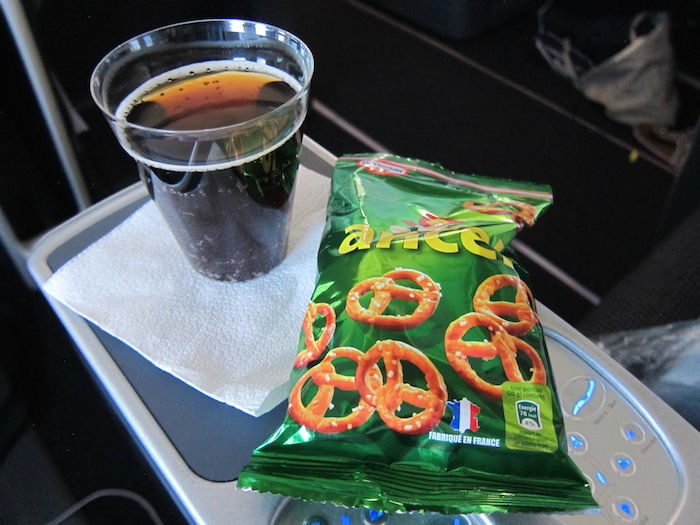 I'd like to think I've flown a fair number of airlines in business class, and I've never found that to be the case. It's interesting to learn that this is apparently an intentional choice by La Compagnie.
I also brought up that the website said La Compagnie would have three flight attendants per flight, while in practice my flight had six. He explained that La Compagnie will indeed have three flight attendants (plus the purser), and that there were six because they're still training.
I countered by saying that most airlines have one business class flight attendant per 10 (or so) passengers, and he claimed that they have an efficient service process in place, and that it won't be any problem offering a good service with just three flight attendants. It's one of the reasons they have a two course meal service.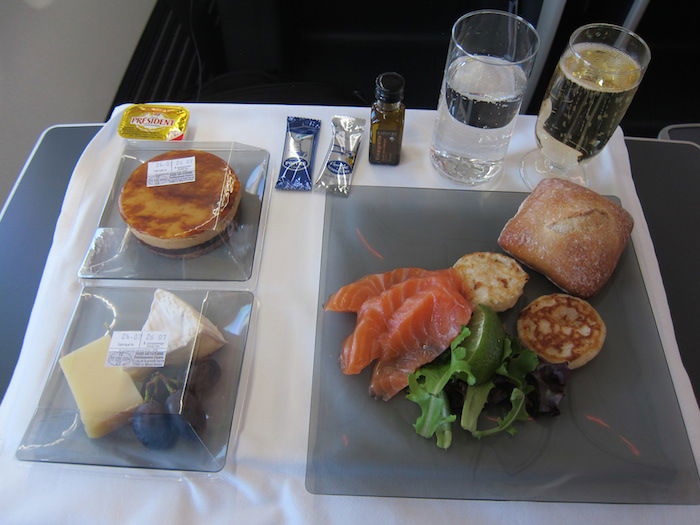 The service took forever on my flight with six flight attendants, so I guess time will tell whether that's true or not…
La Compagnie business class should be best value business class, not best business class
He explained that their business plan was to compete on price point above all else, as La Compagnie isn't claiming to offer the world's best business class product (or the best business class product in the market, for that matter).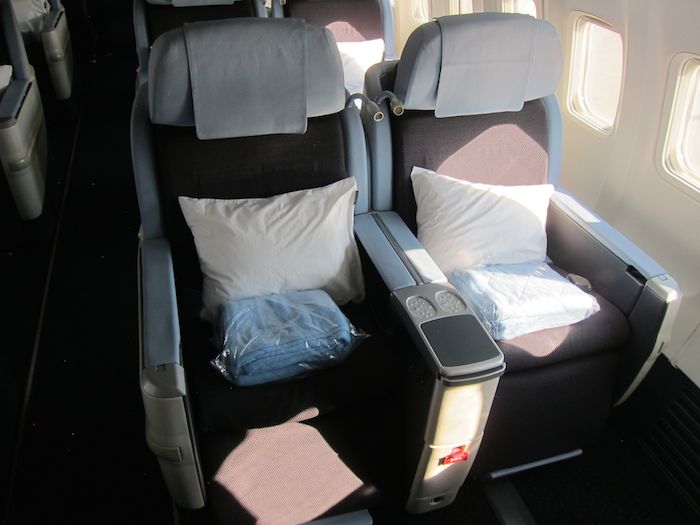 La Compagnie's long term plan is to charge between 30% and 50% less than the major legacy carriers in the market.
Peter explained that due to mergers & acquisitions, bankruptcies, etc., there just aren't many options out there anymore for consumers looking for a different value proposition. Smaller businesses and independent entrepreneurs don't have enough volume to get corporate discounts from the big carriers, so he said this is a great alternative for them.
Are you happy with the way stuff has been executed so far?
Generally I always root for the "new guy" in the market, though there's no denying in this case I've been giving La Compagnie a hard time.
That's not because of the delays, but because of how they've been handling them. So I asked Peter if he's happy with the execution the airline has offered so far, in terms of both operations and social media. I explained I was excited about the airline and really wanted to be on the inaugural, and it's very tough for an airline to build buzz around a product when they don't publish anything about their plans. I mean, I asked on Facebook when the inaugural would be, and was told "soon, very soon!"
He started by explaining the reason for the delay so far. Their current 757 is coming from Icelandair, and the modifications were delayed by two weeks. During that time they had their cockpit crews "inspected," so that all eight of the airline's captains could be instructors as well (obviously they're certified on the plane already, but specifically to have an instructor certification).
As of this coming Monday, La Compagnie will operate five times a week, as of September 8, they'll operate six times a week, and as of November 2, they'll operate daily.
I explained that I understood the delays, but more specifically was wondering about the way everything was communicated. I specifically brought up that on La Compagnie's Facebook page they said they couldn't legally communicate in English. He laughed and thought that wasn't the case, but did clarify that they weren't allowed to have a US website until July 21, since they just got US approval from the DOT, TSA, and FAA as of July 20.
I mentioned the Facebook thing really did happen, and he said he'd look into it. For anyone that doesn't believe me… 😉
So when you say 30-50% lower fares than legacies, what does that mean?
La Compagnie has ridiculously low introductory fares right now — two people can fly business class between Newark and Paris for $2,014.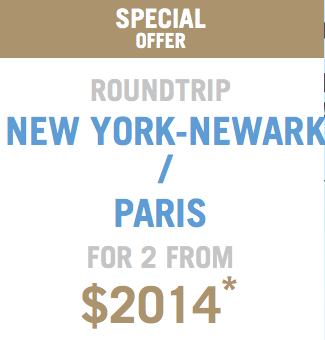 Obviously that's not sustainable, so I asked Peter long term what kind of prices they were aiming for. He said 30-50% lower than legacy carriers, but what does that mean in practice?
In other words, sometimes I can find fares between New York and Paris on Delta/Air France for $2,000 roundtrip, while other times they're $10,000 roundtrip.
He explained that they'll continue to have a simple fare structure with three types of fares — flex, semi-flex, and best buy, and they'll likely range from $1,800 to $7,000 (or so) roundtrip.
Obviously the current ~$1,000 per person fares won't continue, so that gives you an idea of where things are headed.
Is La Compagnie business class that much better than OpenSkies premium economy?
As I mentioned in my previous blog posts, the thing that's so fascinating about La Compagnie's sub-par business class product is that every other airline in the market either has fully flat business class seats or plans to install them.
Meanwhile OpenSkies has a premium economy product with very comfortable and spacious recliner seats. So I asked Peter what he'd say to people that suggest the products are actually similar, and that La Compagnie business class was more comparable to OpenSkies premium economy than to OpenSkies business class.
He totally disagreed there and found it ridiculous, and said that their product isn't anywhere close to premium economy.
What will you do differently than Silverjet, EOS, and Maxjet?
All business class transatlantic service has been tried before and consistently failed. What does La Compagnie know that Silverjet, EOS, and Maxjet didn't?
Peter explained that the problem with Silverjet was that they claimed to have a first class product at a business class price, and in a recession there's no way that can work.
He further noted that EOS and Maxjet had distribution problems, and that their cost structures weren't right.
Peter claims that's one of the biggest strengths of La Compagnie — they have the cost structure right. They have very low fixed costs, a small management staff, and they have a great deal on their plane.
How do you weather a recession?
Okay, so even if an all business class product were to work when the economy is good, how does it work during a recession? Peter explained that he thinks they're targeting a different market that's more resilient during a recession. Specifically, independent entrepreneurs, artists, lawyers, etc., while he thinks big companies cut back more during those times.
Let's talk about the cost structure
At this point I asked Peter if I could just rattle off some numbers, and that he was free to add anything. Specifically I referenced the Boeing website, which talks about the cost to operate a Boeing 757-200. The direct hourly operating cost of a 757-200 is ~$14,000 (this doesn't factor in the other costs, which Boeing estimates brings it to ~$20,000 per hour).
So $14,000 times eight hours is ~$110,000. Divide that by 74 (the number of seats), and you get $1,500. That's what you'd need to charge per ticket not factoring in:
Taxes
Anything other than a 100% load factor
Anything except direct hourly operating costs, which only make up a portion of overall costs (this doesn't cover any of the other costs)
I finished by saying they'd basically need to charge $3,500 per seat roundtrip just to break even on direct hourly operating costs, and they'd need a 100% load factor at that. So I asked what I was missing.
Peter said those numbers were off, and assumed they were based on a new aircraft.
So realistically what is your goal/what are you projecting in terms of fares and load factor?
This is the part I found most interesting. I asked what La Compagnie was realistically aiming for in terms of average fares and load factor.
They're hoping to average $3,000-3,500 per roundtrip ticket, with an average load factor of 75-80%.
So, with all that out of the way, what are my thoughts?
It was fascinating to learn La Compagnie's perspective
I really appreciate Peter taking the time to speak with me. Perspective like this is incredibly interesting, so I'm really grateful he spoke with me. I certainly understand the business model more now from La Compagnie's perspective.
I guess for me there are two big questions, which only time will answer:
Are people willing to pay an average of $3,000-3,500 per roundtrip on La Compagnie?
Is La Compagnie business class really more like business class than OpenSkies' premium economy?
I don't have a definitive answer, but I guess the market will decide.
There's no doubt La Compagnie faces an uphill battle. The shortcomings for an all business class startup are endless — no frequent flyer program, not enough frequency, no partnerships, no corporate contracts, only one route, etc.
Are people willing to pay an average of $3,000-3,500 per roundtrip on La Compagnie?
Again, the long term plan is for business class fares to start at around $1,800, but they're hoping to achieve an average fare of $3,000-3,500 (because not everyone will book a non-flexible ticket).
Lets look at the other carriers in the market. Perhaps the most direct comparison is OpenSkies. They have a true, fully flat bed in business class, are part of British Airways (so you can earn and redeem miles), etc.
Lets pull up random, non-promotional prices in business class over the coming year. They're charging $2,400-3,300 for their fully flat business class: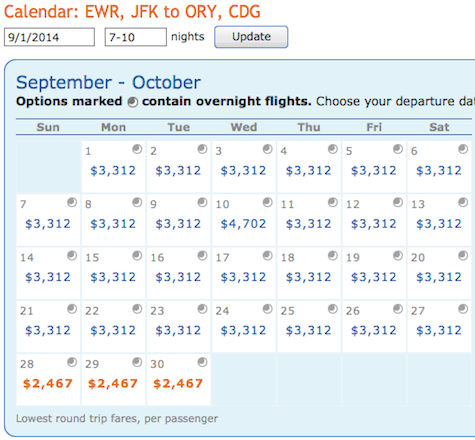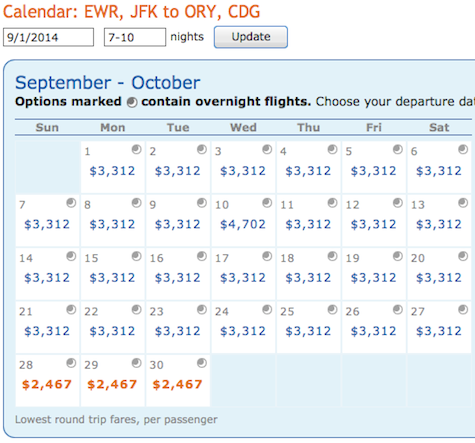 Meanwhile they're charging $1,300-1,700 for their premium economy product: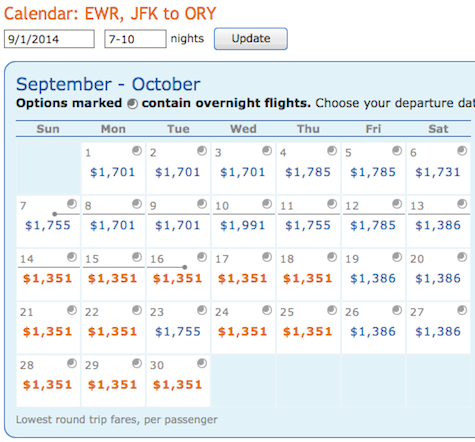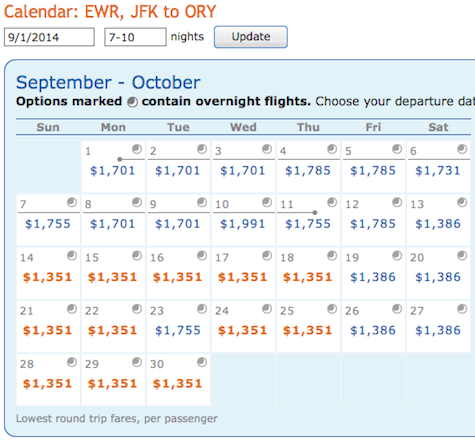 Not trying to draw any conclusions here, but at the same time I don't really see how La Compagnie will be achieving their goal numbers. Yes, they might be cheaper than full fare business class (or even discounted business class on legacy carriers), but they're going head to head with an established carrier in the market that's operating a very similar model to their's (except has a bigger backing, and has economy and premium economy as well).
Looking at OpenSkies
I flew OpenSkies back when they first started flying, and was quite impressed. They have a fully flat business class product which is similar to British Airways Club World.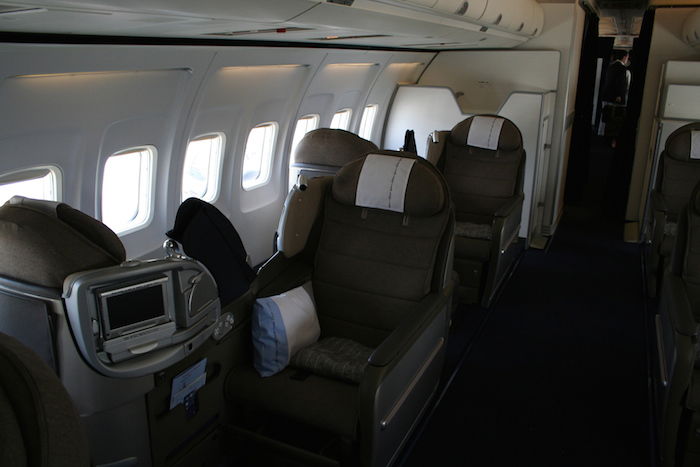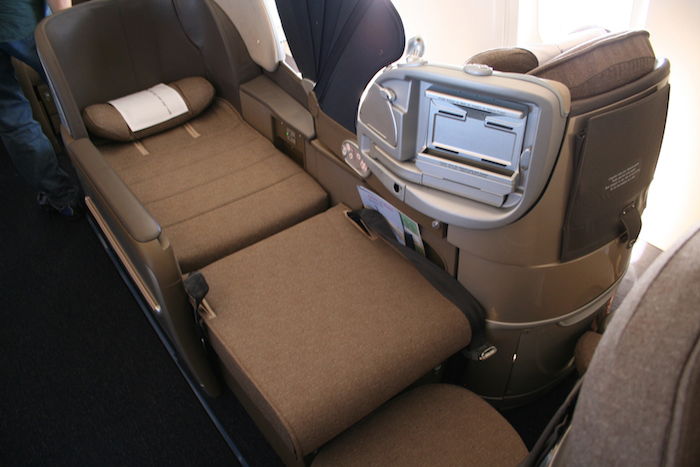 They also have a premium economy product which is much better than average.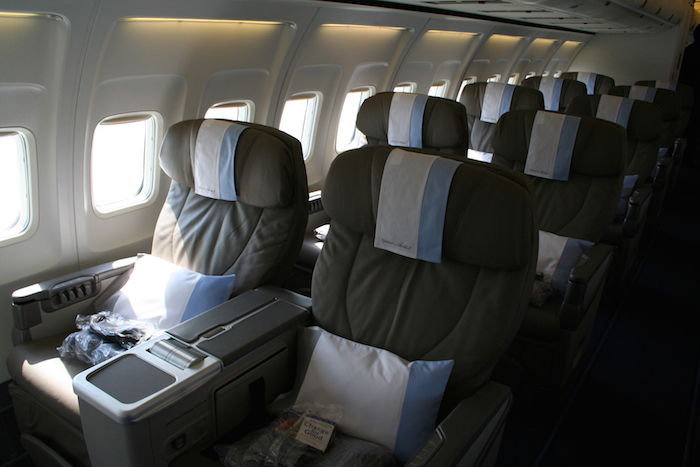 Given that, it will be interesting to see if consumers feel La Compagnie's angled business class product is competitive with OpenSkies' flat bed business class, or if the La Compagnie product is closer to OpenSkies' premium economy.
Bottom line
At the end of the day, my goal with this blog is to help you guys make smart travel choices.
Right now La Compagnie is the best transatlantic value out there. $2,014 for two people to fly between Newark and Paris in summer is cheaper than virtually all coach fares. Giving them a shot is an absolute no brainer, if you have the need to fly that route.
Give them a try for yourself and see how you feel.
Long term though, is there any way I could in good conscience recommend people fly them?
If the fare is the same as OpenSkies business class, then I'd definitely go with OpenSkies. If the fare is the same as OpenSkies premium economy, I'd definitely go with La Compagnie. If the fare is somewhere inbetween… well, that's where it gets interesting.
Best of luck to them, and I'll certainly continue to watch closely!
I'd love to hear what you guys think based on the above info!