This shouldn't come as a surprise. Alitalia has been in a terrible financial situation for a long time, though it has been especially bad lately. They've been on the verge of liquidation, but for political reasons got a new business plan approved by the board that would have kept them alive. However, employees needed to vote in favor of the agreement for it to be approved, which would include layoffs and pay cuts. Alitalia employees voted against it, which means that Alitalia is out of options.
The Italian government has insisted that Alitalia won't be bailed out, aside from a sixth month bridging loan.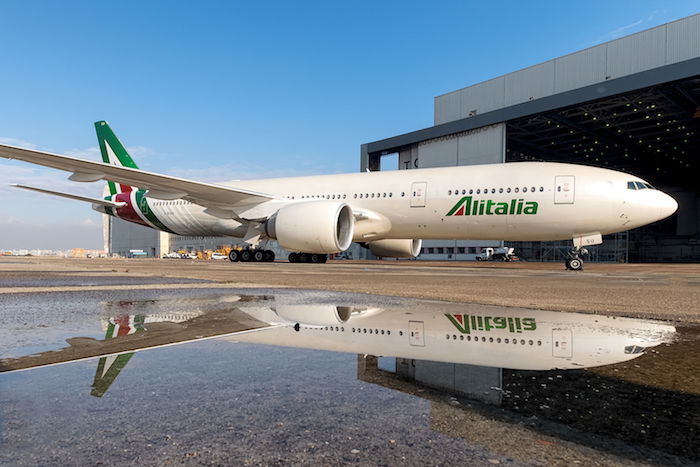 Today Alitalia has announced that they're beginning the process of filing for bankruptcy. Here's the Alitalia's press release:
However, the new business plan being approved was contingent upon layoffs and also employees taking pay cuts, and that's something employees voted against. As a result, Alitalia is out of luck — their creditors won't fund their new business plan (or more accurately they don't have a new business plan, since it was contingent upon employees agreeing to it), the government won't bail them out, and the airline will run out of cash in the coming weeks.

Alitalia's shareholders meeting, convened today, noted with deep regret the outcome of the referendum among the employees. The negative vote has determined the inability to implement the relaunch and restructuring of the Company.

Italian shareholders and Etihad, based on the strong potential growth of the company, and on an industrial plan which included a structural cost reduction of which two thirds were not related to labor costs, were committed to recapitalise and finance the plan with EUR 2 billion.

This commitment was subject to an agreement with the trade unions, which was rejected by the employees in a referendum.

The Board of Directors, which convened after the shareholders meeting, having acknowledged the serious economic and financial situation of the Company, of the unavailability of the shareholders to refinance, and of the impossibility to find in a short period of time an alternative, has decided unanimously to proceed with the filing for "amministrazione straordinaria" (extraordinary administration) in compliance with the Italian law.

Alitalia's flight schedule will continue to operate as planned.
There are no surprises here, and there's still no immediate impact. In the coming weeks and months we should learn the fate of Alitalia. Will they be bailed it out and kept independent (despite what's being said now), will another airline buy them, will their parts be sold off to the highest bidder, or what?
Alitalia is still reassuring people on Twitter that it's safe to book flights on them. A few days ago they posted the not-so-reassuring update that "Alitalia confirms that for the time being its flights and operations will continue as scheduled." That really instills confidence in people. 😉
— Alitalia (@Alitalia) April 26, 2017
However, the past few days they've been posting messages that take out the "for the time being" part, and make it sound like all is good at Alitalia.
Regular flight programme and services. No changes to flight schedule or operations. pic.twitter.com/hsjC8CpxMi

— Alitalia (@Alitalia) April 30, 2017
How do you guys see this ending?