A bit over a week ago I wrote about seven rumored longhaul flights to the US, and provided an update on the latest we've heard on their progress. Some airlines are overly optimistic when it comes to the routes they'll launch, so it's always interesting to see if airline executives deliver on their lofty promises.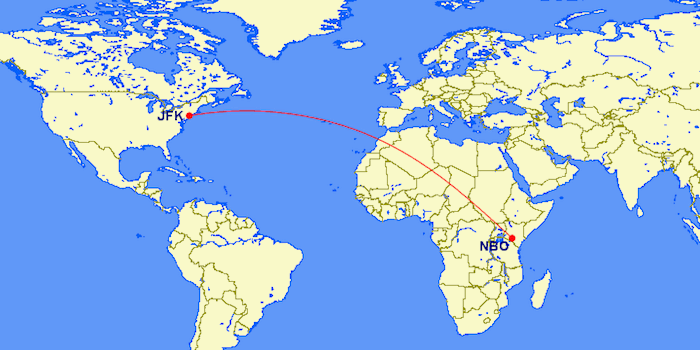 One route I accidentally left out of that last post was Kenya Airways' rumored Nairobi to New York flight. This rumor originated in mid-March, when Kenya's Daily Nation wrote the following:
Flights from Nairobi to New York's John F. Kennedy Airport will be launched in early May.

This is after Kenya Airways formally requested the US federal aviation department for a licence to fly directly to the US.

Transport Cabinet Secretary James Macharia told the Nation that the application was presented at the US Embassy in Nairobi.
This was bizarre for a couple of reasons:
They'd be launching flights to New York with just a few weeks notice, which doesn't seem like much for launching such an ambitious route, in terms of selling tickets, marketing the route, etc.
Supposedly the request was "presented at the US Embassy in Nairobi," which is not how you request permission to operate a new route, and there was also no record of such a filing with the DOT at the time
I figured this route was a pipe dream. Well, it looks like this might actually happen, and that we may soon see Kenya Airways in the US… surprisingly.
The Department of Transportation has now granted permission to Kenya Airways to operate flights to the US. Per their filing:
Scheduled and charter foreign air transportation of persons, property, and mail from any point or points behind Kenya, via any point or points in Kenya and any intermediate points, to any points or points in the United States and beyond.
Permission for the route was tentatively granted on June 12, but then there was a period where the permission could be contested, etc., so it has only now been finalized. Now it's just up to Kenya Airways to decide if they actually want to start service to the US or not.
The airline is doing horribly financially, and has been getting rid of planes in order to minimize losses (they're leasing some 787s to Oman Air), etc. I can't imagine they'd make any money on a route to the US given how long it would be, but I guess we'll see if they're willing to pay the price for the prestige of operating it.
If this flight does take off, you can bet I'll be booking it, as Kenya Airways has been on my list of airlines to review.
What do you guys think — will Kenya Airways fly to New York (or another point in the US)?
(Tip of the hat to @MeenzMev)