JetBlue has a revenue based frequent flyer program, which is quite different than the chart based programs I'm most fond of.
Redeeming TrueBlue points is pretty straightforward. Each point gets you ~1.4 cents towards the cost of a ticket. The exact "cent per point" value varies a bit, but it is generally in that range. Interestingly the value is actually better when redeeming for their Mint Class, as each point gets you ~1.7 cents towards the cost of a ticket.
Anyway, for a long time the caveat has been that you had to redeem a minimum of 5,000 points per redemption. At a value of 1.4 cents per point, that means you could redeem a TrueBlue point for a minim of a $70 ticket. Or more accurately, you could redeem points for a cheaper ticket, though it would still cost you 5,000 points.
JetBlue has recently changed that, and TrueBlue award redemptions now start at 3,500 points.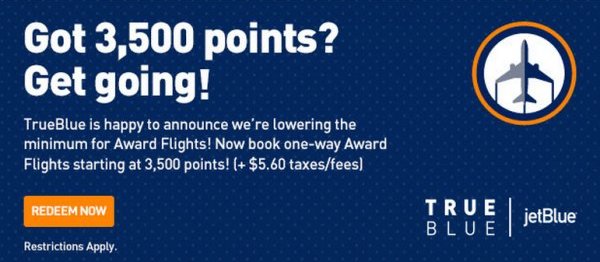 In practice this means that at a rate of 1.4 cents per point you can now redeem TrueBlue points for tickets as cheap as ~$50 without paying a "penalty."
Take a flight between Newark and Boston, for example, which retails for at little as $49 ($5.60 of which is taxes).

An award ticket on that flight would have previously cost 5,000 points, though now costs just 3,500 points (plus the $5.60 in taxes).

In the above case you're actually still paying a penalty, as you're redeeming 3,500 points for $43.40 "worth" of ticket, meaning you're "only" getting ~1.24 cents per point. That's still a better deal than redeeming 5,000 points, though.
Bottom line
This isn't a game changer, but it is great news for the less frequent JetBlue flyer. The reason they previously had the minimum was so that you'd have to collect more points in order to be rewarded, making the program less rewarding for the not-so-frequent JetBlue flyer. Now you can more easily redeem for tickets, especially since JetBlue also has family pooling accounts. Kudos to JetBlue on this change!