Air France has just unveiled its first Airbus A220-300, which is a huge step forward for the carrier's short haul fleet.
Air France's Airbus A220-300 order
In 2019, Air France announced a huge Airbus A220 order — the airline ordered 60 A220-300s, with an additional 30 options and 30 acquisition rights. This represents the largest Airbus A220 order of any European airline, and Air France plans to take delivery of all of these planes by 2025.
The A220 is intended to replace Air France's entire Airbus A318 and A319 fleet, and part of the A320 fleet. The carrier has 17 A318s, 30 A319s, and 44 A320s.
The A220-300 has fantastic economics, and is well suited for Air France's short and medium haul network:
The A220 offers cost reductions of 10% compared to Airbus A318 and A319 aircraft
The A220 consumes 20% less fuel than the aircraft it replaces
The A220 reduces CO2 emissions by 20% compared to the aircraft it replaces
The A220 has a noise footprint 34% lower than the aircraft it replaces
This will help with Air France's goal of reducing CO2 emissions per passenger kilometer by 50% compared to 2005 levels.
I've gotta say, the A220 looks mighty swanky in Air France's livery. As you can see, the plane also sports Air France's signature winged seahorse on the front of the fuselage, and on the engines.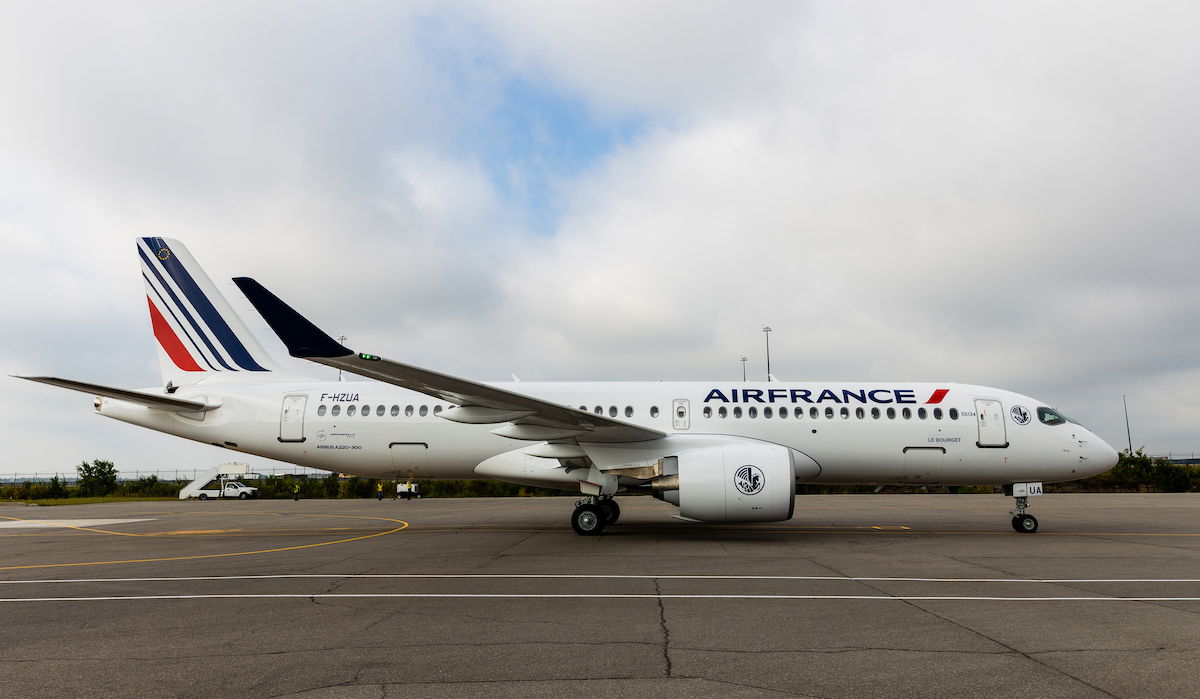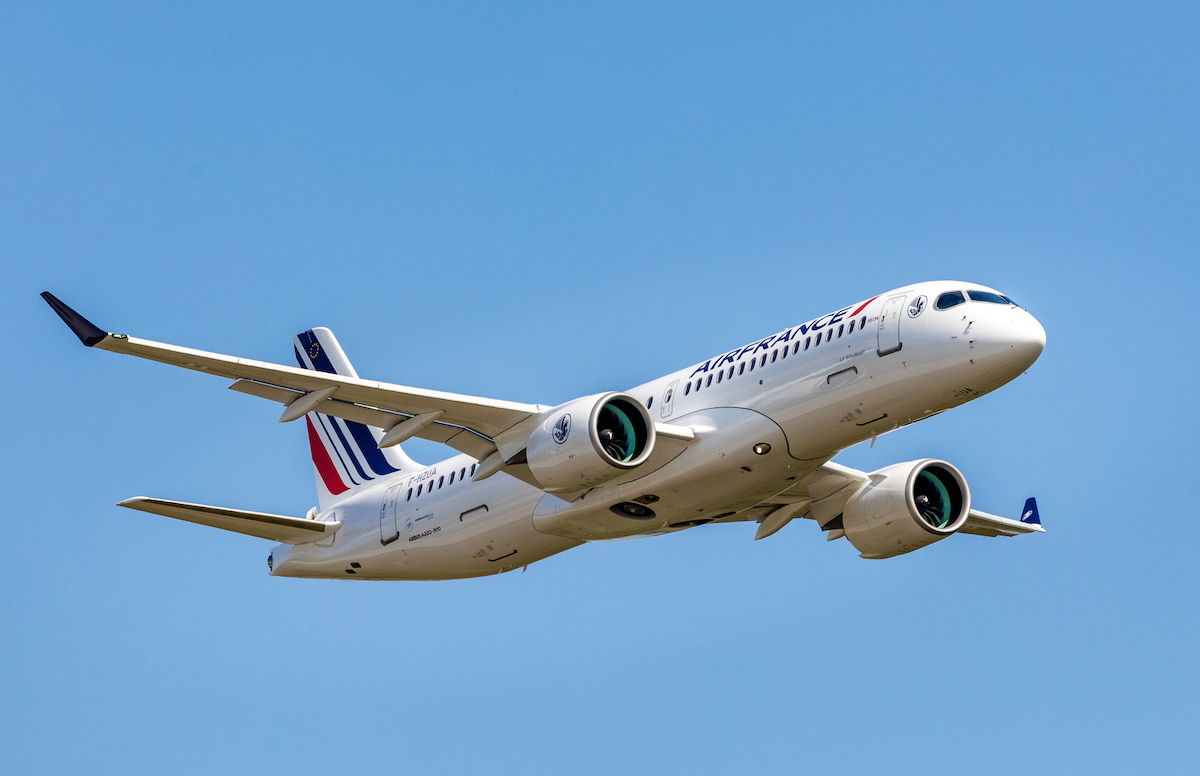 What are Air France's Airbus A220-300s like?
Let's be honest — in general planes used for intra-Europe flights don't exactly have the most exciting interiors. They're all about efficiency, by maximizing the number of seats that can fit on the plane, given competition from low cost carriers. Business class within Europe is generally just economy with a blocked middle seat and superior service.
That being said, Air France has configured these planes about as nice as you could hope for, and the A220 in general is a joy to fly.
Air France's A220-300s feature a total of 148 seats, in a 3-2 configuration:
The A220 is in a 3-2 configuration, meaning that 80% of passengers have an aisle or window seat
The A220 features the widest seats in the market, at 48cm (~18.9″), and they recline 118 degrees
The A220 seats feature adjustable headrests, leather upholstery, and an ergonomic seat cushion
The A220 seats have USB A and C ports, and tablet or smartphone holders integrated into the seatback
The A220 features Air France Connect, which is Air France's inflight Wi-Fi service
The A220 cabin features Air France's signature colors, including shades of blue, white, and a hint of red
The A220 has large windows and mood lighting
Like I said, that's about as good as you could expect — power ports and Wi-Fi within Europe are a winning combination.
Given the 3-2 configuration, I'm curious if business class passengers seated on the side of the cabin with two seats will get both an aisle and a window, or if Air France won't do seat blocking in that part of the cabin. It sure would be cool to get an aisle and window seat in intra-Europe business class.
Below are some pictures of the Air France Airbus A220-300 cabin interiors.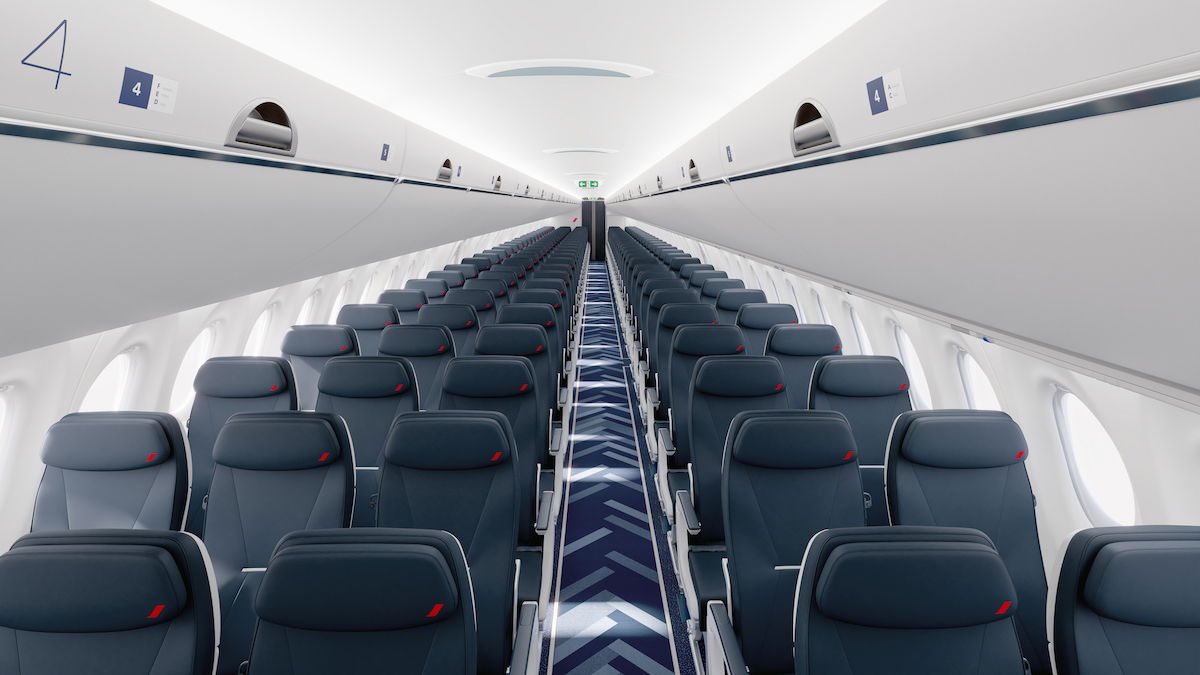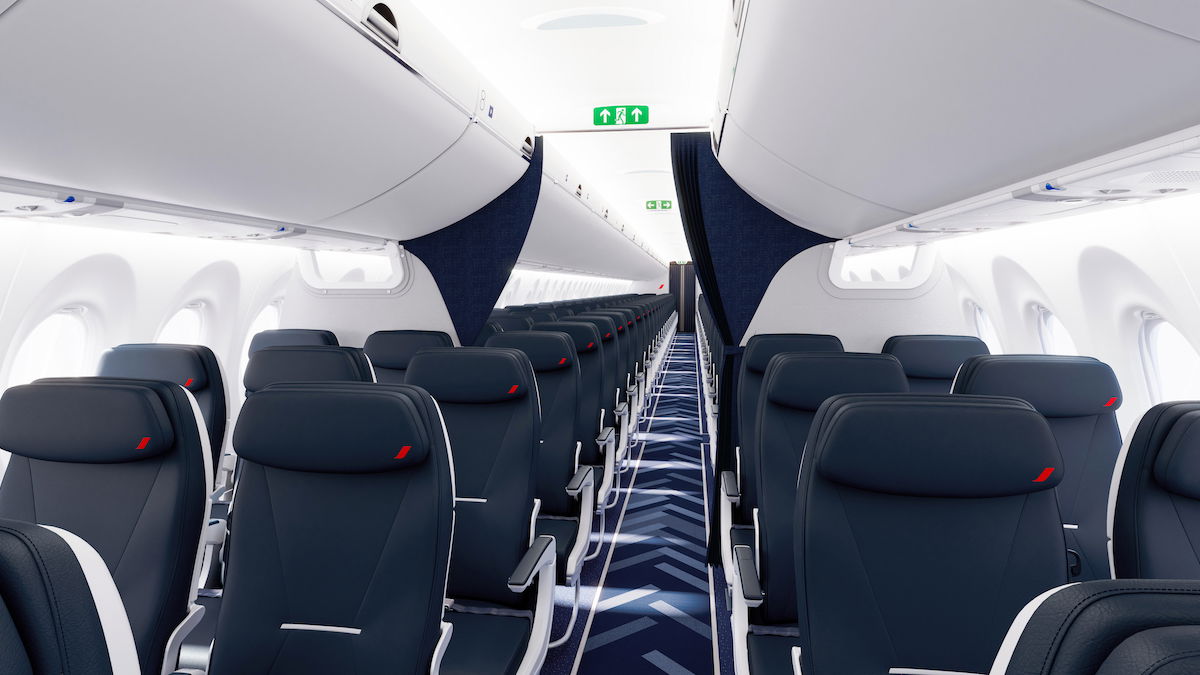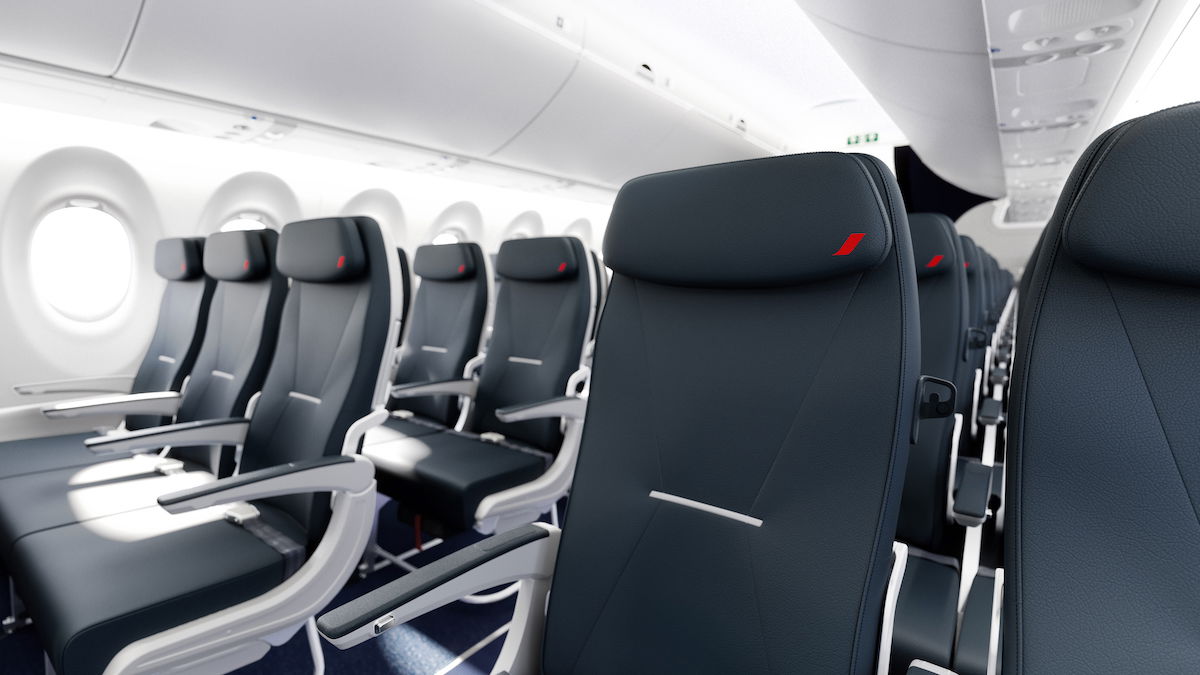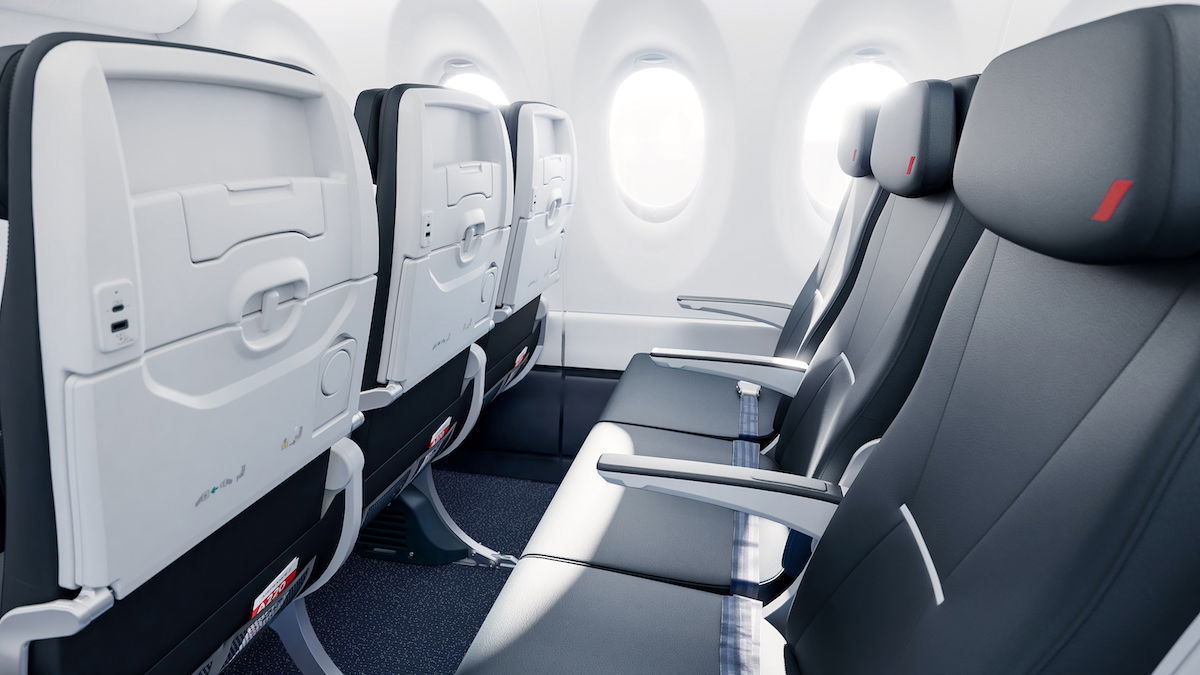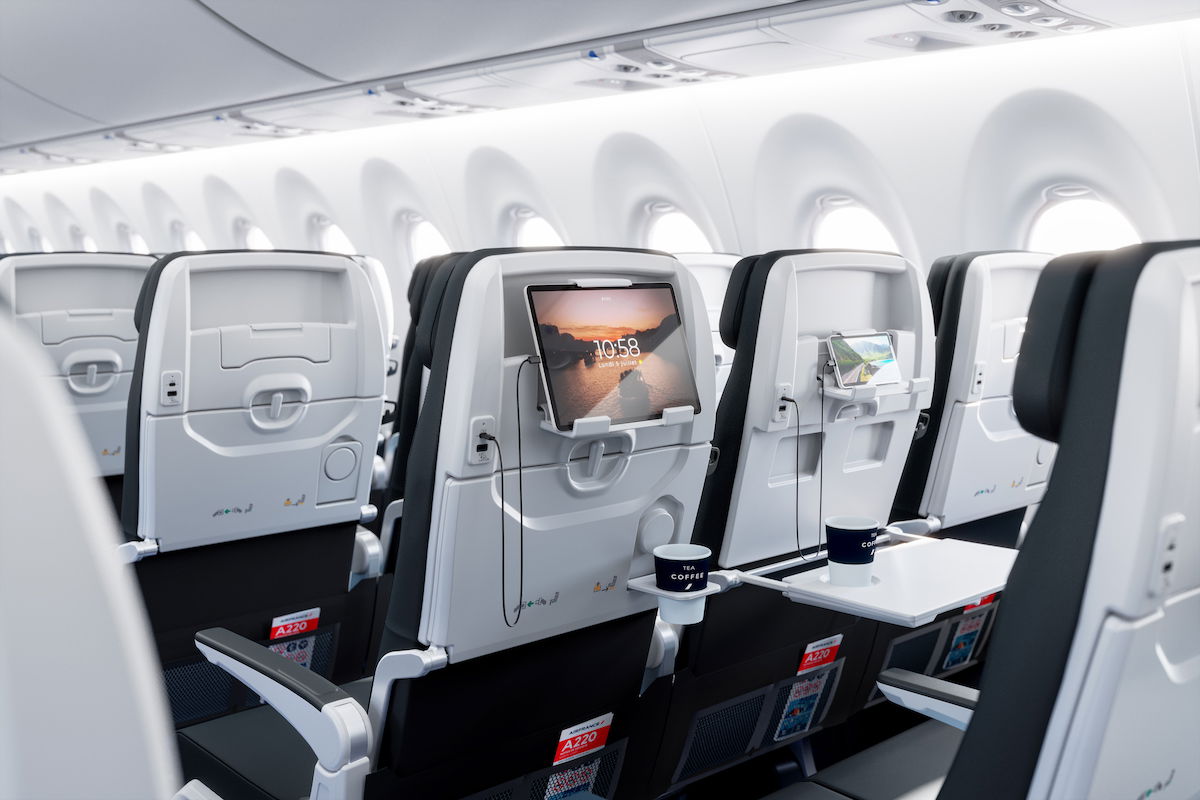 Where will Air France's Airbus A220-300s fly?
Air France will start flying its A220-300s as of October 31, 2021. The planes will initially fly to:
Berlin, Germany (BER)
Barcelona, Spain (BCN)
Madrid, Spain (MAD)
Milan, Italy (LIN)
Then during the 2021-2022 winter season, the A220s will also start flying to:
Bologna, Italy (BLQ)
Rome, Italy (FCO)
Lisbon, Portugal (LIS)
Copenhagen, Denmark (CPH)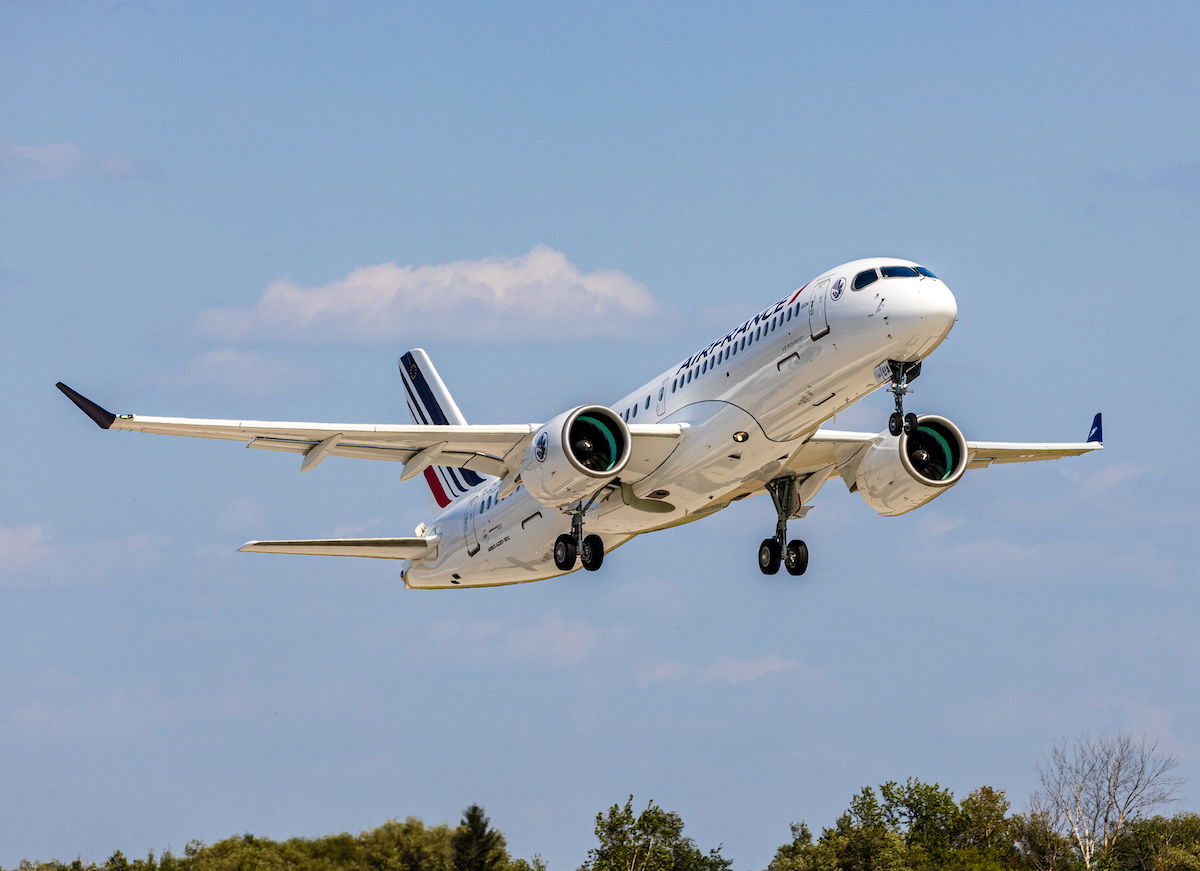 Bottom line
Air France has taken delivery of its first of 60 Airbus A220s. The airline will put these planes into service starting in late October 2021, and by 2025 all 60 planes will be in Air France's fleet.
The A220 is a phenomenal plane, both in terms of economics and passenger comfort. Not only is the plane fuel efficient, but the seats are wide, and there's only one middle seat in each row.
I'm thrilled to see Air France renew its fleet with this plane — Air France is only the second "global" European airline to take delivery of the A220, after SWISS.
What do you make of Air France's new Airbus A220?