As someone who is a big fan of the 'Stans (or a stan of the 'Stans, as the kids would say nowadays), this is kind of awesome…
Air Manas takes delivery of A220
Air Manas has just taken delivery of its first Airbus A220-300, and the airline plans to take delivery of up to three of these planes in the coming months. The A220 is an awesome plane, both for airlines and passengers. The economics are phenomenal, and the cabin is in a comfortable 2-3 configuration, with the widest seats in economy that you'll find on any plane.
I've gotta be honest, I've heard of a vast majority of airlines around the world, but when I first saw the news from Airbus that an A220 was delivered to Air Manas, I said "huh?"
Air Manas is an airline based in Kyrgyzstan (Manas International Airport is the name of the country's biggest airport, in Bishkek), and it's the first airline in the region to operate the Airbus A220. If you ask me, Air Manas' livery looks mighty similar to SWISS' livery, and it's an easy thing to confuse, since SWISS is a big operator of the A220.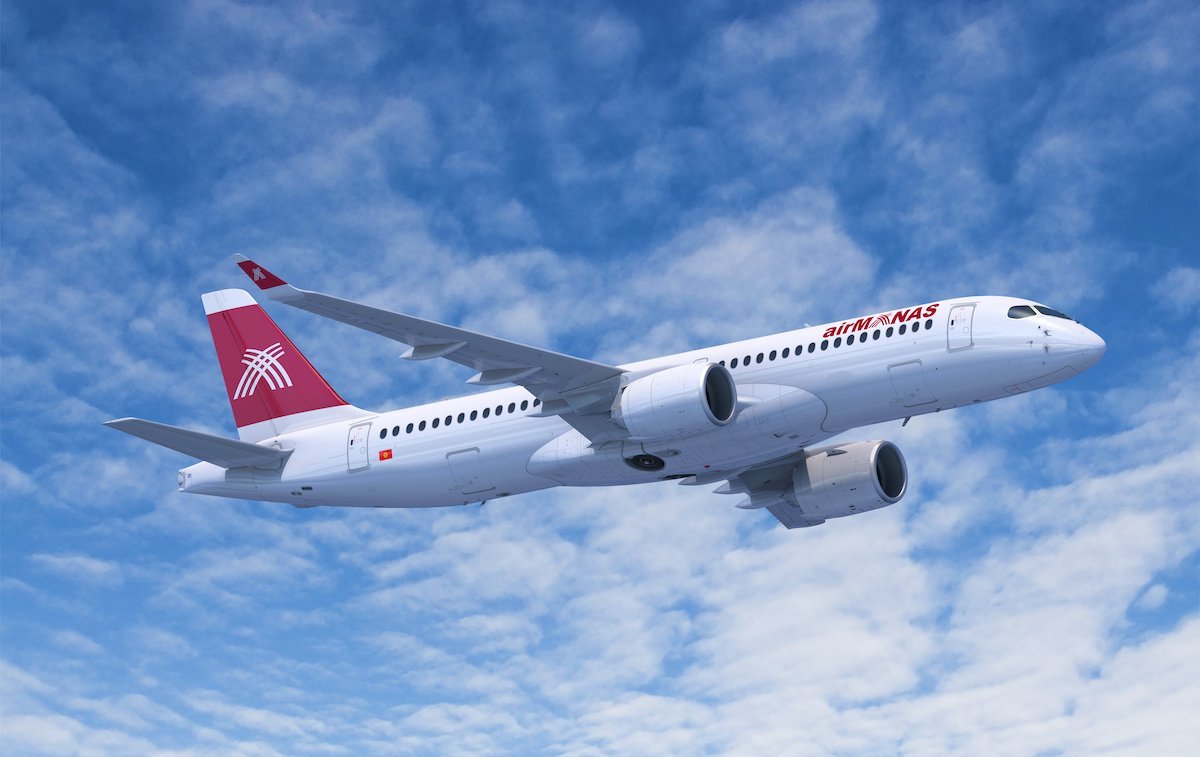 What is Air Manas?
As I mentioned above, I didn't know much about Air Manas, though after doing some digging, I'm fascinated:
Air Manas was founded in 2006, and operated its first flight in 2009
In 2012, 49% of Air Manas was purchased by Turkey's Pegasus Airlines, given the bilateral trade agreement between Turkey and Kyrgyzstan
The airline rebranded as Pegasus Asia, and then started operating between Bishkek and Istanbul in 2013, along with flights to other destinations
Air Manas operated a fleet of three Boeing 737s, including one 737-400 and two 737-800s
In 2019, Pegasus Airlines sold its shares in Air Manas, at which point the airline suspended operations
Now I also understand why I hadn't heard of the airline, since it hadn't been branded as Air Manas in over a decade. Two years have passed since the airline suspended operations, and now the airline will once again fly under its own branding.
I haven't been able to find much about Air Manas' plans with the relaunch — where will the airline fly, and how exactly are these A220s configured? If anyone has more details, I'd love to hear them.
It's also interesting that this airline is relaunching with A220s. While the economics of the A220 are fantastic, you'd think that used planes could be picked up right now for next to nothing. Perhaps this agreement was finalized pre-pandemic.
Kyrgyzstan is near the top of my list of countries to visit, as I enjoyed my trips to Uzbekistan and Tajikistan a while back. And if I do go to Kyrgyzstan, I'd love to fly Air Manas. It's just a shame that Turkish Airlines no longer operates the Bishkek to Ulaanbaatar route, which was in my opinion the coolest fifth freedom flight in the world.
Bottom line
Air Manas has become the latest airline to take delivery of the Airbus A220, which is a fabulous plane. I'd argue Air Manas is perhaps also the most intriguing airline to take delivery of this plane.
I can't wait to learn more about what Air Manas has planned for this aircraft and its relaunch, and also to eventually visit Bishkek.
Anyone have more details on Air Manas' relaunch plans?