For as long as I can remember, there have always been the doubters in this hobby claiming that the sky is falling and that "the game" is coming to an end. While there's no doubt things are constantly changing and we have to work hard to stay on top of things, I've never bought into that theory.
At the end of the day frequent flyer programs are lucrative businesses in and of themselves, so the airlines would be dumb to mess with them too much. They literally control every aspect of the currency — they control how many points are issued, how many points it takes to redeem for something, and even the inventory which can be redeemed for.
But if I'm being perfectly honest, I'm feeling less optimistic about this hobby than ever before, and it's mainly a function of so many negative changes happening at once. Individually I wouldn't think twice about them, and would just chalk it up to "evolution" in the hobby, but together they're a bit tougher to swallow.
What am I talking about?
How I earn miles
Let me start by explaining how I earn miles. Unlike others, I don't do "manufactured spending." I find that for the most part it's only marginally "profitable," so it's not really something I do.
With that in mind, I primarily earn miles in three ways:
Through flying. I do a lot of revenue flying, especially domestically, so with a 100% mileage bonus, miles do add up pretty quickly that way.
Through credit card sign-up bonuses and spend. This remains the easiest way to earn miles for those with access to US credit cards. You can't beat 50,000-100,000 point sign-up bonuses, and earning 2-5x points per dollar spent.
Through buying miles. We've seen some amazing promotions for buying miles, and over the years I've purchased hundreds of thousands of miles for 1.1-2.0 cents per mile. When redeemed for premium cabin redemptions, that usually means I'm flying first class for less than I'd pay for economy class.
With that in mind, right now I see the opportunities for all the ways in which I ordinarily earn miles getting worse:
Revenue based mileage earning for flights
This is something that was announced earlier in the year on the part of both Delta and United, whereby they'll begin awarding redeemable miles based on how much you pay for your ticket as opposed to how many miles you fly.
This isn't the end of the world, in my opinion, but for most of us it's still a negative change. Unless you're primarily buying full fare tickets and/or flying short distances, chances are that you'll be earning fewer miles for flying. The breakeven point is more or less 20 cents per mile pre-tax, so if you were previously paying more than 20 cents per mile to fly you'd come out ahead, while if you were paying less than 20 seconds per mile you come out behind.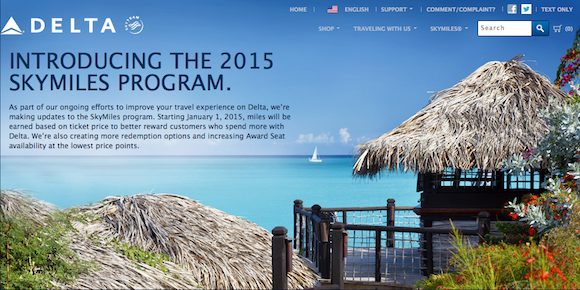 Cost to buy miles going up
For the past couple of years, the three most lucrative mileage currencies to purchase have been Alaska Mileage Plan, Avianca LifeMiles, and US Airways Dividend Miles.
While Alaska continues to sell miles an average of once a quarter at a reasonable rate (though they've locked out those without a North American billing address), we're seeing major changes with Avianca LifeMiles and US Airways Dividend Miles: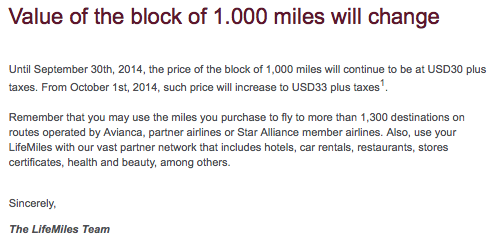 Mileage transfers are being limited
While the other changes we've seen don't surprise me, this one does. Last week Delta SkyMiles announced that they'd begin limiting the number of points you can transfer into SkyMiles from partner loyalty programs. Previously you could transfer a virtually unlimited number of points from their partner programs like American Express Membership Rewards, Starwood Preferred Guest, etc.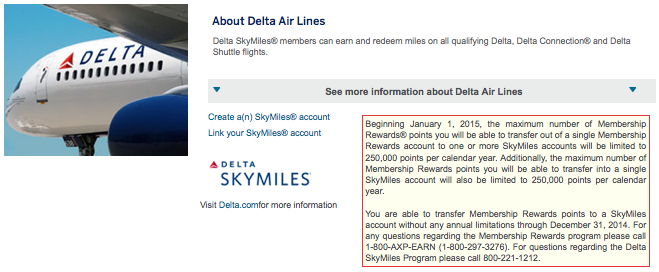 To me this was stunning — the change itself might not be huge since we're just talking about one airline here, but the precedent it sets is interesting. The banks issuing co-branded airline cards are really the airlines' biggest customers, so to see them shut out like this is surprising.
While this one change doesn't bother me too much, if we get to the point where a majority of airlines are limiting the number of points you can transfer in from partners, the implications of that would be pretty serious.
I'm worried… but I'm not
While I don't love where our "hobby" is right now, ultimately I'm not too worried. Loyalty programs are incredibly cyclical. When the airlines are making money transporting passengers, they treat loyalty programs like an inconvenience. When the airlines are losing money flying passengers, they look to loyalty programs to save their butts. Heck, American wouldn't have made it through bankruptcy if it weren't for Citi.
We always stay one step ahead of the airlines, and I don't think that's going to change. While I'm not worried, I do kind of feel like a bunch of things are closing in on us at the same time.
So if you're going to be a fear monger and play the "OMG the hobby is coming to an end" game, I think now is the most appropriate time to do so. 😉
How do you feel about the state of the hobby right now? Am I downplaying things? Am I being Debbie Downer?