There's no denying that Delta has been trailblazing the way for the US airline industry when it comes to frequent flyer programs. They were the first to introduce a revenue requirement for status, and are taking it a step further in 2015, by awarding redeemable miles based on how much you spend as opposed to how much you fly.
There are some positive changes to the program as well. For example, they'll begin allowing one-way award tickets for half the cost of a roundtrip starting in January. As someone that doesn't actually fly Delta but accrues their miles through other means, I'd actually say the new program may be a net positive.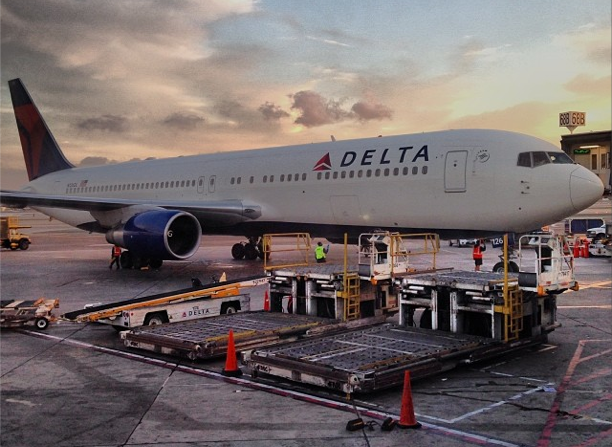 Changes to SkyMiles transfers from Membership Rewards
American Express has just announced a change to the Membership Rewards program which I didn't see coming, however:
Effective January 1, 2015 Delta is making a program-wide change limiting the number of points that can be transferred into a SkyMiles account from any partner loyalty program, including the Membership Rewards program. As a result, there will be 2 important changes that will limit the total number of Membership Rewards® points that you can redeem for Delta SkyMiles: (1) the total number of Membership Rewards points that can be transferred out of any Membership Rewards account into one or more Delta SkyMiles accounts will be limited to 250,000 points per calendar year, and (2) the total number of Membership Rewards points that can be transferred into any individual Delta SkyMiles account will be limited to 250,000 points per calendar year. (A "calendar year" is 12:00 am MST Jan 1 through 11:59 pm MST Dec 31).
In other words, starting in 2015 you can only transfer 250,000 Membership Rewards points per calendar year to Delta SkyMiles.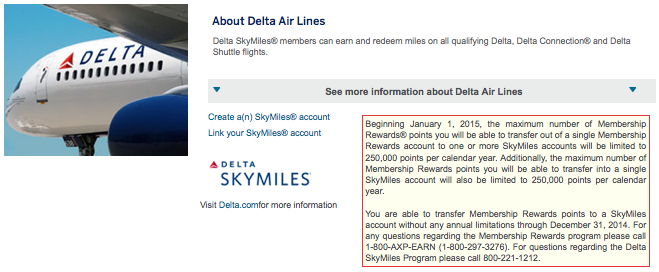 From one extreme to another
The two extremes we've seen with Membership Rewards transfers to Delta SkyMiles is kind of hilarious. Going back a few years, there were almost always transfer bonuses from Membership Rewards to SkyMiles. Heck, I remember there being a 50% transfer bonus, plus they'd give you 25,000 elite qualifying miles if you transferred at least 100,000 points. They were literally begging you to transfer points.
The last transfer bonus we saw was in 2011 (boy, time sure flies!). So it's not just that we're going from huge transfer bonuses to no transfer bonuses, but now this is the first airline where the number of points you can transfer is being limited.
Why is this change being made?
There are a couple of ways this could be interpreted.
One way to interpret it is that Delta is actually trying to improve the value proposition of the SkyMiles program. They're awarding fewer miles through flying, so they're kind of screwing over their members that earn miles primarily through flying when people can transfer in an unlimited number of points. So could it be that they actually want to improve the usability of SkyMiles?
Of course there's another way to interpret it, which based on Delta SkyMiles' track record is probably more accurate. There were lots of people transferring in points and then booking mid or high level award tickets, that cost 300,000+ miles roundtrip. On one hand you'd think Delta wouldn't be losing money on those kinds of transfers, but at the same time if those miles are being transferred and redeemed in place of a last minute paid business class ticket, or if those miles are being used to purchase the last business class seat on a plane, I can see how they wouldn't be happy about that.
Those are the only two explanations that make sense, in my opinion.
Are airline/credit card relationships becoming less influential?
Now that airlines are actually making money by flying planes (as opposed to essentially running profitable frequent flyer programs which just happen to come with a fleet of hundreds of jets which exist solely to promote that business), could it be that airline and credit card partnerships are becoming less important?
Earlier in the year Delta began limiting the number of guests those with American Express credit cards could bring into SkyClubs, and now they're doing this. It makes you wonder.
Bottom line
I guess this answers whether or not we should expect to see any Membership Rewards transfer bonuses to Delta SkyMiles soon. Personally this doesn't really impact my earning or redemption strategy with Membership Rewards or SkyMiles, but I'm sure this change will be frustrating to many that frequently transfer points between Membership Rewards and Delta SkyMiles.
How do you feel about these changes? If you're a Delta flyer, are you happy that fewer people not flying Delta will be able to book awards? And if you've transferred points from Membership Rewards to SkyMiles, will this change your behavior?
(Tip of the hat to Gary)