I've written in the past about my fairly low tech approach to staying connected while abroad. While I spend about half my time outside the US, I actually rely almost exclusively on Wi-Fi when traveling abroad. I keep my phone in airplane mode and then connect in hotels, airports, cafes, etc.
If I'm traveling for extended periods of time I'll sometimes get a SIM card/rent an international router, which allows me to stay more connected. If I knew what was good for me I'd probably switch to T-Mobile's Simple Choice International Plan, which is sort of revolutionary in the industry (AT&T later came out with the AT&T Passport Plan, but it's not nearly as good). With the T-Mobile plan you get unlimited international data for free.
Anyway, I'm in the UAE for less than two days, so figured it didn't make sense to adjust my phone plan or pick up any data (for what it's worth, I use AT&T).
But go figure yesterday I was in a taxi and was supposed to pick up a friend, though the driver ended up going completely the wrong way, so I wanted to ask if my friend could make his way to our destination separately (otherwise we would have missed our reservation). I turned on data and sent him a message through WhatsApp. I turned data on for my phone for less than a minute.
Suddenly I got bombarded with texts from AT&T indicating that I had excessive international data charges… $100… $200… $300… $400… $500! And then my international data was apparently suspended.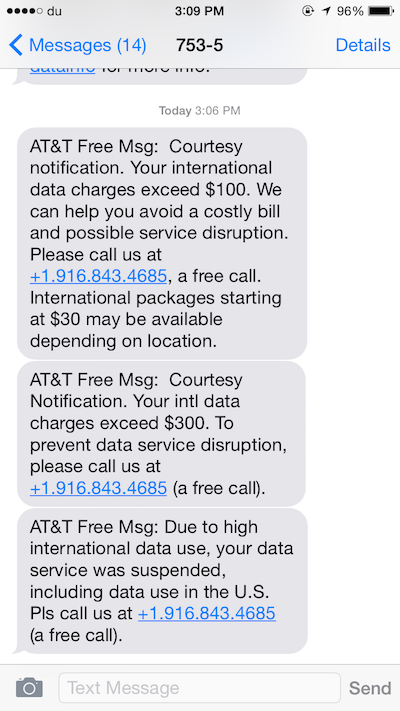 Now, I realize international data is outrageously expensive, but I figured there's no way on earth that using data to my phone for less than a minute would cost me $500. But it did.
I got an email from AT&T prompting me to call them to discuss options.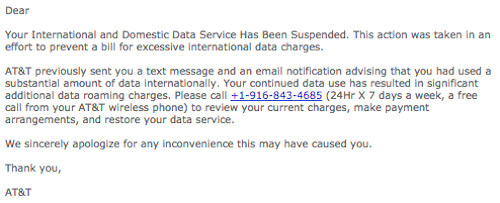 I was able to buy a block of 120MB of data for $30, which could be backdated and would automatically cancel after a month.
Bottom line
It's totally my fault for turning on my phone and using it. But there's still something totally outrageous about being charged $500 for less than a minute of data use, when T-Mobile would offer that for free.
The solution of buying some data was reasonable enough, though it just helped to remind me of how much I hate cell phone companies… and perhaps that it's really time to switch to T-Mobile.
Have you experienced a ridiculous data overage charge when traveling internationally?