Staying connected while abroad is something I really struggle with. Generally speaking I don't sign up for a phone plan when abroad, so simply use hotel Wi-Fi and hotspots to stay connected, and then use Google Voice and Skype to make phone calls. It generally works for me, though now that I often spend weeks at a time abroad, I really do need a better solution.
The innovative T-Mobile Simple Choice International Plan
Earlier in the year the T-Mobile Simple Choice International Plan really innovated connectivity for frequent international travelers. As part of that plan, consumers can get unlimited international data and texting in 122 countries at no extra charge and flat-rate calls for just $0.20 a minute. Equally awesome is how simple the plan is (as the name suggests). There is no need to get a special plan or activate it when traveling. You just turn on your phone when you're abroad and it works.

Naturally I've been extremely tempted to switch to T-Mobile, though still haven't pulled the trigger. I currently use AT&T, and was ready to dump them in favor of T-Mobile. The only problem is that 90% of the people I ask about T-Mobile look at me in pure horror because of how bad their coverage apparently is in the US (to those of you with T-Mobile, is it true?).
I even have friends that keep a T-Mobile plan exclusively for when they're traveling abroad, and then still use AT&T when within the US.
New AT&T Passport Plan
I suspect AT&T has gotten a lot of pressure from users to introduce a similar plan, so today they've announced the AT&T Passport Plan.

AT&T's Passport Plan is only valid for 30 days at a time and has to be activated. Through the plan they're offering unlimited messaging and Wi-Fi, reasonable calling rates, and international data, valid in over 150 countries (check out the full listing of countries).
The most basic plan, Passport, costs $30 for a 30 day period, and includes unlimited messaging and Wi-Fi, $1 per minute calls, and 120MB of data.
On the other end of the spectrum they have Passport Pro, which includes unlimited messaging and Wi-Fi, $0.35 per minute calls, and 800MB of data.
Here's a chart with the three plans they offer: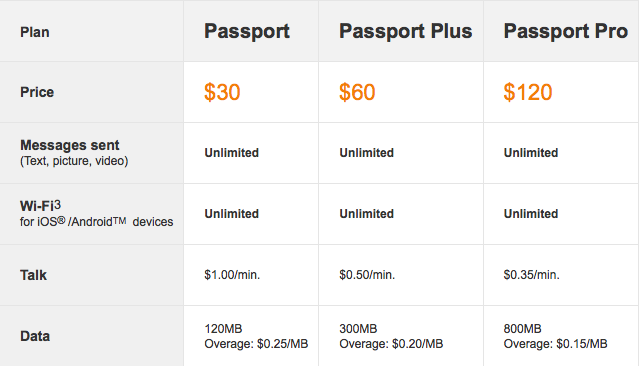 I'm not much of a tech guy, so I don't totally follow the "unlimited" messages sent and Wi-Fi offering. The Wi-Fi is described in the FAQs as follows:
The AT&T Passport app is a free downloadable application for iPhone®, iPad®, and Android™ devices that enables customers with an AT&T Passport or AT&T Global package to connect to participating AT&T international hotspots.
So are we just talking Boingo-style hotspots, or…? Obviously this would make a big difference when dealing with limited data.
Is the AT&T plan competitive with the T-Mobile plan?
On one hand I do appreciate AT&T's new offering. It's better than nothing, and does seem to be better than what they were previously offering. I'd probably use either the entry or mid-level plan if traveling abroad.
But I'd also hardly call it a response to what T-Mobile offers, which is as unlimited and "no strings attached" as these plans get.
At the same time, AT&T's new offering might just be enough to get me not to switch. If T-Mobile's coverage is as bad in the US as I've been told, then I'd struggle with making the switch.
What do you think of AT&T's Passport Plan? And has T-Mobile's Simple Choice International Plan caused you to switch to them?
(Tip of the hat to Travel Skills)