I'm often asked how I stay connected given how much I travel, and I never really have a good answer.
More and more international flights have Wifi, which surely helps, and I heavily rely on hotels having a fast connection, which is one of the reasons I value elite status so highly – internet overseas can be expensive, and I have to have it.
So I typically spend the bulk of my time abroad at the hotel, or in a café, as even when I'm traveling I'm never really on vacation, and typically have 10-12 hours of work to get through before I can sightsee. After all, the memes aren't going to upload themselves!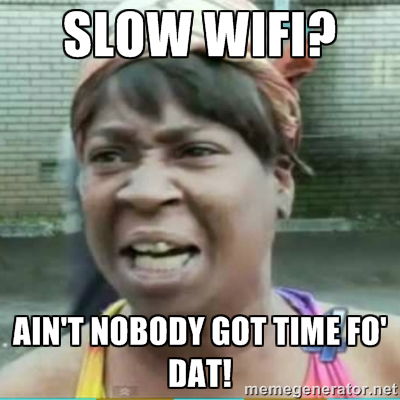 On my recent trip to Europe I was gone for almost two weeks, which is not only an outrageously long trip for me, but is also long enough for slow or unusable Wifi to be a serious liability. The friends I was traveling with have the same need for connectivity, and while we were planning the trip one of them suggested we look into renting an international Mifi device, so that we could all have data service abroad, and potentially be able to spend more time out and about.
I typically find international data plans too expensive for my taste, but given the length of the trip and that there would be four of us traveling, it seemed worthwhile.
In researching, it seemed like there were two "main" companies providing international rentals in Europe; XCom Global, and Tep Wireless. Gary has reviewed XCom Global in the past, and was happy with the product, so I was inclined to just go with them, but since I couldn't really find many reviews of Tep Wireless it seemed like a good opportunity to try them, so that I could report back.
In the end, we decided to go ahead and rent "MiFi" devices from both XCom Global and Tep Wireless. I had tech savvy friends with me to collect data, and figured a direct comparison of the two international data plans would be most useful to y'all.
COMPARING INTERNATIONAL DATA PLANS
The XCom Global program is pretty straightforward, in that they offer an "all-inclusive" package.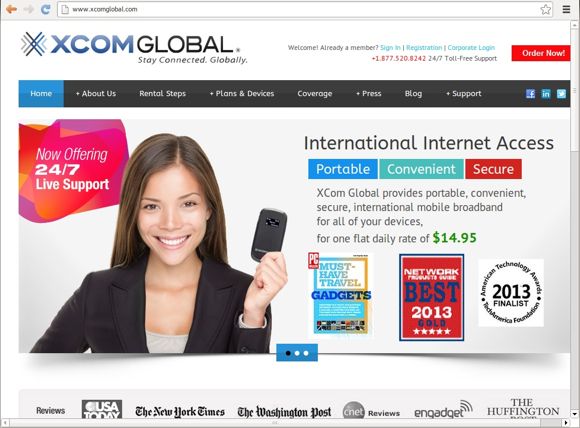 Their only package offers unlimited internet overseas, so you just have to choose how many days you're traveling, and which countries you're going to.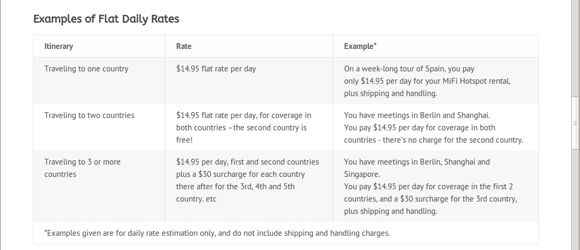 At first I was confused by the language here, as typically XCom Global offers the flat $14.95 rate for travel in one or two countries. However, they also offer a "Europe Travel Plan" that gives you international data service in 40 different countries, which is what we chose.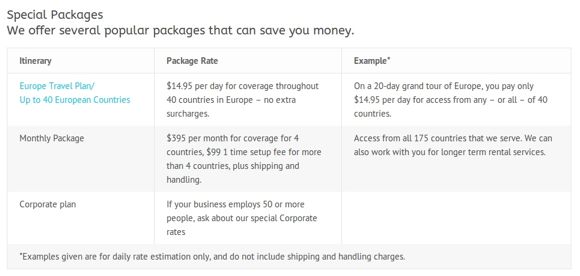 Their standard pricing of $14.95 per day includes the option of either a Mobile Hotspot, or an USB Modem. Given that we primarily wanted to be able to use data on our phones while traveling, we chose the Mobile Hotspot.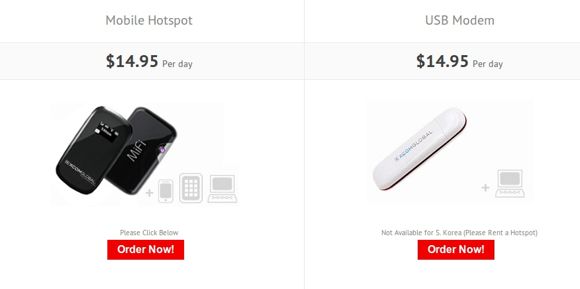 The website was very straightforward. After selecting a device I was prompted to either sign in to my account, or continue without logging in: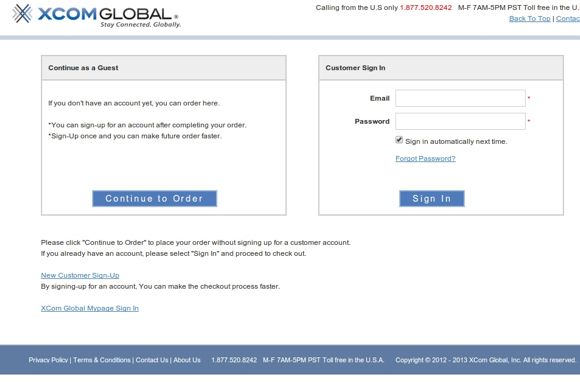 From there, I entered the dates of the trip, and selected which countries we'd be visiting.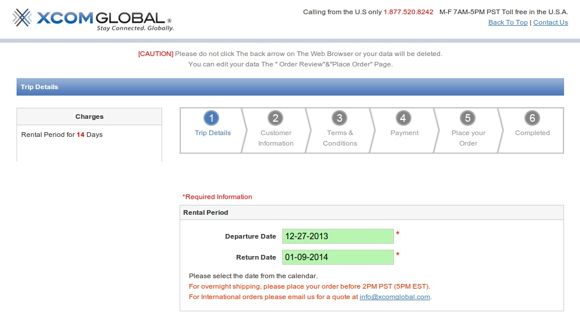 Since we were going to be visiting two countries and transiting two others, we just chose France as the third country, as our layover there was longer, and didn't bother including Italy.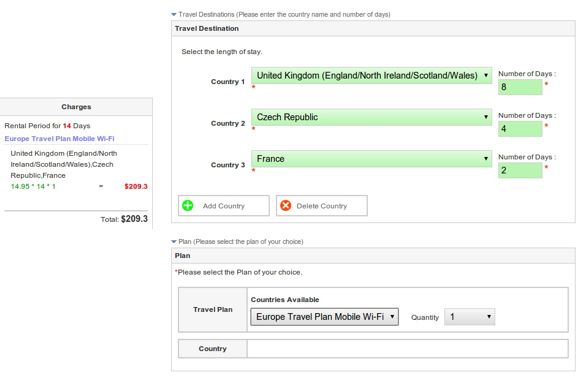 On the next screen I had the option to add "Extras," such as insurance, external batteries, and so forth. We decided there wasn't much point in the insurance, as it only offers coverage after the deductible has been met, and given that we'd have two devices the extra batteries and chargers didn't seem necessary.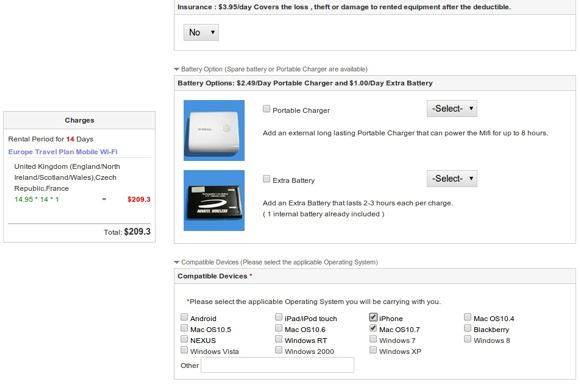 The following screens took me through shipping and billing information, along with the terms and conditions. It is worth noting that Xcom Global requires the device to be shipped in both directions, and shipping is not included in the rate.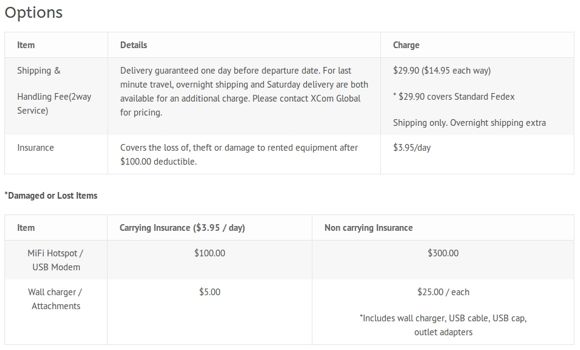 Prior to placing my order I was able to view a summary of the options I'd selected, and see the final price.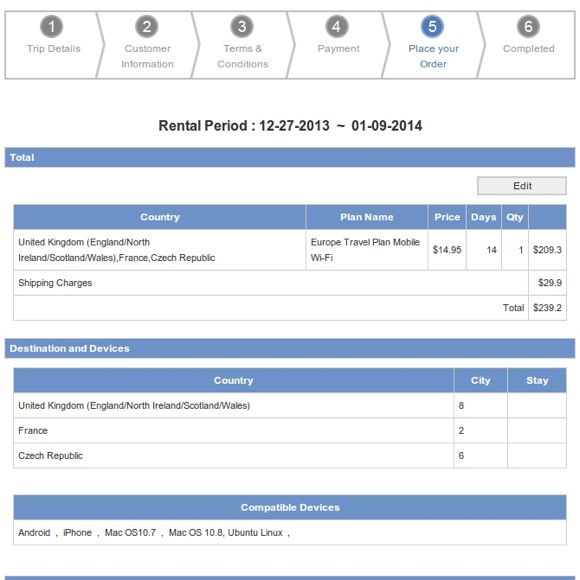 Once the order was placed I received a confirmation screen, and an email shortly thereafter. The entire process took maybe five minutes, so couldn't have been much easier.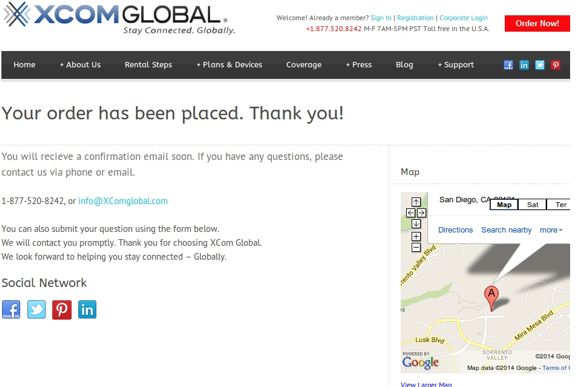 Tep Wireless has a different pricing system for international data plans in that you choose how much data you want per day (150MB/250MB/Unlimited), and those amounts somehow "roll over" and become cumulative for your rental period.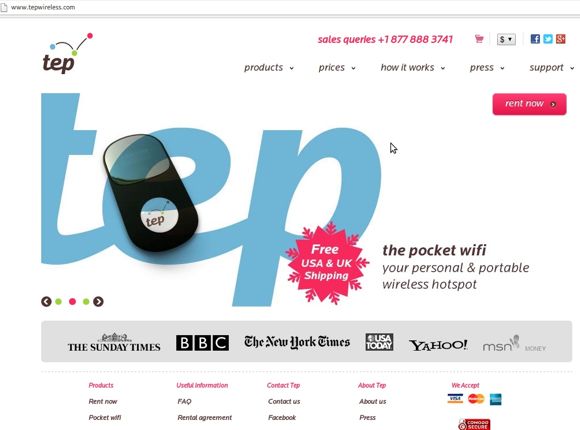 This could likely be a good way to save money on data service abroad, as you can theoretically tailor your plan to your anticipated usage.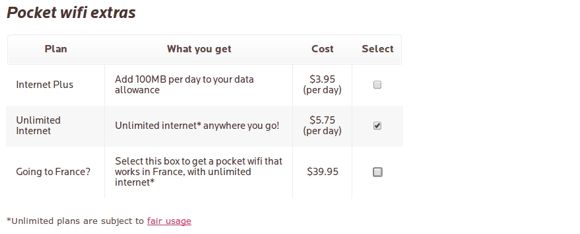 I, however, have no idea what MB stands for, much less how many of them four aggressive smartphone users might need in a day, so went with the Unlimited option, as that seemed to most closely compare to the XCom Global service for the purposes of review.

Unlike XCom Global, Tep Wireless didn't seem to care which countries I was visiting, just that the zone was "Europe." They did have an option to pay an additional $39.95 for a MiFi device that would work in France, but as we were only connecting there I decided that wasn't necessary.
Tep Wireless seems to offer an abundance of promo codes and coupons as well – I was given a 10% off code for being a first-time customer, which was a nice touch, and they were offering free shipping to the US and UK, so I only had to pay for return shipping. They also have drop-off/pick-up locations in London, which could be a convenient option as well.
The website was very easy to use, and even with having more options the entire process took only five minutes or so.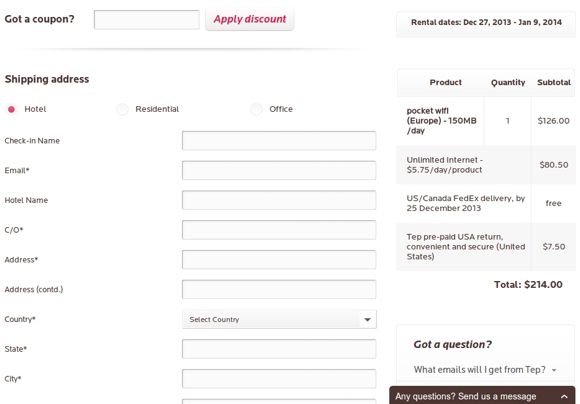 SHIPPING
Both Tep Wireless and XCom Global will ship the pocket Wi-Fi device in advance of your trip. Our trip was to start on December 27th, and both companies shipped via FedEx to arrive on December 24th.
WHAT'S INCLUDED
Tep Wireless
Tep's kit was simple and straightforward, and included the following:
USB charger cable
Wall charger (Europe, not compatible with UK!)
Some basic instructions
Device's battery
Return envelope
Travel pouch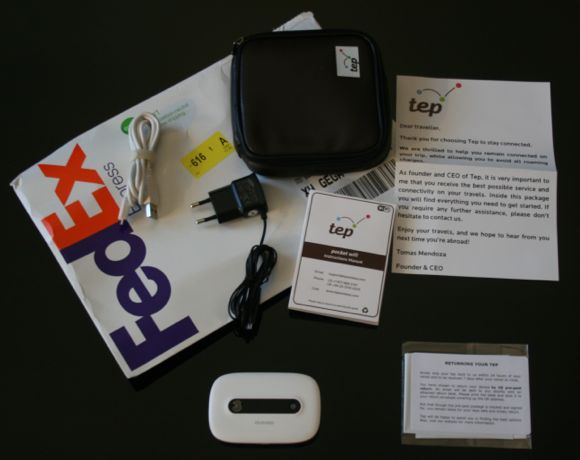 Everything fit neatly within the pouch, so all we had to do was insert the battery and turn the wireless device on. The battery was also sent fully charged, so we were able to use it right away, which was great!
I did find it interesting that even though we were going to be traveling in the UK, and Tep Wireless seems to be based in the UK, the kit didn't include a UK-compatible charger. They did include a USB charger, and between us I think we probably had a dozen different power adaptors, so it wasn't an issue, but is probably worth mentioning.
Overall though, Tep Wireless was very much like opening up a new Apple product – open the box, turn it on, everything works.
XCom Global
XCom Global's kit came with a TON more instructions and paperwork, along with the following:
universal plug adapter with USB charger
usb cable
return envelope
device pouch
extra SIM card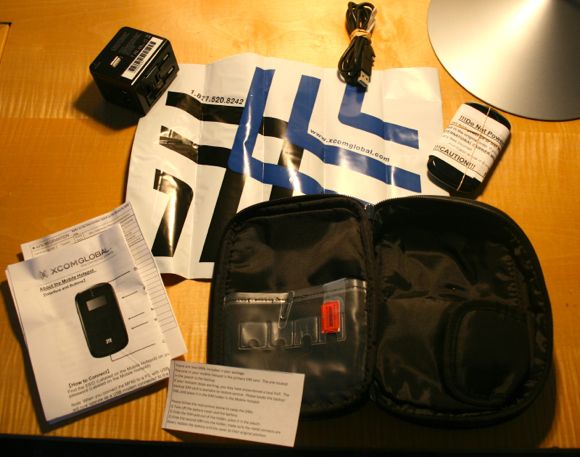 I thought the universal plug adapter/USB charger was a nice touch, as it meant you could charge your laptop and the pocket wireless device at the same time. I have a travel adaptor that does this already, but I thought this was a great feature.
One huge issue, however, was that the package from XCom Global didn't include a battery. With all the hustle and bustle of the holidays we didn't actually have a chance to open either package until we arrived in London, and that was certainly a mistake on our part.
Fortunately the Wifi in the British Airways Galleries First lounge was fast, so we were able to contact XCom Global's 24/7 tech support. They apologized, took down the address of our hotel, and promised to get a battery to us right away.
EASE OF USE
Both products were remarkably easy to use! I had expected an international data solution to be akin to witchcraft, so the fact that all you had to do was essentially turn them on and go was amazing.
I understand that both companies offer multiple devices, so it may just be the luck of the draw as to which you receive, so take this with a grain of salt.
Tep Wireless
There are only indicator lights that glow green when everything's fine, and turn red if something's wrong.
For extra info (3G service strength, number of connected devices, battery level, bandwidth usage) you have to login to the device through the web interface. I was fine with this, but my tech-savvy friends would have appreciated more information, apparently.
XCom Global
The screen on the front shows connection status, number of connected users, battery level, charge status, what service you're on, etc. Logging in to the web interface gave even more info, none of which I understood 😉
CONNECTIVITY
While we didn't experience any of the throughput issues I'd read about, and service was consistent even with four heavy users, Wifi range was not fantastic on either device, so whichever one of us happened to be carrying the myfi was everybody's best friend.
I imagine that this would be a good way to keep track of teenagers as well, though upon reflection it probably says something that my friends always found reasons for me to not be in charge of the internet on outings. 😉
Battery life even with four users was as advertised: about four to five hours. XCom Global ultimately sent us two batteries, the second of which we made use of from time to time. One of my friends had a USB backup battery that we made use of on occasion as well, and that was very convenient.
Seeing how USB backup batteries
are relatively inexpensive, I would probably just buy one rather than paying to rent either a second battery, since you can use it elsewhere in your travels to charge your phone, etc.
3G speeds were a consistent 1-1.5Mbps in London, Edinburgh, and Prague.
Paris was a bit of a challenge, partly due to our short connection time, and we had to reset both devices, swap SIM cards, and even then the service was pretty inconsistent. I'm not sure if France has different internet protocols, but this is probably something to be aware of and specifically ask about if you're going to need data coverage in France.
CUSTOMER SERVICE
Tep Wireless
We didn't have any issues, so I don't have much to say here. It is probably worth noting that it seems other people have had rough experiences in the past, though I emailed a follow-up question and they were prompt to respond, so it seems they're making strides there.
XCom Global
I understand that mistakes happen, so I wasn't upset by the missing battery, especially since we had multiple back up options as well.
I ultimately think what a company does to fix their mistakes is more telling than when mistakes don't happen at all, so was impressed that not only did they handle the issue promptly, they automatically credited my account for the days where I wasn't able to use their product. Impressive.
PRICING COMPARISON
As I understand it, the best option for longer trips abroad is typically going to be to purchase a local SIM card in the country you'll be visiting. I haven't done this personally, as it sounds really complicated and I'm rarely in one place for more than three days, but that's certainly something to research for longer trips.
Between the four of us, we ended up using just under 500MB per day. I'd wager that's borderline excessive data usage, but we also made an effort to get our money's worth out of the mobile internet. So on average each person was using around 125 MB each day, which makes the costs of both XCom Global and Tep Wireless quite similar. Obviously there is room for savings for lighter users.
Compared to international data plans from our US mobile providers, however, renting an international data device is a no-brainer.
Once we realized how much data we were using, we thought it would be interesting to compare the rates we would have been charged with our various cell phone plans.
Sprint – International Data Packs
Sprint offers International Data Packs for Canada/Mexico and "Multiple Country" which covers a list of 39 countries, this including much of Europe but unfortunately not Czech Republic.
That pack costs $80 for 85 MB in one month, and is then $10 per MB if you go over the monthly limit. So for our trip, a person on Sprint could have only used 10 days worth of data on the Multiple Country Pack. Assuming our average usage of 125 MB per day that's 1200 MB. The remainder would be charged at $19 per MB. So our 14 day trip would cost $21,230!
Verizon – Global Data Option
Verizon offers a similar Global Data option but sells data in 100MB chunks, at $25 per 100MB.
Their list of countries is much longer than Sprint's, but unfortunately also does not include Czech Republic. Data outside of the included zone is charged at the pay-as-you-go rate of $20.48/MB, roughly the same as Sprint.
So for our trip, the 10 days spent outside of Czech Republic would have required a 1300MB data "bundle," and the remainder would have been charged per MB. Our trip would have cost "just" $10,565 – the Czech portion being $10,240.
AT&T – Affordable World Packages
Surprisingly, AT&T actually seems to have the most reasonable International data options available in the US by far.
They have several tiers, but for this case the best one would be $120 for 800MB, and beyond that $30 per 120MB. The Czech Republic is mercifully included in the global data plan, which makes this math much easier. For 1750MB over a 14-day period you'd pay only $360. What a steal!
T-Mobile – International Data For "Free"
T-mobile ostensibly includes international data in their plans nowadays, and all the countries on our trip would have been included.
However, the fine print states that the standard data rate is a paltry 128Kbps, which is apparently about 60 times slower than what we saw with Tep Wireless and XCom Global. They do have a supplemental 2500MB plan, which is enough to cover this trip at only $60 per month, and their unlimited plan is only $70. As long as you're very patient, this could be a good option.
Granted, we were trying to use the MiFi devices as much as possible, and if we'd been using our normal data plans we would probably have moderated our usage and watched less…stuff, but it's still eye-opening.
OVERALL IMPRESSIONS
Having my own internet connection was extremely convenient, and the process of ordering and setting up both devices was incredibly easy. Being able to use my iPhone overseas was a nice change, and I was able to spend more time away from the hotel, which was refreshing.
I also think both XCom Global and Tep Wireless offer tremendous value when traveling with a group. We came in at less than $5 per person per day, which was well worth the convenience factor, at least for us.
I won't be buying an international data plan on every trip, but will certainly consider doing so for longer trips, or when going someplace with inconsistent Wifi.
What about you? How do you stay connected abroad?
---
In the interest of full disclosure, I contacted both companies after our rental to let them know I'd be reviewing their products. I asked if they had either a referral program or discount they'd like to offer, and both responded, but with slightly different programs.
XCom Global doesn't have a discount at present, but did give me a referral link to use. I'm of course very appreciative of anyone who uses my link, and hopefully will be able to run some future giveaways of XCom Global credit.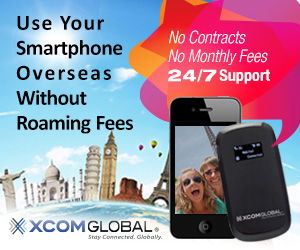 Tep Wireless is offering a 15% discount to readers using the code "OneMileAtaTime" – they have a referral program as well, whereby you just enter the email address of the person referring you. You can enter my email address (onemileatatime at hotmail dot com), or if you've used Tep in the past please feel free to list your email and experience below as well!