Update: Oops, this is embarrassing. Is EU261 actually based on being delayed by four hours rather than three hours for long haul? If so, I guess I went through this whole thought process for nothing. It was fun regardless, and I enjoyed the Dom & Doritos! The original post can still be found below…
It's not often I say this, but I had the most awesome flight delay ever today…
Our planned itinerary for today
Ford and I returned from Europe to the United States today, flying from Frankfurt to Tampa on two separate tickets. Our itinerary was supposed to be as follows:
SQ26 Frankfurt to New York departing 8:35AM arriving 11:10AM
DL1605 New York to Tampa departing 3:41PM arriving 6:58PM
Most significantly, I redeemed 86,000 KrisFlyer miles per person for the one-way Suites ticket from Frankfurt to New York (the new Singapore Suites is especially amazing if you're traveling with someone and get the double bed!). I intentionally left a long layover, since we had a checked bag and were on separate tickets.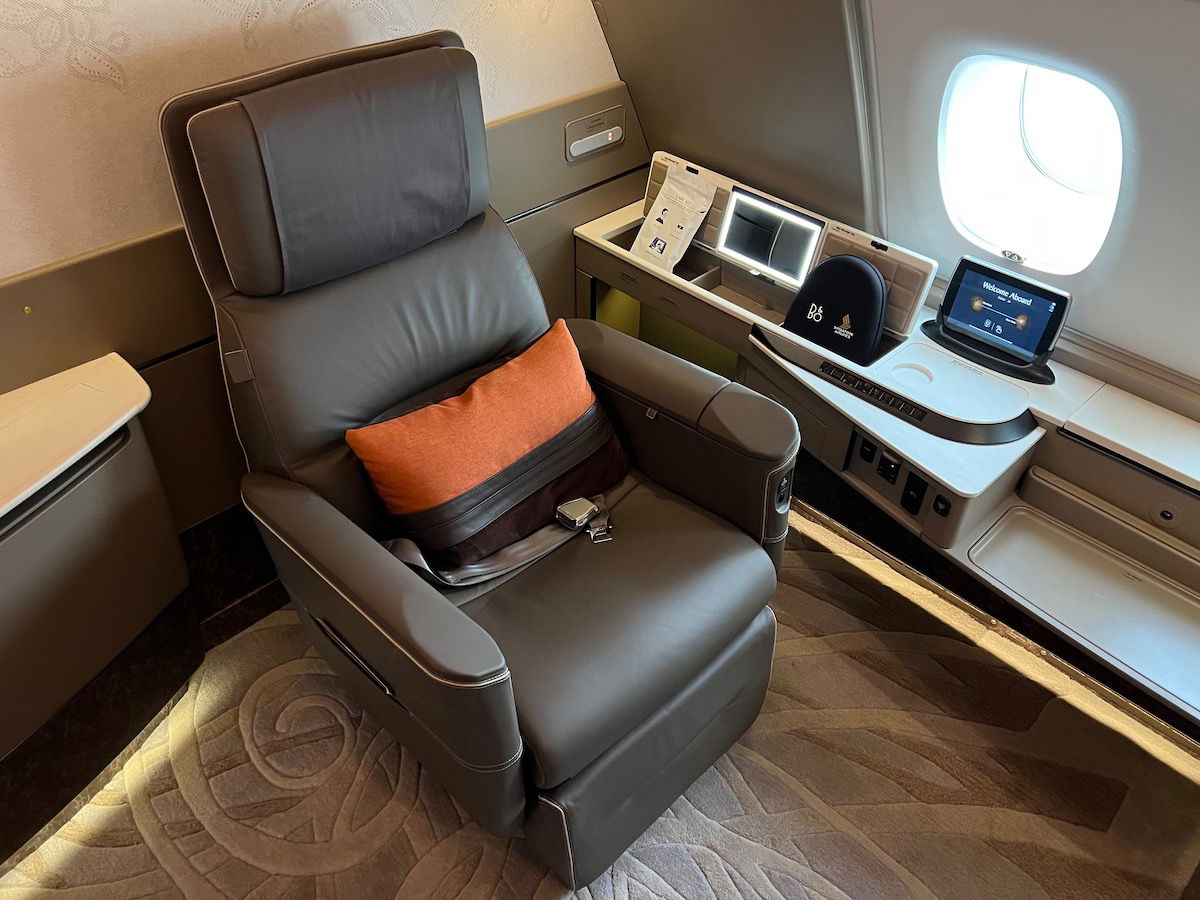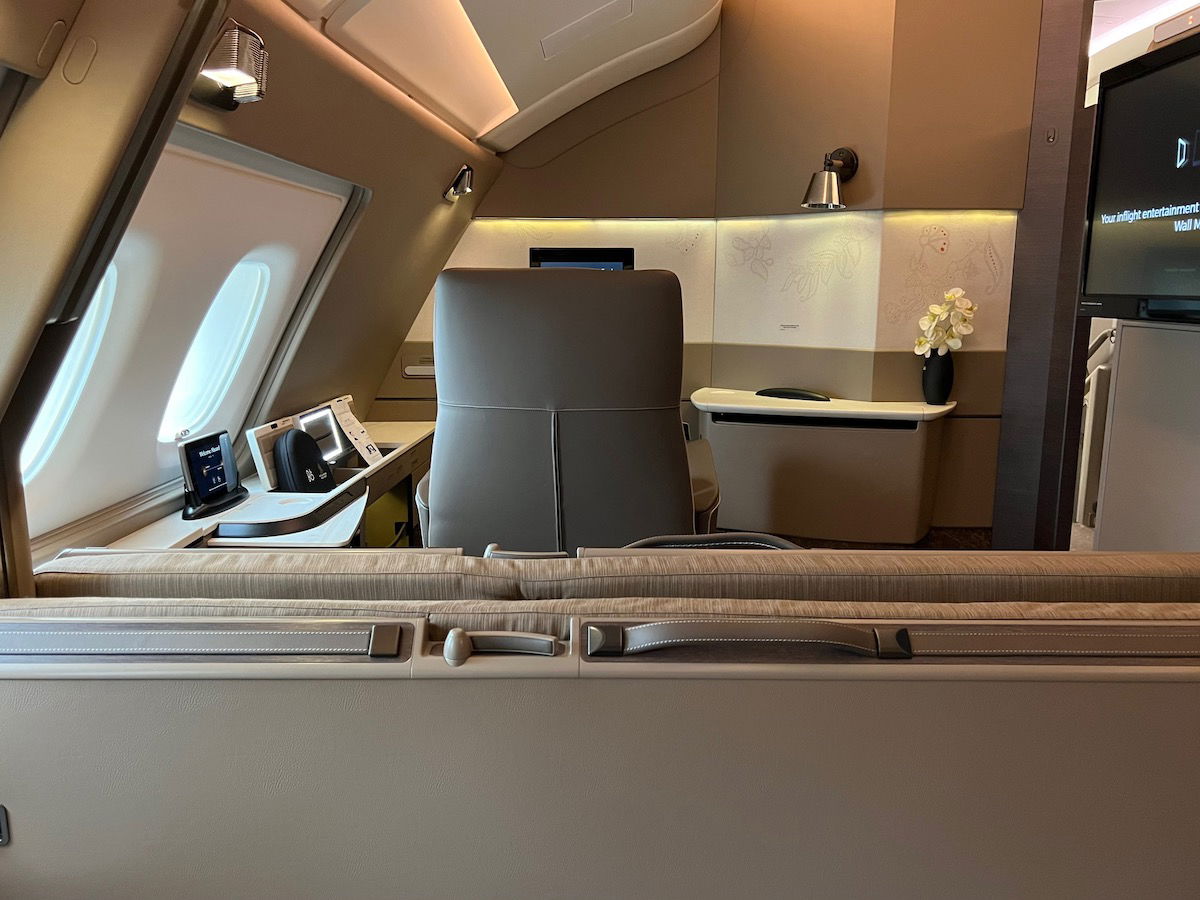 Our initial Singapore Airlines delay
Last night I received a text from Singapore Airlines indicating that our flight was delayed by 90 minutes. Instead of departing at 8:35AM, it would depart at 10:05AM. This was because the aircraft was late on the inbound from Singapore, and I appreciated that the airline communicated this so far in advance.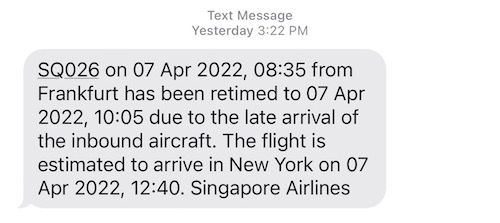 Perfect, I thought:
This would shorten our unnecessarily long layover in New York
It would allow me to get some stuff done in the morning, since 8:35AM is an early departure
Our second Singapore Airlines delay
This was Ford's first time flying Singapore Suites, and suffice it to say he was really impressed. We were kind of sad that the flight time was only 7hr40min for this sector, as that's hardly enough time to enjoy this amazing experience.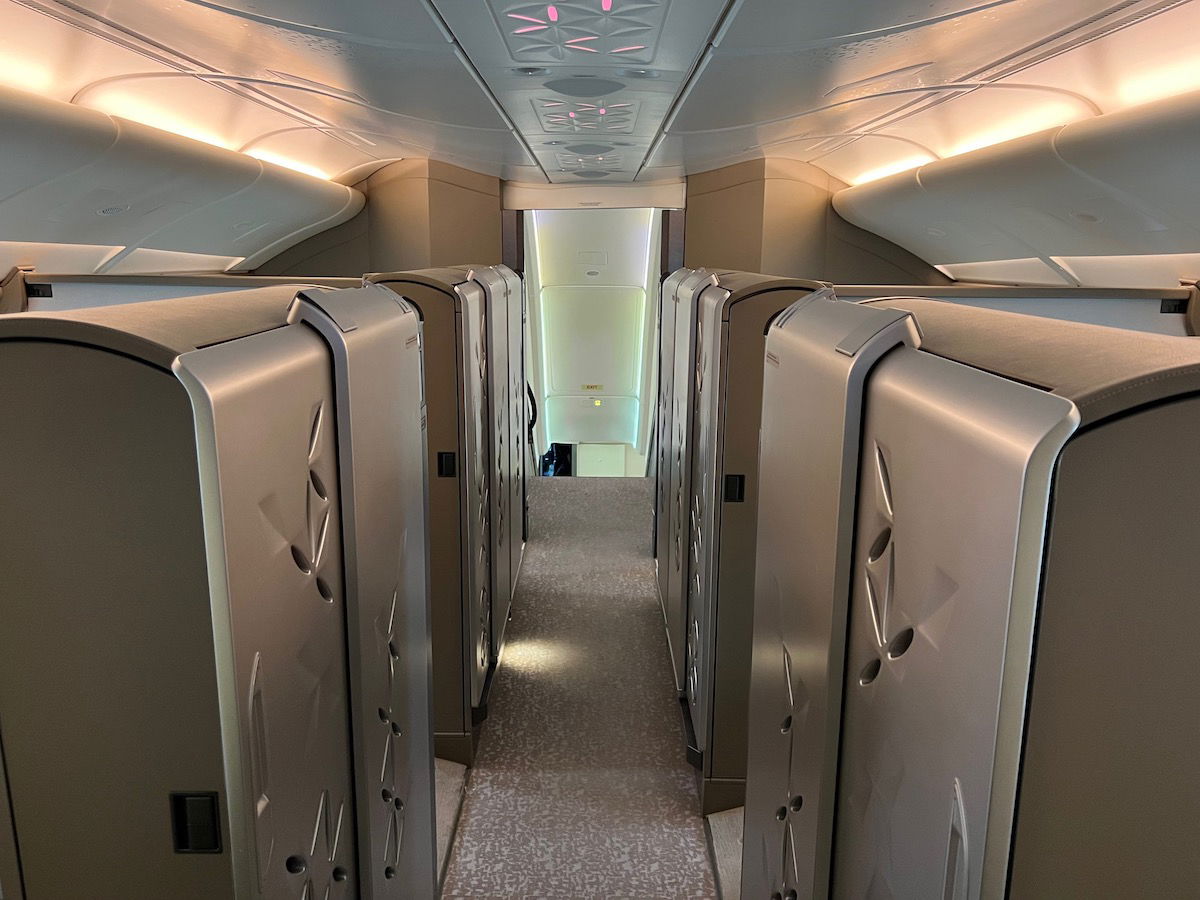 Shortly after boarding, the inflight manager welcomed us aboard. She apologized for the delay, and said we could hopefully make up some time enroute, as our flight time was a bit quicker than usual. I told her "well you can tell the captain we're in no rush, he can take his time."
We started our taxi, and five minutes later the incredibly professional captain was on the PA to apologize about a mechanical issue with the aircraft. He explained there was a hydraulics issue with the number three engine. However, we couldn't return to our gate, but rather would have to go to a remote stand and have maintenance look at it.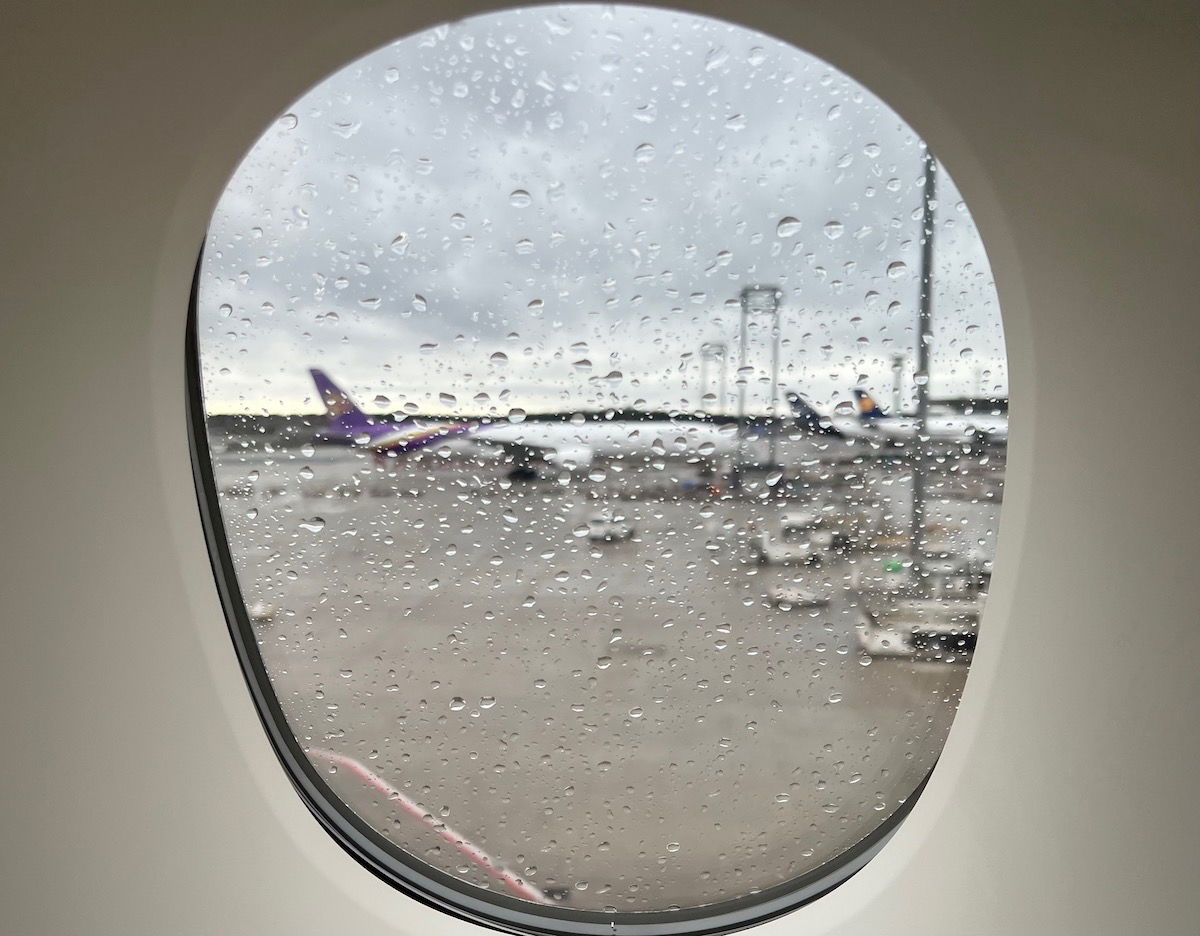 Having to spend more time in Singapore Suites does not suck. As soon as we got to the remote stand, the exceptional crew made sure we were well taken care of. 2008 Dom Perignon? Don't mind if I do!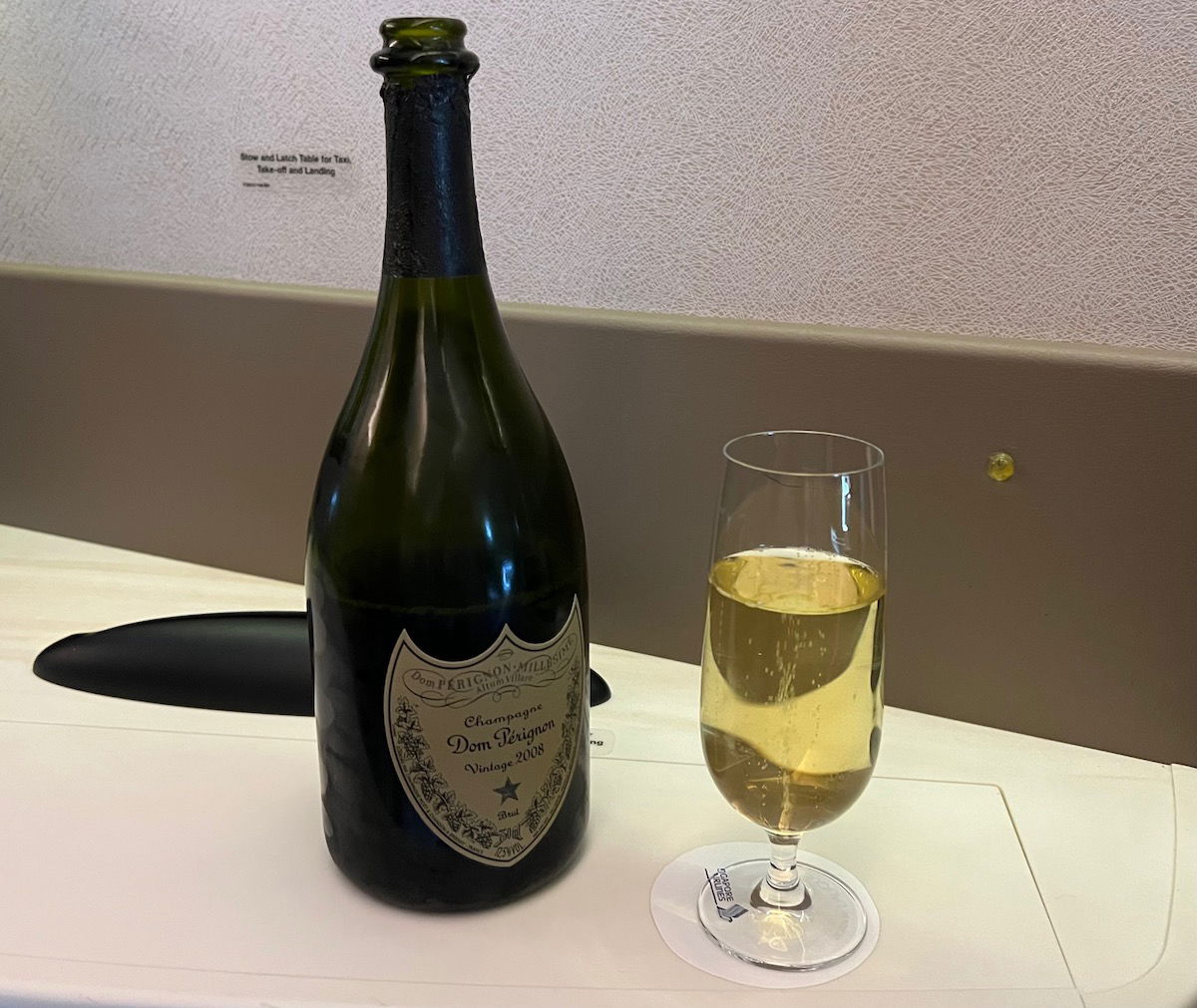 2008 Dom Perignon with Doritos? Also don't mind if I do (don't @ me!).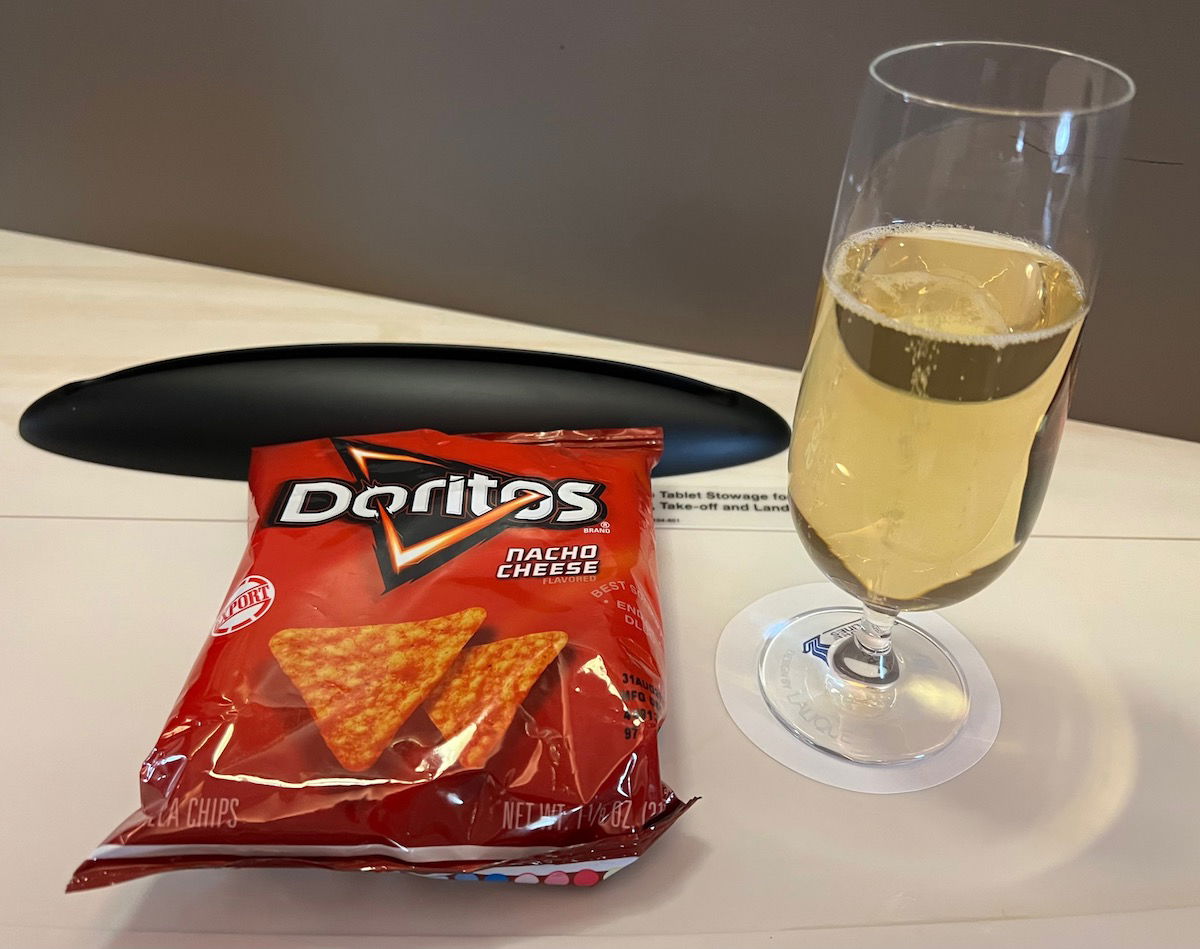 2007 Taittinger Comtes de Champagne Blanc de Blancs? Sure, let's mix it up!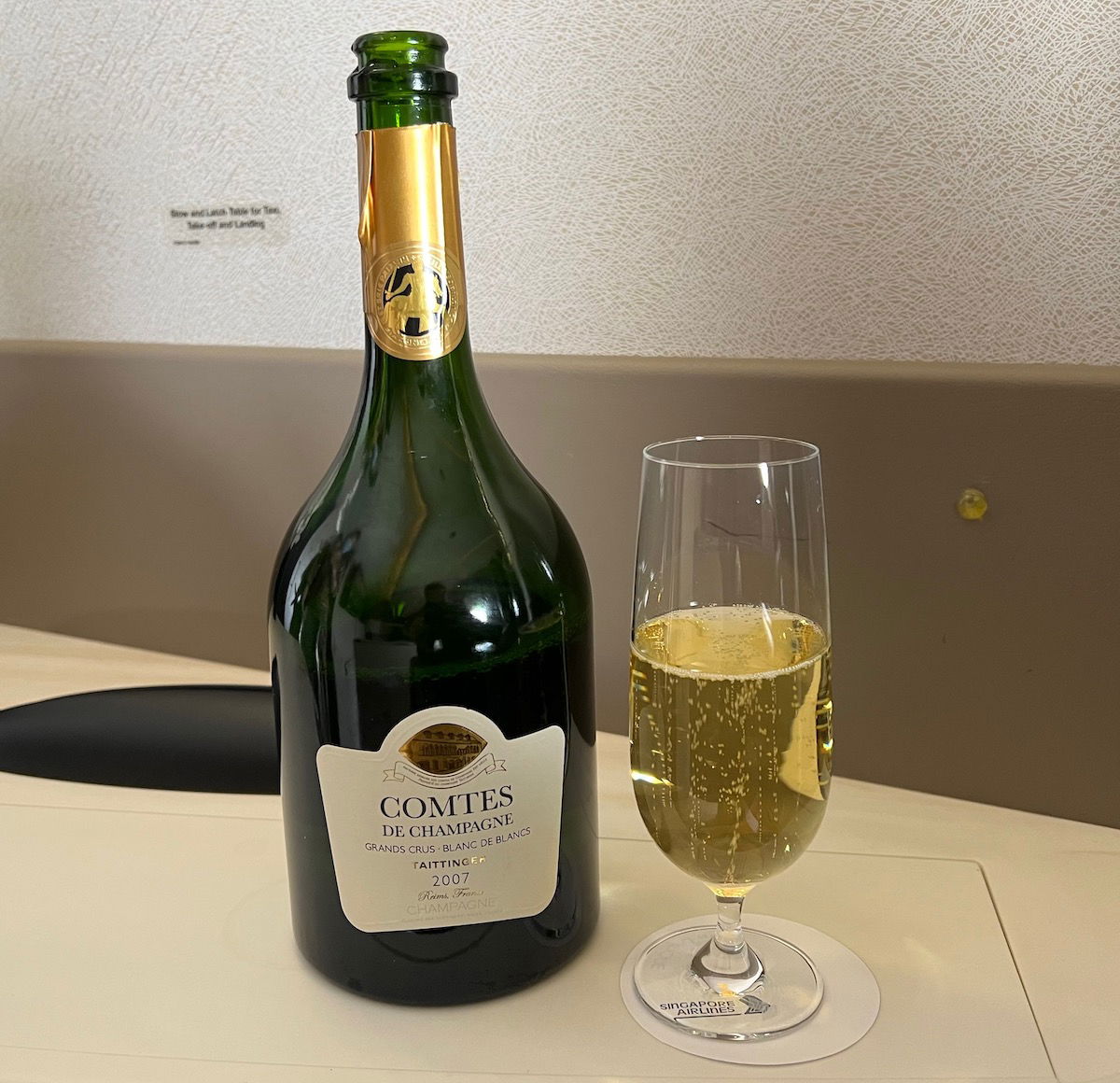 We even got some chicken satay on the ground. We were offered more food, but decided to save our appetite (though not our thirst) for after takeoff.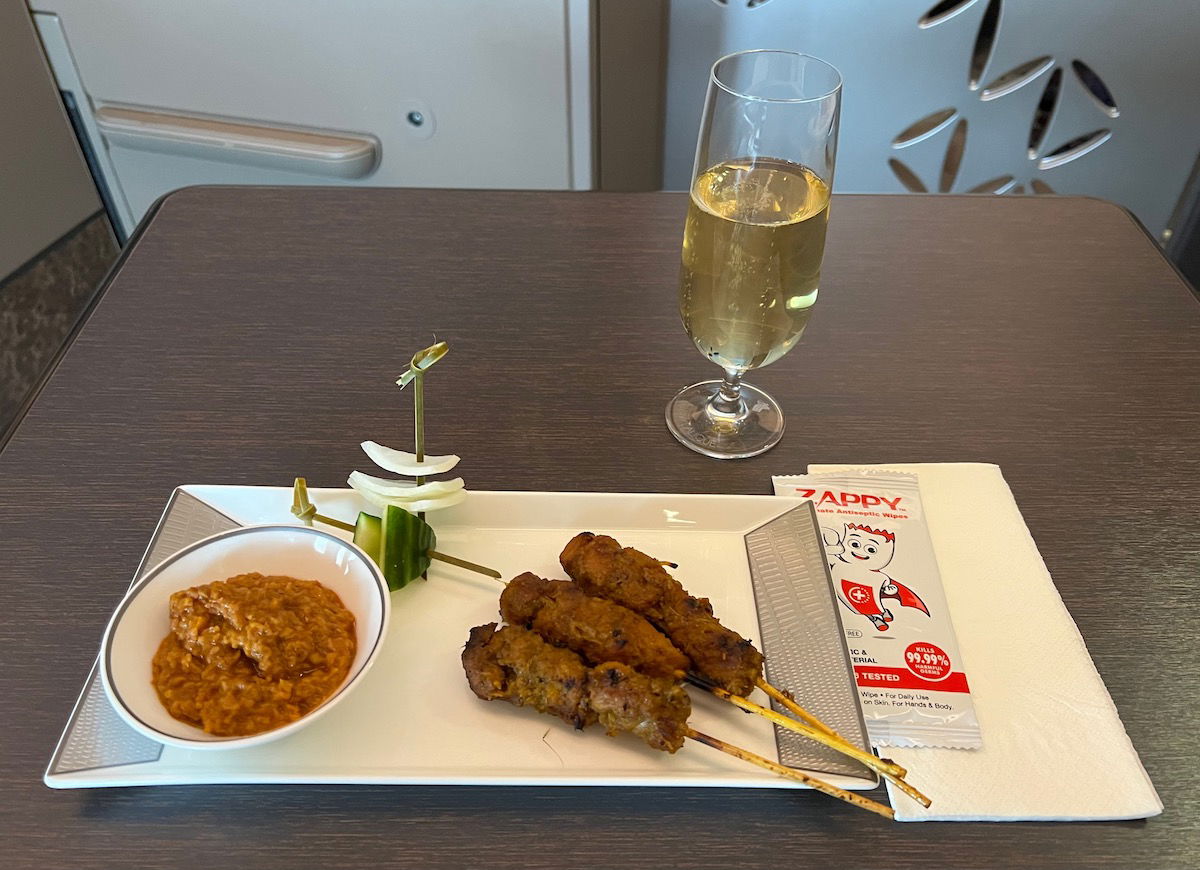 I was so impressed by the professionalism of the entire Singapore Airlines team. The captain updated us multiple times, and the station manager even got on the plane to apologize over the PA to passengers for the delay. It took about two hours until everything was fixed, and we didn't mind one bit.
A race against the EU261 clock
I'm sure some readers are starting to know where this is going. 😉
The European Union dictates what compensation passengers are owed in the event of delays. Per EU261, we would be entitled to 600 Euro per person (1,200 Euro for both of us) in cash compensation if we arrived in New York at least three hours behind schedule. The rest of the flight just became a fun race against the clock in my head:
We took off at 12:20PM (6:20AM New York time), 3hr45min after our scheduled departure time of 8:35AM
Our flight time was scheduled to be 7hr40min, which would mean we'd land in New York at 2PM local time
Our original scheduled arrival time was 11:10AM, so we'd need to arrive at 2:10PM or later in order to have a delay of at least three hours
In other words, we needed either a slight delay in the air, or we'd need to taxi for at least 10 minutes at JFK in order to arrive at 2:10PM or later.
I should also point out the other side of the equation:
We had checked a bag
Our Delta flight to Tampa was departing at 3:41PM, and at JFK Delta requires bags to be checked at least an hour in advance
In other words, we'd need to be checked in with Delta at JFK by 2:41PM, which didn't leave much time, especially with how slow bags tend to come out in the US
Never mind the fact that there were very few flights to be rebooked on in the event that we couldn't make that flight
Did we get paid to enjoy Singapore Suites?
So, how did it go? We touched down at JFK at 2:02PM, more or less as expected at the time that we took off. Remember, we were only delayed by three hours if we arrived at 2:10PM or later. I've gotta be honest, at this point I felt like I was on a game show — a few minutes was the difference between getting 1,200 Euro or not. These were the longest 480 seconds of my life.
We taxied to our gate very, very slowly. Then we had to hold short of runway 22R for a couple of minutes, which was perhaps the saving grace here.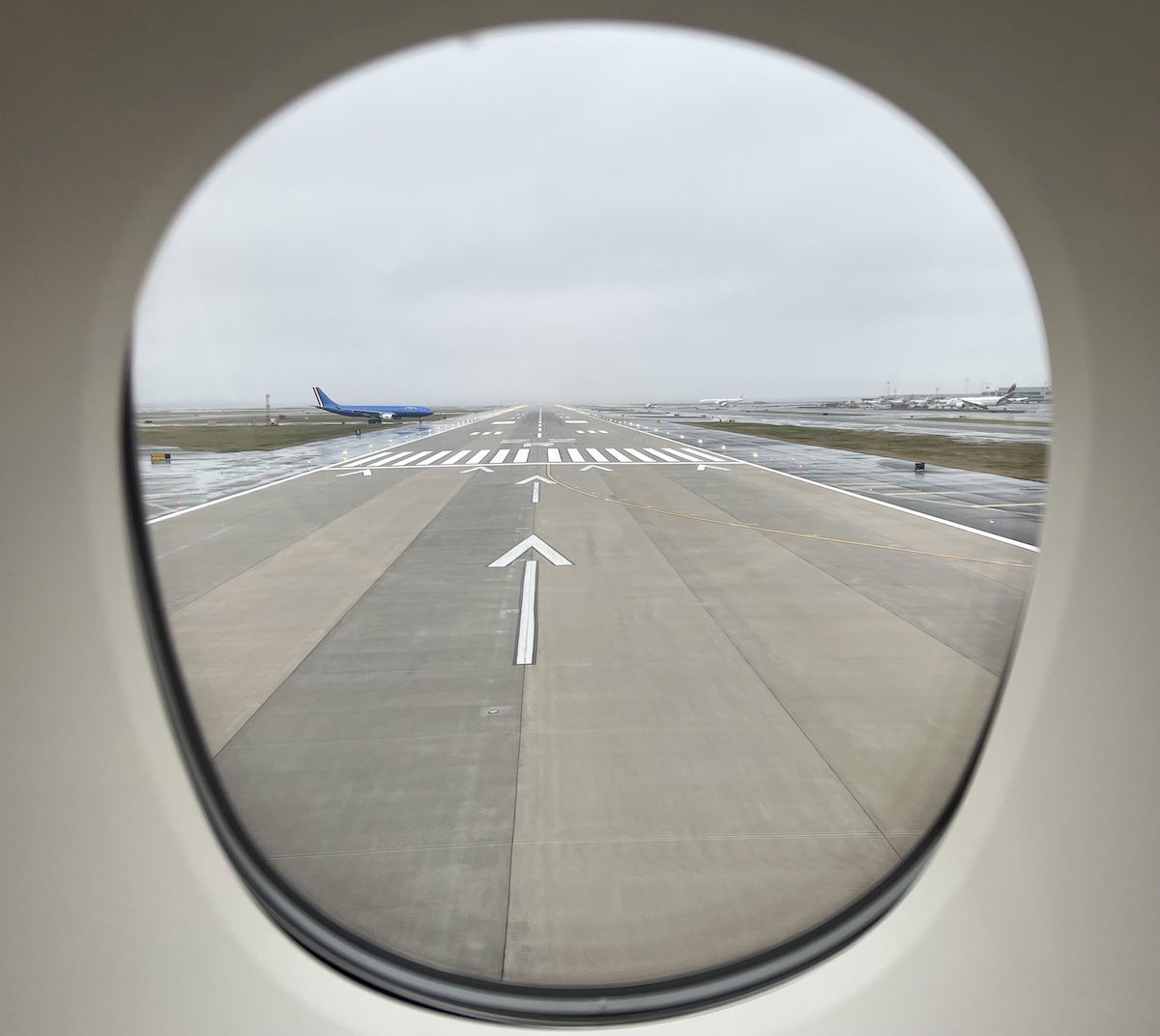 We finally got to our arrival gate at 2:13PM, 3hr3min after our scheduled arrival. Woot!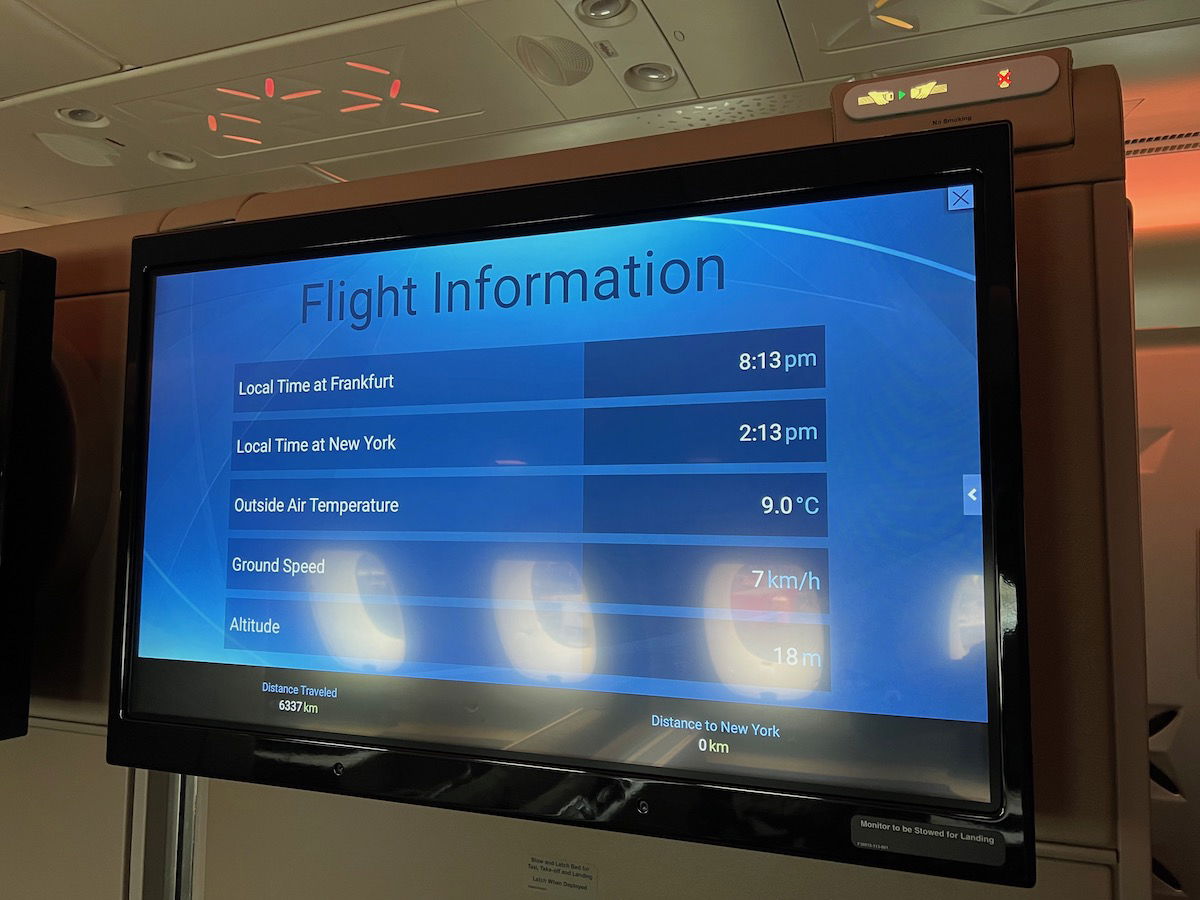 Singapore Airlines' website similarly reflects this arrival time.

It ended up taking 10 minutes for the door to open, so we only got off the plane at 2:23PM.
What happened next?
At this point it was 2:23PM, and we had to go through immigration, pick up our checked bags, and re-check our checked bags by 2:41PM, based on Delta's one hour baggage cutoff at JFK.
Ford and I took a divide and conquer approach. I headed through immigration with all our carry-ons, while Ford waited for our checked bags. Fortunately Delta has a baggage re-check area just outside the arrivals hall in Terminal 4, where I arrived at 2:35PM.
I explained the situation, and asked the agent if they're 100% strict about the one hour baggage cutoff, or if there was a bit of leniency (if the answer was "no," I had another trick up my sleeve, but fortunately didn't need to use it). She said "we'll see what we can do, usually we can have some flexibility."
Of course I didn't know how long it would take Ford to get our bags. The bags arrived pretty quickly, and Ford showed up at the counter at around 2:45PM. That was 56 minutes before departure, and the agent was happy to check in the bags.
At this point we had to take the AirTrain over to Terminal 2, where our flight was departing from. There was no line at security, and we got to our departure gate the same second that first class boarding was announced. I couldn't have timed this any better if I tried.
Bottom line
What an incredibly lucky travel day we had. Not only did we get to fly Singapore Airlines' incredible Suites from Frankfurt to New York, but we got an extra 90 minutes on the plane thanks to a significant ground delay. Then we arrived a smidge over three hours late, meaning we're each entitled to 600 Euro compensation under European Union laws. And then we had the perfect layover at JFK, where we literally just walked onto our connecting flight.
I feel like I should probably buy a lottery ticket…