In October, Lufthansa unveiled its new first class suite, which will be debuting on Airbus A350s as of 2023 (though it'll also eventually be retrofitted on Boeing 747-8s). Lufthansa has been pretty light on details so far, and aside from two renderings, has more or less told us to stay tuned.
I wanted to analyze the product Lufthansa has announced in a bit more detail, as people seem to have very different takes — some people think it looks great, while others think it looks unremarkable. However, there are some clues that make me think we should maybe be excited.
The basics of Lufthansa's new first class suite
Formally Lufthansa has released very few details about its new first class. According to what has been announced so far, the first class suite:
Will be one meter wide
Will be forward facing
Will have a wardrobe
Will have "nearly ceiling-high walls"
Will have a buddy seat so you can dine with a companion
On top of that, there are two renderings. They look beautiful and give you a fairly decent sense of the seat, but don't really really give you context for the overall cabin.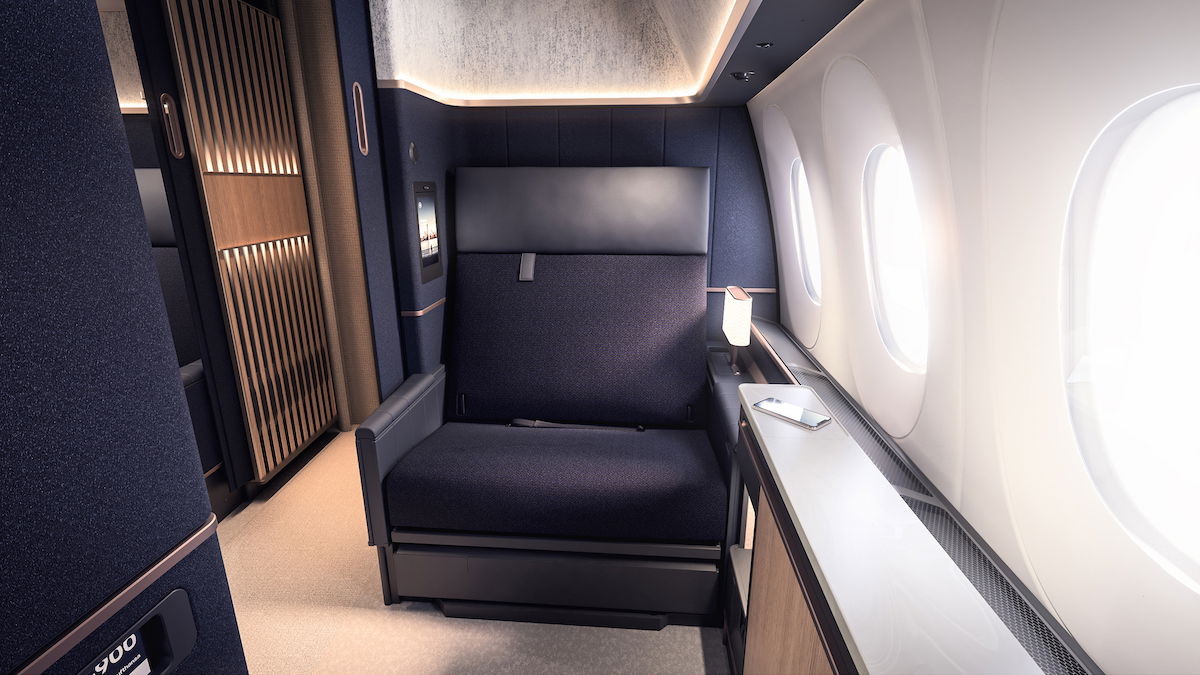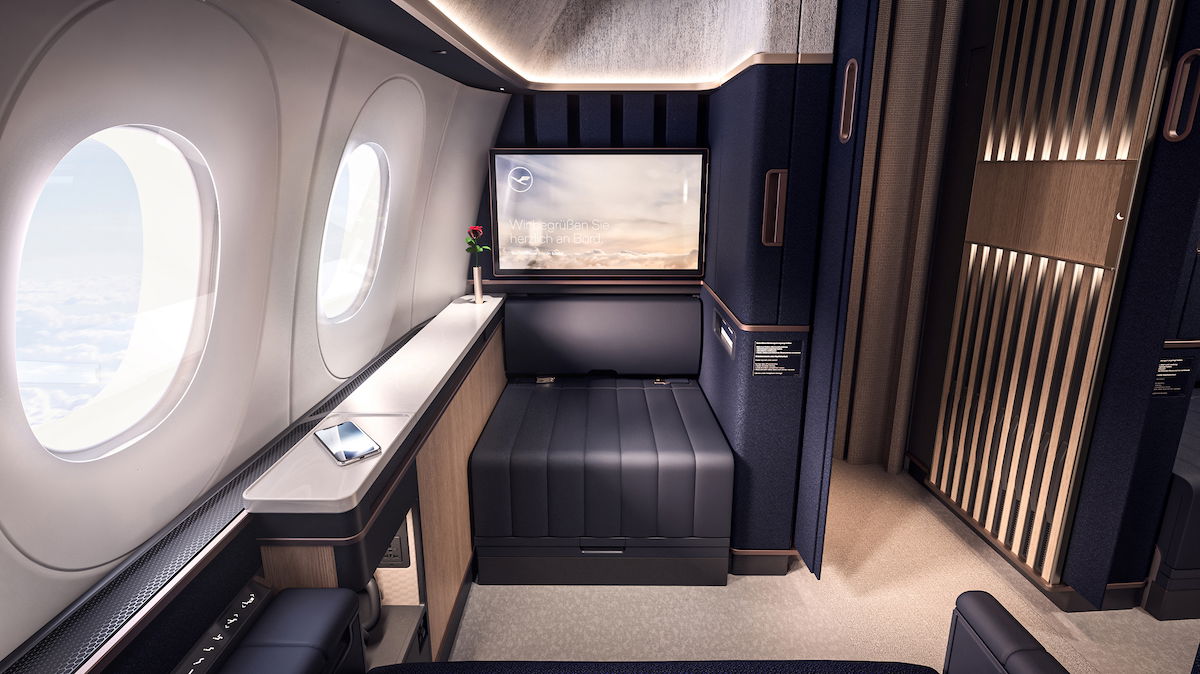 The two extremes of what we can expect
Realistically speaking, what can we expect from the new Lufthansa first class suite in terms of how spacious it is?
Worst case scenario, I'd expect personal space to be comparable to Malaysia Airlines' A350 Business Suite (this is how the airline rebranded its former first class). Malaysia Airlines has one row of these seats on the A350-900 in a 1-2-1 configuration, and this is about as spacious as seats can get on this plane while maintaining four seats per row.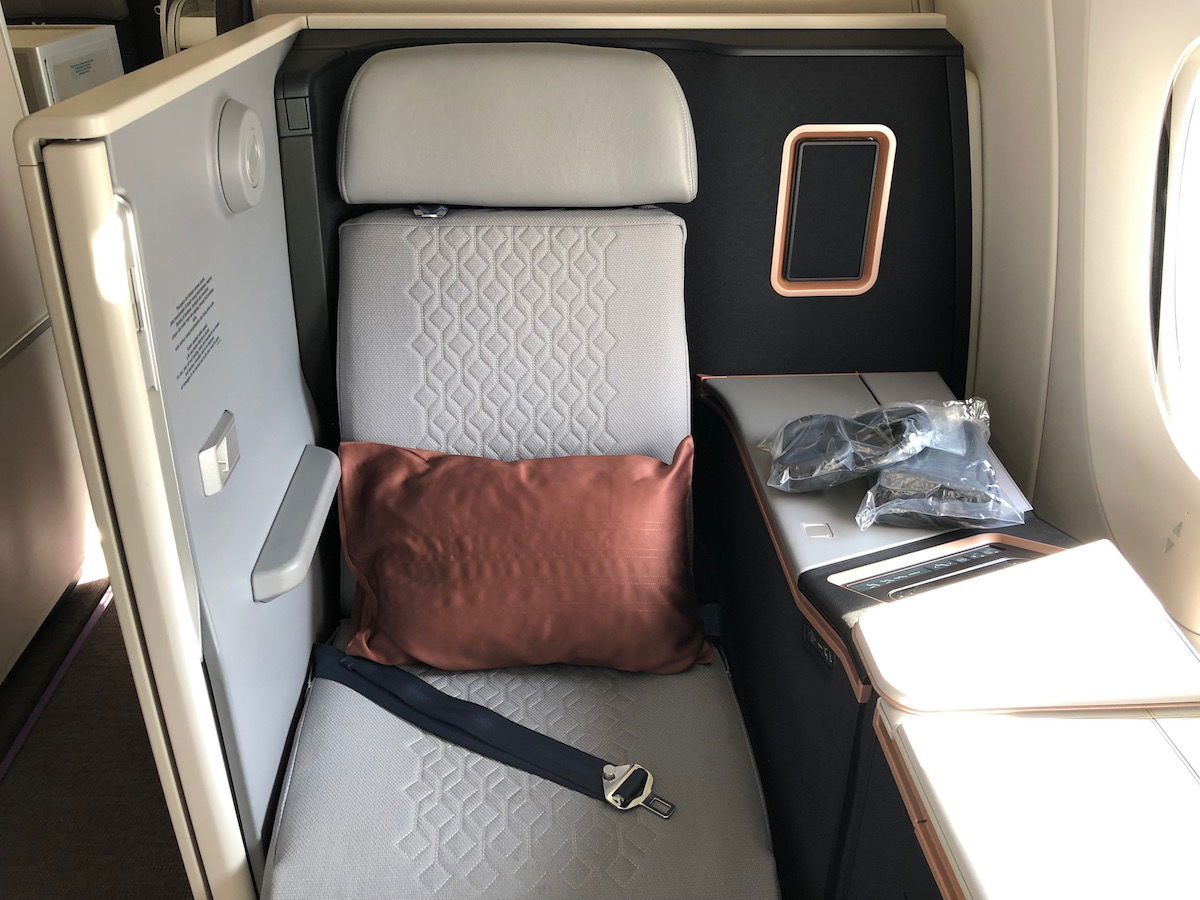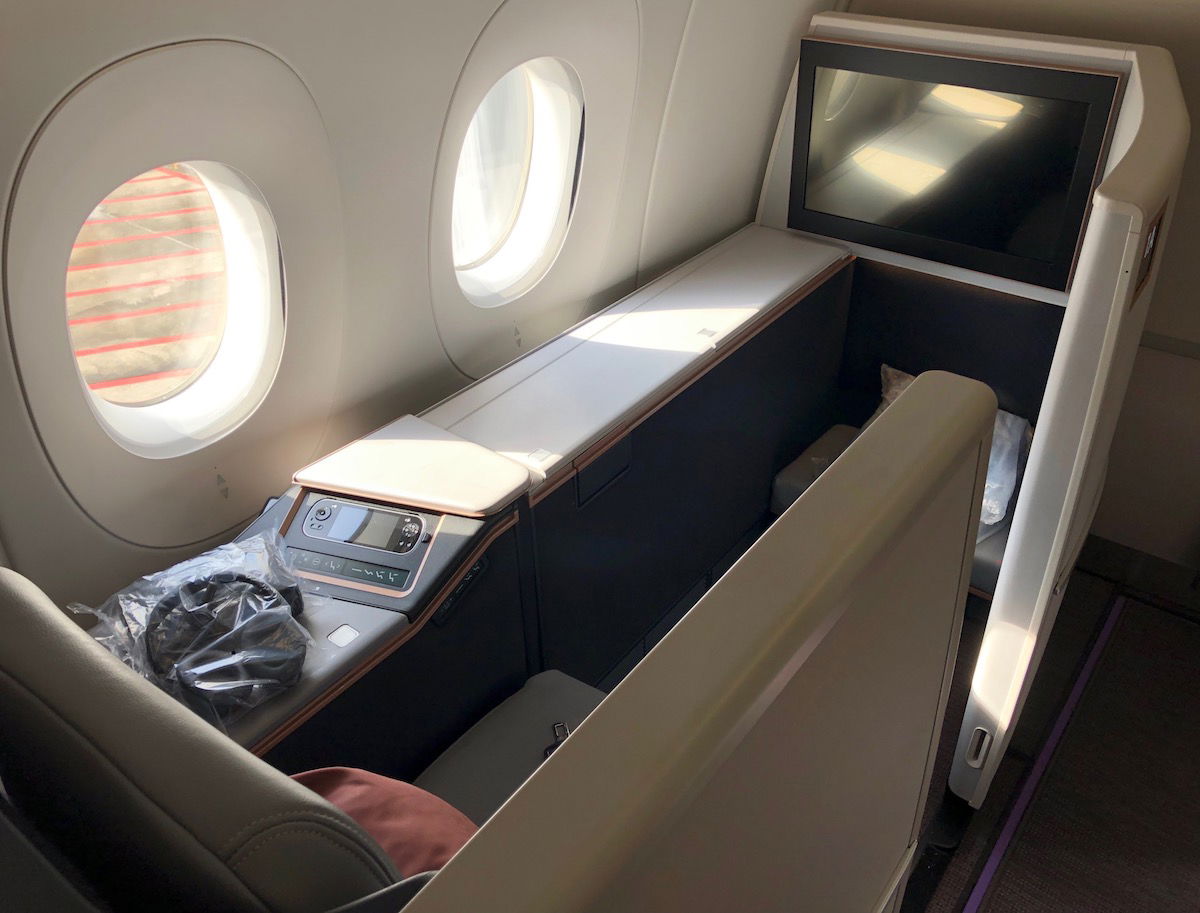 On the other end of the spectrum, I think Emirates' new 777 first class is about as impressive as it gets — I consider this to be the best first class product in the world. The airline has two rows of these seats on the 777-300ER in a 1-1-1 configuration.
No matter what, Lufthansa's product won't be quite as wide, since the A350-900 fuselage is a bit narrower than the 777-300ER fuselage. However, the difference isn't huge.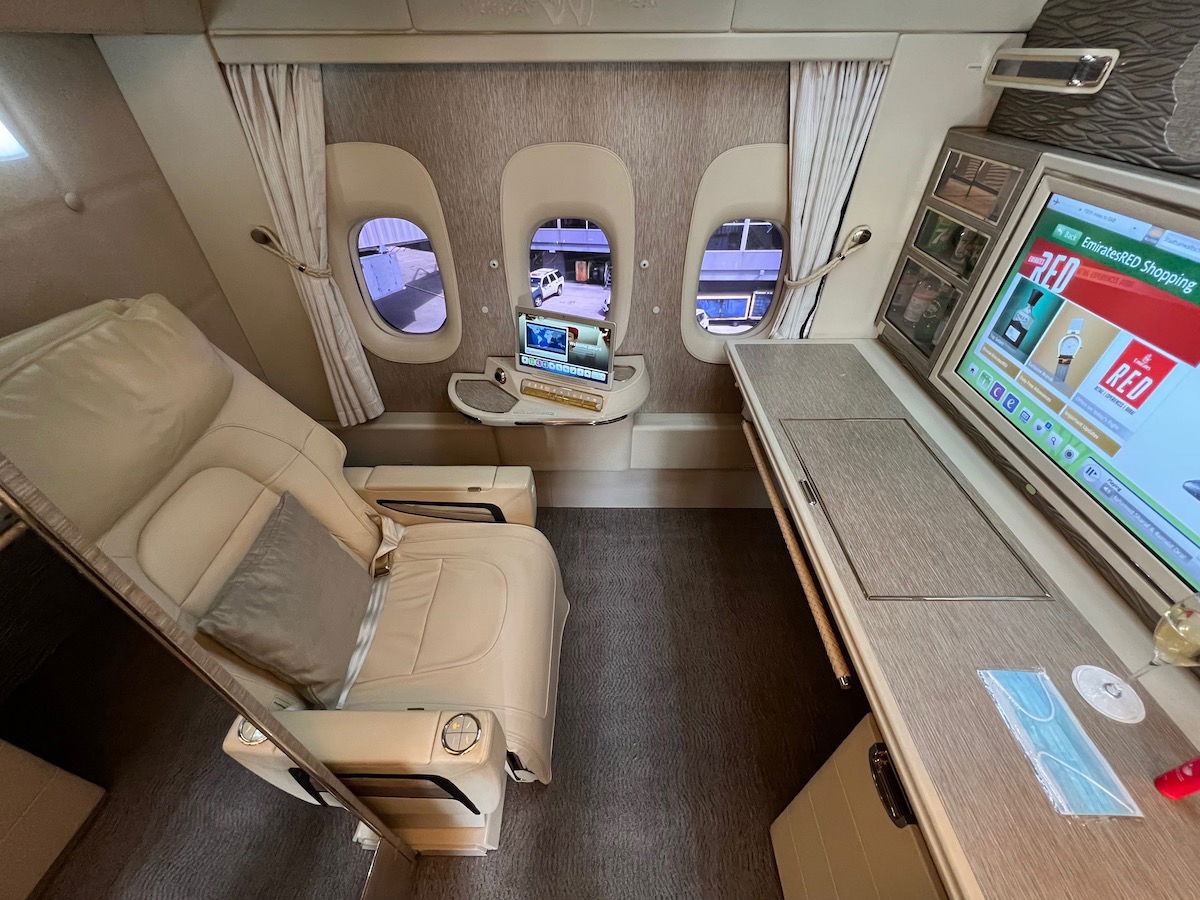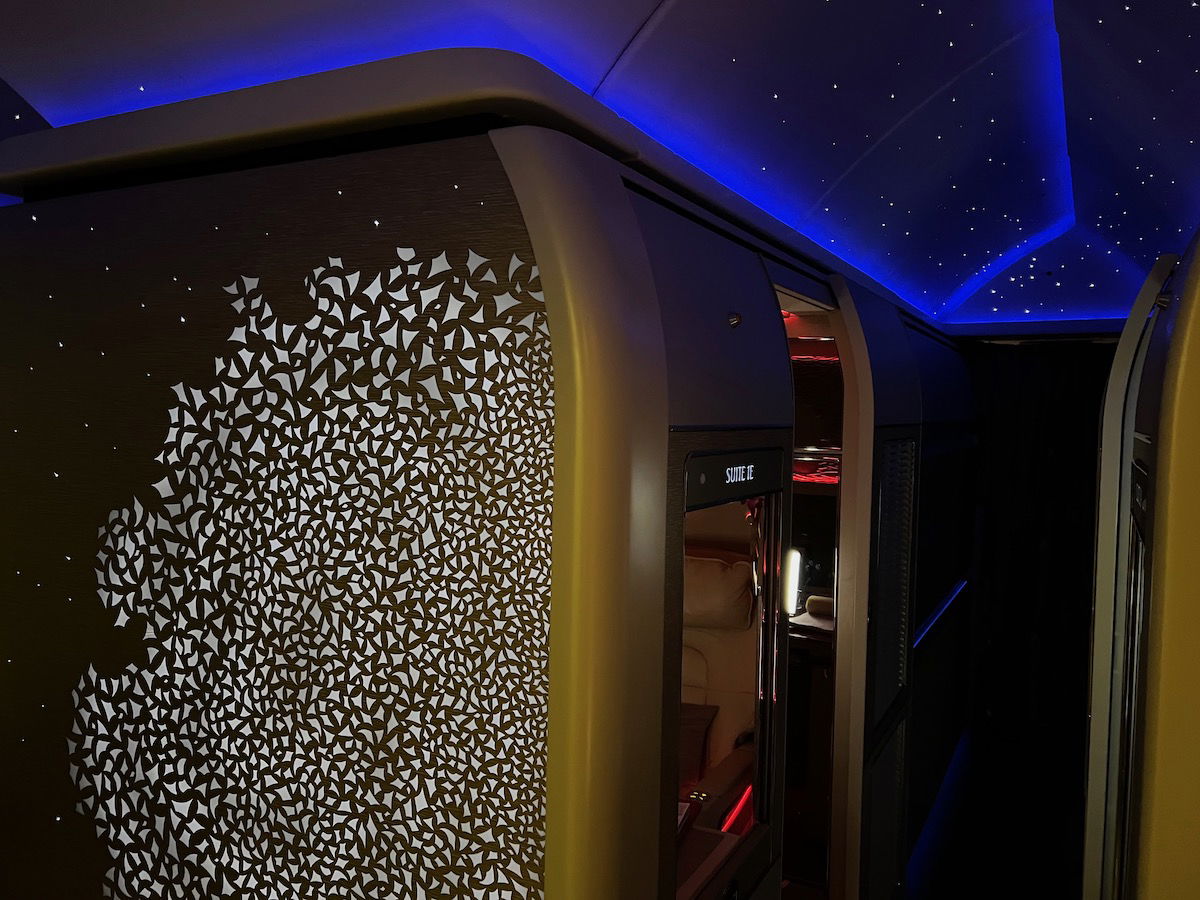 Is Lufthansa's new first class a "game changer?"
German blog FrankfurtFlyer has some interesting observations about the renderings of Lufthansa's new first class. It's noted that:
In the renderings, the seatbelt and shoulder harness start much closer to the center of the seat than normal, suggesting that the seat is massively wide; this is further supported by Lufthansa claiming the seat is one meter wide
Rumor has it that Lufthansa is using the same seating manufacturer as Emirates for its new first class, and you'll specifically notice some similarities between the renderings and Emirates' new first class; this includes the high location of the door handle, the design of the ceiling above the seat, and even the monitor to the side of the seat
I've now received information that matches the above, and more or less confirms that Lufthansa's new first class will be very similar to Emirates'.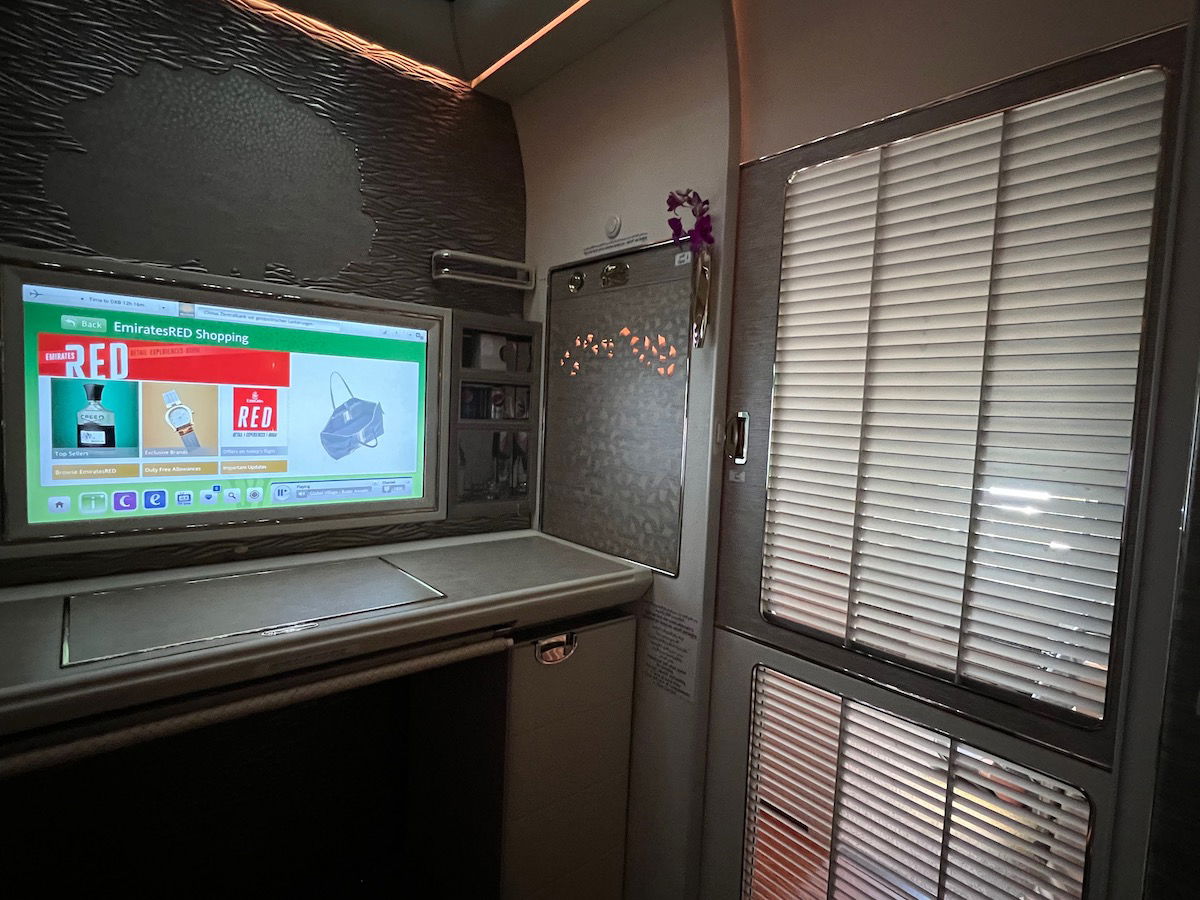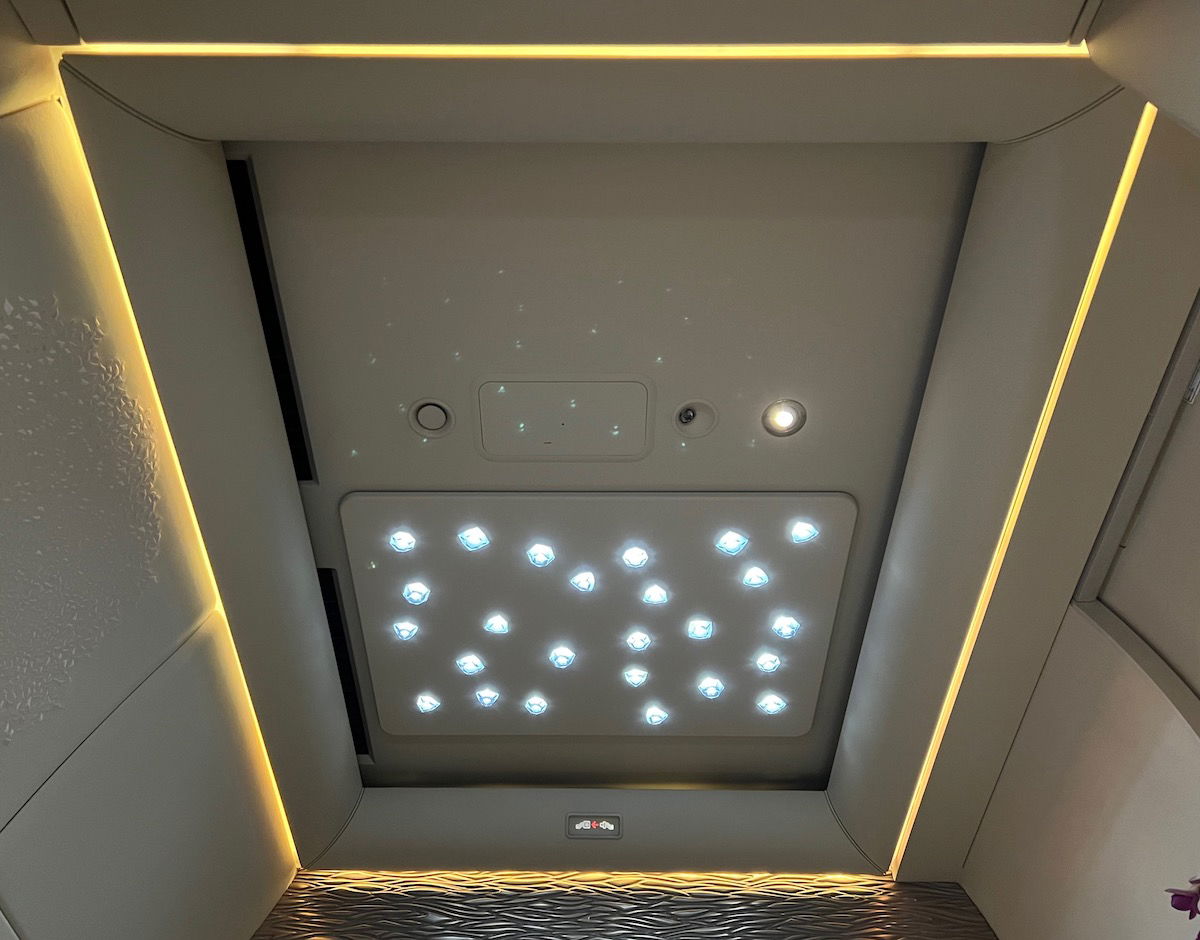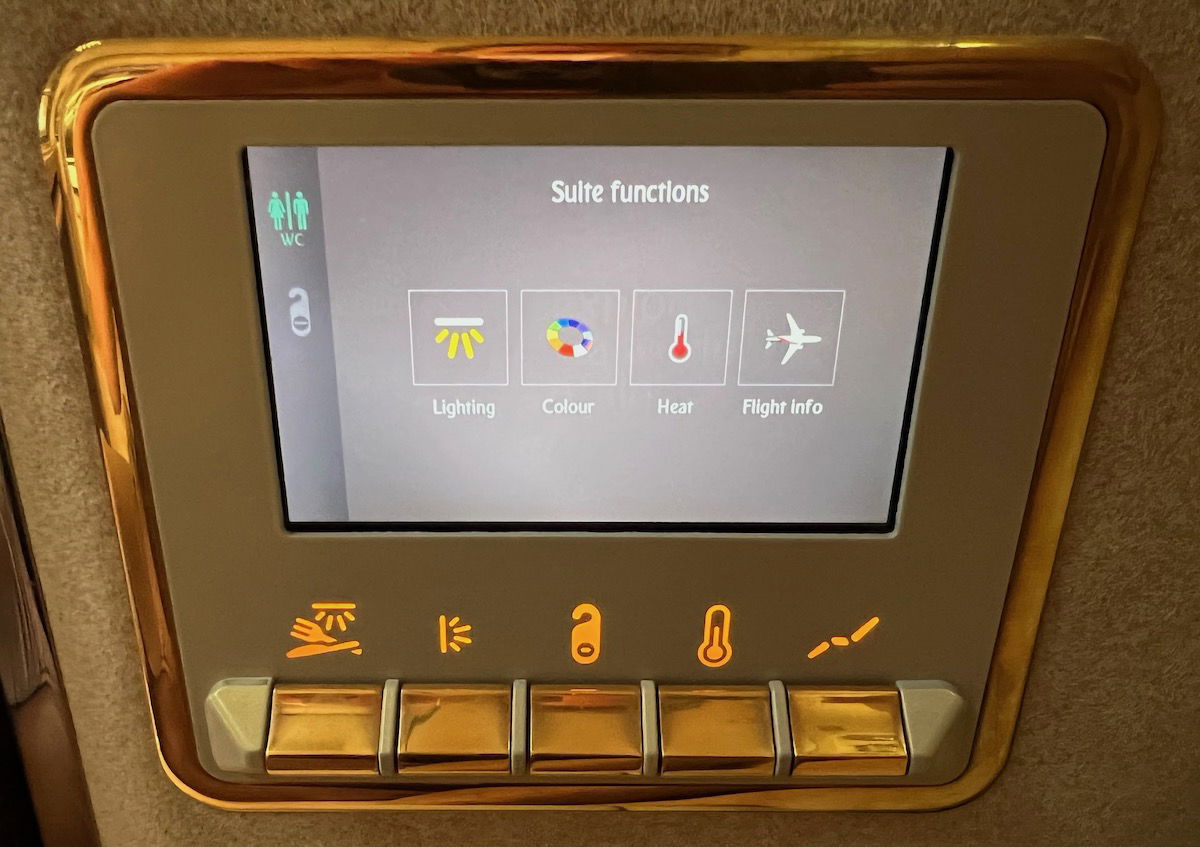 What I'm expecting from Lufthansa's new first class
This is purely speculation, but here's what I'm expecting:
I feel fairly confident that Lufthansa's new first class will be in a 1-1-1 configuration on the A350; I just can't imagine how you can have a suite that wide while still having four seats per row, and this looks like it's in a different league than Malaysia Airlines' product
The question then is whether there will be one row of seats (three seats) or two rows of seats (six seats); personally I think six seats is more likely, and I bet Lufthansa's Boeing 747-8s also get six first class suites in the nose, creating seat count consistency (which Lufthansa has historically had on all jets)
I would guess this product will be very impressive; the suite as such will be marginally narrower than Emirates' new first class, and since there were will be a console along the side of the seat, the actual usable space might not be quite as big, but I still think it will impress with a lot of personal space and privacy
I certainly could be wrong, but all of the clues we have so far (and all the information I've received) lead me to believe that this will be a very impressive product, significantly better than your typical current generation first class suite.
Unfortunately it will likely be off bounds for a vast majority of us, since I can't imagine Lufthansa first class award space will continue to be made available to partner airlines when this is introduced.
Bottom line
Lufthansa has a new first class suite launching in 2023, which looks pretty cool. Details are limited as of now, as we only have two renderings and a few details. Understandably, people have had different takes on the product, since the renderings don't really give us context for how impressive this product is.
Given the clues so far, as well as the information I've received, I think this product will be more like Emirates' "game changer" first class than anything else. I expect seats to be in a 1-1-1 configuration, and I'd speculate we'll see two rows of seats.
What's your take on Lufthansa's new first class suite?