A few days ago Lufthansa revealed its new "Allegris" product generation, whereby we're seeing refreshed seats in all cabins. In particular, this includes a new first class suite, as well as a new business class product.
The Allegris experience will debut on Airbus A350-900s and Boeing 787-9s in mid-2023, and will eventually be installed on existing aircraft from those fleets. Furthermore, the product will be installed on Lufthansa's Boeing 777-9s, due to be delivered in 2025 and beyond. However, what happens to Lufthansa's other aircraft?
Many Lufthansa planes won't get new first & business class
First let's start with the bad news. Among Lufthansa's existing long haul aircraft, there aren't plans to introduce the new product on Airbus A330s, Airbus A340s, Airbus A380s, or Boeing 747-400s:
A340-600s have only been brought back temporarily, to operate flights out of Munich with first class until Lufthansa's A350-900s with first class are delivered
Lufthansa will bring back A380s in 2023, but the plan is only for it to be temporary, so don't expect a huge cabin investment
A330-300s and A340-300s will likely eventually be retired, so there aren't plans to invest in these cabins beyond the current generation business class
Lufthansa has only a small subfleet of 747-400s remaining, and we shouldn't expect the planes to be around for more than a few years, so they certainly won't be reconfigured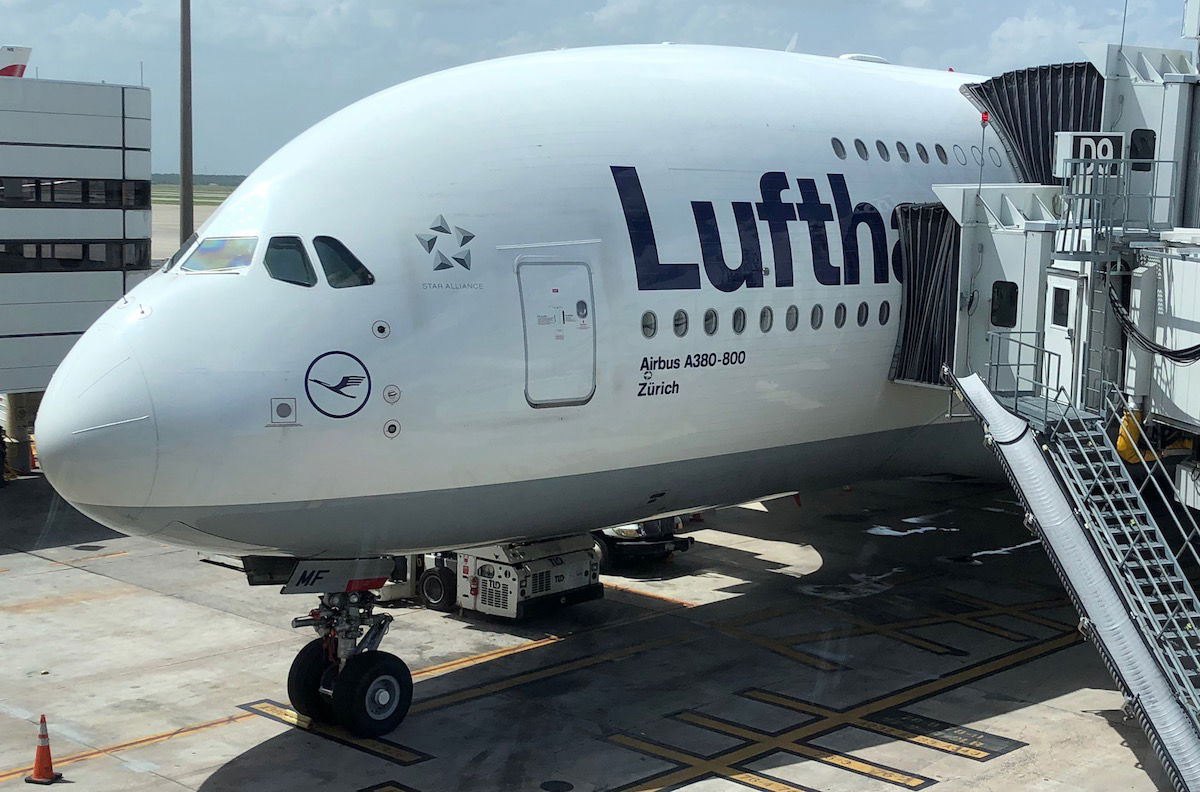 Lufthansa 747-8s will get new first & business class
The good news is that Lufthansa has plans to retrofit its Boeing 747-8 fleet with all-new cabins. Lufthansa has 19 of these jets, and they're an average of well under 10 years old.
While other airlines are largely retiring Boeing 747s, Lufthansa was one of the few airlines to order the updated 747-8, and it seems the carrier is committed to keeping these planes around. They're an average of well under 10 years old, so they're still quite young.
Also keep in mind that Lufthansa is obviously committed to these jets because they're all based in Frankfurt, and they're the only planes based at the airport to feature first class. Lufthansa also plans to base its Boeing 777-9s in Frankfurt (if/when delivery happens), but those planes won't feature first class (I can't help but wonder if Lufthansa might reconsider that decision).
What remains to be seen is with what timeline 747-8s will be reconfigured, as that hasn't yet been revealed. Based on the fact that it has been five years since Lufthansa first announced its new business class, I feel like it's a race between these planes being reconfigured, and me being eligible for Social Security. 😉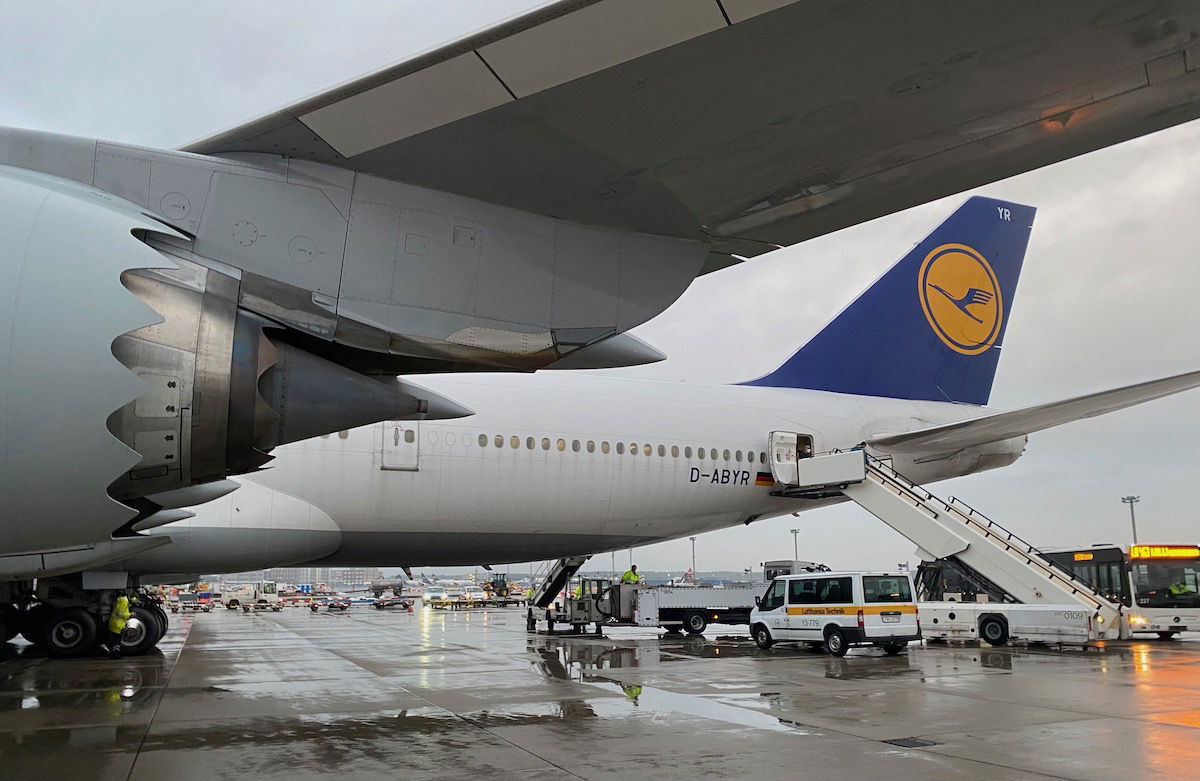 How will Lufthansa's revised Boeing 747-8 configuration work?
While we know Lufthansa's Boeing 747-8s are getting new cabins, what we don't know is exactly how they'll be reconfigured. The 747 is a tricky plane when it comes to installing cabins, given the curvature of the "nose," plus the upper deck, which is significantly narrower than the lower deck.
I would assume that first class will continue to be in the nose. Lufthansa currently has eight first class seats on the 747-8, with three seats along the windows on each side, plus two seats in the center.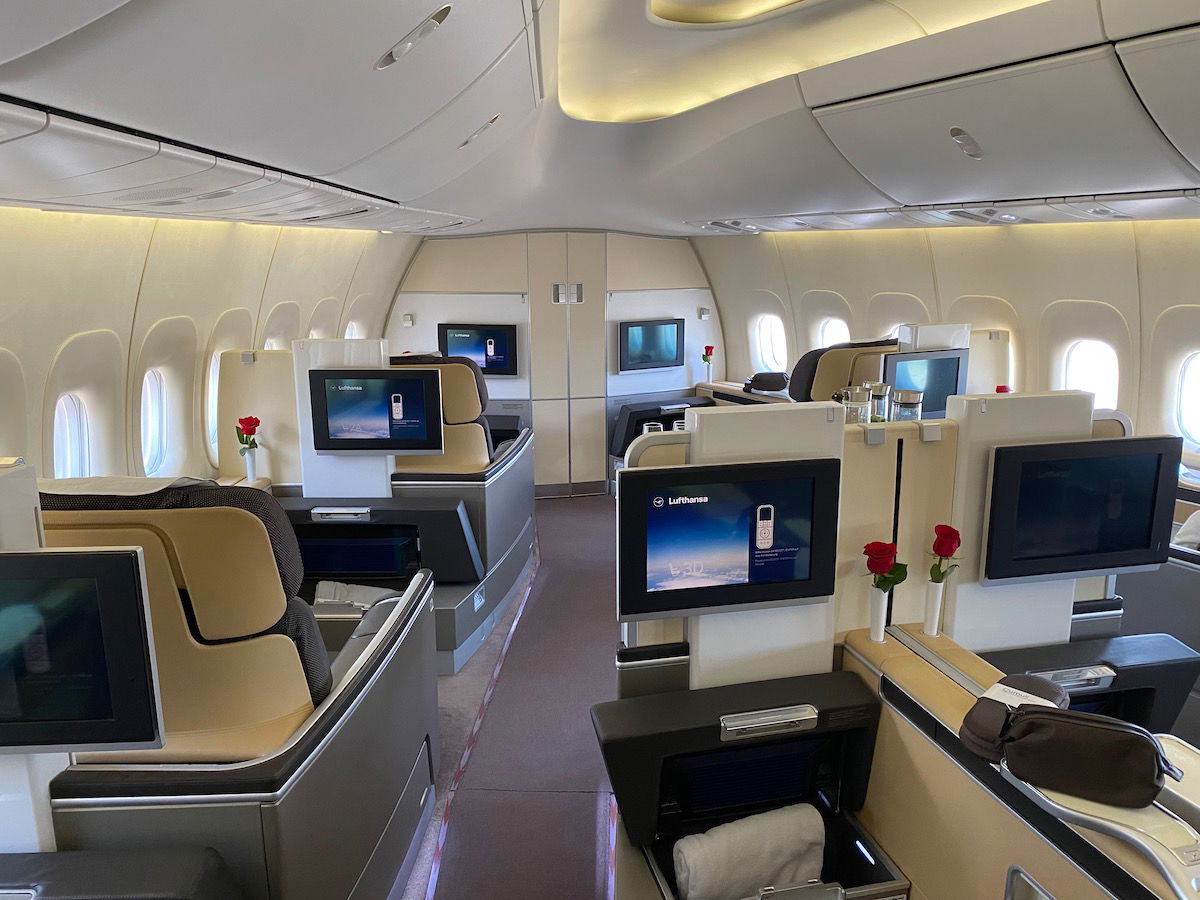 Lufthansa's new first class looks like a huge upgrade over the old product, so I can't help but wonder if the airline can maintain the same number of seats, or what exactly a new cabin configuration would look like? Admittedly the current renderings of the new first class are limited, but I can't imagine the airline could install the same number of seats.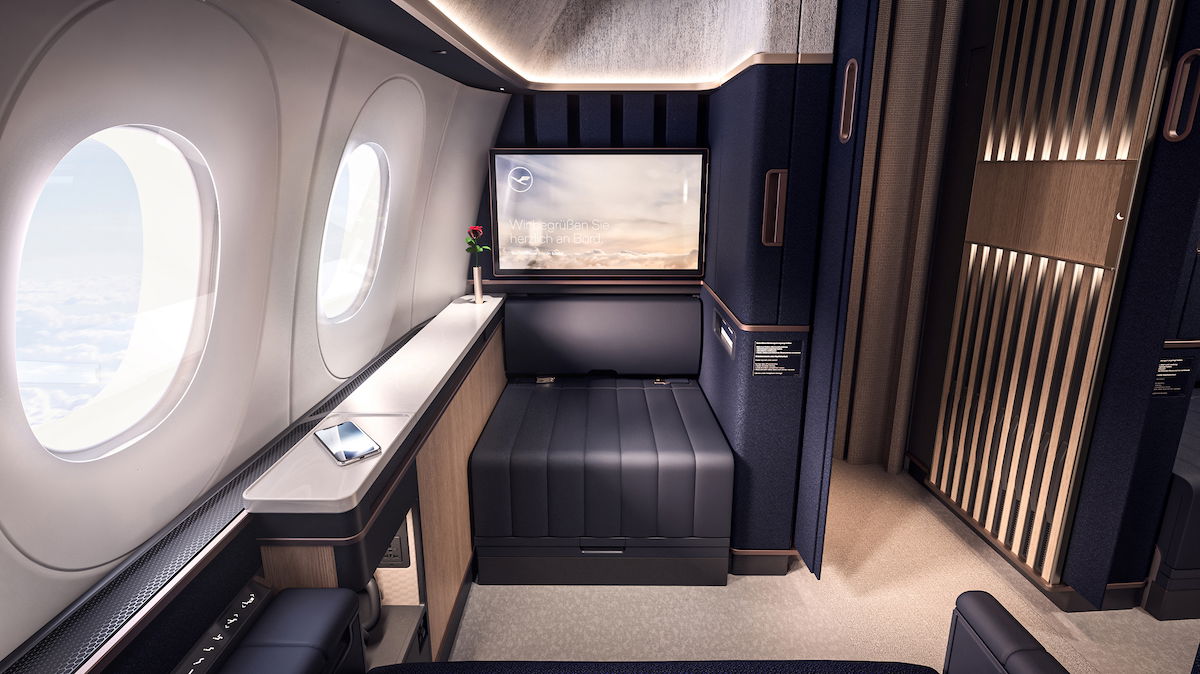 For context, Korean Air also flies the 747-8, and has just six seats in first class, in a 1-1 configuration (there are no center seats).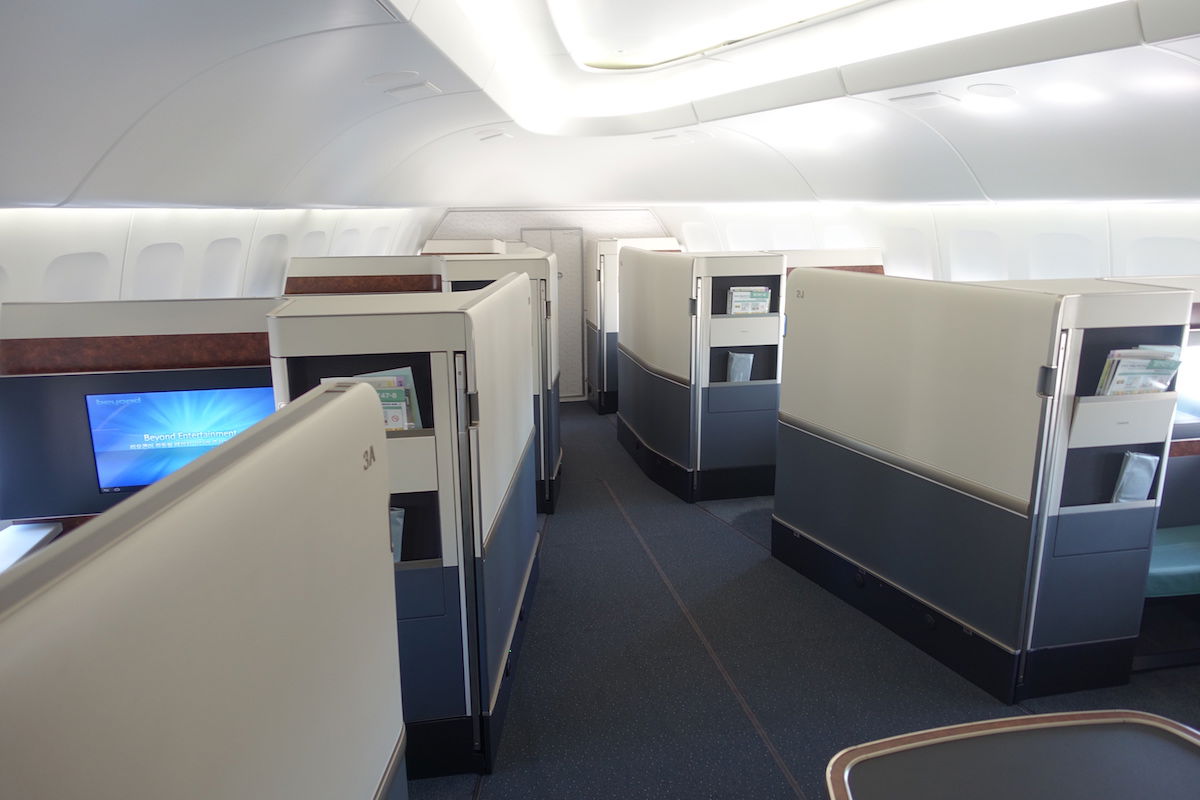 I suppose the other possibility is that first class moves to the upper deck and would be in a 1-1 configuration, but I also don't see that happening, given that it would be even less practical for business class to be in the nose.
Then that brings us to business class, which seems equally challenging. Installing it on the lower deck is super easy, since the 747 lower deck cabin is even wider than the A350 or 787 cabin, so there will be room to spare.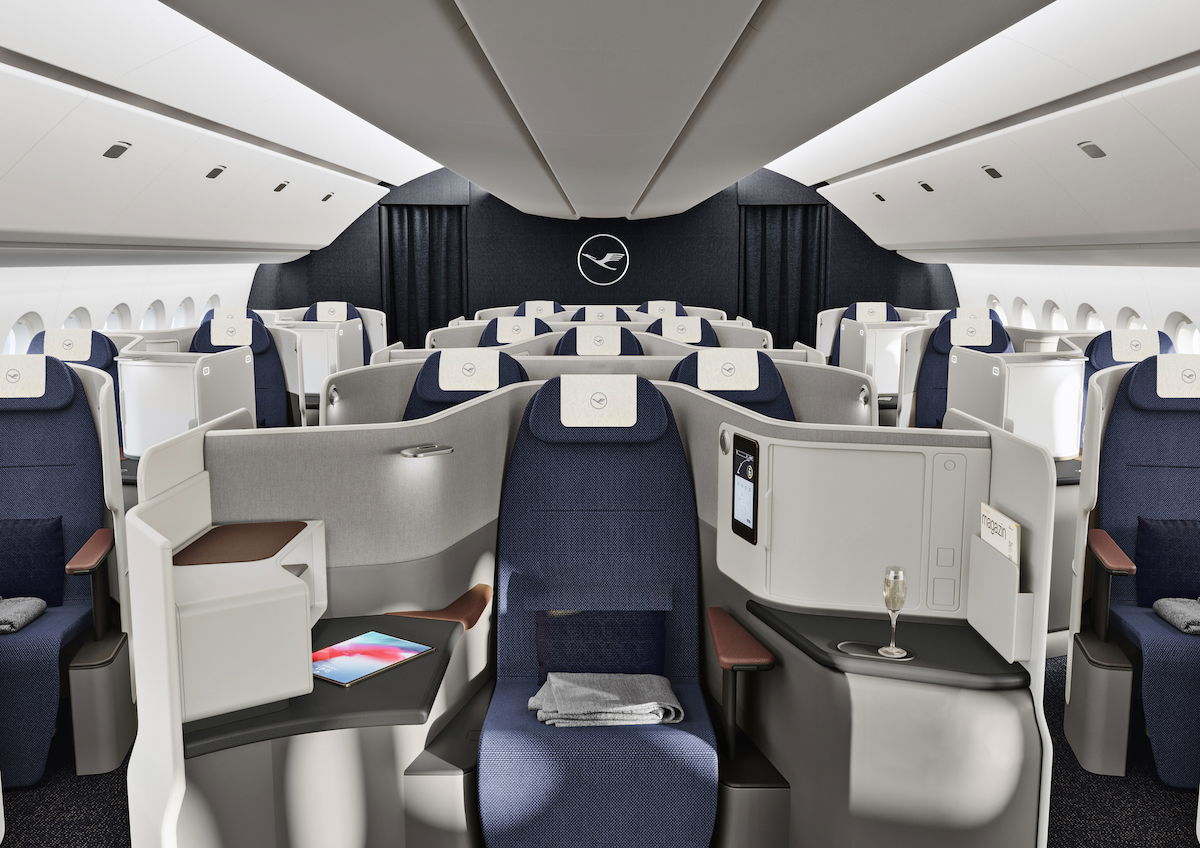 However, how on earth do you install this on the upper deck of the 747-8? The upper deck is somewhere between a wide body and narrow body in terms of width, and you have a single aisle. There's simply no way to introduce a staggered product with direct aisle access for each passenger here.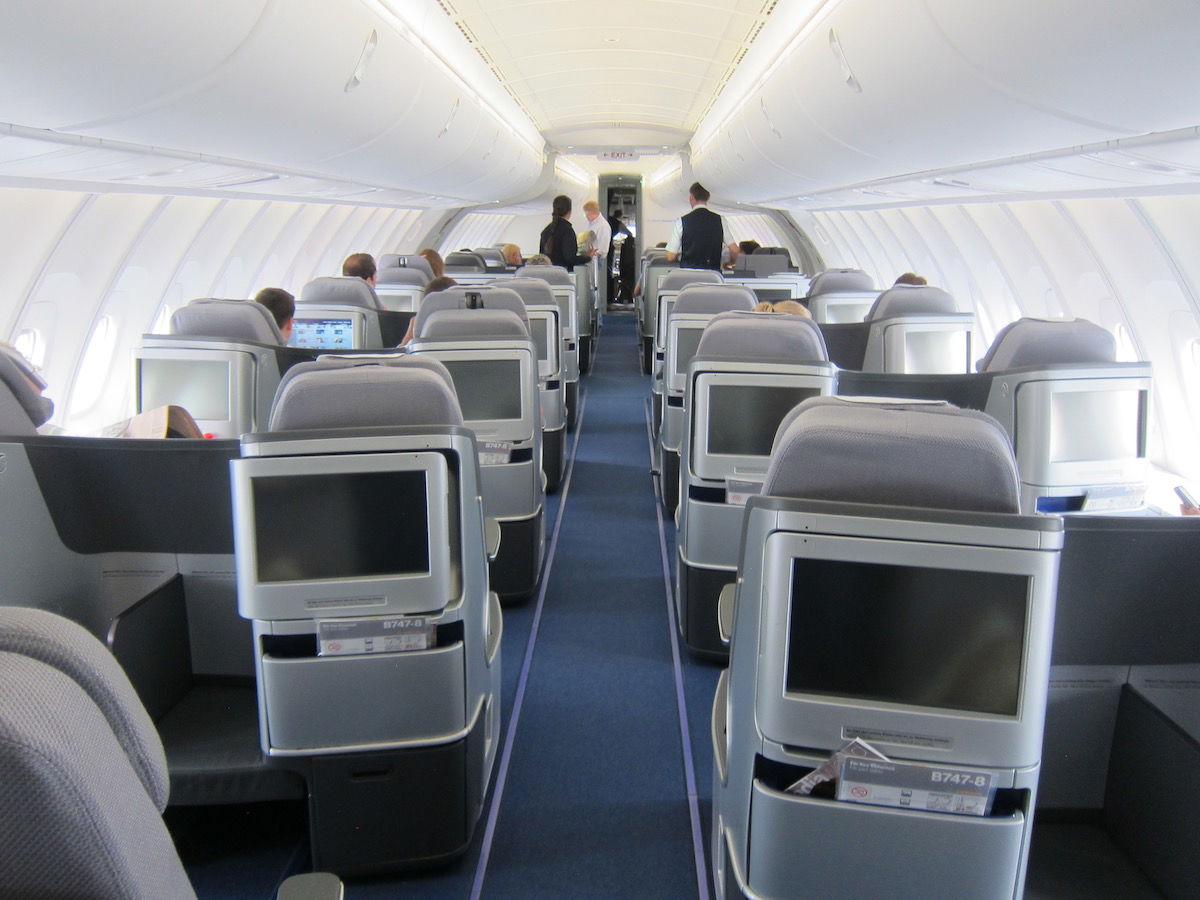 The only thing I can think of is that Lufthansa moves premium economy to the upper deck, and instead installs business class exclusively on the lower deck. However, this would have to represent a massive increase in the footprint of premium economy.
Lufthansa has 32 business class seats on the upper deck, while Lufthansa currently has 32 premium economy seats on the lower deck. Lufthansa would presumably have to nearly double the size of the premium economy cabin for that to work. Otherwise, I suppose the airline could install a mix of premium economy and economy on the upper deck, but at some point this all seems overly complicated.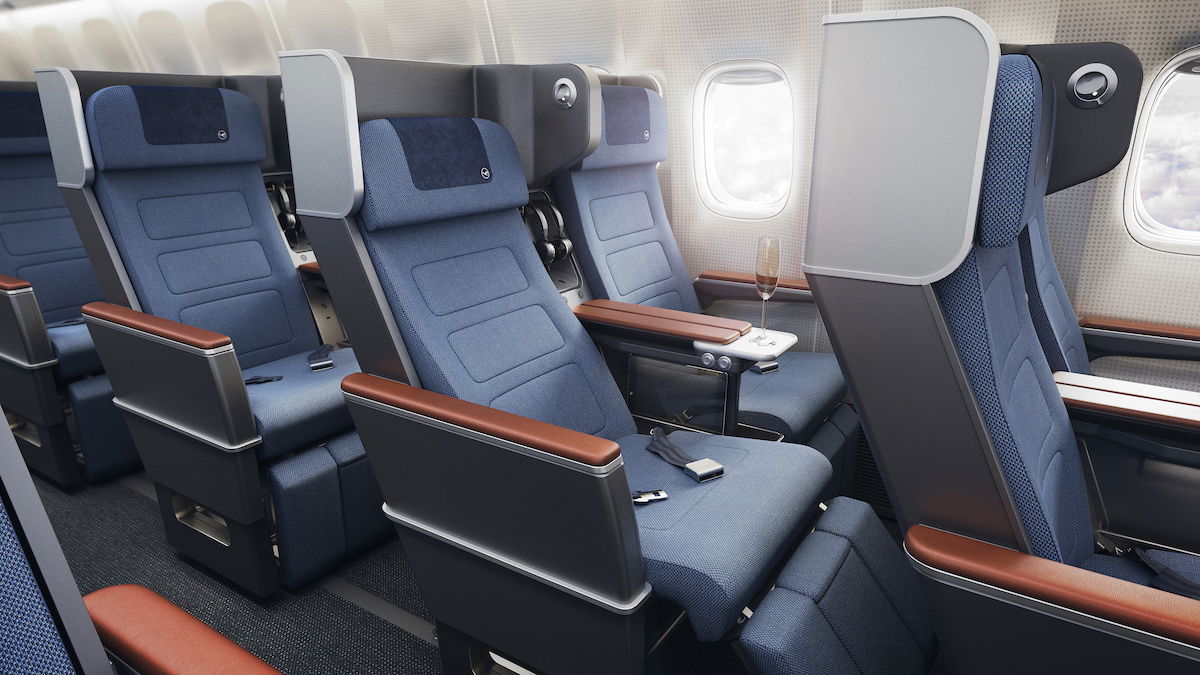 Bottom line
Lufthansa's Boeing 747-8s will be getting the new Allegris cabins, which is exciting. However, we don't know the timeline with which that will happen.
Furthermore, I can't help but wonder about the logistics of this project. Will first class continue to be in the nose? Will business class continue to partly be on the upper deck, if that even possible? How will seat counts change?
There are a lot more questions than answers as of now, though as a Boeing 747 lover, I can't wait to see the jumbo get new interiors!
What's your take on the logistics of Lufthansa reconfiguring Boeing 747-8s with new cabins?