Hyatt Gold Passport is in the process of emailing members to let them know that Gold Passport services will be unavailable for three days, between December 15 and December 18, 2015.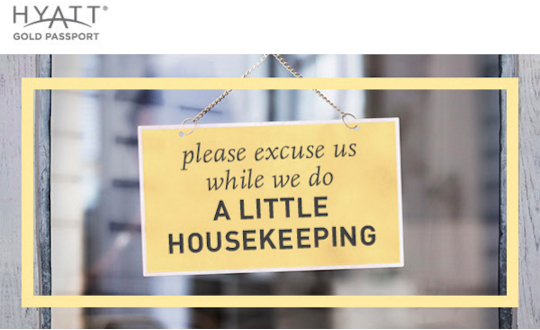 This is because Gold Passport is undergoing system maintenance, meaning it won't be possible to access your account information or perform any functions involving your points (including redeeming, purchasing, combining, etc.). However, you'll still earn Gold Passport points as usual for stays during this period, except they'll be delayed in posting.
Here's the email Hyatt is sending out to Gold Passport members:
We know how important it is to have up-to-date Hyatt Gold Passport account information. So, we wanted to let you know that from December 15 to December 18, 2015 we will be undergoing system maintenance and your account information will not be accessible during this time. How does this affect you?

What you're able to do:

Earn points and stay/night credit toward tier status for all eligible stays
Earn points for eligible dining and spa services
Book paid reservations

What you're unable to do:

Cannot access your account information, including point balance and promotional awards, either online or by calling a Global Contact Center
Cannot redeem new promotional awards or points for free nights, room upgrades, or miles
Cannot purchase or combine points

Any account activity accrued after December 12, 2015 will not be reflected on your account until the week of December 28, 2015. You can be assured that any points earned during this time will be credited to your account. We appreciate your patience during this time.

We don't want you to miss out, so if you're planning an upcoming trip using your points or awards, start exploring and book today.
This is certainly something to be aware of, especially for those of us who love planning travel last minute. There will be a three day period where it won't be possible to redeem points, Diamond Suite Upgrades, etc. So be sure you're planning your travel accordingly in the next week or so.
Here's to hoping this "system maintenance" results in some improvements to the Gold Passport user experience as well. Then again, I guess we should just be happy that Hyatt recently added the ability to book Points + Cash awards through their website.
Will Gold Passport being "down" impact your travel planning, or are you able to plan around the outage?