I'm a huge fan of Uber, and have used them hundreds of times. For me they've transformed how I get around, especially in cities where public transportation is lacking. I love that Uber is cashless (even though I sometimes tip), and I also find the service to pretty consistently be excellent.
That's the beauty of Uber's instant feedback loop. After each ride, the passenger can rate the driver, and the driver can rate the passenger. It keeps the drivers on their feet, since they can get kicked out if their rating falls too low.
Passengers can see their ratings as well
A lot of Uber users don't realize that they can pull up their Uber rating at any time through the app or Uber's website. In March I explained how you can find out your Uber score — it's quite easy, and can be updated at any time.
I'm surprised Uber lets you constantly see your rating, because it enrages some customers to see when their rating drops after a ride. On a recent post, reader lopore said the following about waiting to rate drivers until after he sees how they rated him:
So here's what I do.

After I finish the ride and BEFORE I rate the driver through the app, I log into uber.com and see what my rating is. It appears to be updated real time and it's fairly easy to see what they've rated you as long as you have your rating before you took the ride.

With the detailed rating this is even easier to do. Some scumbag driver rated me a 3 this week for no reason at all and was able to rate him appropriately. Otherwise I would have given him a 5.
At the time I thought that seemed silly, but now I'm almost considering it…
My perspective on Uber ratings
While I think a feedback loop is good, personally I think Uber's rating system is flawed. Drivers have to maintain a 4.5+ score in order to stay in the system, so the default is to give drivers a 5.
But that's a dumb rating scale, because shouldn't a score of 3 be average, while a score of 5 is exceptional? But I understand how the system works, so I don't rate drivers low, since I realize their livelihood depends on them getting scores of 5. I don't recall ever rating a driver anything but 5.
As far as my score goes, I don't care what the score as such is. I will say that I go out of my way to always be courteous, never leave anything in the car, always clearly enter my pick up and drop off locations, make a point of being outside before the driver arrives, and always say "please" and "thank you."
At the same time I sometimes get non-perfect scores, because I do sometimes order cars for friends who might be a little drunk (not to the point of throwing up, but to the point where they shouldn't be driving — isn't that partly the point of Uber?), take fairly short rides when it takes the driver a while to get to me (which isn't my fault, but…), etc.
But that leads me to the situation I faced yesterday.
I got a low rating (1-star?)… for no reason!
Now, I know usually when people say "for no good reason" there actually is a good reason… but hear me out!
I took my first Uber ride in a while yesterday, as I've spent the past week flying. For whatever reason, I was inspired to check my Uber rating before the ride. I don't know why.
My score was 4.63.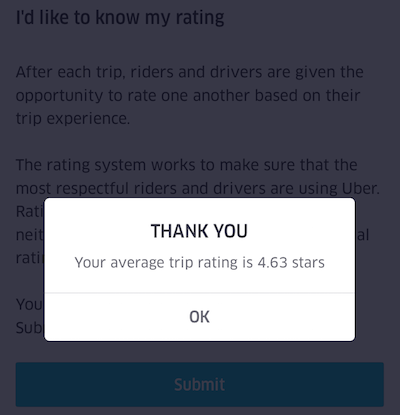 I did everything I could as a passenger (it was an UberBLACK, for what it's worth):
I entered the origin and destination into the app
I was waiting outside when the driver arrived
When I got in the car I said "hi, I'm Ben… I'm going to ____, and I think it should be in the app already?"
I didn't say a word the rest of the ~10 minute drive, but just looked out the window (and to clarify, he didn't try to talk to me either, or anything)
When I got out of the car I said "thanks so much, have a great evening"
The guy didn't seem especially friendly or like he was in a great mood. When I said "thanks so much, have a great evening" he said "yeah." I still gave him five stars, because I realize he gets kicked out if he gets too many negative scores.
I had a weird feeling about the guy, so after rating him I checked my score again, and saw it dropped to 4.62. I've taken hundreds and hundreds of Uber rides, probably around 1,000. Given that my score dropped by 0.01, I suspect he gave me a 1-star rating.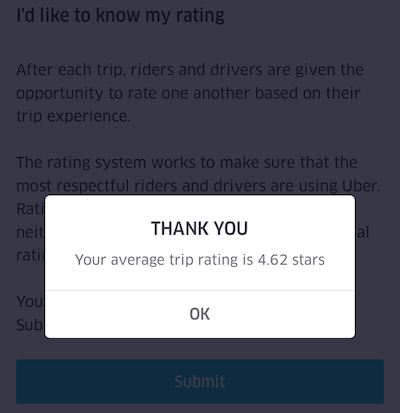 Regardless, it wasn't a 5 star rating, which is the only rating a driver can consistently get if they want to stay in the system.
I don't know if he didn't like me or what, but last I checked this is Uber and not Tinder. The things I stated above are facts, about not having said anything during the ride, and everything else having been entered.
I'm sort of pissed. Not actually pissed, but just sort of puzzled as to how he dared give me a lower rating, when he's really the one who relies on me giving him a good rating. I paid him, did everything I was supposed to, and somehow that wasn't enough?
As much as it's usually not my personality, I'm tempted to start using the strategy mentioned by lopore above, and checking my score through Uber's site before rating a driver. Why should I reward a driver with a 5 star rating when they don't think I'm worthy of one?
Do you care if you get a low rating from an Uber driver? Anyone else use lopore's strategy above?