I'm a huge fan of Uber, and use them all the time. I don't remember the last time I voluntarily used a taxi in a city where Uber is popular (there are some exceptions, like when I'm abroad and am not using cell phone data, where it can be tough to connect with a driver).
Uber is far from perfect, and as they become even more popular, they're also taking on some more taxi-like behavior (drivers canceling rides they don't want, etc.). Still, they're so much better than the taxi industry, which has been run like a government organization for far too long due to the lack of competition.
UberBLACK is often only marginally more expensive than taxis, but gets you a black car. It's especially awesome in LA, since a vast majority of UberBLACK cars are also SUVs, and sometimes even UberLUX cars (like a Mercedes S500, BMW 7-Series, etc.), which you then get at the UberBLACK price.
But the most useful thing is that UberX in LA is really cheap (which is true in many other cities as well). They charge just 90 cents per mile. As a point of comparison, LA taxis charge $2.70 per mile, so UberX costs a third as much as a taxi.

So how much did my ~13 mile, ~47 minute trip cost? $18.28! I had a free ride of up to $15, so my "out of pocket" was under $5.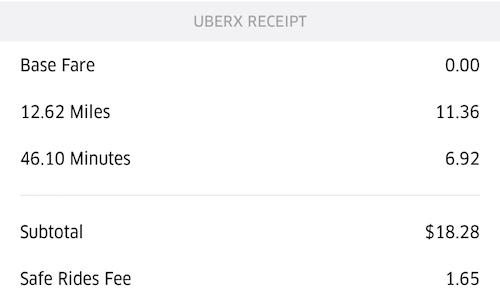 I believe the driver gets 80% of the fare, meaning in this instance the driver gets $14.62. And that's for driving their car for 13 miles for nearly an hour, and that doesn't factor in the amount of time the driver spent waiting for a call, driving to pick me up, then driving to wherever they needed to go next, gas, and depreciation of the car.
I'm all for the free market and that driving down prices, but is there such a thing as a ride being so cheap that you feel guilty?
Uber says tipping isn't "needed:"
You don't need cash when you ride with Uber. Once you arrive at your destination, your fare is automatically charged to your credit card on file — there's no need to tip.
I don't tip with UberBLACK, but I'm always conflicted with UberX, at least in markets where rates are really low (clearly in an attempt to drive out Lyft/the competition):
I believe in "living and letting live," so while I understand this is what they charge and that's "not my problem," I also sort of feel like I'm taking advantage of people when I take UberX in LA?
Is there some aspect to the "math" I'm missing that makes UberX worthwhile for drivers, or how does one even have the potential to do better than minimum wage with UberX in LA (or heck, even earn minimum wage)?
Bottom line
Maybe I just need to get over myself, but I do sort of feel guilty every time I take UberX in LA, and feel like I should tip. If I have cash, I usually do tip. But at the same time that takes some of the value out of Uber for me, as one of the things which makes it so awesome is that it's cashless.
Ultimately drivers choose to work with Uber, and presumably they do so because it gives them schedule flexibility, let's them be their own boss, etc. At the same time, UberX is literally a third of the price of a taxi, and I'd tip when I'm in a taxi, even though service in an UberX is consistently better.
What say you — do you tip your UberX drivers?