In the interest of full disclosure, OMAAT earns a referral bonus for anyone that's approved through some of the below links. These are the best publicly available offers (terms apply) that we have found for each product or service. Opinions expressed here are the author's alone, not those of the bank, credit card issuer, airline, hotel chain, or product manufacturer/service provider, and have not been reviewed, approved or otherwise endorsed by any of these entities. Please check out
our advertiser policy
for further details about our partners, and thanks for your support!
Note:
Uber Eats is Uber's food delivery service, whereby you can have food delivered to your door from an endless number of restaurants around the United States (it's also available internationally, though I'll be focusing on my experience with the US service in this post). In this post I wanted to take a closer look at how it works, whether you happen to be at home or traveling.
Why I use Uber Eats a lot
I use Uber Eats way more than I'd like to admit:
When traveling, I find Uber Eats to a superior alternative to hotel room service, both in terms of cost and quality
At home, I wish I could say that we're great cooks, but that's simply not the case; as new parents we're also busier than ever, so Uber Eats is a great way to get food from restaurants we'd like to order from
Admittedly Uber Eats isn't for everyone. In terms of the value proposition, I generally view it as costing me somewhere around $10 to have the food I want delivered to my door (admittedly sometimes it's more, and sometimes it's less). To me that's well worth it:
There aren't really restaurants within easy walking distance of where I live, so if I were to get food, I'd have to drive there
The time savings are huge, as I'd conservatively estimate that picking up food in Miami would take 30 minutes, between driving there, potentially waiting for the order, and driving back
Other people may understandably have a totally different take, based on their cooking skills, the cost, and their proximity to restaurants.
Let me acknowledge the double edged sword that Uber Eats and other food delivery services present for the restaurant industry. On the one hand, they make it really easy for restaurants to provide takeout, and can greatly increase business. On the other hand, they can significantly cut into margins.
In our situation, the reality is that if it weren't for using a food delivery service, we probably typically wouldn't be picking up food from restaurants, but would rather do a better job shopping at the supermarket, and preparing food. It would probably be good for our health and wallets, but my point is that I think Uber Eats is a net positive contribution to the amount of business we give the restaurant industry.
How does Uber Eats work?
What are the logistics of using Uber Eats like? When you're logged into your account, you'll see all the restaurants you can order from. You can narrow them down by type of cuisine, distance, delivery time, whether they have promotions, where you ordered from recently, etc.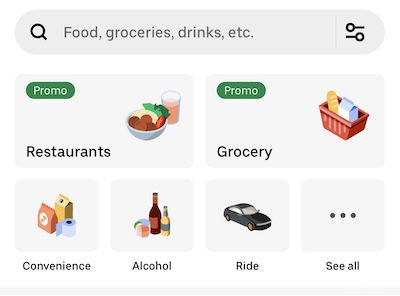 When you pick a specific restaurant, you can see the full menu, and then you can place items in your cart. There are generally quite a few options to customize based on preferences, though the options vary by restaurant.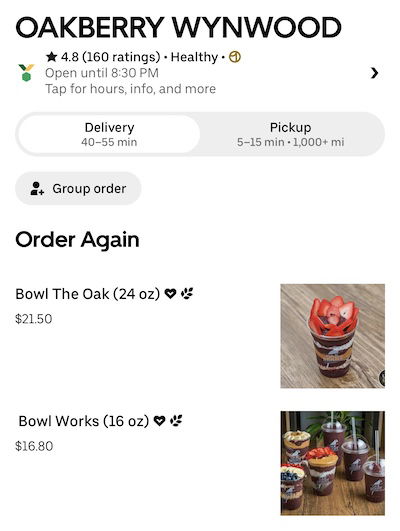 You can then select whether you want to order right away, or want to schedule the order. You can also choose whether you want to pay extra for priority delivery, whereby you'll always be the first stop (otherwise it's possible that a delivery will be performed on the way).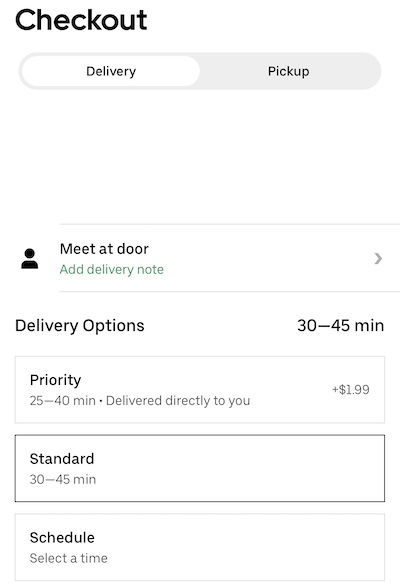 You'll be shown a summary of how much you'll pay.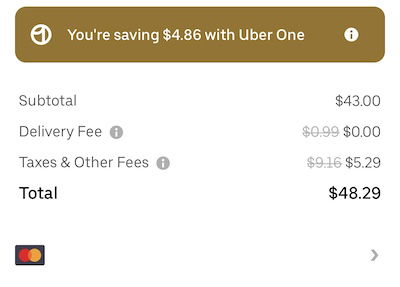 Then you'll be asked how much you'd like to tip, and can place your order.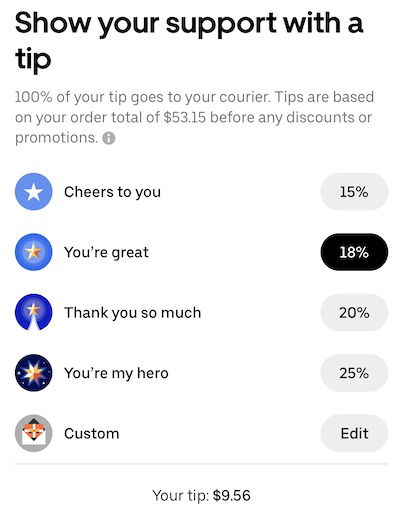 Once you place your order, a driver will be assigned to pick-up your food, and you'll receive an estimated delivery time. Once the driver has picked up the order, you can also track their location and distance to you.
With Uber Eats, your order should be delivered to your door. If you live in a building, where your food will be dropped off depends on the building's policy (some buildings require you to come to the entrance to meet the driver, while some will let the order be sent up). You can also state whether you want to meet them, whether you want them to leave the order at your door, etc.
Let's dig a bit more into the cost of using Uber Eats.
What are the fees when using Uber Eats?
Not including tips (which I'll discuss below), Uber Eats potentially has a few fees:
There's the delivery fee, which can vary greatly, depending on your distance from the restaurant, or whether the restaurant chooses to offer free delivery (which is sometimes done to drum up business); because I have an Uber One membership (which I recommend if you use Uber Eats often), I don't pay this
There's the service fee (listed as "taxes & other fees"), which will vary by order, and is just broadly described as helping to "cover costs related to your order" (don't assume this is all or even mostly going to the driver); you can also receive a discount on this with an Uber One membership
There's the priority delivery fee, typically around $2, if you care about getting your order first
How much should you tip with Uber Eats?
The primary way that the driver gets paid with Uber Eats is via the tip you leave them. You're asked to state your tip amount upfront, but you can always edit it after the fact, if you're not happy with your order (or if you're really happy, I suppose).
Note that a driver can choose to pick up an order or not based on how lucrative the "task" is for them, so if you have a small order and don't provide a decent tip, don't be surprised if it takes some time for your order to arrive.
Generally speaking, Uber Eats will prompt you to leave a percentage-based tip for bigger orders, and a dollar-amount tip for small orders.
Often when dining in restaurants, people consider leaving a flat 20(ish)% tip, though that's not how you should approach it with Uber Eats. After all, the driver is doing the same amount of work whether they're picking up a $200 order from Nobu, or a $15 order from McDonald's.
Uber Eats people work hard, I appreciate what they do, and life is expensive nowadays. Generally I try to leave a minimum $8-10 tip on an order (assuming the delivery isn't from too far away), though if it's a big order, I usually leave more. The point is, I would aim to leave more than a 15% tip on a $15 order, for example.
What is Uber Eats restaurant pricing like?
Here's the final catch with Uber Eats. Uber Eats can be tricky for restaurants, as it can cut into their margins. Uber Eats generally takes a cut on the order as such, and on top of that you might leave a tip if picking up food from a restaurant, while that doesn't apply through Uber Eats.
So some — but certainly not all — restaurants will mark up their costs through Uber Eats. I find that many restaurants don't, and for those that do, it's often $1-2. Personally I mostly order from restaurants that have the same pricing through Uber Eats as they have directly.
How do you maximize value with Uber Eats?
As you can see above, there are potentially quite a few fees with Uber Eats. So how do you maximize value, and how do I justify using it? As I explained above, using Uber Eats almost never costs me more than $10, and often costs me significantly less than that. Let me share a few tips for maximizing value.
Earn 10% cash back or 10x points with Capital One
Capital One and Uber have an awesome partnership. Through November 14, 2024, the Capital One SavorOne Cash Rewards Credit Card (review) (Rates & Fees) is offering 10% cash back on all spending with Uber and Uber Eats. This is a generally compelling no annual fee card, and this partnership was the push that I needed to apply.
Getting 10% cash back on your entire Uber Eats order recoups much of the cost of using the service. Best of all, for those of us into points, you can convert the 10% cashback into 10x Capital One miles, in conjunction with the Capital One Venture X Rewards Credit Card (review) (Rates & Fees). I value Capital One miles at 1.7 cents each, so I really value my return here at 17%.
Get an Uber One membership
Uber One is Uber's paid membership program. While it ordinarily costs $9.99 per month or $99.99 per year, those with the Capital One SavorOne Cash Rewards Credit Card can also have the $9.99 monthly fee reimbursed through November 2024. So that gets me this membership, and costs me nothing.
With an Uber One membership, you pay no delivery fees on restaurant orders of over $15, and you also get reduced service fees.
Use an Uber Eats refer-a-friend offer
While I'm not factoring this into my overall math, note that Uber Eats has a referral program. So whether you haven't used Uber Eats before, or whether you want to start referring friends, this is a way to get more value with Uber Eats.
With the current referral offer from Uber Eats, the person being referred gets $20 off an order of $25+, while the person referring gets $10 off an order of $25+. You're of course welcome to use my promotion code at check-out, which is eats-uberonemileatatime, though others are welcome to leave their code in the comments section as well.
Crunching the numbers on Uber Eats
Just to crunch the numbers, let me do the math on the screenshots for the above order. The restaurant charges the same for açaí bowls in person as through Uber Eats (I know they're expensive, but they're huge and really good). As an Uber One member paying with the Capital One SavorOne Cash Rewards Credit Card:
I pay $5.29 in fees through Uber Eats
If I tip 18%, that's a tip of $9.56
In other words, I'm paying a total of $14.85 more than I'd pay if I bought in person
However, I'm earning $5.78 cash back with the card I'm using, or really those are 578 Capital One miles, which I value at $9.83
In other words, by my valuation, it's costing me a bit over $5 more than I'd pay if picking up myself
Bottom line
While I wish it weren't the case, I order a significant amount of food through Uber Eats. That's partly due to poor cooking skills, and partly due to being a new dad, and needing to be at home. While Uber Eats has as many fees as an ultra low cost airline, in reality I find that the math works out pretty well in the end, especially if you're maximizing value.
Thanks to the Capital One SavorOne Cash Rewards Credit Card, I earn 10x Capital One miles on these purchases, and also get a free Uber One membership. Those rewards generally more than wipe out all of the fees charged by Uber Eats, leaving me with just a tip.
For the amount of time I save by not having to pick up food myself, I find this to be well worth it.
If you've used Uber Eats, what was your experience like?