I've compared American AAdvantage and US Airways Dividend Miles many times in other posts, and I explain how, personally I think US Airways miles are slightly more valuable than American miles at present, and that I value them at 1.7 and 1.6 cents, respectively.
I previously valued American miles at 1.8 cents each, so I received a few emails from readers asking how my valuation of American miles only went down by 10% when they eliminated both oneworld distance based Explorer awards and stopovers at the North America gateways on international awards.
And that's a great question.
Let me start by posing a question which probably doesn't have a correct answer — if tomorrow every airline devalues their award redemption rates by 50%, does the value of all those mileage currencies also decrease by 50%?
In January I wrote a post entitled "Is The Value Of Miles Absolute Or Relative?" . It was posed specifically in the context of earning miles vs. cash back for your credit card spend. But I think it's interesting to revisit this in a slightly different context, given the industry changes we have seen in the past three months.
So let me try to explain where I'm coming from:
You can't value points at more than the "cost" to purchase them
For example, it's possible to indirectly and consistently purchase IHG Rewards Club points for 0.7 cents each. So even if I wanted to, I couldn't really value those points at more than that.
I wouldn't quite take such a hard stance with US Airways, though. A couple of times a year they seem to offer a 100% bonus on shared miles, which is essentially an opportunity to generate them for 1.1 cents each.
Still, there are so many limitations to that (like the need to have miles to begin with, the transfer limits, the limited dates, etc.) that I have no problem valuing those miles at more than 1.1 cents each.
Premium air travel is of differing value to everyone
Different people value premium cabin travel completely differently. You have everything from people that wouldn't pay a 50% mileage premium for first class because they'd rather take an extra trip, to people that simply wouldn't travel in economy.
I'm somewhere in the middle.
I've gotten used to flying first class, and actually haven't flown economy class on a longhaul flight in over 10 years. The reason for that is because I've economically been able to earn miles in a way that I can redeem for premium cabins at a reasonable cost.
Would I ever pay the cost of a full fare international first or business class ticket?
No way.
But I've been able to fly first class for pennies on the dollar, at rates that make it totally justifiable to me.
But as awards become more expensive and award availability becomes tougher to come by, where's the "cracking" point where it's no longer a no-brainer?
In other words, say I'm accruing enough miles for a first class ticket to Asia for ~$1,400 (like generating 120,000 US Airways miles through a share miles promotion for 1.1 cents each).
That ticket would probably cost $20,000 if paying cash.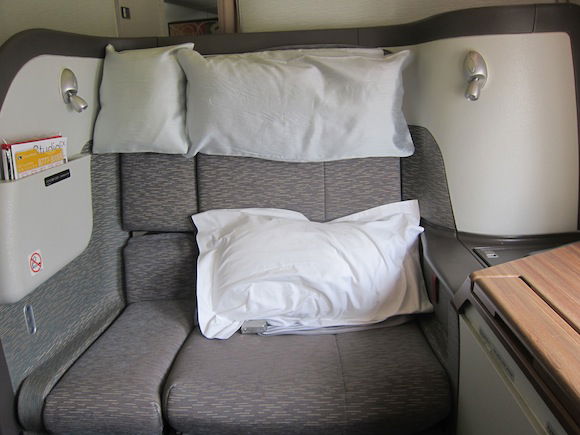 Cathay Pacific First Class
I would never pay that, though I'll gladly pay 7% of the retail cost (120,000 miles vs. $20,000) for the ticket.
But what about 8%? 9%? 10%?
If programs devalue further, what about 15%?
There's no right or wrong answer, of course.
I think the value of miles is relative
I don't think the value of miles is exclusively based on the value you directly get out of them. Instead I think it's also based on how many alternatives there are for getting that same product.
For example, has the value of Avianca LifeMiles changed since United devalued their award chart and US Airways left the Star Alliance?
Even though the things that you can do with LifeMiles haven't changed and their award chart remains the same, I would argue yes, the value of LifeMiles has increased.
Why? Because the LifeMiles program has gone from being one of three ways to redeem for a certain type of award, to in many cases being the only economical way to redeem miles for a given flight.
So previously I didn't have to value the miles higher since there were so many easy ways to accrue Star Alliance miles.
Tying this back in with American miles…
So, getting back to American miles.
Why did my valuation of American miles "only" go down by about 10%?
Because there are still lots of aspirational first class products available through American miles that I enjoy flying — Cathay Pacific, Etihad, Japan Airlines, etc. And without American (or US Airways) miles there simply isn't an economical way to redeem for them.
Bottom line
Are you valuing miles based on the absolute maximum cost you'd be willing to pay for the premium cabin products you're using miles for, or lowering that valuation a bit based on the number of options you have to redeem for that product?
I certainly fall in the latter category, and it's why if we were to see a 50% devaluation of all mileage currencies, I'd still probably not decrease my valuation of miles quite by 50%.
Am I off base?