On Saturday I wrote about how La Compagnie, the all business class transatlantic airline, mysteriously started flying a chartered Portuguese A340 between Newark and London Luton. They recently launched service between Newark and London, so having passengers show up to the airport only to be flown on an ex-Emirates A340 doesn't necessarily paint the best impression.
My biggest issue with how La Compagnie was handling this was that they really weren't communicating with passengers very well. They'd email passengers a day before departure to basically say "hey, you know how you booked with us? Well instead we have an unmarked plane from a Portuguese charter company you've never heard of which will be operating the flight for us. Enjoy!"
When you run an airline with two planes, it would seem logical to maybe mention this in social media, explain the range of dates which are impacted, etc.
Instead, even their official Twitter channel has no clue how much longer the route will be operated by an A340. I Tweeted them on Monday to ask, and they claimed everything will be back to normal as of Tuesday. It wasn't.
Someone named Michael left a comment on an old post about La Compagnie about his experience flying between Newark and London Luton on one of these A340s:
Just got back from NYC with LC – dreadful – the only possible redeeming feature is cost and that will be at risk with their habit of cancelling flights, changing planes, etc.

Amazed they haven't gone bust yet – last night's flight was on an (unmarked) Airbus staffed by a crew from a Portuguese charter airline who could barely speak English – this was because the LC plane was "unavailable for operational reasons."

The enormous economy cabin was completely empty increasing the rather spooky, marie celeste feeling of the whole experience with this non English speaking crew – the whole thing was very Aeroflot – very soviet approach to customer service – and dreadful food, warm champagne, corked red wine, so perhaps a blessing that as with your review the trolley did not appear over 2 hours into the flight.

I don't know who is backing these people but to be so catastrophic nearly 12 months after launch beggars belief – and of course the important question – would I fly with them again – sadly not – even if it was free – I will return to pricier but trusted and professional carriers who get the job done whether in business or economy

Utterly hopeless – a new low in "premium" travel
Ouch!
Anyway, La Compagnie's Co-Founder and Deputy CEO, Peter Luethi (who I've had the chance to speak with in the past — he's a bright guy), reached out to me yesterday to clarify a couple of things about the airline:
La Compagnie does indeed have two 757s
In addition to the mysterious A340 substitutions, La Compagnie has also been canceling several flights between Newark and London. That made me wonder whether they actually had two planes, or how else they'd operate this long term.
Mr. Luethi confirmed that La Compagnie does indeed now have two Boeing 757-200s in their fleet. They're scheduled to operate between Newark and Paris daily, and between Newark and London 4x weekly, and as of June 1, 2015, 6x weekly.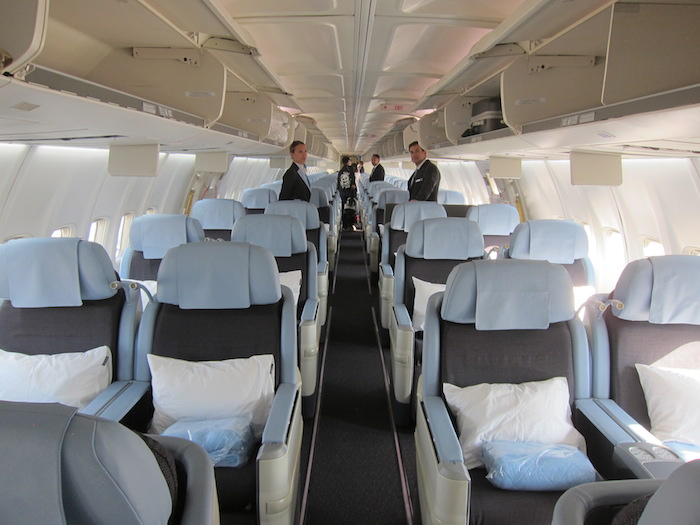 The A340's days are numbered
Apparently the reason for the A340 substitution is that La Compagnie's older 757 was undergoing regular C-check maintenance, which is why the HiFly A340 was leased. Apparently this aircraft change occurs for four aircraft rotations, the last two of which are scheduled for May 20 and May 21, 2015. By my math the flight has operated more rotations than that so far, but at least now we officially know that tomorrow is scheduled to be the last day with A340 service.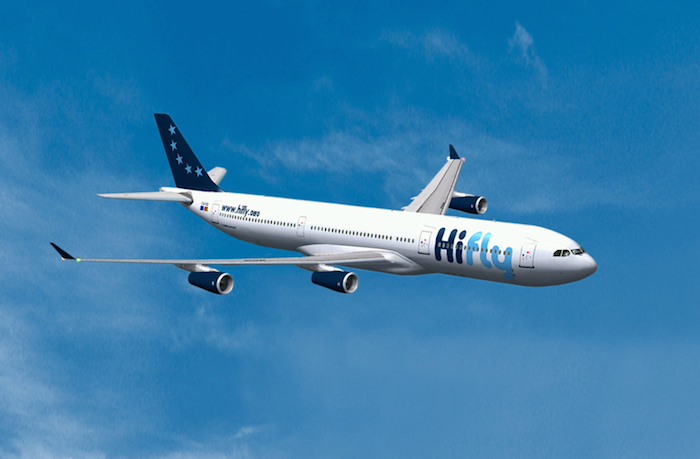 Bottom line
I really do hope La Compagnie gets their act together and is able to operate flights consistently as scheduled. And in cases where they can't, I hope they do a much better job of communicating with passengers.
While I've pointed out La Compagnie's flaws, I've also explained a countless number of times how much value they add for the leisure traveler, given their excellent pricing. It's just kind of tough to recommend an airline which contacts customers a week before departure to tell them their flight will actually operate two days later, regardless of how good the prices are…
I do hope to give them another try soon, though.