Hello from New York! While I had an amazing time in the Maldives, it's nice to be back "home" (whatever that means).
As you guys know, I flew Cathay Pacific business class home from the Maldives, thanks to the cheap business class fares they publish between Male and New York. So over the weekend I flew from Male to Hong Kong to Newark.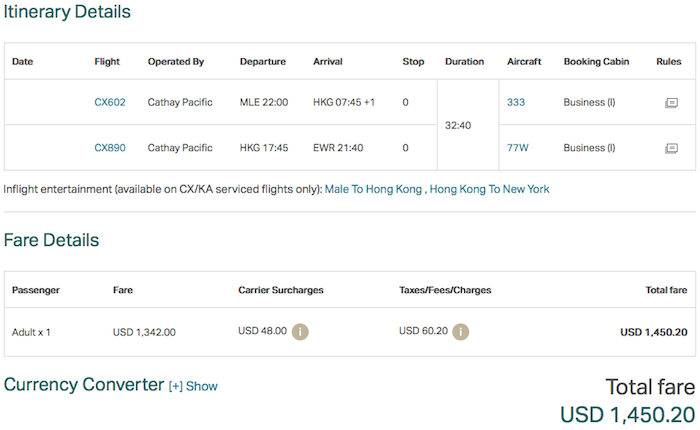 Up until now I've never reasonably been able to justify flying Cathay Pacific business class rather than first class. When redeeming American miles for travel between the US and Asia, the cost for first class is only 12,500 miles more one-way than the cost of business class. Given all the extra services, booking first class is a no brainer.
That being said, in the interest of the blog, there's value in reviewing Cathay Pacific business class:
So… how was Cathay Pacific business class? While I'll start publishing a detailed trip report about the journey this week, here are my initial thoughts. To keep things simple, I'll focus specifically on the Hong Kong to Newark flight, which was operated by a three cabin 777-300ER (featuring business, premium economy, and economy).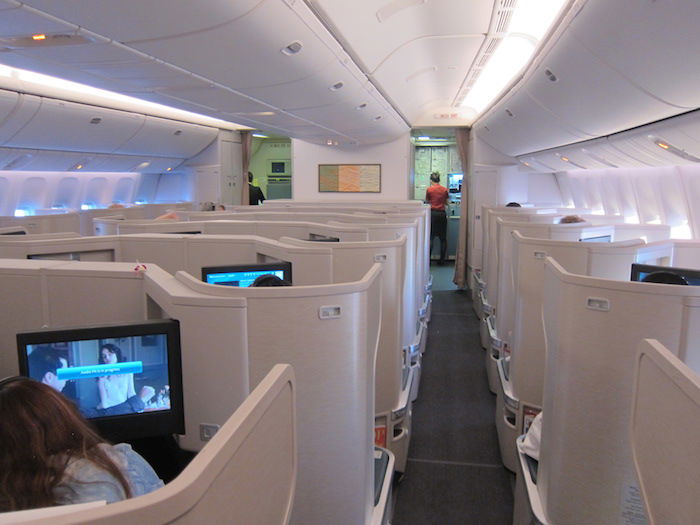 Cathay Pacific business class seat
Cathay Pacific has reverse herringbone seats in business class throughout their longhaul fleet, which is my favorite business class hard product in the world. You can't beat fully flat seats with direct aisle access.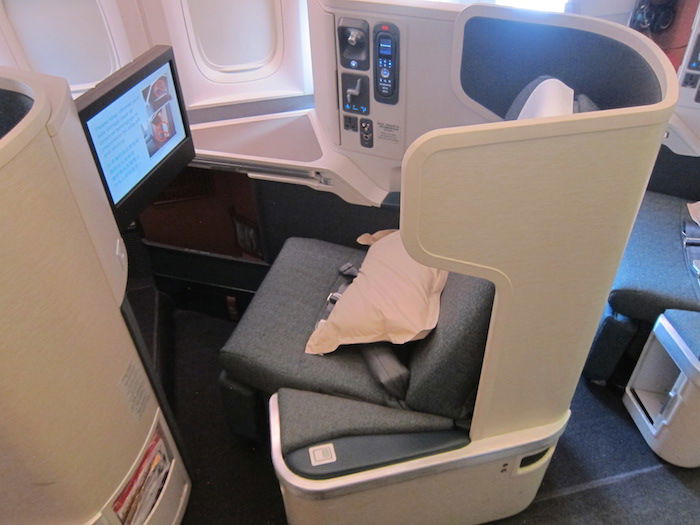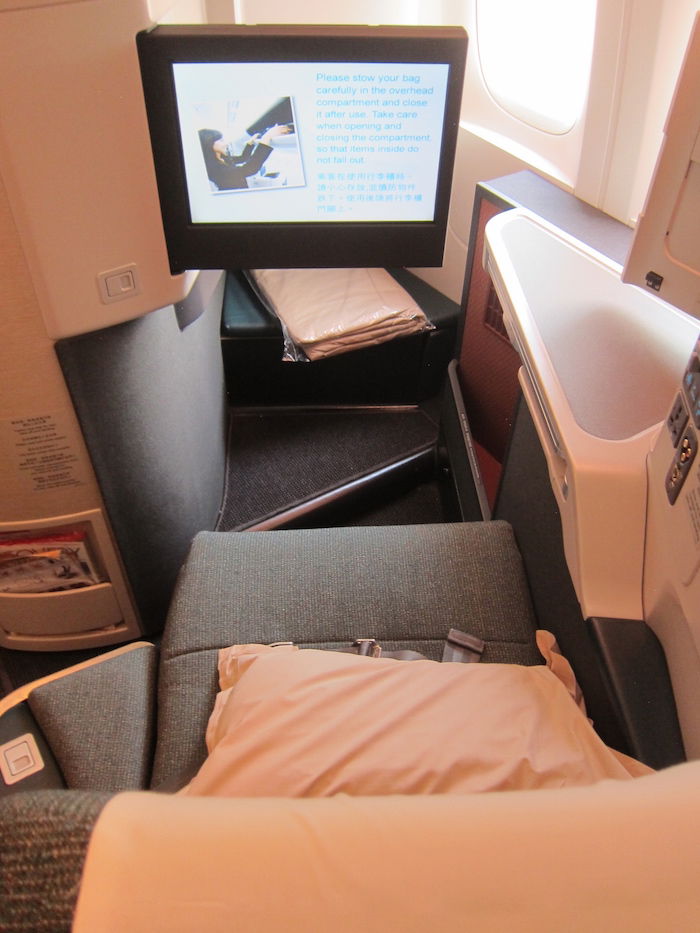 The entertainment selection is excellent as well, with the same StudioCX programming Cathay Pacific offers in first class.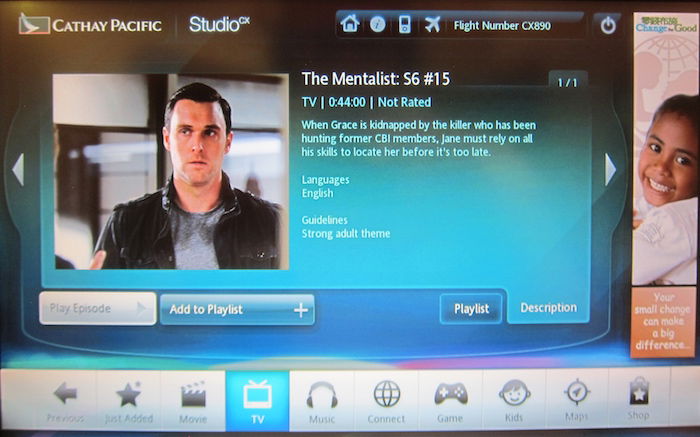 Cathay Pacific business class food
The meal service sort of surprised me, though not necessarily in a bad way.
The meal service seemed to very much be focused on efficiency. I can appreciate that on a six hour redeye, but on a 15 hour flight it's a bit strange, in my opinion.
First of all, each course was served off a nice trolley with all the options displayed, which I appreciated.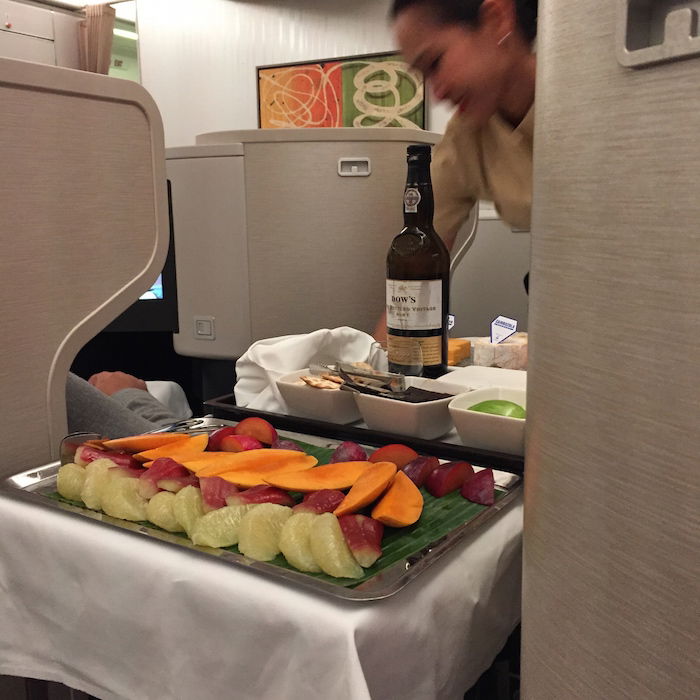 The first course consisted of a salmon and shrimp starter as well as a small salad.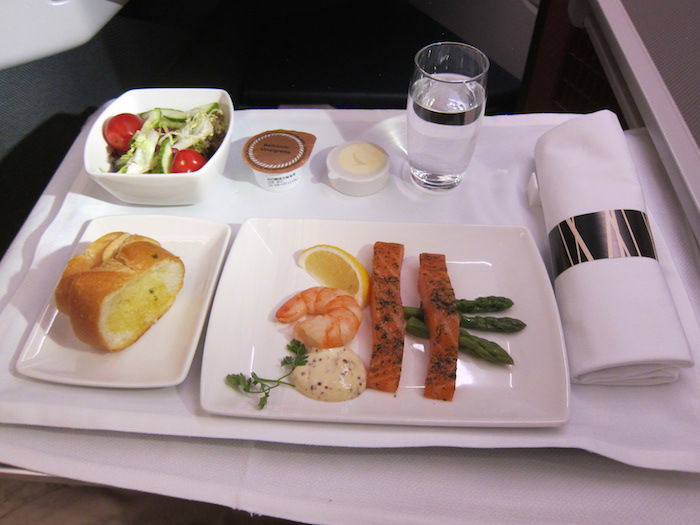 Then the main course was served. I selected the Chinese cod.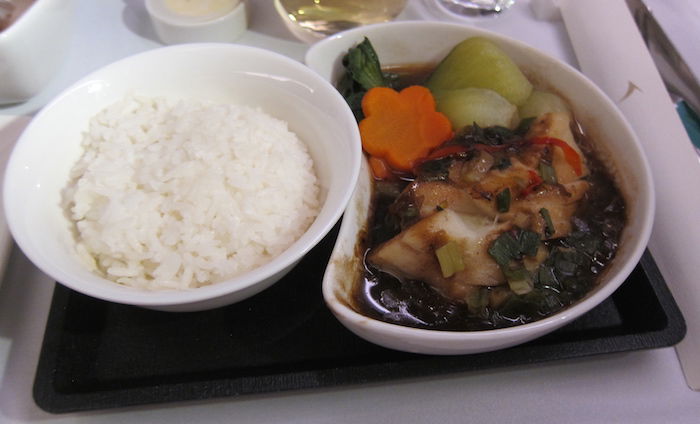 Then there was a cheese and fruit course.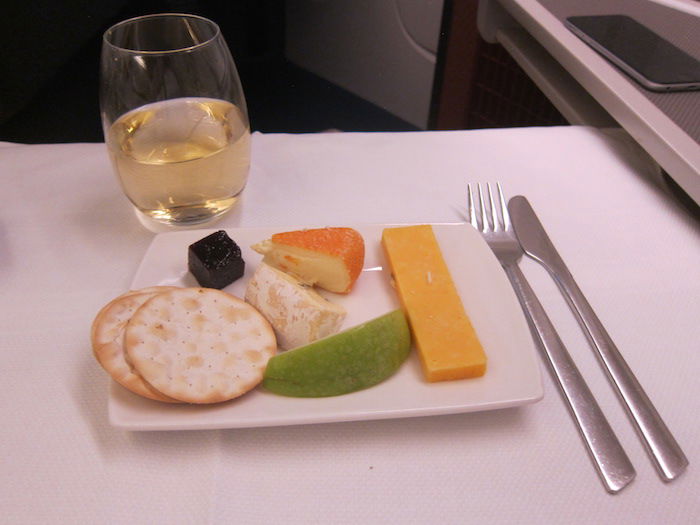 And then a dessert course, which consisted of a pear crumble tart.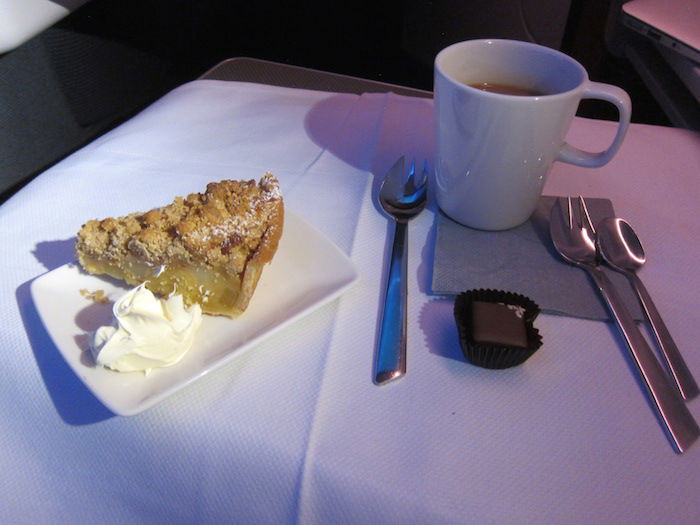 What I found a bit odd was that the first round of drinks were only served after the appetizer was served. On a 15 hour flight you'd think there would be time to first do a round of drinks with some nuts, and then proceed with the meal service. Interestingly there were nuts on the drink trolley, though I guess they weren't offered due to timing, since it's a bit odd to give someone nuts while they're finishing their starter.
As far as the food quality itself goes, while not to the level of Austrian's business class catering, it was still quite good. While the meal was unmemorable, at least they executed well on what they were serving.
In terms of the highlights of the meal, the cod I had for the main course and the pear tart I had for dessert were exceptional.
While I think Cathay Pacific has some opportunities in terms of their service process and plating, the food itself was quite good, roughly what I was expecting.
Cathay Pacific business class service
The crew on this sector was quite good. They were attentive during the meal service, and then kind of disappeared between meals. I was fine with that, because when I pushed the call button they cheerily appeared within seconds.
During the meal service I felt like I was part of an assembly line, but in a personalized way, if that makes sense. In other words, I was addressed by name and with a smile every time they approached me, but they wouldn't proactively offer drink refills or clear anything on my tray, since they were "just" working the cart.
Cathay Pacific business class amenities
I was offered a nice amenity kit after takeoff, though I was surprised by the lack of slippers. I know it sounds minor, but I really appreciate when airlines offer slippers. I don't like to go to the lavatory in my socks, and I hate having to put on my shoes every time, so I find slippers to be super-useful.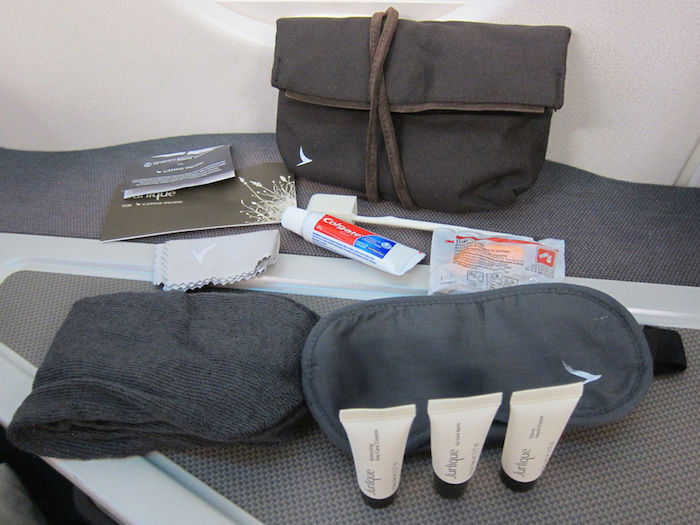 The bedding was very good. While there wasn't a mattress pad, the blanket itself was well padded, and the pillow comfortable.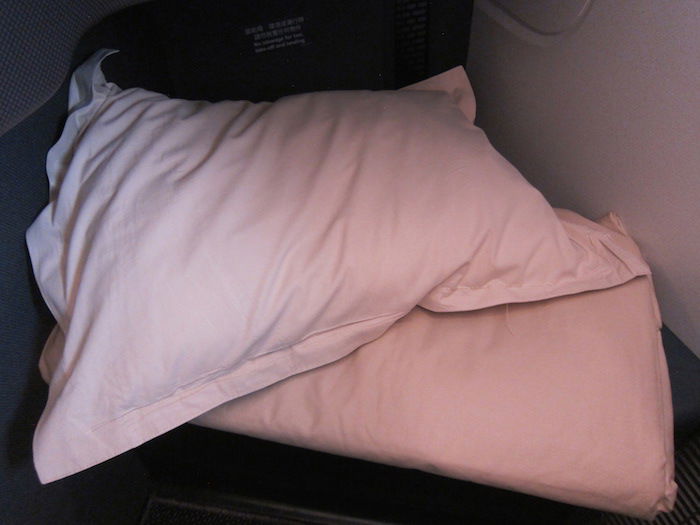 Cathay Pacific business class bottom line
I've flown dozens of sectors in Cathay Pacific first class, and have always said that I find Cathay Pacific to be one of the most consistent airlines out there.
After doing two sectors in their business class, I got the same feeling. I've long said that business class is all about the seat, and everything else is just the cherry on top.
While Cathay Pacific business class is sort of "no frills" in terms of the soft product, that's not necessarily a bad thing. Give me a great bed, an edible meal, and show up when I push the call button, and I'm a happy camper.
While I of course continue to think redeeming miles for Cathay Pacific first class whenever possible is a no brainer, if traveling in larger parties or if first class awards aren't available, Cathay Pacific business class is a great option.
If you've flown Cathay Pacific business class, what was your experience like?