In the interest of full disclosure, OMAAT earns a referral bonus for anyone that's approved through some of the below links. The information and associated card details on this page for the The Platinum Card from American Express, and The Business Platinum Card from American Express cards have been collected independently by OMAAT and has not been reviewed or provided by the card issuer. These are the best publicly available offers (terms apply) that we have found for each product or service. Opinions expressed here are the author's alone, not those of the bank, credit card issuer, airline, hotel chain, or product manufacturer/service provider, and have not been reviewed, approved or otherwise endorsed by any of these entities. Please check out our advertiser policy for further details about our partners, and thanks for your support!
While I'm primarily loyal to World of Hyatt , I've actually been fairly impressed by Hilton this year. They've really stepped up their game on the promotion front, especially when it comes to all properties participating. Hilton is now even matching all the way to Honors Diamond status, following the lead of Hyatt.
Honors Gold vs. Diamond status
I've been either Hilton Honors Gold or Diamond for years. Hilton sure makes it easy to earn status with them through credit cards:
I pondered if there was any value in Honors Diamond status.  I just didn't see much differentiation between Gold and Diamond status. The one suite upgrade I got was on my first ever stay as a Diamond member, at the Hilton Budapest.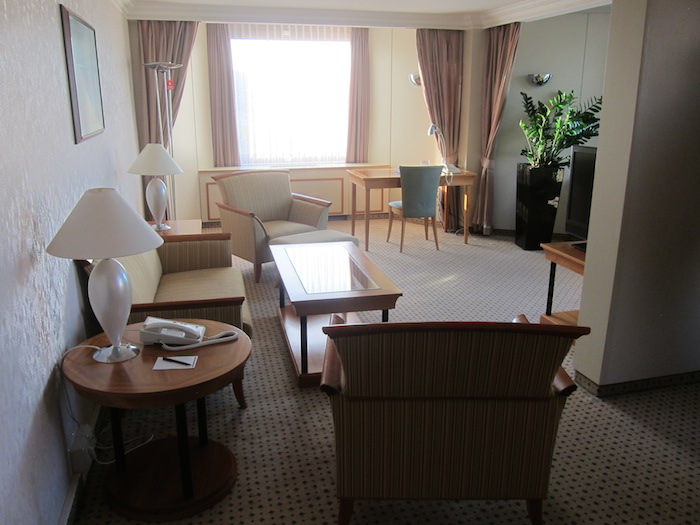 My only suite upgrade at the Hilton Budapest
Hilton Honors Diamond suite upgrades
While Hyatt offers Diamond members four confirmed suite upgrades per year (each of which can be used to confirm a suite upgrade at the time of booking for up to seven nights) and Starwood offers unlimited complimentary suite upgrades based on availability (plus 10 Suite Night Awards if you qualify with 50 nights), Hilton doesn't guarantee any sort of suite upgrades, even based on availability.
Instead Hilton changed the terms of the Honors program in 2012 to give hotels the latitude to offer suite upgrades. At the time they changed the terms to say the following (bolding mine):
Complimentary room upgrades for Gold and Diamond Honors members may include the next-best available room from the room type booked. Upgrades may also be rooms with desirable views, corner rooms, rooms on high floors, rooms with special amenities, or rooms on Executive Floors, as identified by each property. Room upgrades, for Diamond members only, may also include suites.
To me saying "room upgrades may include suites" is different than saying "room upgrades include suites based on availability." The former is simply giving hotels the discretion to offer suite upgrades if they feel like it, while the latter is a promise based on availability.
I had asked in the past about how best to approach Diamond suite upgrades with Hilton, though even with a bit of effort I never had much luck.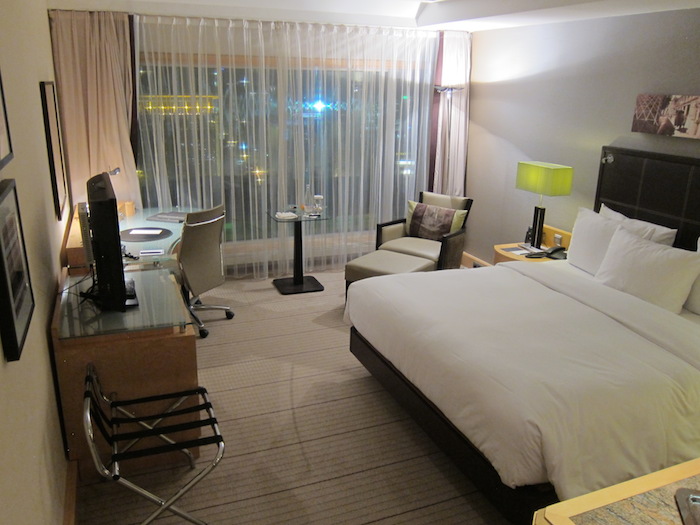 No suite upgrades for me as a Hilton Diamond member!
Does a reader have the answer?
Only a very small percentage of blog readers read the comments section, and an even smaller percentage comment. Perhaps the blog's most prolific commenter is DCS, who is a Hilton fanboy extraordinaire.
Every time I say Hyatt offers four confirmed suite upgrade awards he corrects me to say that Hilton offers unlimited suite upgrades (to him there's no difference between a suite upgrade confirmed at the time of booking and one at check-in based on availability and at the discretion of the hotel).
Every time I say Hyatt and Starwood offer guaranteed 4PM check-out, he says Hilton offers the same, since he has never had a problem with late check-out.
So I like to joke around with DCS, but I do think there's something we can learn from him. He claims he received suite upgrades on 12 of 12 Hilton stays last year, and also received suite upgrades on 11 of 13 Hilton stays this year. He has posted pictures of all his suite upgrades online, and I have no reason to believe he's lying.
So I asked him how he scores a suite upgrade on almost every Hilton stay. Here's his answer:
Now for your query about how to frame the suite upgrade requests. Each situation is, of course, unique and different and must be "read" carefully. My goal is always to get a property to check, in good faith and not just for show, whether any suites are available. So, when I am told that as a valued Diamond member I have been upgraded to a nice room on the executive floor, I would smile and say that I had really hoped to be considered for a complimentary Diamond suite upgrade because there seemed to be quite a bit of availability when last I checked. At this point if the person checking me in has managerial privileges s/he would say: "Let me check…" Someone with no managerial privileges would contact the manager, who may respond by asking the agent to see what is available. If the search turns up something, I would be upgraded. Sometimes, I would be told that there was no immediate availability but if I was willing to wait for a day or two a suite would become available. This is usually a sign that the search for availability was genuine. Since my stays tend to be long, I have exercised the option to wait for a suite on a couple of occasions (it is how I wound up in an Executive Suite for 7 nights on a 9-night stay at Hilton Singapore last year).

If I sense some reluctance, I would generally come out and say why a suite a upgrade is so important to me, especially on lengthy stays – I am an academic [I am a Very Serious Person] who does a lot work on the road, and since this is going to be my "home" for the next, e.g., 6 nights it would really be great to have room to work.

If a property is fully booked, I would provide them with a rationale for upgrading me to a suite: it would free a more affordable standard room for someone else to book. It works well because I believe that is why I was automatically upgraded at Hilton Phuket, or at Hilton Melbourne or at HHV as a HH Gold. Each property was packed and in high demand so top elites likely got upgraded to free more affordable rooms. You just need to nudge them into doing something that they were probably already considering…

Bottom line: the above is just a sampling but each situation is unique. What is certain is that you will miss 100% of the shots that you do not take. Do not expect to be automatically upgraded to a suite very many times because I suspect that the unspoken/unwritten policy is that suite upgrades should not be offered unless explicitly requested by a Diamond member.

Just as important is that one must be good-natured about it all. Establishing a good rapport from the outset may, in fact, be the most important factor…

"Pushy" won't work. I ought to know because, after all, I have a perfect suite upgrade record. 😉
What do I make of this advice?
We can sit here and laugh at the prospect of getting suite upgrades as a Hilton Diamond, as I have for a long time. But I do believe DCS is being honest, and maybe we can all learn something from him.
At Starwood front office associates are used to being asked about suite upgrades, since it's a published Platinum benefit. Meanwhile I doubt there are many people as persistent as DCS when it comes to suite upgrades at Hiltons. Clearly being polite but firm (and indicating that one is a Very Serious Person) is the key to suite upgrades with Hilton.
If I didn't love Hyatt and Starwood as much, I'd almost give this a try.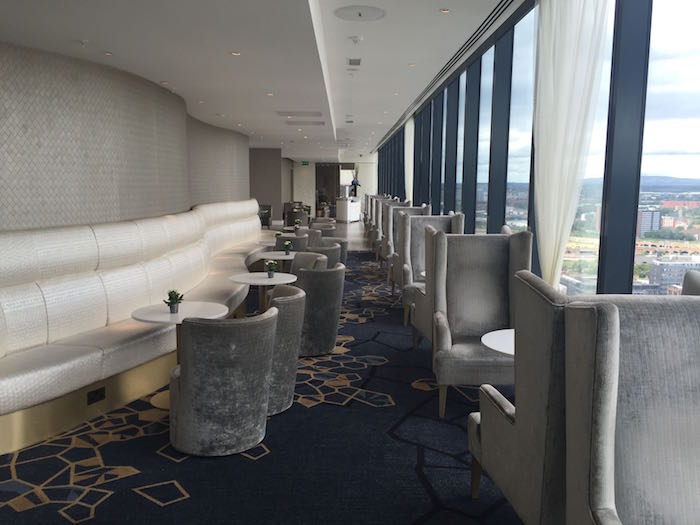 Hilton Manchester Deansgate executive club
What do you guys think?
I know I'm not alone in having a terrible upgrade record back when I was a Hilton Diamond. But I was also largely too sheepish to outright ask for a suite upgrade. Do any Hilton Diamond members use the same method outlined above? And if not, will you give it a try, given the above reported success?
I'm curious to hear if this works for others as well.