Yesterday I was scheduled to fly from Providence to Chicago to Los Angeles on American, though my flight from Chicago to Los Angeles was canceled right as I was about to board my flight from Providence to Chicago.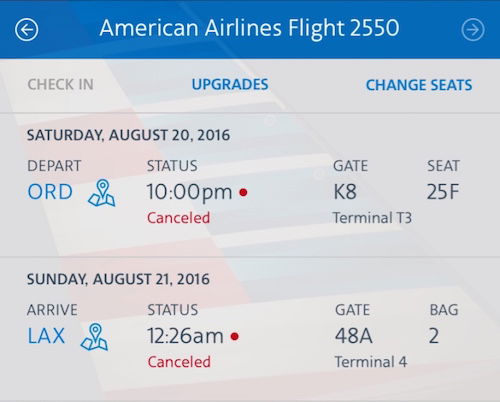 I decided to just not board, given that it was the last flight of the night, and the next flight from Chicago to Los Angeles with any availability was for Sunday evening.
I hopped on ITA Matrix, and saw that Delta had a first class fare leaving at 6AM this morning for just $80 more than I originally paid for economy on American. That seemed like the best bet, since otherwise I'd be stuck overnight in Chicago, only get back to Los Angeles this evening, and would almost certainly be in coach for the longer segment.
I was also excited to fly Delta in general, given my dissatisfaction with American, and that I've been considering switching to Delta. American's frequent flyer program used to be a point of differentiation, though nowadays is average at best. However, what has been absolutely horrible is their operational performance, which they're supposedly working on fixing (though based on my recent flights, I'm not impressed).
So, how was Delta, which is generally regarded as the best of the US legacy airlines, and also the self proclaimed "on-time machine," which achieves "unprecedented reliability" (at least that's what Delta's CEO tells passengers before every flight)?
Well, Delta was decidedly mediocre, so it very much felt like "business as usual." I'm not suggesting that two flights are completely representative of the airline, though they didn't blow me away in the same way that JetBlue did a couple of weeks ago (not that I was expecting them to, given that JetBlue Mint is a very special product).
I figured I'd share my very general thoughts of the Delta experience:
Delta first class seats & comfort
Both flights were operated by old planes (an MD-80 for the first segment and a 767 for the second segment). I was impressed that despite both planes being old, they had power ports, which American has no plans to install on their ex-US Airways domestic planes.
That being said, the seats themselves were tight, and there were no headrests, which I found annoying. I do like that Delta has both a pillow and blanket, though. Even if the quality is kind of crappy, American doesn't offer pillows in domestic first class nowadays.
Delta service
Service has been unremarkable, and similar to what I get on American. The flight attendants were fine. They weren't especially hardworking or overly warm, but they weren't rude either. They did seem a bit lazy at times, though. For example, we were sitting on the ground in Providence for almost an hour (there was a 30+ minute delay), and were only offered one set of pre-departure beverages. It wouldn't have killed them to offer a refill on coffee at 6AM.
The gate agents were also similar to what I've had at American.
Delta food
The food was okay, though perhaps not even better than what American serves. The breakfast consisted of granola, fresh fruit, yogurt, and a croissant, and was the better of the two meals.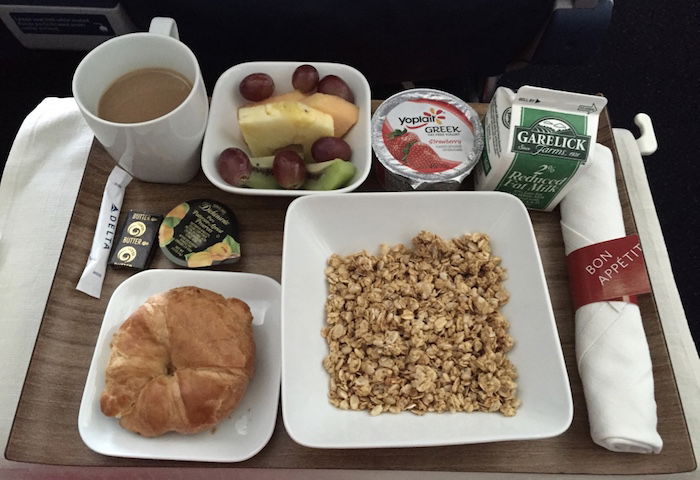 The lunch service was underwhelming. By the time they got to me they were out of salads, and only had a pork calzone. I don't eat pork, so the flight attendant told me I could buy something from the buy on board menu if I wanted to.
On principle I was a bit surprised she wanted me to pay for it (there are a lot of people who don't eat pork, so having that as the only option is a bit annoying), and when I sort of gave her a strange glance, she said "I guess I can comp it for you since you didn't get your choice."
The economy wrap was quite good, though I found the first class meal accompaniments to be strange. There were no nuts before the meal, and the sides consisted of a small salad (which was good), as well as some cheese and grapes and a brownie. There were no crackers or a roll with the cheese, which was a bit odd, since it wasn't exactly high quality cheese. Delta also doesn't serve anything with their drinks (no nuts or pretzels or anything).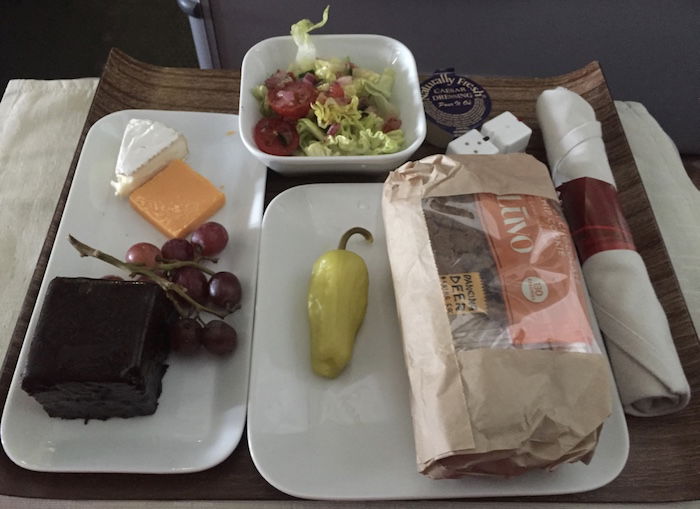 Bottom line
I wasn't expecting great things from Delta, so I wasn't really disappointed. Based on my two flights with them, there's not a discernible difference between the experience they offer, and what I get on American. Perhaps the biggest difference for me is that Delta has power ports on virtually all their planes. Meanwhile the ex-US Airways planes, which make up a big part of American's domestic fleet, don't. Furthermore, Delta has better operational reliability, though in today's case, both flights left late.
The one thing that really does tick me off about Delta, though, is their arrogance. American's slogan is "Going For Great," which is a stretch to begin with. Meanwhile Delta calls themselves things like "the world's most trusted airline" and claims to offer "unprecedented reliability."
To me, Delta's arrogance is a bit off-putting. They're sort of like that person on a location based social network application who leads by bragging about their you-know-what, when in reality they're just like everyone else. C'mon, Delta, show us that you're the on-time machine, and the world's most trusted airline, and offer unprecedented reliability… don't tell us.