---
This stay was doomed from before I ever visited, I suppose. My flight from Singapore landed at Haneda Airport at around 10AM, while my flight to San Francisco was departing at midnight, leaving me with 14 hours. I was mostly staying on US time on this quick trip, as I had worked for a majority of the redeye, and wanted to sleep for a bit during my layover.
There's a hotel connected to the international terminal at Haneda Airport, called The Royal Park Hotel. I had emailed them in advance to ask if they sell day rooms, and they indicated that they didn't:
Unfortunately, we do not have day use service for the room.
If you want to stay our hotel, you need to make your reservation for 1 night.

Our hotel's regular check-in starts from 03:00 pm.
Therefore should you wish to early checking-in as guarantee, additional charge will be necessary.

We appreciate your understanding.
Should you have any other inquiry please let us know again.
As I wrote about in a previous post, I find that to be incredibly bizarre, as I don't remember ever visiting an airport hotel where you couldn't book a day room. It's a win-win, as it allows the hotel to sell a room twice in one day, in many instances (given that many people check into airport hotels late at night).
Several readers reassured me that I'd be able to work something out upon arriving at the hotel, though, and that the hotel simply doesn't allow advance booking of day rooms. For example:
I've had no issues working it out with this hotel on arrival at HND. I've done it a dozen times.
And:
That's not right. You can get a day room there, you just show up and work in out with them. I've done it many times. They just don't book then in advanced. I actually got a day room during a 6 hour layover last week.
Okay, so I figured I'd try to work it out with them on arrival. I cleared immigration, which was an efficient process. Once in the arrivals hall I took the elevator up a level to the departures hall.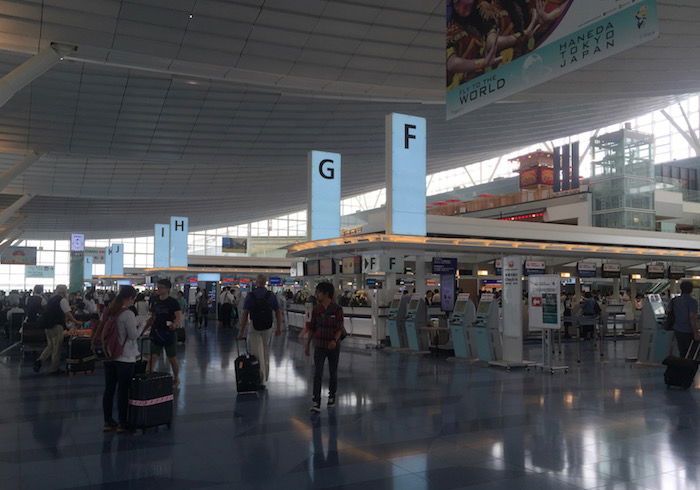 Tokyo Haneda Airport Terminal
Once there, I walked to the far end of the hallway, where I saw signage for the airport hotel.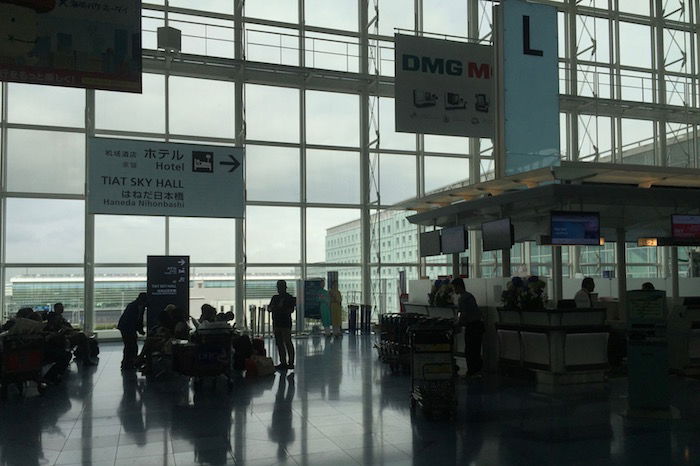 Tokyo Haneda Airport Terminal
Past the "L" check-in area I turned right, and then at the end of the hallway I turned left.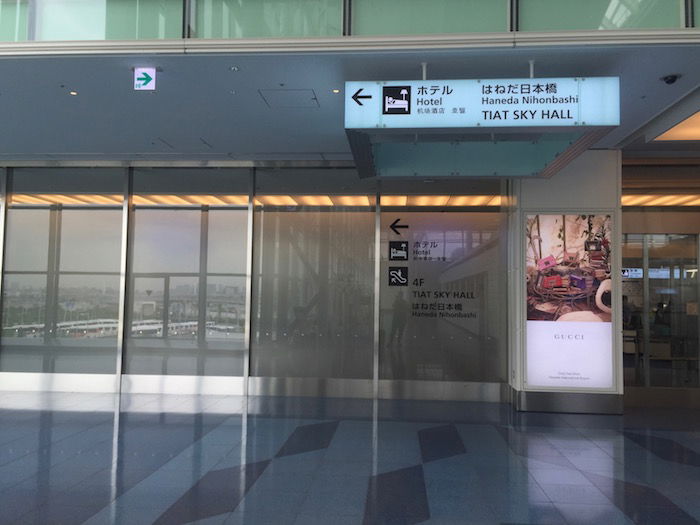 Direction to Royal Park Hotel The Haneda
I walked down a long hallway and past an escalator.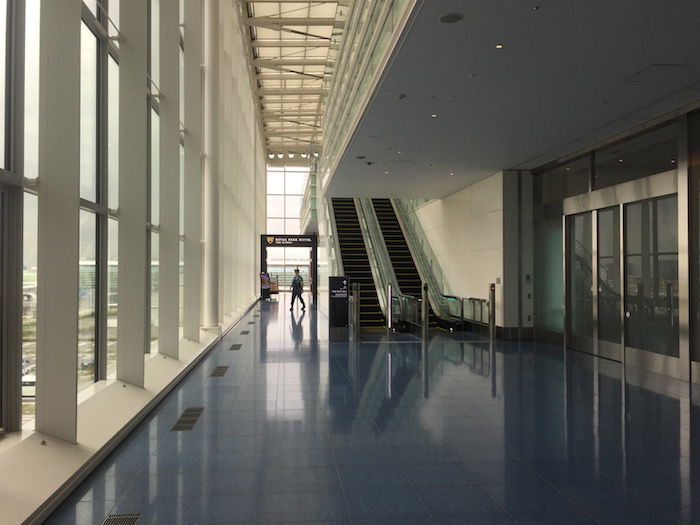 Direction to Royal Park Hotel The Haneda
There I found myself entering The Royal Park Hotel Haneda.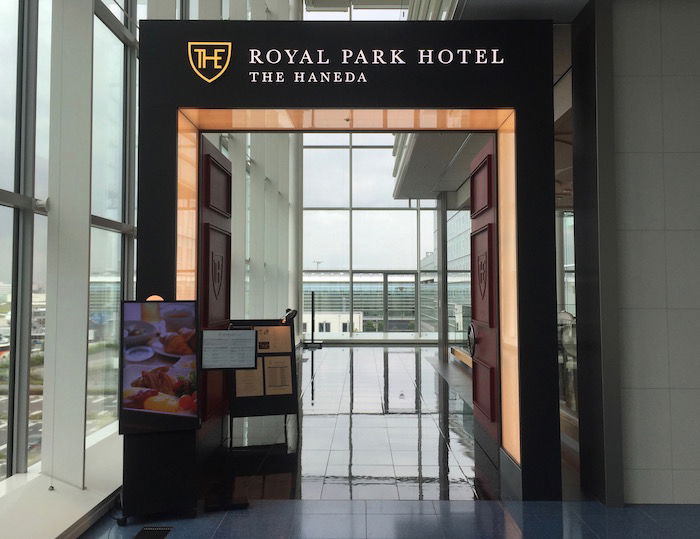 Entrance to Royal Park Hotel The Haneda
I turned right again, where I saw the hotel's restaurant, and then left again to enter the lobby of the hotel.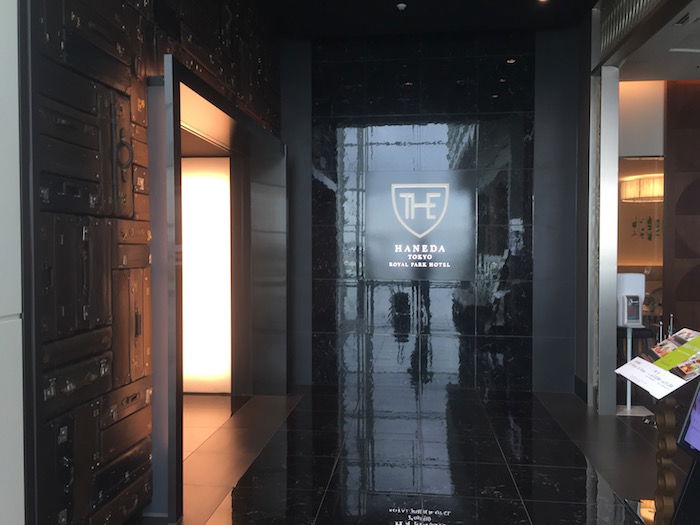 Entrance to Royal Park Hotel The Haneda
I approached the reception desk, and explained my situation, showing both my arriving and departing boarding passes. I then experienced my least favorite part of Japanese hospitality — inflexibility and the inability to apply logic to a situation.
I won't recap it all here, so see my previous post for an explanation of how they ended up charging me not only for a full night, but also for early check-in.
When I later wrote about the situation, some pointed out that there's a part of the hotel's website that indicated they had transit rooms, actually located airside.
Could I have found that area of the website? Presumably so, though I did look around the website for a while prior to my stay, and couldn't find it.
But beyond that, I received misinformation from the hotel twice:
I emailed the hotel in advance to ask if they offer transit rooms for day layovers, and they said they didn't
At check-in when I asked for a day room and showed my boarding passes, one of the four associates who got involved in my situation could have perhaps pointed out that there's an option that offers exactly what I was looking for
So yes, I could have prevented this situation if I had researched a bit more closely, but I also think it's completely unacceptable when a hotel gives you misinformation twice. If I email a hotel's reservations email and they tell me they don't have transit day rooms, I assume that's correct. And it certainly won't stop me from calling them out online for the horrible service they provided.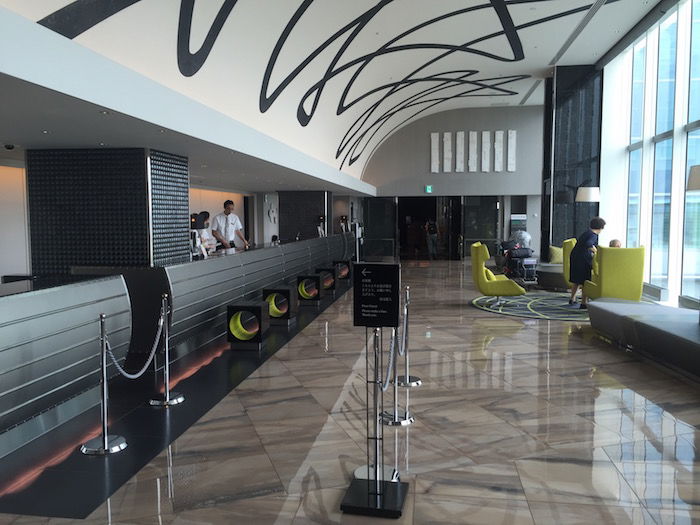 Royal Park Hotel Haneda lobby
I took the elevator up to the fourth floor, where my room (which was costing me an arm and a leg) was located.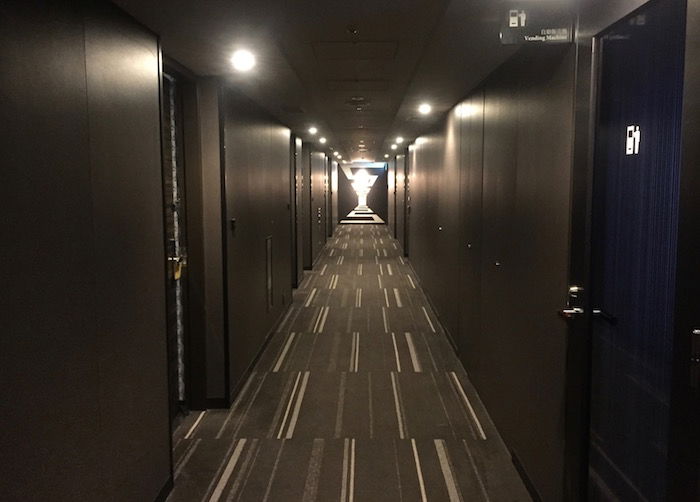 Royal Park Hotel Haneda hallway
The room was a decent size, though extremely dated.
There was an entryway with a bathroom to the left.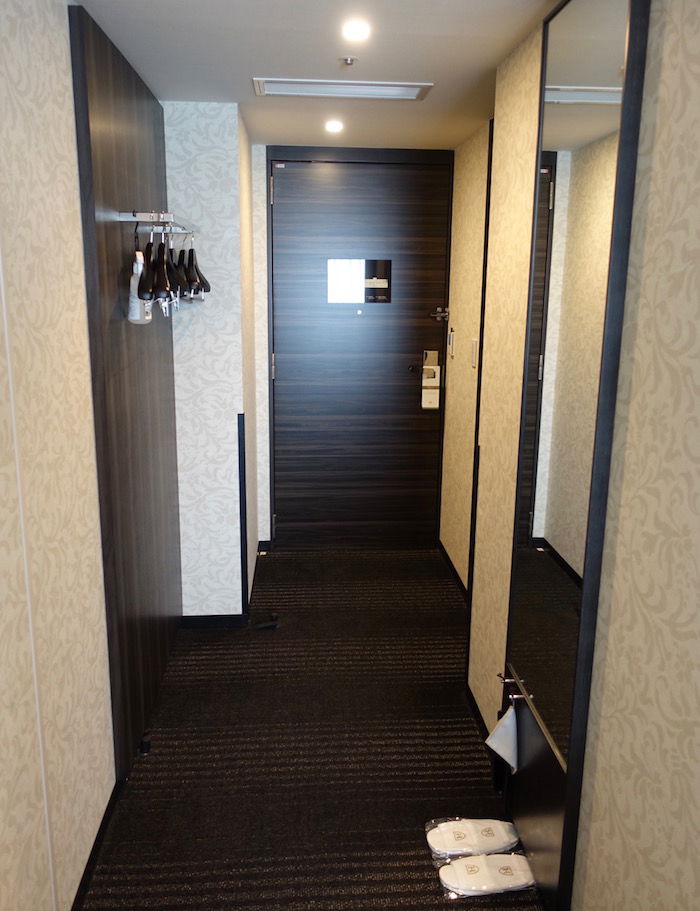 Royal Park Hotel Haneda room entryway
The rest of the room was straight ahead, and consisted of two twin beds.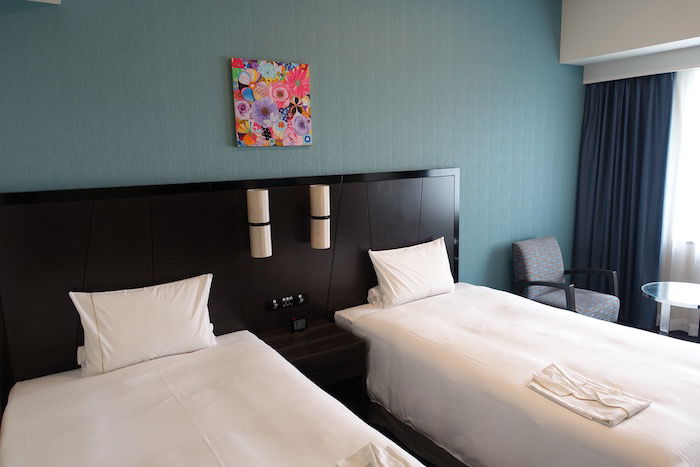 Royal Park Hotel Haneda room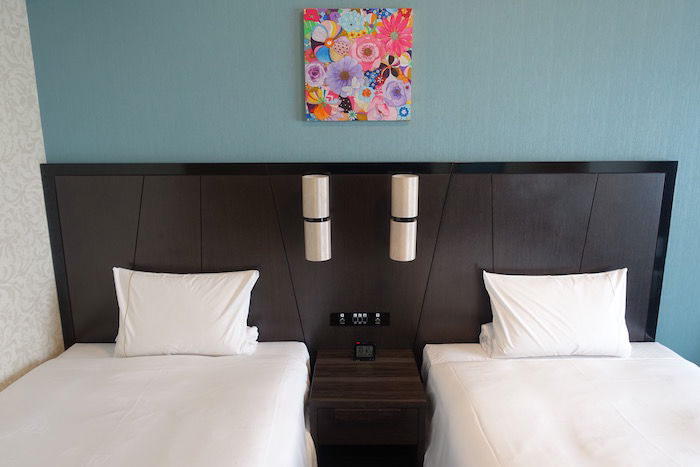 Royal Park Hotel Haneda room
There was also a TV across from the beds, as well as a desk.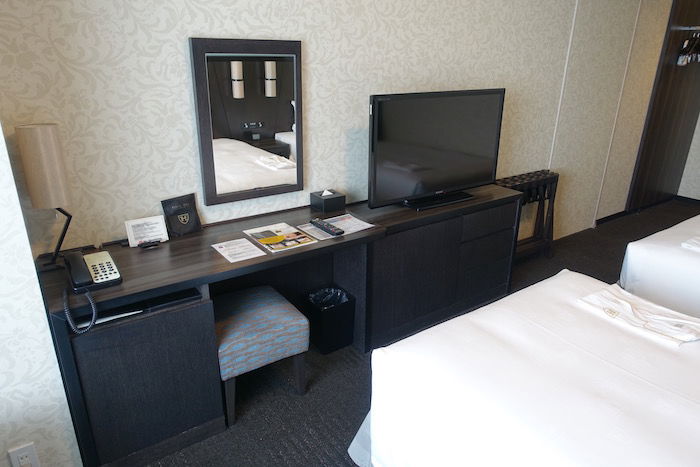 Royal Park Hotel Haneda room desk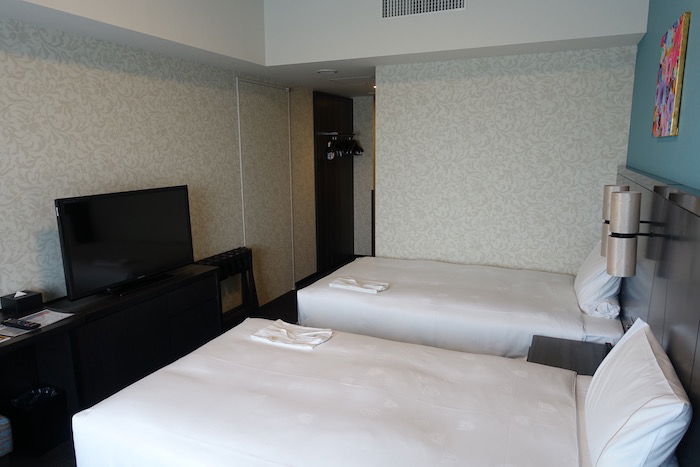 Royal Park Hotel Haneda room
Then in the corner of the room was a chair with a table that looked like a globe (which was perhaps the only furniture in the room that wasn't actively hideous).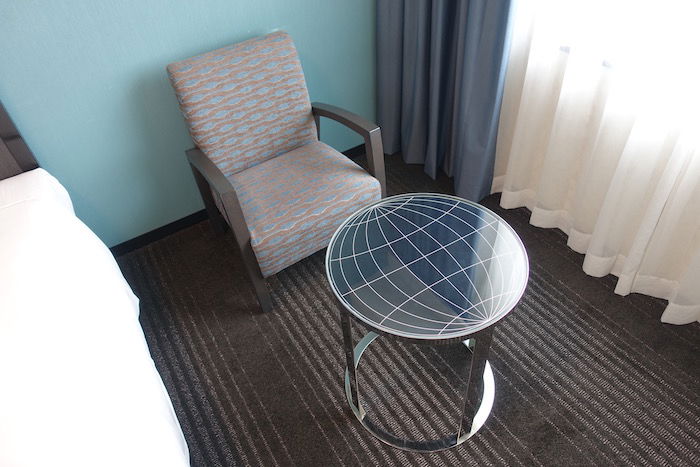 Royal Park Hotel Haneda room sitting area
The bathroom was small but functional, with a sink, toilet, shower, and bathtub.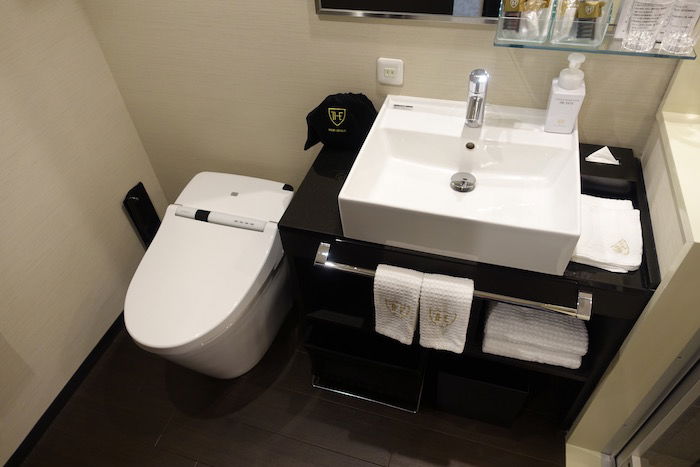 Royal Park Hotel Haneda bathroom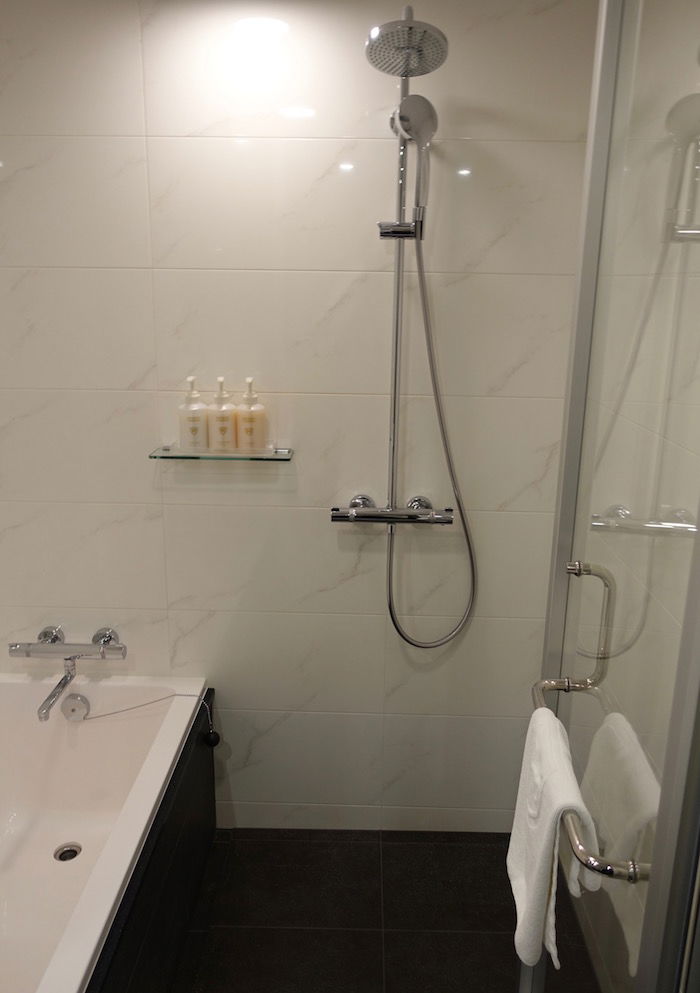 Royal Park Hotel Haneda shower
The bathtub was located in the same "room" as the shower.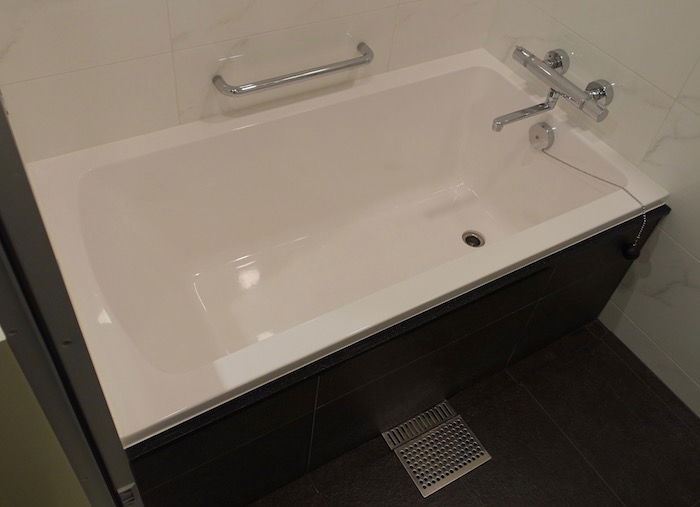 Royal Park Hotel Haneda bathtub
The room had a good number of amenities.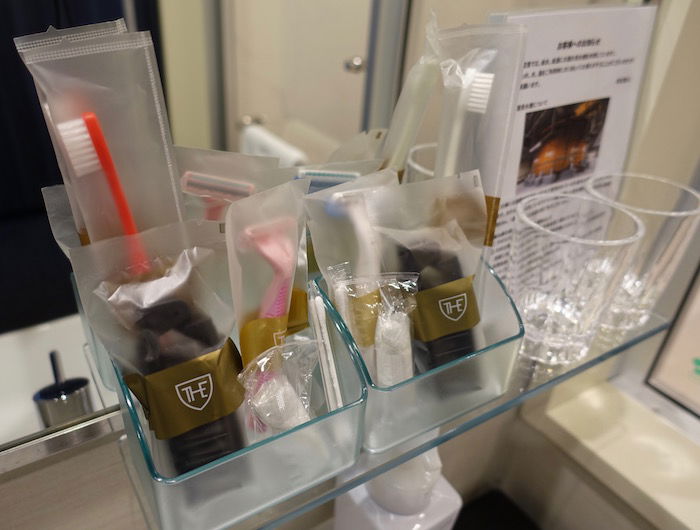 Royal Park Hotel Haneda toiletries
Toiletries were in reusable bottles, though seemed to be fairly high quality.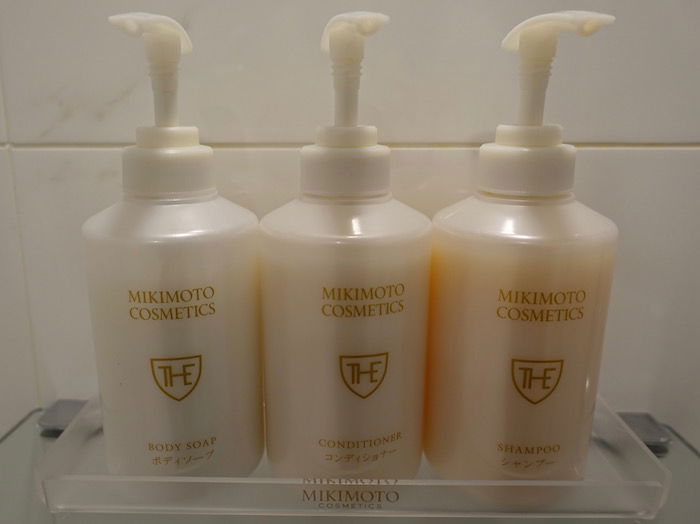 Royal Park Hotel Haneda toiletries
My room looked out over a parking lot, so there wasn't much noise from the outside. However, the walls in this hotel were paper thin, so I did hear a lot from within the hotel.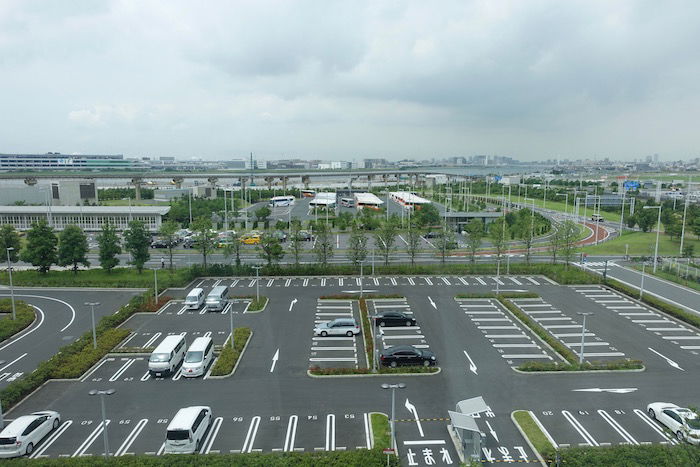 Royal Park Hotel Haneda view
While I was dead tired, I really struggled to sleep. The Brexit announcement came out around this time, so watching that kept me awake. Eventually I decided to go to the awesome observation deck at Haneda Airport, which was just a short walk away. Fortunately in the late afternoon I finally managed to get some sleep, and eventually checked out at around 8PM.
Haneda Airport Hotel bottom line
On the plus side, this hotel couldn't be more convenient for flights departing Haneda Airport, given that it's literally connected to the international terminal.
That's about the only good thing I have to say about the hotel. The hotel is expensive, the rooms are dated, and the staff were incredibly unhelpful. I wanted a day room, and after two interactions with them, they claimed that didn't exist, even though it apparently does (just in a different part of the hotel). So I couldn't recommend this place, and certainly wouldn't return myself on principle.