A few years ago I flew Gulf Air from London to Bahrain, and they were… fine. There was an onboard chef and they had flat beds, but the whole operation just sort of felt a bit past its prime. Bahrain Airport also leaves a lot to be desired.
I guess all of that isn't surprising, given Gulf Air's history. In the 1970s, Gulf Air was kind of a big deal, as they were the airline of Bahrain, Abu Dhabi, Qatar, and Oman, and they were the largest carrier in the region. At one point they even flew to Australia. Over the years that changed, as we saw the development of the other states, and eventually the introduction of Emirates Airline, and eventually other airlines in the region as well.
Gulf Air didn't do a lot to innovate for a long time, and then in 2002 James Hogan became CEO of Gulf Air, with the goal of turning the airline around. That didn't exactly happen, and then in 2006 James Hogan went on to become the CEO of Etihad Airways (and we all know that didn't end well).
Anyway, that brings us to today. It seems like Gulf Air may finally slowly be turning around, or something. I say "or something" because I'm not convinced they'll actually make money, but rather just that their government is willing to pump some more money into the airline in hopes of it once again putting Bahrain on the map a bit more. There are a few things they have working in their favor:
Bahrain is getting a new airport, which is long overdue; last I heard it's supposed to open in 2019, but who really knows, since airport construction is rarely completed on-time
Gulf Air has 21 Boeing 787-9s on order, which will help refresh their fleet and allow them to grow (presently they only have six Airbus A330s in their longhaul fleet)
As part of this growth, the airline plans to add new destinations, including additional flights to Asia Pacific, Europe, Africa, the Indian Subcontinent, and "ultimately, North America" (which I'm skeptical about)
Gulf Air will shortly be taking delivery of their first Boeing 787, which they'll begin flying between Bahrain and London as of June 2018. The airline is expected to install Apex Suites in business class, which I consider to be one of the best business class seats in the world (these are presently only available on Japan Airlines, Korean Air, and Oman Air.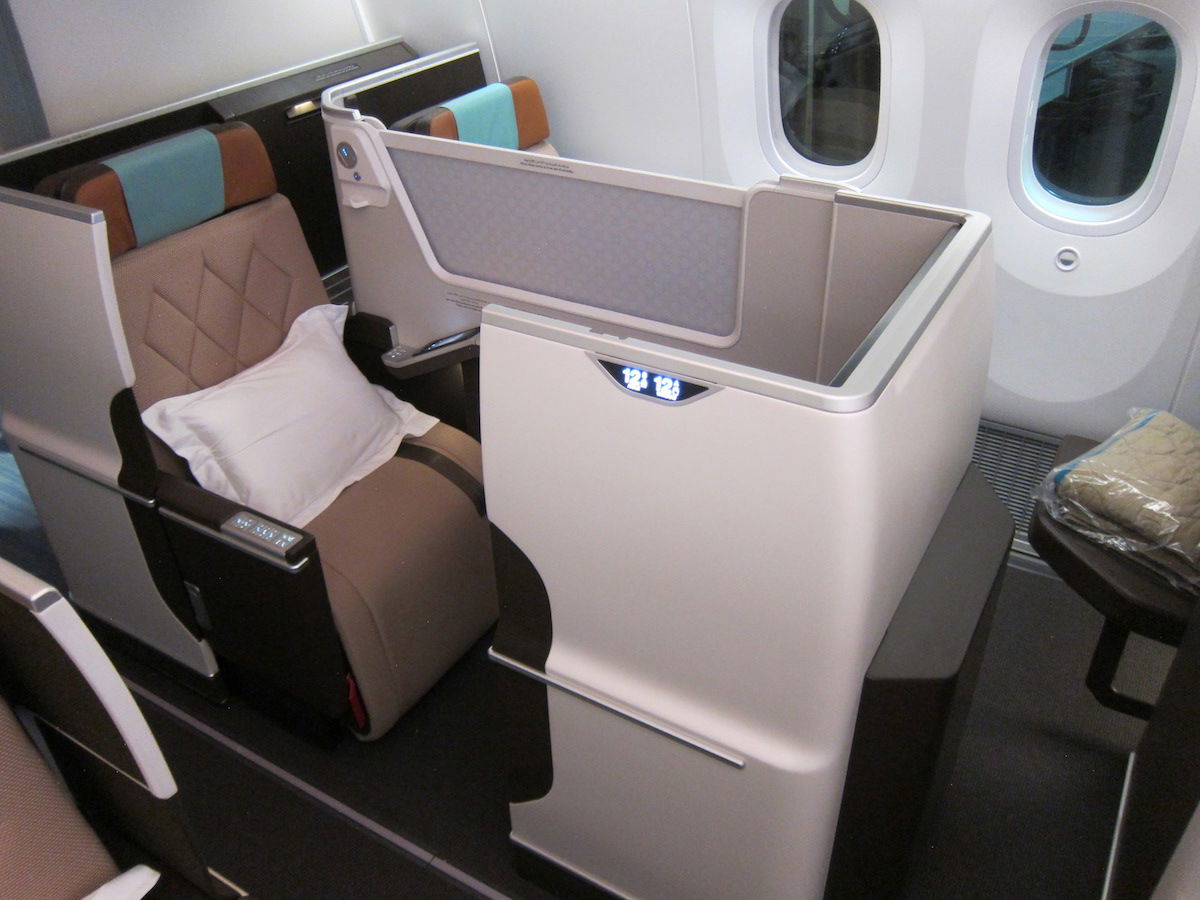 Apex Suites on Oman Air 787
Anyway, as part of their brand refresh, Gulf Air will be introducing a new livery. Personally I love their current livery, though others may find it to be a bit over the top. I love how distinctive it is, as you certainly won't mix up Gulf Air with any other airline when at an airport. Here's a rendering of what their 787 would have looked like in the old livery: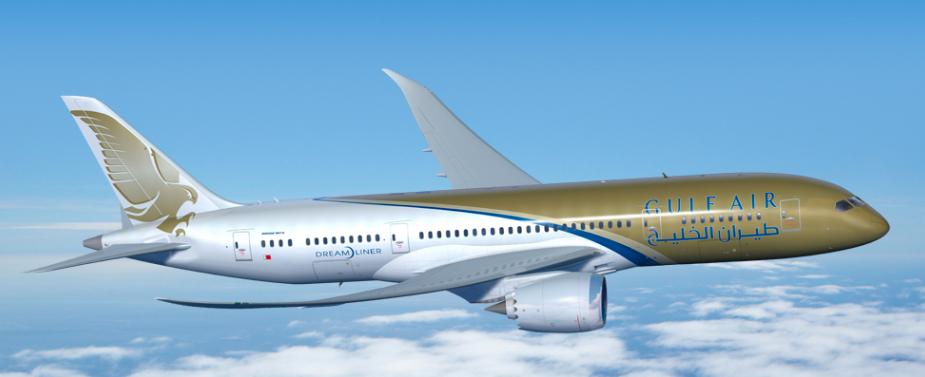 Not surprisingly, Gulf Air will be debuting their new livery on the 787, and the first fully painted one is fully visible for the first time in Everett, and a Twitter user has a picture of it:
Am I the only one who thinks this is one of the most gorgeous liveries ever? I love it. It's not over the top, but I love the beautiful tail, the gold engines, and the thick lettering… wow!
If you want to redeem miles for a ticket on Gulf Air's new 787, you can redeem American AAdvantage miles on them. However, the partnership is ending on April 30, 2018, so be sure to book before then (though you can travel on subsequent dates).
What do you make of Gulf Air's new livery? Do you prefer the new or old one?