The Gulf blockade, which has isolated Qatar from neighboring countries, has been going on since June 2017. This has all kinds of political and economic implications, and has also significantly impacted Qatar Airways, the national airline of the country. It has meant that Qatar Airways has cut all flights to Bahrain, Egypt, Saudi Arabia, and the UAE (and airlines from those countries have cut flights to Qatar).
Not only that, but this blockade has also led to airspace restrictions that apply even when not flying directly to one of those countries. Just look at the map of any Qatar Airways flight you take and you'll notice the detours.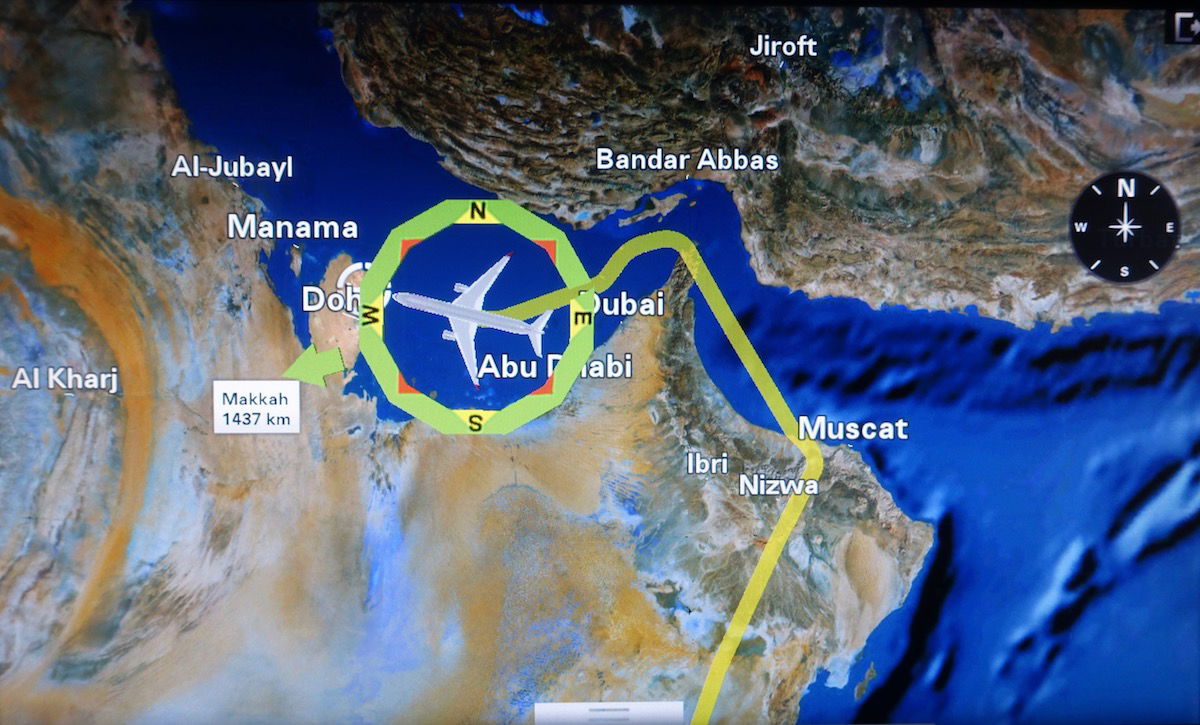 Well, at the moment Gulf Air, the national airline of Bahrain, is operating some flights to Qatar. The way they're going about this sure is… inefficient.
The Gulf Cup Is Going On In Qatar
The Gulf Cup is held every two years, and is a soccer competition between the eight members of the Arab Gulf Cup Football Federation.
What makes this kind of awkward is that the Gulf Cup is currently being held in Qatar. Despite the blockade, countries in the region are putting aside their political differences to play soccer.
So how are teams and fans being flown to Qatar, given the blockade?
Gulf Air Operating Charter Flights To Doha
In the past couple of days Gulf Air operated nearly a dozen charter flights to Doha and back, not only to transport the team, but also for fans to be able to cheer them on.
These flights should have been very quick. The direct distance between Bahrain and Doha is just 92 miles, so the flights should have maybe taken 20 minutes.
But that's not how Gulf Air operated these flights. Rather they operated 80 minute, 550 mile flights. The flights took 4x as long as they needed to, and covered over 5x as much distance as they needed to (give or take).
Gulf Air operated all of their flights via Kuwait airspace, and then the planes made 180 degree turns. Here's the map for one of the flights via FlightAware, though all special charter flights more or less followed the same path.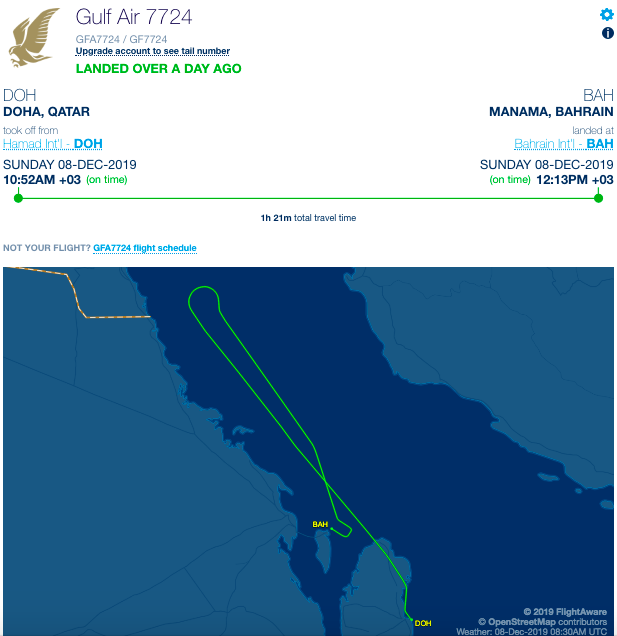 This applied in both directions (from Bahrain to Doha, and from Doha to Bahrain).
Why Would Gulf Air Operate These Routes?
Why on earth would they operate a route like this?
@AlexInAir says that Qatar gave Gulf Air permission to operate the flights "direct" using their airspace. He suggests it's because on principle Bahrain don't want to "open" the airspace between the two countries, so they're instead flying via Kuwait. Kuwait has relations with Qatar, and also with the countries blocking Qatar.
In other words, there are regular flights from Bahrain to Kuwait, and regular flights from Kuwait to Doha. So this way they can operate the flight using "normal" airspace.
Gulf Air hasn't provided an explanation one way or another. So is there another possible explanation beyond pride?
I'd say it's also possible that there was simply some bureaucracy involved here. Even with Qatar having allegedly given permission to use the airspace, due to the blockade this is airspace that hasn't been used in a couple of years. It could be that at this point they're simply not set up to use the airspace, to hand over ATC communications, etc.
One thing is for sure — this is incredibly wasteful. My hope is that this comes down to stupid bureaucracy rather than pride…