In the interest of full disclosure, One Mile At A Time earns a referral bonus for purchases made through some of the below links. These are products and services we use ourselves, and are the best offers we know of. Check out our Advertising Policy for further details. Thanks for your support!
Update: I have happily used Fi for three years now, but there are some systemic issues with Google that can cause major problems that you should be aware of before you switch.
---
Google Fi has just announced a tremendous improvement to their international service. Beginning today, Project Fi users will receive the highest speeds available on the network, regardless of where they are in the world.
There has been some confusion about the available speeds in the comment sections of earlier posts, so this is perhaps a good time to clarify. Cell phone providers have roaming agreements with other networks, and are able to control both what is accessed, and what speeds are delivered to customers. That's how T-Mobile has been able to give their customers unlimited 4G LTE data while in Europe this summer, for example, but generally only promises 2G.
Going forward, Google Fi is removing all those limits for their customers. Depending on the network you're connecting to (and the associated roaming agreements), this could still mean 2G speeds. But if 3G or 4G/LTE are available, you'll have unbridled access.
In practice, I haven't experienced speed throttling with Google Fi (though I know others have), but it's nice that they're making this official.
Beyond that, Google has added Three as a roaming partner, which should provide more connection options and faster speeds.
This is a great improvement, and hopefully will push T-Mobile to remove their limits as well. Maybe the other carriers will even catch on!
Even better, Google is offering $150 off the purchase of a Nexus phone, so this is a pretty good time to switch if you've been on the fence.
Google Fi or TMobile?
I am incredibly evangelical about Google Fi at the moment, and think it's the hands-down best phone plan for high-frequency international travelers.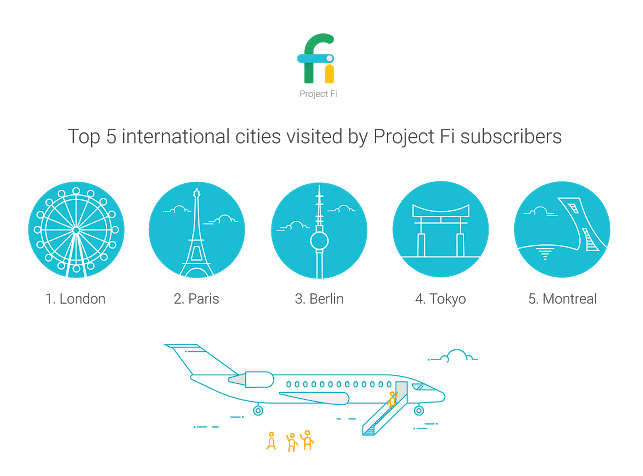 We're saving well over $800 this year in my house by switching to Google Fi.
I love the pay-as-you-go pricing, and the flexibility that provides
The additional data-only SIM cards are great for tablets, back-up phones, and even family when traveling
At the same time, I actively campaigned for Ben to get T-Mobile. Why?
Ben is on a family plan with his parents, and the pricing on T-Mobile is more competitive when you're paying for multiple people with varying data needs
The tie-up between T-Mobile and Gogo is super convenient for those who don't travel enough to justify a monthly Gogo pass, so is perfect for Ben's parents
T-Mobile has storefronts, and Ben is….well, it's better for me if he can go and talk to the nice people at the phone store versus Tiffany Tech Support, let's put it that way
I would probably send my mom to T-Mobile for similar reasons. I'm sending my cousin Heather to Google Fi.
Either way you'll be able to play Pokémon Go while traveling internationally, which is all that really matters. 😉
Buying a Google Fi phone
Unofficially, Google Fi will work just fine with most unlocked smartphones, so committed iPhone users can still (unofficially) use the service.
You still need a Nexus phone to activate Google Fi, however, and you can pick up an older model phone fairly inexpensively. If you're interested in the Nexus 5X or 32GB Nexus 6P phones, you're better off in terms of dollars if you buy those directly from Google.
The higher-end Nexus phones are actually on sale at Amazon today as part of PrimeDay, so if you're considering a new Android phone (or are OS-agnostic), now is a great time to switch.
Pick up some Amazon gift cards at an office supply store for 5x points on your Ink cards, combine with the $10 bonus on $50 Amazon gift cards, and you have a pretty compelling deal.
Bottom line
Having actual competition between cell phone companies in the US is fantastic. The expansion of international coverage is great (and overdue), so there's no longer a reason to deal with bad phone plans when you're traveling.
If you've been considering Google Fi, and want a 6P, I'd jump on the Amazon deal today. The discounts through Google are valid through August 11th.
Has anyone else switched to Google Fi? Will this push you to change carriers?