Following JetBlue's lead, Frontier will become the second US airline to require passengers to wear face masks.
Frontier Airlines makes face coverings mandatory
As of May 8, 2020, Frontier Airlines will make face coverings over the nose and mouth mandatory for all customers. This new restriction will apply at ticket counters, in gate areas, and onboard Frontier aircraft. Young children are exempt from this policy.
Frontier will be communicating this new restriction to passengers by email, on their website, and during the check-in process.
The airline has already been requiring their crews to wear masks since April 13, 2020, so they were one of the first US airlines to add that restriction.
As Frontier Airlines CEO Barry Biffle describes this move:
"We want our passengers to feel comfortable when flying with us by protecting themselves and their fellow travelers as we all navigate the Covid-19 pandemic. This new measure is aligned with CDC recommendations and those of many municipalities within the U.S. that include wearing a face covering when out in public."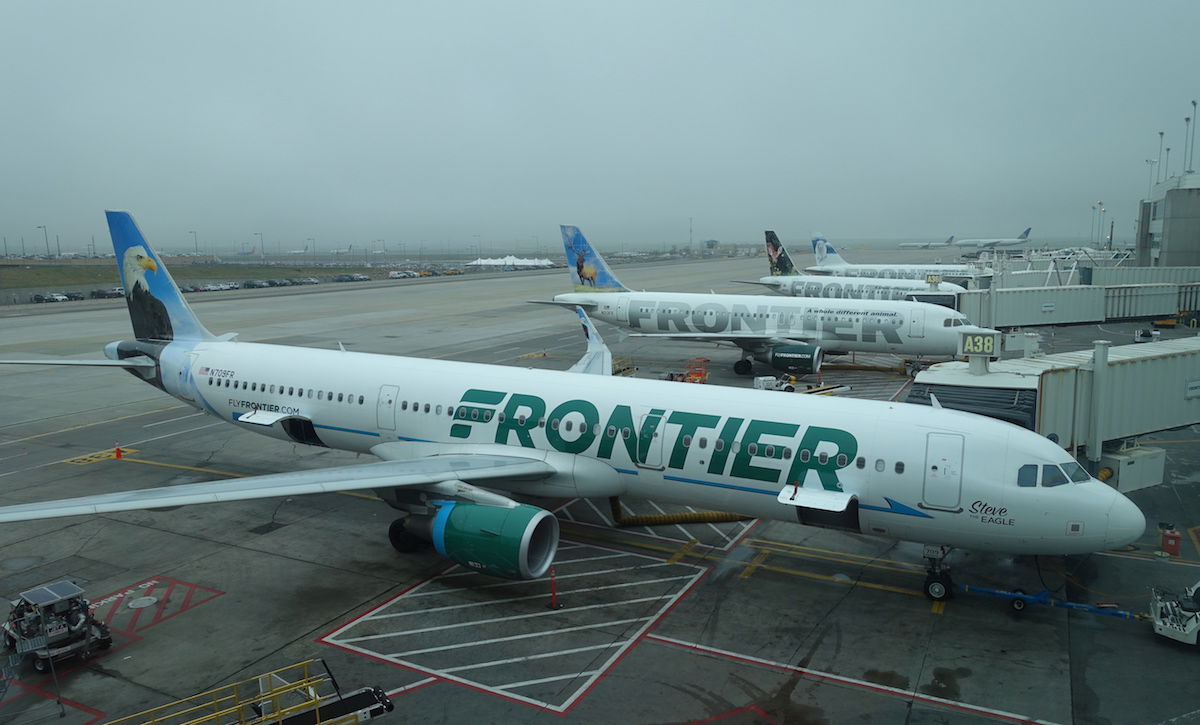 Frontier will require passengers to wear masks
Frontier's health acknowledgement form
Earlier this month Frontier implemented a program that requires passengers to accept a health acknowledgement prior to completing check-in via the company's website or mobile app.
Passengers are required to certify that:
Neither they nor anyone in their household has exhibited COVID-19 related symptoms in the last 14 days
They will check their temperature before heading to the airport and not travel if they have a fever
They will wash their hands/sanitize before boarding the flight
Information on Frontier's face covering policy will be added to the health acknowledgment
Of course the honor system only goes so far when it comes to that…
All airlines should be requiring face masks for now
In my opinion Frontier is doing exactly the right thing here:
People shouldn't be flying unless it's essential
The CDC recommends wearing face coverings in general, especially when social distancing isn't possible (PSA: it's literally never possible to properly social distance on a commercial flight, so manage expectations accordingly)
There are all kinds of stories of people being outraged about full flights, and everyone wearing a mask will at least help a little bit
I love flying, and I hope that this won't be required long-term. However, for the time being this is the right policy, until we get stuff in order.
The way I see it, this is a step in the right direction, and a step towards returning to normal. More precautions are needed for now so that travel can eventually resume, and hopefully over time advancements in other areas will mean this will no longer be needed.
Bottom line
Frontier Airlines has become the second major US airline to require passengers to wear face masks. I don't know what other airlines are waiting for, or why this isn't government mandated.
Other airlines are simply "recommending" that passengers wear masks. The problem is that mask wearing is something that should be done for the common good. By wearing a mask you're not just protecting yourself, but are also protecting others. This isn't an area where you can just rely on other people hopefully doing the right thing…