Flypop is an unusual UK airline startup that has been in the works for many years. The people behind the airline have reached an agreement to acquire aircraft, so the airline now appears to be closer to launching operations than ever before. A lot of questions about the airline remain, so let's recap what we know.
Flypop signs lease agreement for A330s
Flypop has announced that it has signed "multiple aircraft lease deals" for Airbus A330-300s (it's odd that the number of aircraft being leased hasn't been disclosed). The deal was apparently signed with Irish leasing company Avalon, one of the world's largest aircraft leasing companies.
Flypop claims to have been in discussions with multiple aircraft leasing companies, but Avalon "offered the most competitive rate and a pipeline of aircraft into 2023."
Flypop intends to configure these A330-300s in a one class configuration with over 400 seats, meaning that the airline is presumably planning on a 3-3-3 configuration (rather than the typical 2-4-2 configuration on this plane).
The airline claims fares will be between £350 and £750, and will include a checked bag and meals for all passengers.
As Navdip Singh Judge, the CEO of Flypop, describes this development:
"As a twin-engine double-aisle wide-body that can carry over 400 passengers, the A330-300 aircraft will deliver everything we want to offer our flypop passengers, especially the lowest seat prices to India. With this lease deal we have been able to submit our AOC license application to the UK Civil Aviation Authority and expect our first flights to commence by October. And many thanks to the UK Government's Future Fund for its financial assistance, which has enabled us to raise further funding. Increased flight connectivity, especially on new routes, will create much needed economic benefits for both the UK and India."
Flypop's planned routes
Flypop hopes to start by offering ultra low cost flights between London and India. The airline claims to be the "first British low cost airline flying from the UK to second cities of South Asia starting in India."
Flypop plans to be based at London Stansted Airport, and fly initially to Amritsar and Ahmedabad, initially offering three weekly flights in each market. The airline is also targeting offering flights to Goa and Kolkata.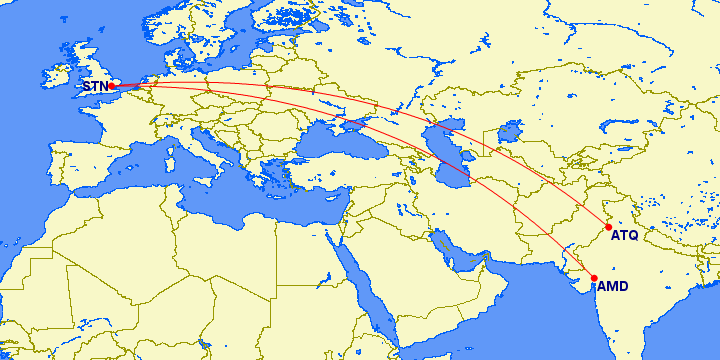 Flypop thinks this is a good time to start service
I've known about Flypop for years, but never really took the airline seriously. For example, in mid-2016 the airline announced it would start flying in late 2016, even though the airline didn't have any of the things required to start an airline. That's not how that works. 😉
Now the airline has actually signed some aircraft lease agreements, and argues this is a great time to start an airline:
"The incumbents have been badly wounded after 18 months without any revenue but plenty of costs and debt. flypop, on the other hand has avoided any exposure to the pandemic and consequently is in the unique and fortunate position to extract maximum advantage from the lower costs resulting from the crisis. flypop's cost of entry is much lower now than it would have been pre-Covid-19. Low fares always stimulate greater demand. The sector is currently on the floor, but the market will return strongly."
People over profit?
Interestingly the "pop" in "Flypop" standards for "people over profit." I'm not certain this is still the case, but in 2016 the airline claimed it wanted to be a "caring capitalist" airline, and donate 51% of its profits to charities in both the UK and India.
Like I said, that was five years ago, and on top of that startup airlines rarely ever make a profit (if they do actually launch), so perhaps the whole thing is a moot point.
My thoughts on Flypop
I have a few different thoughts on Flypop.
First of all, I'm happy to hear that this airline is at least semi-serious. I had heard of this concept years ago, and for a long time I assumed it wasn't any more serious than Global Ghana Airlines or Baltia. I'm still not convinced this airline will actually launch operations, but getting an aircraft leasing company to make a statement about a deal lends some credibility to this.
Is there merit to this business model, though, given that ultra low cost long haul airlines are almost never successful?
On the one hand, the airline will have a significant cost advantage compared to legacy airlines, and UK to India is a massive market
On the other hand, the reality is that fares between the UK and India are already quite low, and you can fly Qatar Airways and other Gulf carriers for roughly £400 roundtrip from London to both Amritsar and Ahmedabad
Personally I think most consumers would choose to select the superior experience offered by the Gulf carriers over the convenience of a nonstop flight on a 400+ seat A330, but I could be wrong
I'm curious to see how this plays out, and if Flypop does in fact launch.
Bottom line
Flypop is a new low cost carrier that plans to fly between London and secondary markets in India with 400+ seat A330s. The airline concept has been around for years and nothing ever came of it, but now a lease agreement has been signed for multiple aircraft.
I'll be keeping an eye on this one.
What do you make of the Flypop concept?