I'm really excited about visiting Bhutan in March. It looks stunning, and there are two new and nice looking Le Meridien properties there. I love the outdoors, so it seems like a beautiful place to enjoy some fresh air and hiking.
As I've explained in a previous post, flying into Paro, Bhutan, isn't easy. It's one of the most dangerous airports in the world, and only a couple of airlines fly there. In our case, I booked us on Druk Air from Kathmandu to Paro, and then on the return from Paro to Dhaka (these flights tend to sell out in advance given the limited capacity, so that's the best I could do).
Given that Druk Air doesn't have any partnerships (at least that I know of), these tickets need to be booked with cash and on a separate reservation from longhaul tickets.
So, how are we flying to Kathmandu and from Dhaka? I have the outbound confirmed and am just finalizing the return, so am excited to share my plan and hear if you guys have any other ideas. As you guys know, my goal is to review as many new business class products as possible, and I think my plan accomplishes that pretty well.
Flying to Kathmandu
Logically I could have flown one of the Gulf carriers to Kathmandu via their hubs, though what's the fun in that, given how much I've reviewed them? This time around I'm doing something different.
I've reviewed Korean Air first class many times before, including on the 747-8, A380, and 777.
So this time around I want to review Korean Air's new business class, so we're flying from the U.S. to Incheon on a 747-8, and then from Incheon to Kathmandu on a 777, which features the old business class product.
This cost a total of 85,000 SkyPass miles per person, and in theory we could have added a free stopover in Seoul (though elected not to). I can't wait to see how Korean Air's business class stacks up, given how much I love the Apex Suite.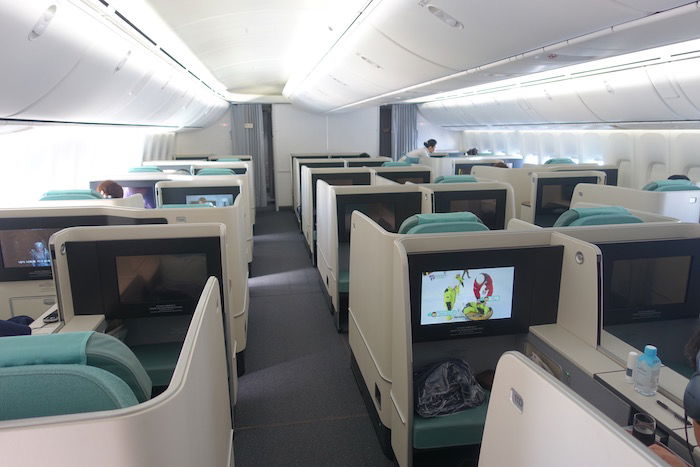 Flying from Dhaka
Dhaka is an interesting market, and in looking at options, there were a few ways we could get out of Bangladesh, some of which involve paid discounted business class tickets (given how reasonable fares are).
For example, we could fly BIMAN Bangladesh to London for ~$950 in business class:

Or we could fly Kuwait Airways all the way to New York for ~$1,410 in business class, on their brand new 777-300ER:

Or we could redeem miles for Etihad's A380 Business Studio.
Or there are a bunch of other options.
Personally I'm leaning towards the Kuwait Airways option, given that their 777s are brand new and have flat beds in business class (they have B/E Aerospace Diamond seats, similar to what's offered on airlines like Aeroflot, Aeromexico, Air China, Royal Jordanian, Saudia, United, etc.). The added benefit is that you can add a stopover in Kuwait City at no extra cost. I've never been to Kuwait City, though it's somewhere I've never been, so I might as well check it out for a couple of days. Not that I have terribly high hopes, but I think just about everywhere is worth seeing at least once.
What do you guys think — how should we fly out of Dhaka? Should we take Kuwait Airways with a stopover as I'm leaning towards, or is there another (better) option?