A couple of weeks ago I shared 10 places I'm hoping to visit in 2017, and at the very top of that list was Bhutan. I've heard amazing things about Bhutan from those who have visited, and based on what I've heard it's still not a place overrun by tourists.
My destination interests have also largely shifted from cities to nature, and it seems like Bhutan is great in that regard. To top it all off, Le Meridien has opened two hotels in Bhutan in the past couple of years (one in Paro and one in Thimphu), and they both look gorgeous. So Bhutan is now a destination that's accessible on points.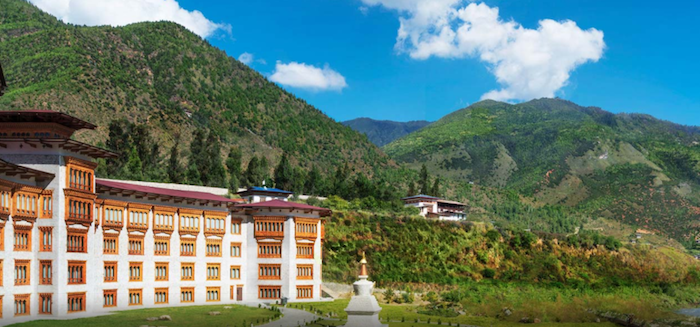 Le Meridien Paro
Bhutan isn't an easy place to fly to
One of the only ways to fly to Paro commercially is on Druk Air, which is the national airline of Bhutan.
Paro is one of the most challenging airports in the world to fly to, and there are only a couple dozen pilots in the world who are trained to land there. So you have to book a Druk Air ticket to get there.
Druk Air sells out in advance, and it's not cheap either. For example, a roundtrip ticket from Kathmandu to Paro will cost you ~$450 in economy, even though it's just an hour flight.
Oh, and their website is absolutely horrible. Given how many days were sold out I had to do a couple of dozen searches to find the right flight for me, and after doing a few searches, they started making me complete those CAPTCHA things, which I'm horrible at. These were the especially annoying ones with pictures, where there's no clear right or wrong answer ("pick the pictures with a storefront" — maybe I'm too technical, but how is that really defined?). 😉
Eventually I found flights that worked, and tried to book them. I got through the booking process, and then was sent to a third party website for payment of the tickets. Then I was redirected to Druk Air's website, which said that my ticket was confirmed, while Ford's wasn't. The message said to call Druk Air's call center, though they're only open during very limited hours.
I was worried, since that was the last seat on the flight, and also there were only a couple of rooms left at our hotel. So eventually I stayed up late and called Druk Air during their business hours, which was an experience as well.
It literally felt like calling someone at their house. They just answer the phone with "hello?"
"Yes, is this Druk Air?"
"Can I put you on hold?"
"Okay…"
Even using Google Voice, a call to Bhutan is 18 cents per minute. That's not going to break the bank, but it's also the most expensive call I've ever made through Google Voice.
After being on hold the guy gave me a different number to call. I called that number, and the guy told me to call a different number. I called that other number, and that lady told me to call her back in five minutes. I called her back in 10 minutes, and then she told me to email her.
Eventually everything was booked, but boy was it an adventure. If only Druk Air would allow bookings through online travel agencies…
Visiting Bhutan isn't cheap either!
Not only are the flights expensive and tough to book, but it's not cheap to actually stay in Bhutan either. I managed to book the two Le Meridiens on Cash & Points rates, which is an excellent deal compared to the paid rates of ~$500 per night.
Not only that, but Bhutan tightly controls tourism and is supposedly carbon negative, which is pretty amazing. That comes at a cost, though. Per Le Meridien's website you have to pay $175 per person per night just to visit, plus a $40 visa fee:
Per government law set by the Tourism Council of Bhutan (TCB), a tourist tariff will be levied on guests from all countries except India, Bangladesh, and the Maldives. This tariff, which is not included in the hotel's room rates, is valid throughout the year.

This mandatory tourist tariff can be arranged through the hotel's partnered travel agency at the following discounted rates:

A booking for one guest: 180 USD per person per night
A booking for two guests: 175 USD per person per night
A booking for three or more guests: 170 USD per person per night
There is no fee for children below the age of 5. There is a 150 USD fee for children 6 to 12 years of age.

In addition, a one-time visa fee of 40 USD per person will also be levied.

The tourist tariff offered includes the following services and charges, which are handled by the hotel's partnered travel agency:

Roundtrip airport transfer
Daily sightseeing with an English-speaking guide
All applicable government taxes
All museum and monument fees
However, at least it includes quite a bit of stuff. Like I said, it's expensive, but at the same time I have a lot of respect for how they're trying to preserve their country.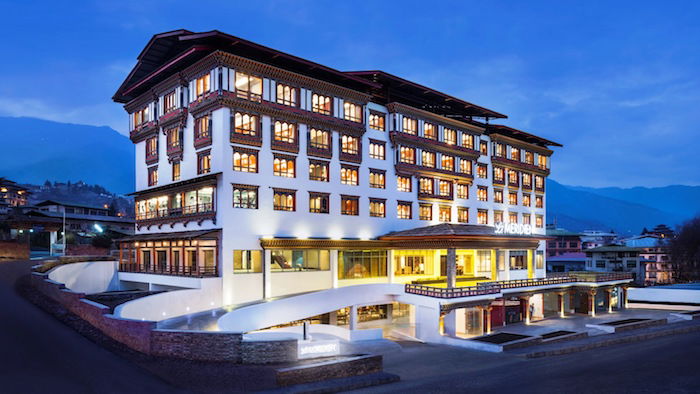 Le Meridien Thimphu
Bottom line
I'm really excited to visit Bhutan, and am happy I got the tough stuff nailed down (the flights to Bhutan, and the hotels once there). We'll be flying from Kathmandu to Paro, and will be returning from Paro to Dhaka (that's all that was available). I'm actually looking forward to visiting Nepal and Bangladesh as well.
Now the adventure starts of planning the flights to get to Kathmandu and from Dhaka. I'm excited, as this should give me the opportunity to try some new airlines — we won't be taking Emirates or Etihad for this trip! Instead I'm thinking more along the lines of Kuwait Airways, Biman Bangladesh, etc.
For anyone who has been to Bhutan, any tips of things to know before visiting?