A few days ago I wrote about the pitiful service I received in American Airlines first class when flying between Dallas and Hong Kong. With the exception of TAAG Angola and China Southern, it was unlike anything I've otherwise experienced in international first class.
The sad thing is that I don't even think the crew was necessarily below average by American Airlines international first class standards.
The reality is just that American doesn't have much of a service culture, and they don't exactly do anything to encourage better service in first class (even though you have one flight attendant for every four passengers, compared to one flight attendant for roughly every 50 passengers in economy).
Anyway, there have been hundreds of interesting comments on that post. Many are from other passengers sharing similar experiences, and many are from flight attendants sharing their takes.
For the most part, flight attendants in the comments are embarrassed by the service I described, and share my take on the state of service at the airline, like this comment:
I have been a F/A @ AA for 33 years and it is humiliating to work there. We were once a decent airline with employees that had pride in our jobs & our company. I am a Purser and your experience was deplorable.

I say I am humiliated because every complaint I hear, every bad article I read, every financial doom & gloom report is true.
Then there's a comment from one flight attendant trying to "explain" what I experienced, and I can't help but specifically taking a closer look at that:
What A Flight Attendant Says About My Expectations
AnonymousFA left a really long comment that I find fascinating and that sheds oh-so-much light on the state of premium cabin service at US airlines.
This flight attendant says, "as I read through the article, I pictured myself in each phase of the operation. What do I do/say/think at each step?"
I find this response so interesting because:
I think this person is genuinely trying to be helpful and intends to provide good service
It's amazing the lengths this person goes to justify bad service
In so many ways that's unfortunately the story of service in the US airline industry.
I wanted to look at the way that AnonymousFA responded to some of my service expectations, and in turn respond to those.
Complete Sentences Are A Lot To Ask
I mentioned how I didn't receive any sort of greeting, and my first interaction with a flight attendant was 10 minutes after boarding, when I got an "orange juice, water, or champagne." Apparently my expectations are just too high because other passengers suck:
Depending on where the boarding door is, how many passengers in the cabin, and how many FAs are working, that might mean someone offering "orange juice, water, champagne?" I usually try to start with "would you like any-" but sometimes, when the passenger two rows away thinks his coat will catch fire if he has to wait for me to put down my tray, I'm in a rush.
I just timed myself adding "Hi, welcome aboard, would you like" to the front of "orange juice, water, or champagne," and amazingly enough it only took two seconds.
Imagine if the flight attendant did that for every first class passenger. Where are they supposed to find those 16 seconds during a 50 minute boarding process, or heck, over the course of 17+ hours on the plane?!
Sharing First Names Poses A Security Risk
I mentioned how the flight attendants at no point introduced themselves by name. You'd think they could have said "hi, I'm XYZ, and I'll be taking care of you today." But that's an unrealistic expectation, because sharing first names is a huge safety risk:
For security reasons, a lot of FAs will never give out their name or the name of any other crew member. Think that isn't a security issue? I know at least two FAs who've had passengers show up at the door of their hotel rooms after conning the front desk into telling them the room number. "I know the American crew just checked in. Could you tell me what room Sarah is in? She left her phone with me, so I can't call her." You're thinking that no receptionist would be that stupid, but not everyone is as guarded as they need to be.
I don't for a moment deny there are creeps out there (though any hotel staff that gives away a room number based on a first name should be fired immediately), but if we have gotten to the point where sharing a first name is a security risk, why hasn't the union demanded change from management? Flight attendants have badges with their names, so shouldn't they not be wearing these?
Maybe we should adopt the policy we see in China, where employees at the airport, etc., have numbers assigned to them, rather than names. Then at least she could have said, "hi, I'm #858394, and I'll be taking care of you today."
Don't Expect To Be Greeted By Name
I didn't even necessarily expect to be addressed by name, though I didn't even get a "sir." Apparently addressing someone by name even once is completely impossible (even though many American flight attendants manage to do so on domestic flights when taking meal orders):
Greeting you by name. I don't. I'm not even going to apologize for it. I say Sir and Miss. Because I do several flights a week, usually in large cabins. Half the time people move without telling us so the manifest is wrong. I know for a FACT, I won't remember your name the whole flight. I have a lot of other things on my mind.
So it's great that you usually work larger cabins, but in an eight seat cabin it should be very possible. But in case you're wondering, on Cathay Pacific they manage to address people by name in business class at almost every interaction. Maybe Cathay Pacific flight attendants just don't have other things on their minds?
Call Buttons…
I mentioned how when I pressed the call button the flight attendant took a while to respond, and then said "what's up?" in a way that suggested I was really inconveniencing her. Well:
I try to answer call buttons with "Did you need something?" But if I feel like we've built a rapport, I'll ask someone "what's up?" I do try reserve that for people I've already chatted with and feel wouldn't be offended.
Wouldn't you assume that someone needs something if they pushed the call button? The call button is the equivalent of saying "excuse me" to the flight attendant. So shouldn't the logical follow up question be "hi, what can I do for you?" and not "do you need something?" Of course I "need" something, or else I wouldn't have pushed it!
"Thank You" — Ain't Nobody Got Time For That!
I mentioned how at no point was anyone in first class thanked for flying American. Not that it's the most important thing in the world, but even on domestic American flights, flight attendants are supposed to (but usually don't) hand out mints in first class and say "thanks for flying American" towards the end of the flight. Why is that unrealistic?
Another issue was being thanked. Will you get a personal thank you? Probably not. The end of the flight is a pretty busy time. Safety has to be the priority and putting everything away falls into that category. It isn't meant to be rude. We're just honestly very busy.
Look, I'm very pro-flight attendant, and I think they have a hard job and deal with a lot of idiots. I have so much respect for flight attendants who show up to work with a good attitude.
But I'm sorry, I think it's complete garbage to suggest that flight attendants in first class on a flight to Hong Kong are "very busy" to the point that saying "thank you" to eight passengers isn't feasible.
They work for the first and last two hours, they get a break, they occasionally have to check on the pilots, and then they literally just sit there and chat for hours on end.
I know that because they weren't coming into the cabin to perform any service, and I certainly heard them chatting for hours on end in the galley. A nearly 17 hour flight might be exhausting in terms of the impact on your body, but on a per hour basis I certainly wouldn't call it "hard work" in first class.
People Who Want Turndown Service Are A$$holes
This one is my favorite:
Finally, I saved the best for last. Turndown service. I know that airlines offer it. I know we are expected to do it. And I will do my job if it is requested. But any person with fully functioning limbs who asks for a turndown service on a non-luxury airline is an ASSHOLE. The luxury airlines (like Emirates) have sheets and extra pillows to go with extra staff who make up the bed. Domestic carriers, there is usually a fluffy mattress pad that can be added. So you're asking someone who is already covering either multiple cabins, or a galley, or the pilots' needs to lay it down and unfold your blanket all pretty for you. You feel such a need to be served that you're asking someone else to come over and lay out one single blanket.
LOL! Just as a reminder, American Airlines specifically advertises this service on the menu:
Ready to relax? Ask for our premium turn-down service
And I think that perfectly gets at the massive disparity because the product that management promises, and the product that flight attendants expect they have to offer.
My Three Big Takeaways
Based on all of the comments on the post, and in particular the comments I quoted above, I have a few takeaways I wanted to share.
I Can't Even With The Number Of Excuses
I appreciate the above flight attendant trying to provide his/her take on things, but to me a vast majority of this seems like nothing but silly excuses.
As mentioned above, American has some fantastic flight attendants. Somehow they manage to do an amazing job and tick all the boxes, and they don't have to work any longer than other flight attendants, and don't have to forgo their break.
Kindness costs nothing, and the little gestures that differentiate a great flight attendant from an unmemorable one aren't huge time investments. Practicing basic manners shouldn't be a burden.
So I find it rather outrageous the extremes that some flight attendants go to justify bad service. Haven't we lost the plot when we suggest that someone introducing themselves by their first name is a security risk or that a passenger is an a$$hole for asking for a service that they're encouraged to ask for on the menu?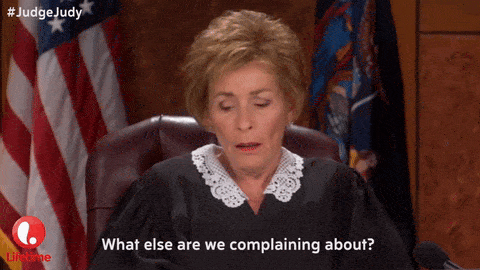 American Airlines Has Some Great Flight Attendants
I want to once again emphasize that I appreciate the hard working flight attendants at American (and other airlines) who come to work every day with good attitudes. I've had some really spectacular American flight attendants (just see the posts I've written here, here, and here), though unfortunately they seem rarer by the day.
Unlike some others, I don't think this is a problem with "old" flight attendants. Quite to the contrary, some of the best flight attendants I've had have been senior ones who remember the "good old days" of service where everyone took pride in their job, and they still try to bring that good attitude to work.
And I also want to point out that a vast majority of the flight attendants in the comments section of the previous posts have awesome attitudes, and share my dismay. For example, here's another one:
I am a flight attendant at American. I am very sorry you received such treatment. Some of our flight attendants wouldn't know good service if it slapped them in the face and they shouldn't be here. I am a purser and I fly that position 98% of the time JFK to LAX. Personally, I take lots of pride in my job always using names, trying to assist my passengers in anyway I can, accommodating any special requests that are asked for. As I've told many passengers during their time with me I am there for them. I hope one day to have you on one of my transcontinental flights so I may show you what a good first class service is all about and treat you like the valued passenger you are!
I Blame Management
Some people were surprised and strongly disagreed when I said that I don't think the flight attendants I had should get in trouble. I stand by what I said, and the perspective from the above flight attendant is exactly why.
Just look at all the comments on the post from other American first and business class passengers sharing similar experiences to what I had. What I had was more the norm than an isolated experience.
That's why I don't think these flight attendants should get in trouble. Should American improve service by individually calling in all of their flight attendants and reprimanding them for not speaking in complete sentences and yelling "woohoo?" No, of course not. That would be as effective as refueling a 777 with an eye dropper.
Flight attendants aren't aligned with any mission of the airline, and that's management's failure, because management hasn't given them a vision. The airline has a well documented identity crisis.
If flight attendants don't have strict service guidelines for operating on international flights in premium cabins, then can we really blame them for treating it no differently than any other flight?
The people who need to be reprimanded about American's international service are Doug Parker (for leading the airline without leadership) and the people leading inflight service (for not having any standards). Parker & Co. need to decide if lackluster service in premium cabins on international flights is a problem, and if it is, what's going to be done to make employees care about changing it?
And right now the answer to that is simply… ¯_(ツ)_/¯